Wrap with feta cheese and red bell pepper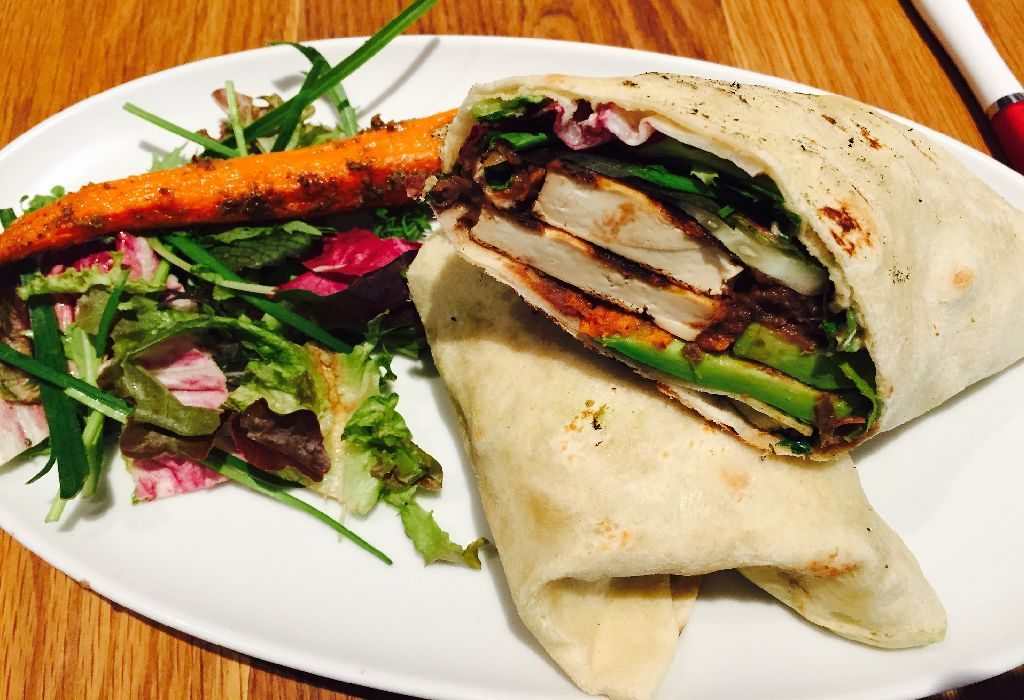 In this Article
This Greek roasted wrap is made simply by rolling up roasted red pepper, spinach, cucumber, feta, olives and green onions together in a whole grain wrap. These veggie wraps taste delicious when served with a side of hummus for dipping. Instead of eating these veggies as a salad in a bowl, throw them in a wrap, with some added feta cheese. It turns out to be a healthy, refreshing, and full of flavor wrap; that's very filling too!
| | | |
| --- | --- | --- |
| Serves | Preparation Time | Cooking Time |
| 1 People | 5 Minutes | 1 Minutes |
Ingredients
1 large wheat tortilla shell
¼ cup sliced roasted red pepper(about ¼ pepper)
½ cup baby spinach
¼ cup sliced baby Bella mushrooms
¼ cup sliced cucumber
2 tablespoons feta cheese
2 tablespoons sliced olives
1 tablespoon chopped green onions
Method
Step 1
Heat a large skillet over medium heat.
Step 2
Lightly spray oil in the skillet.
Step 3
Place whole wheat tortilla shell in skillet.
Step 4
Lay the feta, sliced mushrooms, green onions, and roasted red peppers on the wrap.
Step 5
Allow to cook for 30 seconds- 1 minute or until wrap is lightly brown and the cheese begins to melt.
Step 6
Remove wrap from skillet and add spinach, cucumber, and olives.
Step 7
Wrap tightly and slice.
Step 8
It tastes excellent with a little hummus on the side!
Nutritional Information
Per serving:236 calories
| | | | |
| --- | --- | --- | --- |
| Total Fat | 13 g | Saturated Fat | 6 g |
| Monounsaturated Fat | 2 g | Cholesterol | 48 mg |
| Sodium | 769 mg | Carbohydrate | 27 g |
| Dietary Fiber | 2 g | Sugar | 6 g |
| Protein | 9 g | Potassium | 321 mg |
| Iron | 7% | Vitamin A | 36% |
| Vitamin C | 14% | Calcium | 21% |