Useful Tips for Cruising With Kids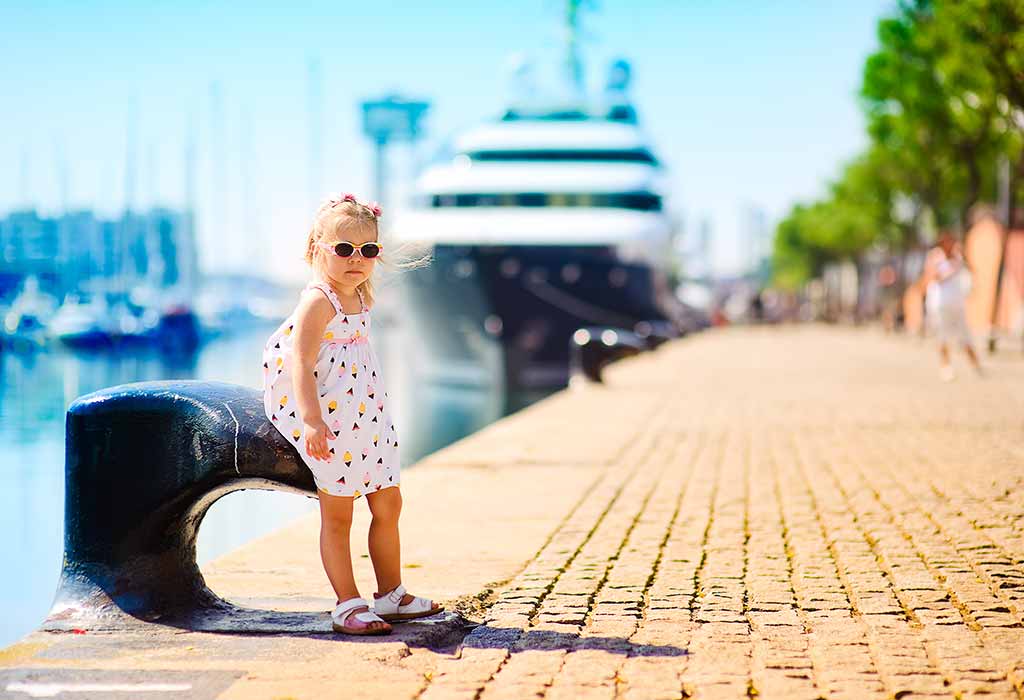 In this Article
If you've been planning on taking a vacation and have a cruise on your mind, then it can get quite complicated being a parent. To help you prepare, we have put together this post with tips to get you ready for any cruise with your kids. The little things matter and make a lot of difference, so pay attention!
Things to Consider While Cruising With Children
Here are some tips for going on cruises with children:
1. Choose a Kid-friendly Cruise Line
Most cruises are family-friendly; however, many are not friendly for babies and toddlers. Ideally, it would be best to look for cruises that have facilities and care for infants in particular. Bathtubs are absent in most of the cruise ships; therefore, prepare your child to take a shower standing up or sitting on a toddler stool. You could alternatively bring an inflatable bathtub.
2. Design Your Itinerary to be Toddler-friendly
The popular family-friendly cruises can accommodate babies that are six months or older. If you wish to go on cruises around Hawaii, transatlantic, or pick South American itineraries, your children need to be at least a year old. Caribbean cruises are a lot friendlier to infants as they have plenty of shore excursions that can last all day. European and Mediterranean cruises are more for those interested in history or art and can be boring for toddlers.
3. Arrive Early
Your toddler will be stressed out after a flight or a long journey to the start of a cruise. To ease him a bit, arrive one or two days early so he can get some time to relax and acclimatized. It also saves you the stress of flight delays and gives plenty of buffers if the luggage is lost or something that takes time comes up.
4. Make a Separate Packing List for the Baby
While many essential baby supplies are available on kid-friendly cruises, it's better to have your own to avoid having to pay a bomb buying supplies on the cruise. Pack their special infant formula, extra diapers, clothes, and other essentials that they can't do without, and make a separate list, so you don't miss out on anything.
5. Prep for Stress-free Sleeping, Eating, and Playing
Pick a stateroom that works well for the family and gives your baby some privacy to sleep or play without stress. A cabin with a separate sitting area or a curtain to divide the space can keep them cosy and stop them from getting cranky. The same applies to the dining chair; request for a booster or a high chair that is comfortable. You should also be able to book a portable crib for your infant.
6. Keep Strollers and Baby Carriers at Hand
Both items are necessary to keep your baby comfortable. If possible, take your own stroller your infant is accustomed to for napping and moving around. A familiar stroller will keep them calm throughout. Since you can't go everywhere with a stroller, a baby carrier is essential. You could bring one of these and rent the other from the cruise.
7. Be Ready for Playtime at the Pool
The big pools in cruise ships won't allow diapers or swim diapers because of health code stipulations. However, many have smaller pools specifically for toddlers that allow disposable swim diapers. If they are not toilet trained, search among cruises with splash pad areas, particularly for these children.
8. Keep the Port Excursions Short
One of the best features of cruises is enjoying the port excursions at every stop. While these are great for adults, the noise and the smell could overwhelm your toddler. You can take babies under three into most ports without a fee; however, make sure to keep it short to avoid tantrums. Be ready for meltdowns and have a plan in place to deal with the situation when it occurs.
9. Avoid Motion Sickness
Too much rocking on the ship can make your kids sick and potentially ruin the start of your cruise or the whole cruise if they won't stop throwing up. Book a room at the ship's midsection where the ship rocks the least, and you won't feel as sick. You could also choose an itinerary that sails calm waters if you are wary of seasickness.
10. Have a Talk with the Kids
One of the essential cruise tips for kids is to have them prepared for what could come. Talk to them about what they can expect, the unfamiliar environments, the safety guidelines, and what to do in emergencies. Set clear rules for older kids so that they are safe at all times.
11. Explore Babysitting Options
Although this is a family trip, it would be great for you and your partner to spend some quality time alone. Look for babysitting options, their terms and conditions, and safety protocols. Whether you plan to leave your children babysitting for some time alone or just to help out so you can relax in their company, it is always good to have some extra help. So, explore this facility thoroughly before selecting a cruise.
12. Visit the Kids' Club
All cruises for children will have one or more clubs to keep them entertained and socialized. Even if your children are not interested, bring them over to the kids club on the very first day so they can make friends and attend the orientation. You will also learn about things you may have missed reading on the websites.
13. Pick Cruises That are Extra Kid-friendly
Look for kids' water parks and swimming pools that are offered exclusively for children. These cruises tend to have the best services for children. Newer and bigger cruise ships also tend to be more flexible for families and young children.
14. Keep it Short to Test the Waters
If this is your first time, then keep your itinerary short to test how well you and your kids can handle it. Forget about the long 2-week cruises that explore half the world and instead stick to smaller ones such as Disney, Royal Caribbean, Carnival, and others who offer short cruises. If things don't work out, you won't end up being miserable for a longer time!
15. Avoid Over-scheduling
All cruises for children will have one or more clubs to keep them entertained and socialized. Even if your children are not interested, bring them over to the kids club on the very first day so they can make friends and attend the orientation. You will also learn about things you may have missed reading on the websites.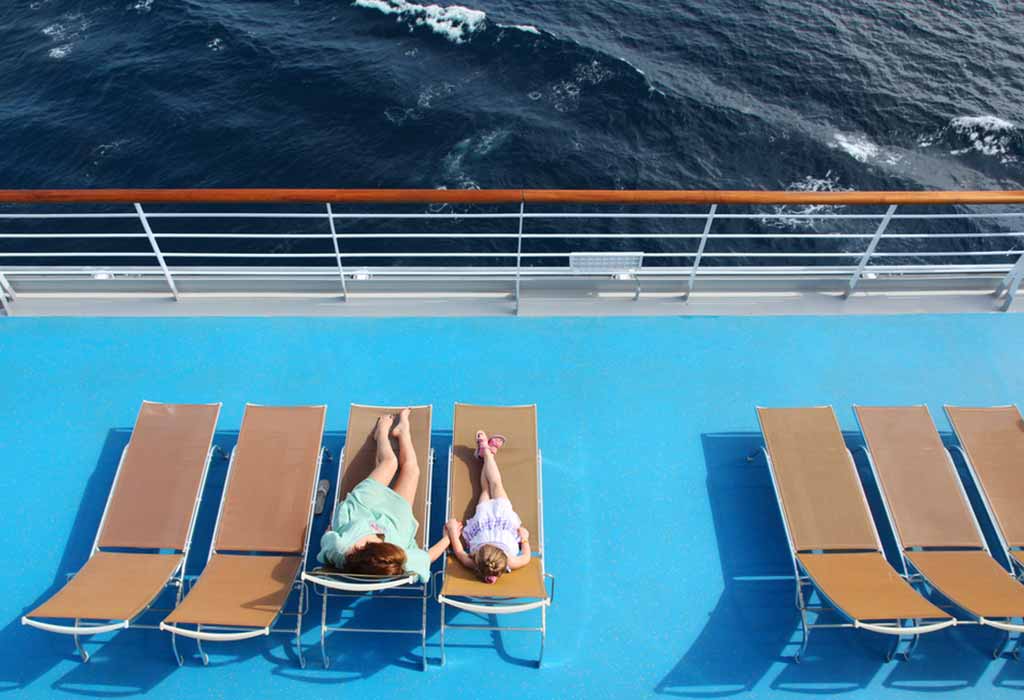 16. Teach Them How to Navigate the Ship
This advice applies to older kids who have the permission to go about unsupervised. At some point, they would want to leave your side and go off with their new friends to explore the ship. Teach them the essentials such as the layout of the ships, finding entrances and exits, reading maps, asking for help from the crew, and other important survival tips.
17. Encourage Them to Try New Foods
The cruise will have plenty of kid menus for them to try new foods from. To keep them interested, have them try out different things every time and not the same-old familiar items. Be careful of allergies and stomach upsets, though.
18. Plan for the Excursions
If your children are old enough to swim, then train them at home for activities such as snorkeling and the basics of swimming in shallow waters. If they are more prepared for it, they will enjoy it more. Also, get them used to walk long distances so they won't tire out on port excursions.
19. Have a Safety Briefing
While cruise ships are designed to be as safe as possible, there is always a chance things might go wrong. Teach your children about the safety of cruise ships and train them to weary around the railings of balconies and large open windows. They should also avoid going to the cabins of other people and stay away from strangers. It is ideal if they are taught how to recognize the crew on the ship so they would know who to approach if they ever find themselves alone.
20. Carry Your Children's Medications
Apart from the basic medical supplies and medications, cruise ships do not carry any medications specific to certain conditions. Therefore, along with your supply, carry more than what you would need and have it all spread out in different bags. So that even if one goes missing, you still have enough medication stocked up.
21. Carry HDMI Cables
If your kids keep themselves busy with video games or movies, know that many cruises might not have TVs that come with HDMI cables. Carry your own port or converter for it or take your laptop with you if the screen time is absolutely essential.
22. Pack the Birth Certificate as Well
A passport is ideal when travelling with your child as it offers the most flexibility when it comes to travel. In the event of an emergency, you can even fly back without having to run into trouble. A birth certificate also works with cruises as it begins and ends at the same port. It's also way less expensive than a passport. Older kids will need a photo ID.
23. Schedule Lots of Nap Time During the Day
When you are scheduling your day, ensure you set aside lots of nap time for the toddlers as the heat of the cruise can take a toll on the kids. Give them plenty of time to sleep, so they don't throw a tantrum when they feel irritable or decide to fall asleep when you're about to head out somewhere. Have them on an umbrella stroller so they can nap wherever you are.
24. Keep Track of Pharmacies at Ports
If you run out of supplies such as medicines, diapers, or formula, remember that most ports have pharmacies that usually stock up for cruise ship passengers. Even if you can't carry all your supplies, diapers are something all stores would carry. So that's an accessory you can trade for something more important.
25. Order Bottled Water
If you're using infant formula, bottled water is your safest bet to ensure their milk is clean. If your baby needs extra clean water, then it's best to avoid what you find in the dining rooms and room service. All cruises sell good-quality bottled water that can be your lifesaver if your baby is sensitive.
26. Select the Ideal Cruise Length for Your Baby
As a rule of thumb, make sure that the length of your cruise corresponds to your baby's age. Older children are more tolerant and are used to the new stimulus. If you have an infant, it is better to keep the cruises short and under a week. Even if the worst hits, you won't be stuck with a crying infant in a cabin all day.
27. Stick to the Familiar Tourist Spots
Do not take any off-beaten paths when you are cruising with kids. Stick close to the popular attractions and places with higher footfall as you are more likely to find stores and pharmacies that will cater to the specific needs of families.
28. Pack a Few New Toys
Surprising your kids in the middle of the cruise with new toys is a wonderful way to keep them entertained if they ever get bored. Think of it as a cheap way to keep them entertained!
29. Get Them Involved in the Planning
If your kids are tweens or teens, it's a good idea to have their inputs about where they would want to go. It can be an overall experience booster for the whole family, and they'll love you more.
30. Consult a travel agent
Finally, ensure you consult a travel agent as they know best about the services offered by every cruise that are specific to the needs of children and families.
Cruising with kids can be tricky if you are unprepared for it. The tips in the article tell you what you can expect and how to prepare for a cruise without stressing yourself or your kids too much.
Also Read:
Best Vacation Places to Visit With Kids
Essential Tips for Travelling With Kids