How to Throw a Fun Painting Party for Kids
Nothing is as fun as hosting a painting party for your little kids and their friends! It is a great opportunity to stir up the imagination of little children and let them get a little messy! Children of all ages love to paint and the activity is more fun when their friends are around! The best thing about this activity is that it is perfect for any weather and any season. If you are planning on hosting a painting party, then here is everything you need to know about a kid-friendly painting party!
Tips to Host a Kid-friendly Painting Party
Invitations and Wordings
If your child is planning on inviting many of his/her friends, then sending out invitations for a children's' painting party is a great idea! Even if it is a kids' painting birthday party, invitations are the best way to get a group together. Sending an invitation will make it an official event and kids will be very excited about this party!
A few ideas for invitations include:
Themed paint party invitations.
Traditional invitations.
Tiny canvases.
Collecting Materials for the Paint Party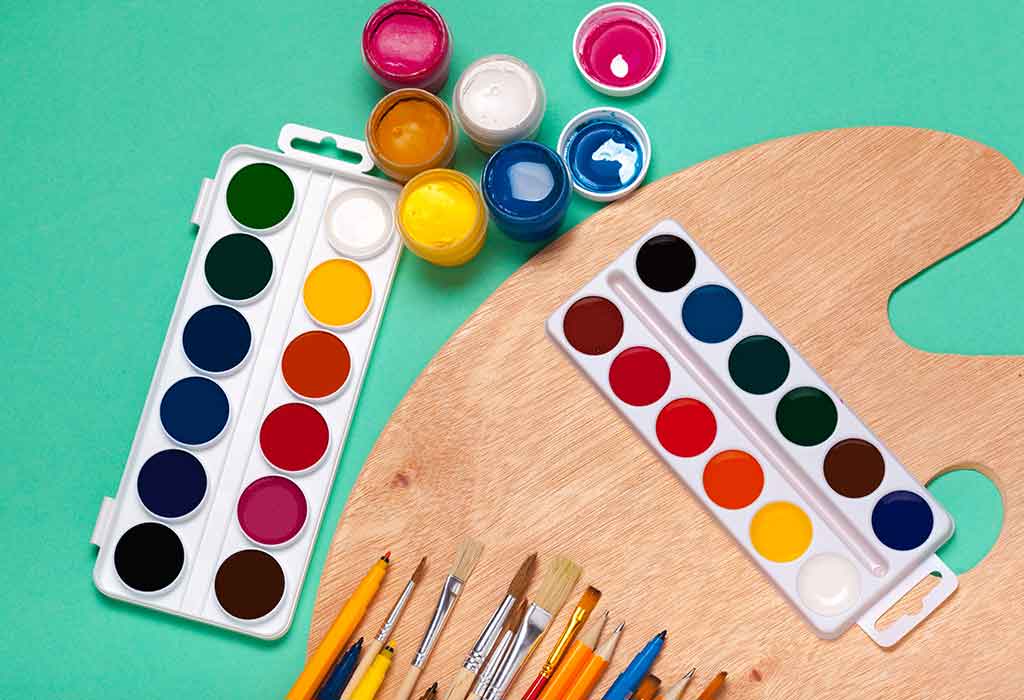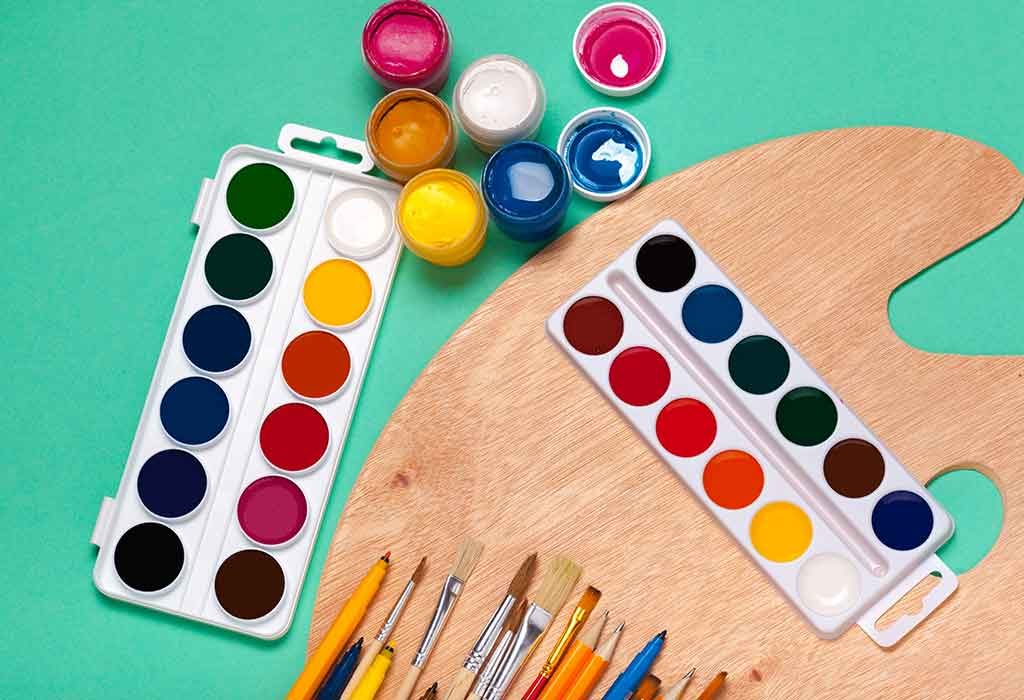 For a kids' painting party, you will need to gather a few basic supplies along with some crazy extras that could add flair to the party!
1. Paints
One of the first things you must do is to make sure that there is a nice collection of paints to be used at the party. It is best to not wait until the last minute to realize that a few colors have finished, not allowing the kids to complete his/her masterpiece. A few things you could add are:
Individual pod strips
Large cost-effective bottles
Watercolor palettes
2. Canvas
For children, you could get pre-lined canvases that are available in various fun themes and can be used by people of any level of skills.
3. Painting Palettes
Painting palettes are very important for a painting party especially when you are planning on purchasing large paint bottles because every child is going to need to have all the colors as close as possible. Palettes also allow the children to mix and try various blends of colors and not mess with the original color in the bottle.
4. Paintbrushes
You could get mixed packets comprising of brushes with fine and wide tips. For toddler paint party, you could get some of those "easy hold" grip brushes.
5. Paint Markers
Paint markers are mostly used by children when they need to fill colors into the tight spaces on pre-lined canvases. These are also a great option if you are concerned about the messiness that may be generated by the children with loose paint.
6. Smocks
Messy clothes are always concerning but you could purchase a few smocks to avoid this!
7. Water Cups
These are needed for rinsing the brushes.
8. Table Cloth
If you prefer an easy cleanup or if the table is porous, then the table cloth can be an amazing form of protection.
If you do not prefer getting easels, canvases, brushes, etc. separately, then get a supply kit or a goodie bag containing all these things. These kits would include:
Easels.
Canvases.
Smocks.
Palettes.
Brushes.
Paints.
Choosing the Right Canvas
1. Canvases for Toddlers
For toddler parties, you could plan on getting water coloring books to reduce the mess. Water coloring books as similar to a normal coloring book, but will have wider spaces and thicker lines to assist their developing motor skills. This makes it easier to have the activity outdoor or can be taken by children while traveling. These books would not cost much either.
2. Canvases for Children
When it comes to painting parties for older kids, each painting may have more details and diverse themes that go according to their interests. For children of older ages, you could get coloring canvases of different sizes (the biggest size you would want is 10" x 10″). You can put forward a variety of themes including cars, animals, mythical creatures, or let them choose one on their own based on their interests. You can increase motor skill development by making children paint mandalas of various colors.
Setting the Table for Painting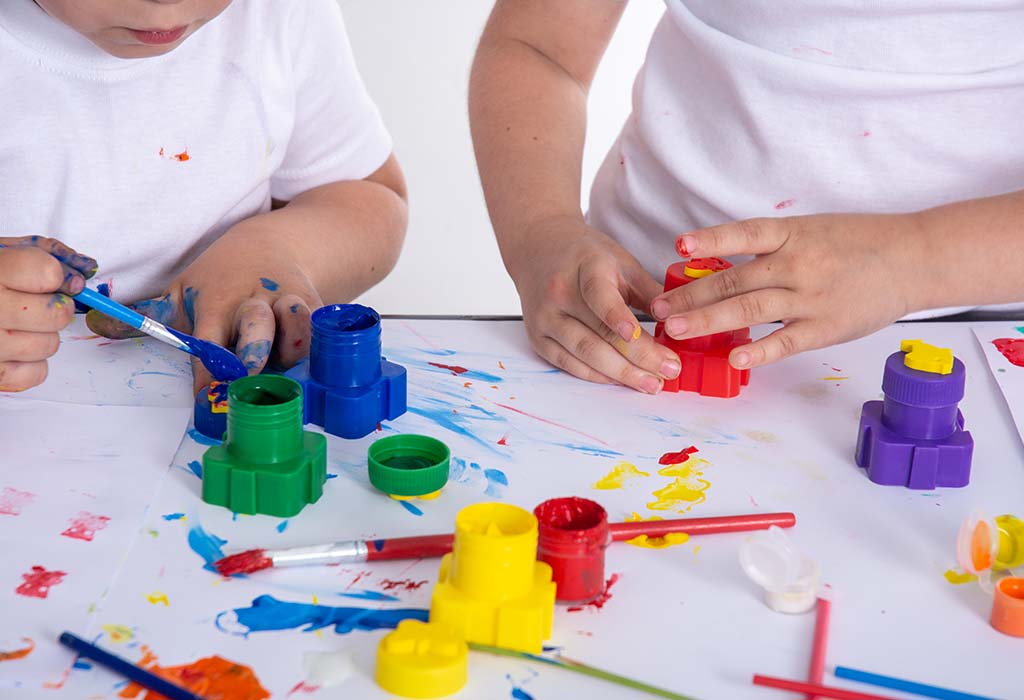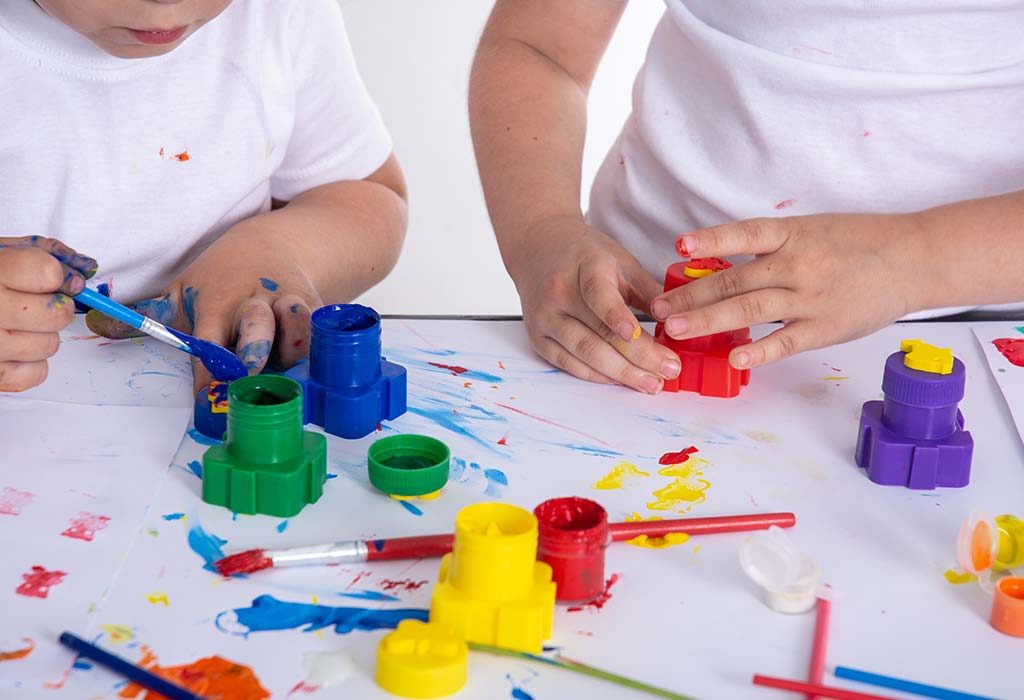 Set your tables before the children arrive for the party. Each seat should have:
1. A Palette With Paints
Make sure everyone gets one to avoid confusion during the party.
2. Cups of Water
Everyone would need water to clean their brushes or for mixing colors.
3. Detail Brush
These are thin brushes that can be used to give tiny details to the masterpiece.
4. Wide Brush
Wide brushes are needed to paint the large spaces on the canvas.
5. Paper Plate/Towel
These are needed for holding the used brushes when drying off the water or for keeping the brushes down.
6. Canvas
Make sure you get a separate canvas for everybody to paint on!
7. Tablespace
If you do not have enough table space to accommodate everyone, you could always get folding tables that can be used for any party.
8. Seating
Make sure you have a seat for everyone or rent some chairs if needed.
Note:
To avoid messes on the floor, put down protective floor cloth.
For easy cleaning, use water-based paints.
Prevent paint water spills by using heavy glasses (mason jars).
Tabletop easels are a wonderful option for supporting canvases.
Party Meal Ideas – Food and Drink
Clever snack ideas are always necessary for a painting party! Colorful food ideas can be made to match the theme of the party to make it livelier! Here are some wonderful snacks and drink ideas for a children painting party!
1. Trail Mix Bar
If you are looking for making a healthy yet delicious treat, then a trail mix bar is a wonderful option! You can make these by creating an area with several scoop and bowls containing different mix-ins. For making it more attractive, pick up from colorful and cute containers for kids to eat from. However, make sure the mix-ins on the table is safe for everyone to consume. Therefore, it is best to know beforehand if any child attending the party is allergic to any food item.
This list of items will help you create a wonderful trail mix bar that both kids and adults will enjoy!
Nuts

Peanut.
Pecans.
Cashews.
Pistachios.
Walnuts.

Sweets

While chocolate chips.
Peanut butter chips.
M&Ms.
Chocolate chips.
Gummy animals.

Dried fruits
Other crunchy treats

Pretzels.
Sesame sticks.
Wasabi peas.
Sunflower seeds.
Cheerios.
2. Colorful Treats
A painting party is all about colors and you can make any food items that are colorful and fun! These would include:
Rainbow Chex mix.
Cake batter popcorn.
Chocolate covered rainbow pretzels.
Rainbow goldfish.
Rainbow popsicles.
Superman sherbert.
Unicorn toast.
Rainbow cupcake.
3. Power Punch Bar!
A cool drink station containing all the colors is an awesome thing to set out at the party. This will make sure the kids stay hydrated during this party day!
You could purchase a variety of colorful "ready-to-drink" bottles and choose them individually based on themes, flavors, or dietary concerns. If you want to encourage the color prominence, you could remove the labels.
A more cost-effective option is powdered drink mixes and you can create a multi-colored drink station with huge gallon drink dispensers.
If you want each drink to be colorful like the party, then go for a cool layered rainbow drink! These are delicious and very easy to make.
Ingredients
Strawberry Puree.
Orange juice.
Blue food coloring.
Soda water.
Directions
Fill ¾ of the glass with the orange juice.
Down the side of the glass, pour 1-2 oz of strawberry puree.
Mix around 3 drops of food coloring into the soda.
Pour the colored soda onto a spoon against the side of the glass.
How to Carry Out the Kids Painting Party Process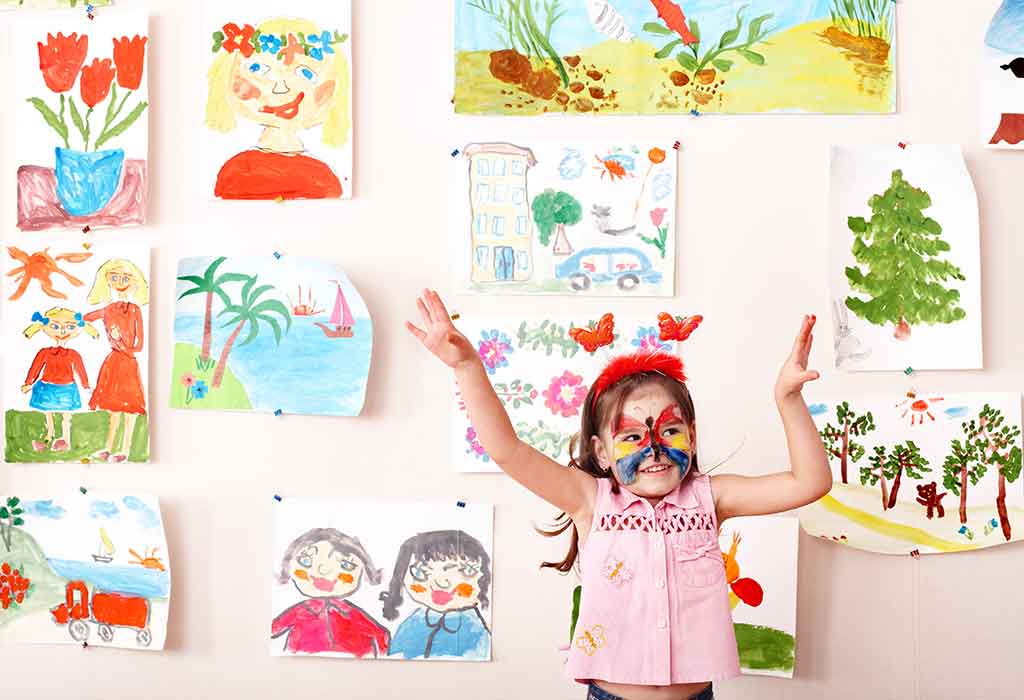 If you are hosting the party, then you can be the first one to learn painting to help the little kids. You could also set up a tutorial on TV and sit with everyone else to paint.
Before you start the party, you can sort of the necessary materials every kid would need for the party. Always be on standby to help the children rinse the brushes to keep the utensils from drying out and to minimize the post-party process of cleaning up.
Choose a theme for the painting party and encourage the children to paint something they like from that theme. Another wonderful option is to select a professional, single work of art and ask the children to replicate that professional one in their own crazy style.
Other Helpful Tips
Here are some tips that will help you during and after the kid painting party.
Timing is very important as paintings take longer than expected especially when they are socializing. Make sure you start early.
Make sure the children keep the brushes in shape by rinsing it before letting it dry. Use a brush cleaner or milk soap to keep the brushes alright.
When painting with children, it might be best to pre-trace the canvases and outline the drawings so they can draw according to the bold lined designs.
Acrylic paints dry a lot faster but when it is applied too thick, it will take a longer time to dry. For drying it quicker, you could use a hairdryer but until them, make sure no child touches it or messes with the paintings that are done.
Ask the kids to sketch with a pencil first and then start painting.
Also, make sure that the kids do not forget to name their artwork either on the wooden frame or on the lower corner of the canvas on the front.
At the end of the painting party, the children are sure to help make some beautiful memories! Also, do not forget to take a lot of photos with all the kids together with their artworks!
Also Read:

Bottle and Toothbrush Spray Painting Ideas for Children
Creative Face Painting Ideas for Children
Simple Ideas for Thumb & Finger Painting for Children