15 Engaging Fall Activities for Toddlers, Preschoolers & Kids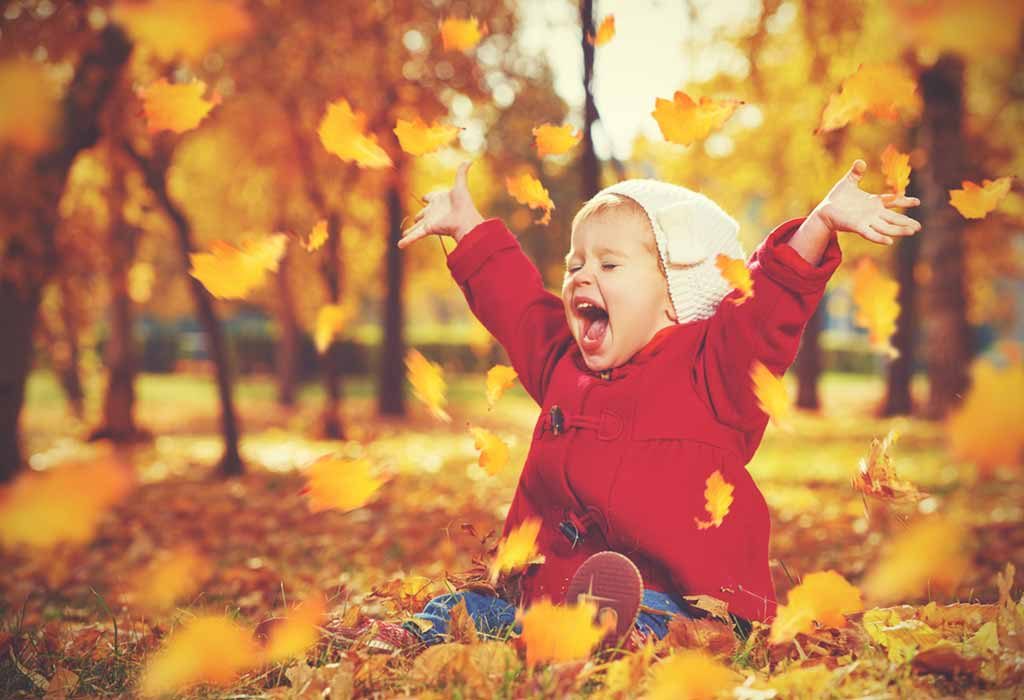 Autumn is the time to rejoice. The beautiful season of fall is when the weather is cooler, and the trees are shedding their leaves. It is time for kids to have fun and learn new things too. So, what can they do to make the most of the season? We have some ideas that can keep your little one engaged with fall-themed indoor and outdoor activities. What are we waiting for then? Let's get started.
Fun Fall Activities for Toddlers
Engage your little ones with these fun and creative autumn activities for toddlers. It will keep them occupied for hours and help them stay away from the computer, television and mobile screens.
1. Nature Treasure Hunt
Take your toddler to explore the woods. Collect the treasures found in nature – pebbles, twigs, and leaves of different colours, shapes and sizes. If you can, head to the beach and collect seashells and sand. Then, plan a scavenger hunt with a list of things you've collected. Write clues that will make your child think and recollect their time when they explored the woods. Also, the treasure will make great material for arts and craft to keep them busy for the entire season.
2. Halloween Party
Autumn is a time for Halloween, and Halloween means bringing out your creativity. Dress up as a cute witch or a pretty princess, a friendly monster or a scary ghost. Visit the neighbourhood for 'Trick or Treat' with your gang and collect a bagful of candies and goodies. Carve out the pumpkins and set up a Halloween-themed party complete with food, drinks and party games to go with the theme. Call their friends and enjoy clicking awesome pictures and creating great memories. You can also have kids help you decorate the 'spooky house' and watch a Halloween movie together.
3. Jump in a Pile of Leaves
Summers are for swimming, winters are for skiing, rains are for splashing in puddles, and the fall has leaf jumping. Help your toddlers rake them up and form a huge pile in the courtyard. Gather their friends and let them have fun jumping on the pile of leaves or even swim in them. To make it more interesting, hide some soft toys in a pile and let them hunt for the treasure in it. And, when they are tired, let them soak in the season with some warm milk and cookies.
4. Visit a Pumpkin Patch, Corn Maze or an Apple Orchard
Fall is the time when pumpkins are available in abundance. Plan a visit to a pumpkin patch and have fun discovering the farm with hayrides and various farm games. It is the best time to introduce kids to farming and share the importance of supporting the local farmers, especially by purchasing fresh produce. Let kids explore the farm and pick up their own pumpkins. Once you have them home, help them create awesome recipes. Have fun scooping, cutting and carving the pumpkins. If the kids are too young for pumpkin carvings, let them paint them in their favourite colours. You can also plan visits to a corn maze or an apple orchard during this time of the year.
5. Build a Scarecrow
As snowmen are for winters, scarecrows are for fall. Making a scarecrow can be a great group activity that can keep kids in your neighbourhood engaged for hours. Have them gather some straws, a lot of hay, a bunch of newspapers, a pair of old clothes and accessories like hats, scarves, shoes and build a scarecrow. Set it up at the entrance of your home or in the open fields. It can also serve as a decoration for your Halloween Party.
Interesting Fall Activities for Preschoolers (Age 3 to 5 years old)
Create epic memories with your preschoolers with these indoor and outdoor activities. Here are some great October activities for preschoolers to indulge this season. Create a bucket list and tick off an activity each day.
1. Baking and Cooking
Baking and cooking can be fun activities when you want your kids to learn something and experience the seasonal vibe. There are tons of fall-inspired desserts, chocolates, cakes, candies, waffles, doughnuts, flavoured popcorn, cookies, pies, etc. and spice them up with the flavours of the season. For the savoury items, include ingredients like zucchini, pumpkin, corn, apples, etc. to make them healthy and tasty too. Candied apples, sour fruits, apple sauce, pumpkin latte, caramel-dipped apples, maple syrup, jams and jellies are also fun to make. After the food is ready, invite all your kid's friends over for a potluck and enjoy the party.
2. Recreate Memories
Take a trip and recreate the kiddo's childhood memories by visiting places from his yesteryear. You can recreate your kid's first graduation day, the most memorable day at the park/playground, eating ice-cream at his favourite ice-cream parlour, or his happiest day in an old neighbourhood. Show him old pictures and ask him to point out the changes over the years. The walk down the memory lane can evoke lots of nostalgia.
3. Gratitude List
Thanksgiving is a time to be grateful for the blessings bestowed upon us. Be thankful for good health, for quality education, for a loving family, great friends and more. During fall, you can help kids draw a list of things to be thankful for. Add colourful pictures and display the chart at a prominent location. The point is to teach them to be humble and grateful for the little things in life.
4. Art and Craft
There are unlimited art and craft options for kids to create. Bring out your stash of cardstock paper, ribbons, colours, glitter, glue, and the things collected during the scavenger hunt in woods. Make beautiful bookmarks, suncatchers, turkey wreaths, birdfeeders, greeting cards and more. They make great gifts to give the near-and-dear ones, or to decorate your own house.
5. Bonfire
Enjoy an evening of dance and music around the bonfire. Warm up the chilly night, collect logs, twigs and leaves, build up a bonfire, light up the flame, roast marsh mellows and hot dogs or plan a full-fledged barbecue with friends and family. Continue the fun with activities like reading interesting stories to little ones and sleep under the starry skies.
Amazing Fall Activities for Kids (Age 6 to 8 years old)
Besides taking a long weekend trip or attending a fall festival, there are many activities that you can plan around academics and skill enhancement. Include math activities, inculcate reading habit, create science projects, painting with different mediums, and more.
1. DIY Candles and Potpourri
Candle making can be therapeutic. Help kids make candles in different shapes and sizes. Add scents like cinnamon, vanilla, and other awesome fragrances and make your home smell like Christmas already. Similarly, Potpourri helps bring the fragrance of the season indoors. Have kids help you gather ingredients, break cinnamon sticks, push in cloves in oranges, smash vanilla pods, chop cranberries, colour the dry ingredients, add glitter and bag it up. Candles and Potpourri are awesome gifts for Thanksgiving, Christmas, Birthdays, Anniversaries or just any occasion.
2. Cool Science Experiments
Indulge in an afternoon of fall-themed science activities. You do not need to set up a full-fledged laboratory for it. Make slime, playdough, mini mosaics with dried and painted pumpkin seeds. Plant some seeds in the soil and watch them grow in your backyard to understand the lifecycle of plants. Create a pumpkin volcano with baking soda and dishwashing liquid. Check out how leaves age and wilt or behave in different liquid solutions. The options are unlimited when it comes to science experiments that your kids can do at home.
3. Star Gazing and Camping in the Backyard
Autumn has early sunsets, and that means you do not have to be up till late at night for stargazing. This is the best time to let your kids explore the night skies. So, set up a telescope and share knowledge about constellations and celestial bodies. If you need to know more, download special apps to help you locate what's up in the sky at your location. To add a little more fun, you can camp out in your backyard or build a fort with sticks, rope, pillows and blankets and have a great time outdoors.
4. Weaving and Knitting
Gross motor activities like weaving and knitting enhance the eye-hand coordination and fine-tune motor skills in kids. It requires your little munchkin to sit in one place and follow the instructions. Help him knit a colourful scarf of his favourite Hogwarts house and show-off his knitting skills. The scarf could also make a great costume for Halloween as well.
5. Hiking and Bike Riding
Get your gang together and explore the woods on the bike or plan a hiking trip to a local state park or nature reserve. Pack a picnic basket and carry a few board games, to relax and rejuvenate in between the outdoor activities. Squeeze in some time for bird watching and appreciating nature too.
Autumn is the time to have a lot of fun. We hope the activities given in this article help you keep your kids engaged and entertained. Enjoy the season while it stays. Encourage your kids to go outdoors, explore nature, learn as well as have fun in the process.
Also Read:
Fun Learning Activities for Toddlers
Best Creative Activities for Children
Interesting Colour Activities for Kindergartens