20 Fun and Interactive Learning Activities for Toddlers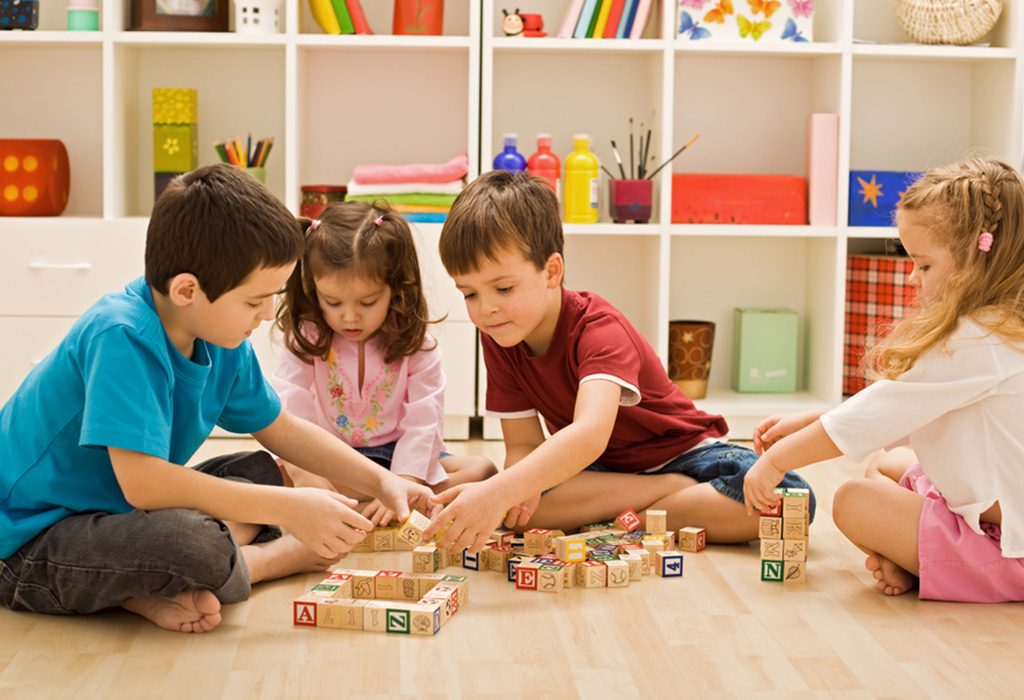 In this Article
Toddlers learn at a phenomenal rate and are constantly absorbing information of the world around them. Make learning fun by using craft items to enhance your toddler's playtime experience. The below activities are designed to improve their vocabulary, spatial skills, colour coordination and even motor skill
Learning Letters
Learning letters can be fun if you add an element of creativity to the process. Here are a few ideas:
Spelling Names: The best way to start off with teaching your toddler spelling is to start with their own name. First names in most cases are small and an eagerness to learn how to write their own name is bound to get them excited. You can put the names across the house, from the bathroom to the kitchen fridge, so that they are well acquainted with it. Use similar sounding letters to uncomplicate the pronunciation. For example, Sonu can be explained as S for sun, O for orange and so on.
Street Signs: This is one of those early learning activities for toddlers that can be done while you visit a new city or a place unfamiliar to your kid. Pretend as if you're lost and need their help in figuring out a way to get to a destination. This game works best with simple words such as "PARK" or "EXIT".
Chalkboard Maze: Which kid doesn't like playing with chalk? Using a chalkboard at home you can write down random alphabets on it. Then circle one of the letters, such as the first letter of your child's name and ask them to find out the identical letters on the board. This helps not only in recognizing letters but also improves their motor skills.
Ice Cream Sticks: Purchase a large packet of ice cream sticks (at least 60). Then, use a dark coloured pen and write letters in capital and small on either side of an ice cream stick. For example, if one side says "G", the other side shows "g". Put all of them in a small container inside a toy bucket and get your toddlers ready to play. The objective is to remove as many sticks as they can. The catch is that they can only remove the sticks if they can figure out which alphabet is written on the stick. The winner is the child who has the biggest heap of sticks. This is one of the learning activities for toddlers at home that can be done as a group activity.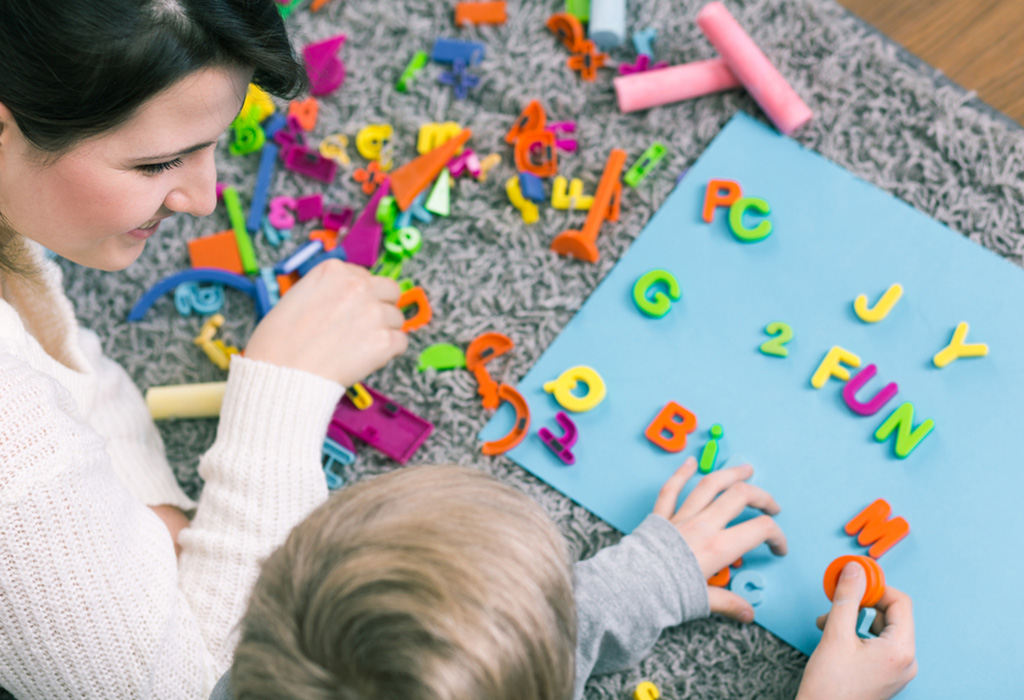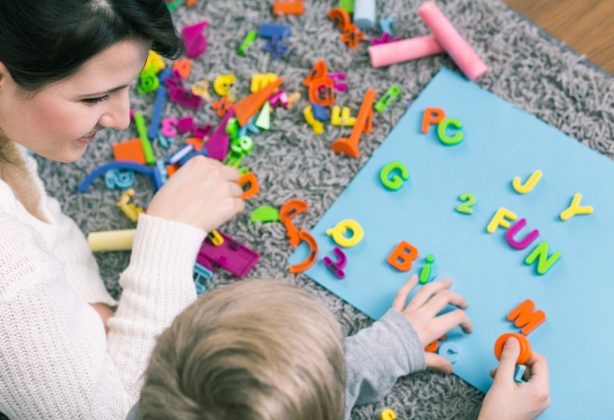 Learning Numbers
Make your little one love maths with these activities:
Animal Biscuits: All you need is chart paper, pen and some animal shaped biscuits. Partition the chart paper into 10 different blocks with the numbers 0-9 written on them. Now, ask your toddler to place the required amount of animal biscuits on each block according to the number mentioned. Once the game is done, you and your child can get to the best part, eating the biscuits!
Ice-cream Sticks: This is similar to the previous ice cream sticks activity but with two major differences. The first is that the numbers are written on the ice cream sticks. The second difference is that you will need to employ envelopes for the task. Each envelope should have a number marked on it and the children would need to put the corresponding sticks into the respective envelopes. Mark one stick with one, two sticks with two, three sticks with three and so on.
Race Cars: Using scotch tape, chart paper and a pen, number the race cars that your child has from one to ten. Then cut out the bottom of a large cardboard box and making mini parking spots numbered from one to ten. Ask your kid to 'park' the race cars in their respective 'parking zones'.
Matching Cups: You need chart paper, 9 plastic cups and a pen. First, using the top of the cup, make 9 circles on the chart paper. Second, place dots inside each circle signifying a numerical value. For example, the first circle can have one dot, the second circle will have two dots and so on. Last, mark each cup from 1-9 and let your toddler match the cups with the corresponding circle.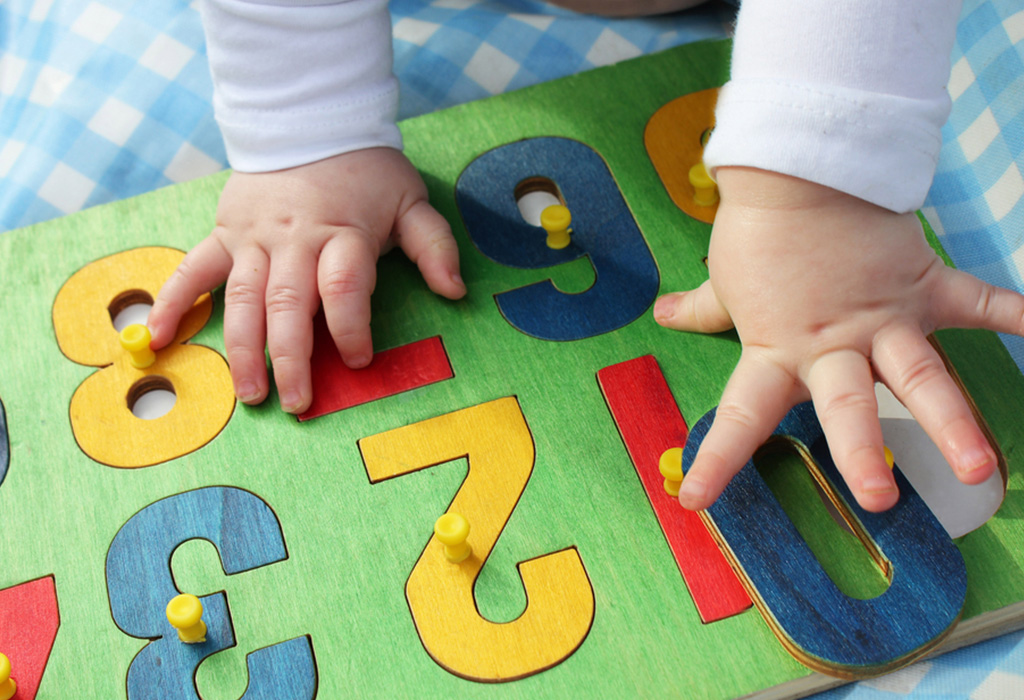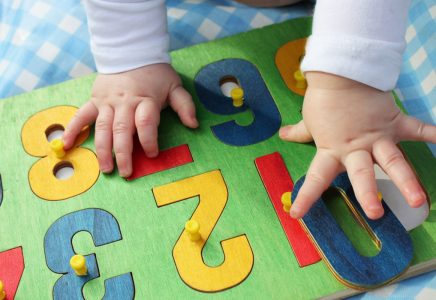 Differentiating Shapes
Learning shapes in an important academic milestone for kids. Here are some easy ways of teaching them:
Lego Blocks: Lego blocks are a good way of teaching your kids the finer points of symmetry. First, apply some coloured tape to the middle of the Lego baseplate. Second, let them use blocks of varying shapes as long as both sides are symmetrical. You can first play with the blocks yourself to show them how it's done.
Shape Hunt: In this activity, your child needs to find the maximum number of items of a shape within a stipulated time. For example, a rectangle, your child could spot the television, dining table and so on.
Shape Figures: This activity can be used to unleash the artistic side of your child. Ask them to make a figure of themselves using a set of given shapes. For example, a circle could represent the head, a square to represent the upper torso, a triangle to represent the lower torso and long rectangles to represent the limbs.
Play Dough: One of the basic tools in any toddlers learning kit, play dough can be manipulated into different shapes. Playtime with this item can be done soon after the shape hunt activity as they unwittingly revise the shapes they've learnt.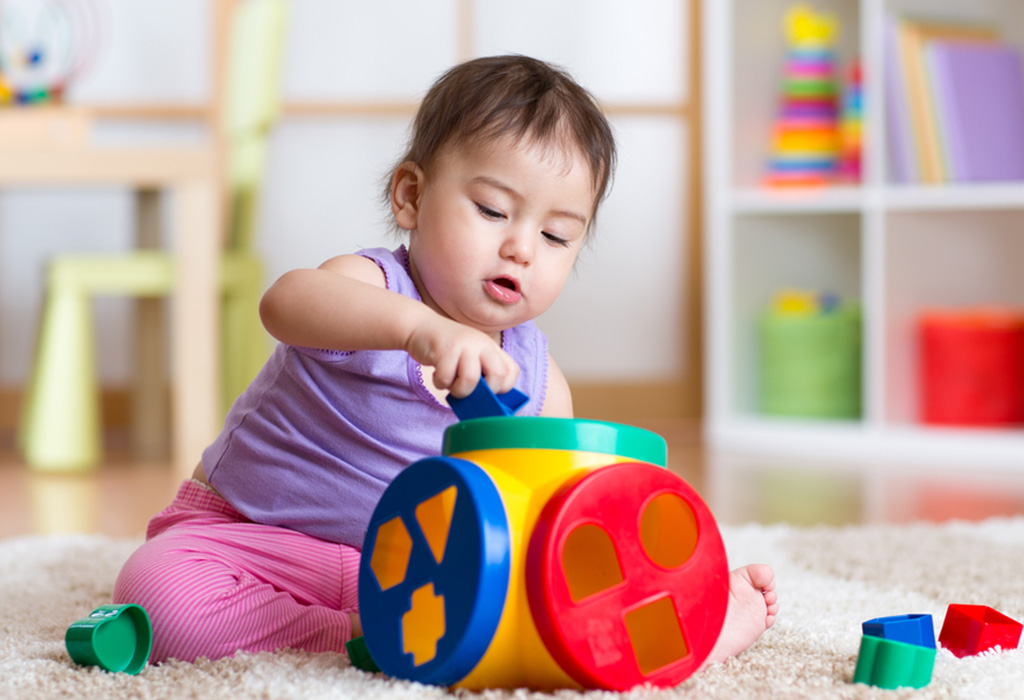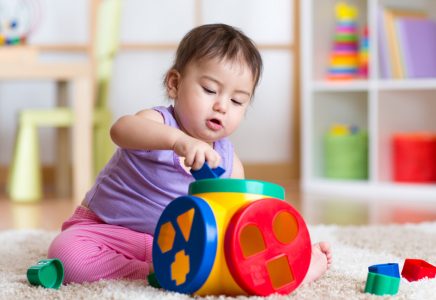 Differentiating Colours
Colouring is a favourite activity for most children. Here are a few activities which help identify colours:
Egg Cartons: If you have any spare egg cartons lying around your house, this is one game you could play. Use watercolours to paint the basic colour of each dimple on the egg tray. You can then ask your toddler to place play dough into the dimple that matches.
Colour Cards: Buy chart paper of multiple colours and cut them into small cards about the size of your palm. Deck them up, shuffle the cards and present them to your toddler. Ask them to spot the colour that they have chosen from objects in the house.
Crayon Testing: Ever get a situation where the crayons you've purchased has a different colour than what is indicated? For example, a black crayon sometimes comes as dark grey on paper and orange can look a lot browner than expected. Make your toddler test out each crayon and let them decide for themselves.
Lego Blocks: Get some multi-coloured chart paper and lay them on the floor. Then, spread out the Lego blocks and let your toddler place them on a chart paper of the same colour.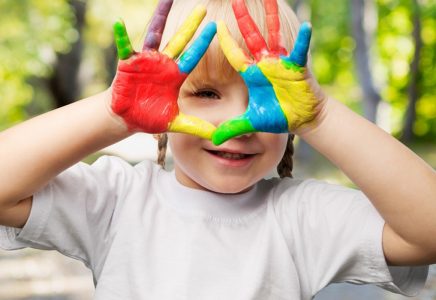 Other Skills
When your child has picked up the basics, it is time to move on to more activities. Play these games to equip them with a whole new set of skills
Fruit Sticking: Buy multi-coloured chart paper and using a scissor cut out the shapes of an apple, orange, banana and other fruits. Then ask your toddler to identify which fruit is which before sticking them on a large, white chart paper. This fun activity helps in improving motor skills, hand-eye coordination, shapes and colours recognition. The final product can be displayed on the fridge and used to encourage your child to do other fun learning activities.
Feed The Snowman: Cut out the bottom of a plastic bottle and place some plastic eyes on it. You can also put a ribbon at the bottom to mimic a muffler. Place it on a tray and unload a bag of small cotton balls near it. Ask your toddler to then 'feed' the snowman by using tongs to place the cotton balls in the mouth of the bottle. The activity helps in improving motor skills along with hand-eye coordination.
Ladle Lift: You will need two bowls a few toys, water and a ladle for this activity. Fill one of the bowls with water and put the toys inside. Your toddler must recover all these toys from the water bowl and place them in the dry one. It can be a little complicated for very young toddlers and can help improve their motor skills.
Balloon Hockey: This deceptively simple activity can immensely improve your toddler's motor skills and hand-eye coordination. Use a balloon as the ball, a fly swatter as the hockey stick and a basket as the goal post. If you want, you can even use coloured tape to mark the boundaries of the 'court'.
The above games are all simple for an adult but can be challenging for a toddler. They help build a solid foundation for pre-school and makes learning fun.
Also Read: 15 Fun Learning Activities for Kids