Slime For Kids – 8 Innovative Recipes that Your Child Will Love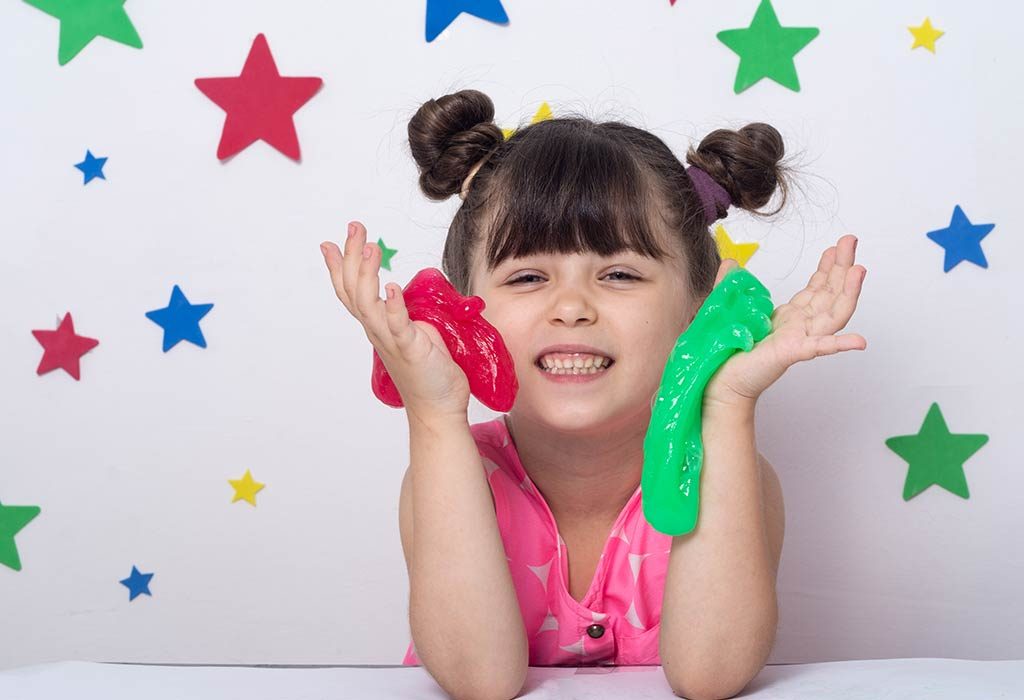 In this Article
There's no denying that kids love playing with slime. Slime, although gross to touch, can be a source of entertainment for many kids on the planet. There are different colours, textures and compositions that you can find in the market. Most of these are safe for kids but you can never be too sure. It is always best to ensure the quality of slime that is being purchased so that it is not harmful to keep around the house. We have put together a list of 8 innovative recipes to make your own slime in the safety of your house so that you don't have to depend on commercial slime. Read on to find out more about it.
Should Kids Play with Slime?
For many kids around the world, slime is unfortunately banned from their houses. It is understandable since most parents would like to keep the house clean and also make sure that their child does not ingest something that could be harmful to them. However, as long as your little one does not try and eat the slime and maintains cleanliness after playing with it, slime is safe for children. It is also a great opportunity for them to learn about science and improves their problem-solving skills. Slime also includes math in terms of the ratios of different materials required to make the slime. Banning slime, unfortunately, denies children of such a great and fun way to learn something.
8 Best Slime Recipes For Kids
The easiest way to acquire slime is to go to the store and buy some but if you want your kids to learn and make their own slime at home in a safe environment with different kinds of material, you should read below. We have the 8 best recipes for how to make kid-friendly slime from the comfort of your homes.
1. Fluffy Slime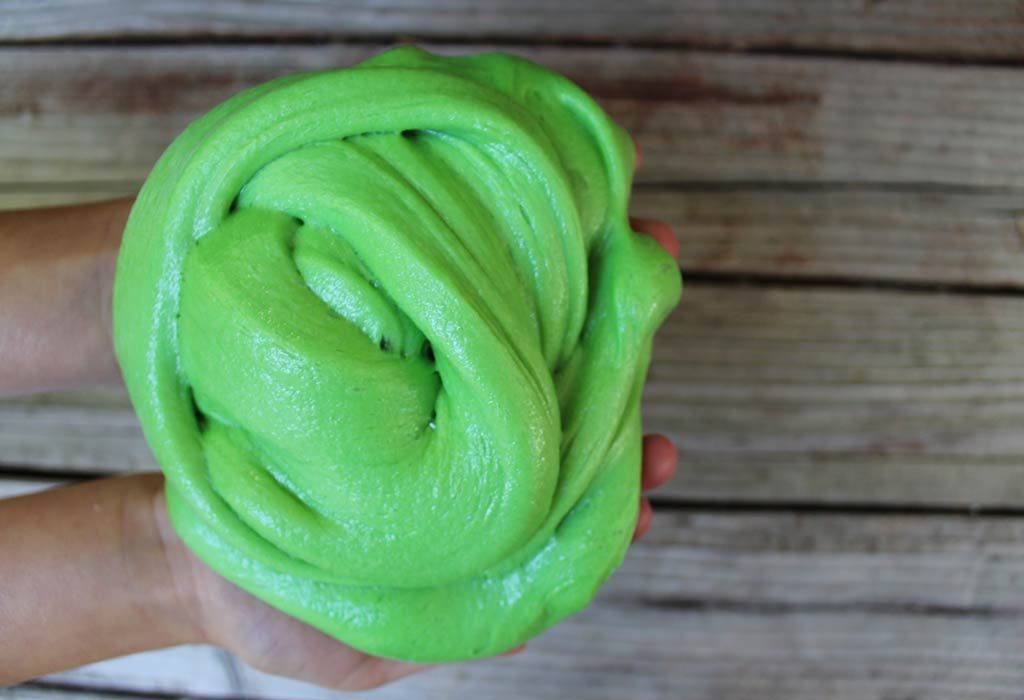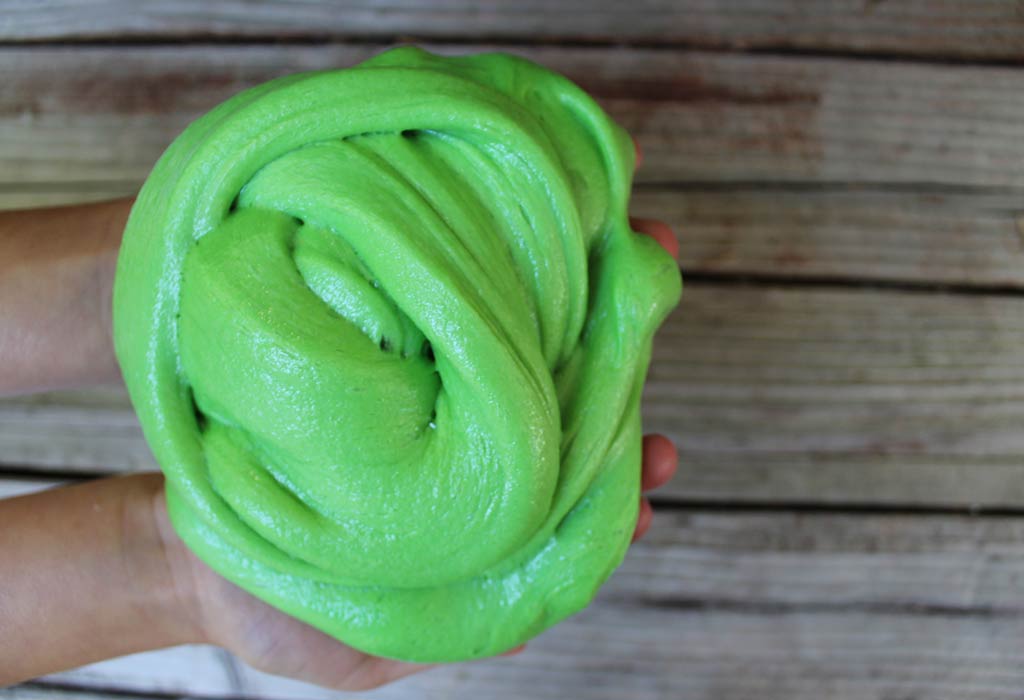 This is a kid-friendly slime recipe that you can try with ingredients that you can find either at home or the closest store. Make sure to follow the directions precisely in order to make a special fluffy slime.
Supplies
2/3 cup of white glue
0.5 tsp baking soda
0.25 cup of water
2-3 cups of shaving cream, not gel
1.5 tbsp contact lens solution with boric acid and sodium borate
Food colouring
Instructions
In a bowl, add the white glue.
Add the baking soda along with water and stir.
Add the shaving cream and continue mixing.
Add the food colouring of choice.
Slowly introduce the contact lens solution.
Keep kneading the entire mix until you get the required consistency of fluffy slime
Tips
Make sure the contact lens solution contains boric acid and sodium borate.
If the slime is too sticky, dab some baby oil on your hands.
You can make batches of slime based on the food colouring, since mixing them will lead to all the colours in one batch of slime.
2. Super Slime
For the kids that are just not satisfied with normal slime, here is a recipe for DIY slime for kids, which is extra slimy. Adults might be required to pick up some of the ingredients from the closest market. Make sure to have parental supervision while making this recipe.
Supplies
A bowl
½ cup of polyvinyl alcohol or PVA solution
food colouring
2 tsp Sodium tetraborate solution
A small stick
Instructions
Pour the polyvinyl alcohol solution into a bowl.
In case you want coloured slime, add the food colouring and stir the solution with a stick.
Add the sodium tetraborate to the mix and continue stirring.
You will notice that the mix starts to get slimy as you lift the solution with the stick.
Use the slime and have fun!
Tips
Make sure to keep the slime in a plastic bag in the fridge so that it doesn't grow mould.
Add different food colouring to try and make rainbow slime.
3. Glitter Slime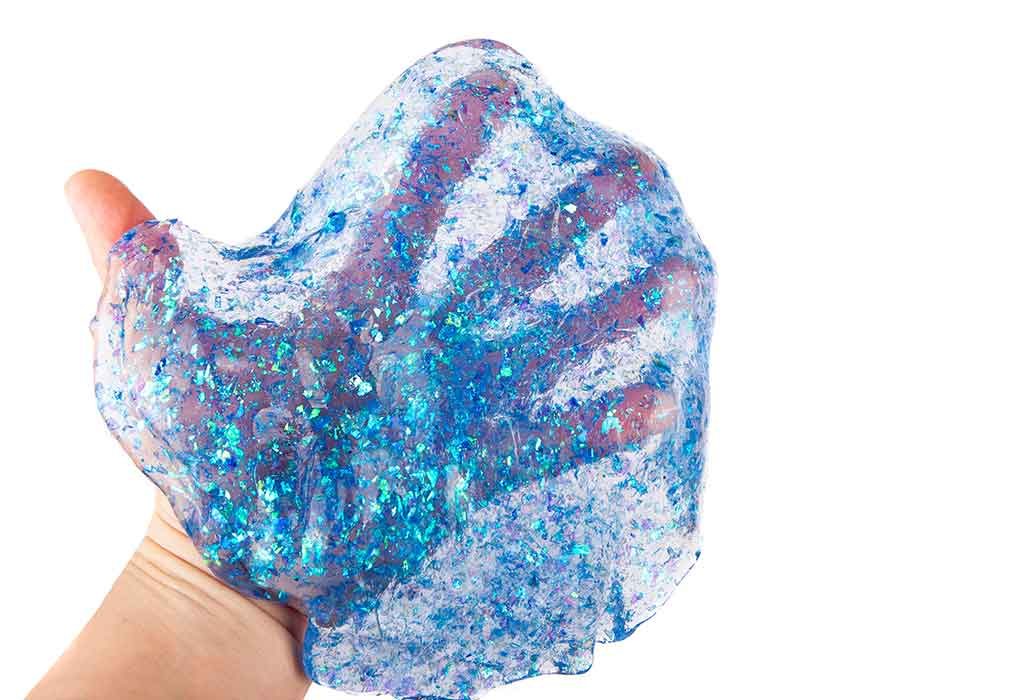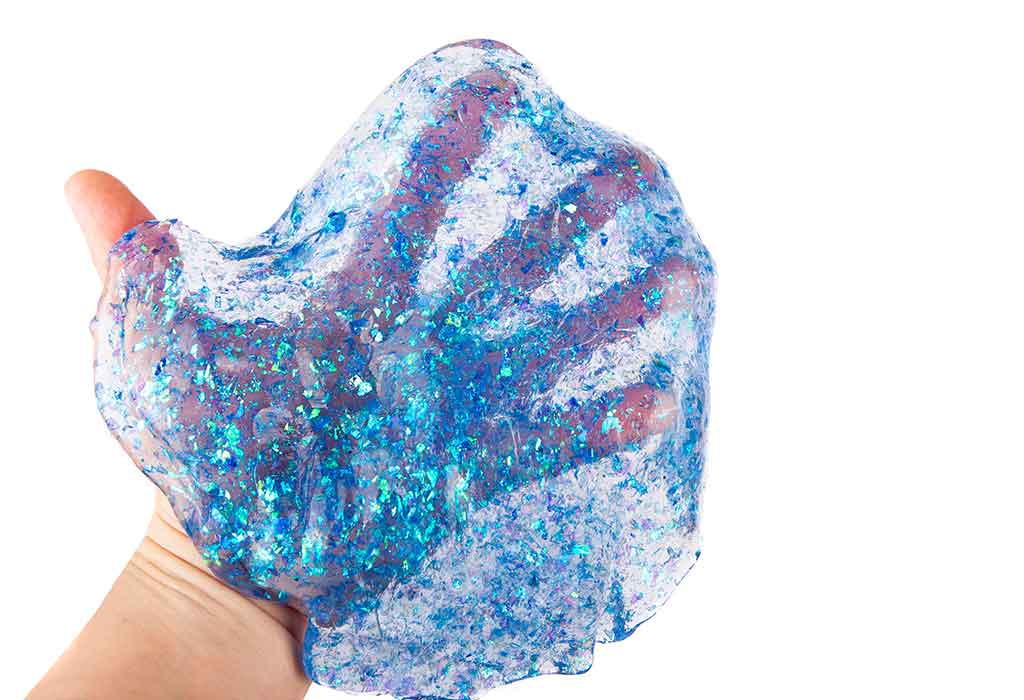 Glitter and slime are the two best combinations to make kids absolutely love any kind of crafts. Combine the two ingredients and you get glitter slime, which is homemade slime for kids that glitters! Let's take a look below at the steps to make it.
Supplies
1 cup of clear glue
¼ cup of liquid starch
Glitter
Food colouring
Bowl
Stick
Instructions
In a bowl, add the clear glue.
Add the glitter and make sure that it mixes evenly and well.
Add a little bit of the liquid starch and keep mixing.
Continue adding the starch up to a point where you are okay with the consistency.
Add the food colouring and mix until evenly coated.
The slime is now ready to be played with!
Tips
You can either remove batches and add different food colouring to have different colours of glitter slime or keep it all in the same colour.
Liquid starch brands vary so the amount of starch that you add will also vary. Be careful!
If the slime is too sticky, it needs more starch. If it is too rubbery, too much starch has been added. It is easy to add more but not possible to remove the starch once too much has been added.
4. Saline Slime
This slime recipe uses the most basic ingredients to make the safest kind of slime. Slime craft is a good skill for kids to have in order to understand a variety of things from the ingredients that are involved in mathematical ratios in which the ingredients must be added.
Supplies
1/2 cup of white glue
0.5 tsp baking soda
0.5 cup of water
1 tbsp saline solution containing boric acid and sodium borate
Food colouring/confetti or other fun additions
Instructions
In a bowl, add the white glue.
Add the 0.5 cups of water and stir well so that they combine perfectly.
Add the food colouring or glitter or confetti to make it more "fun".
Add the baking soda to the mix.
Add the saline solution slowly and watch the slime pull away from the walls of the bowl.
Keep mixing and kneading until the required consistency has reached
Tips
You can make your slime unique with the extra things that you add to it.
Remember to not add too much saline solution because it is not possible to remove it.
You can increase or decrease the baking soda depending on how firm you would like your slime to be.
5. Natural Slime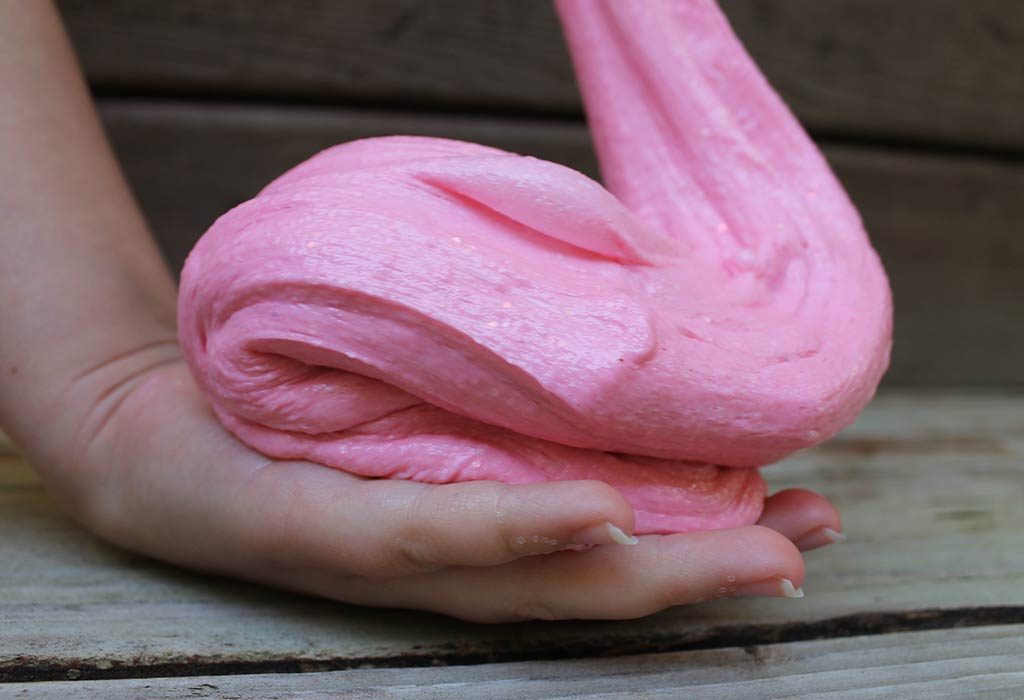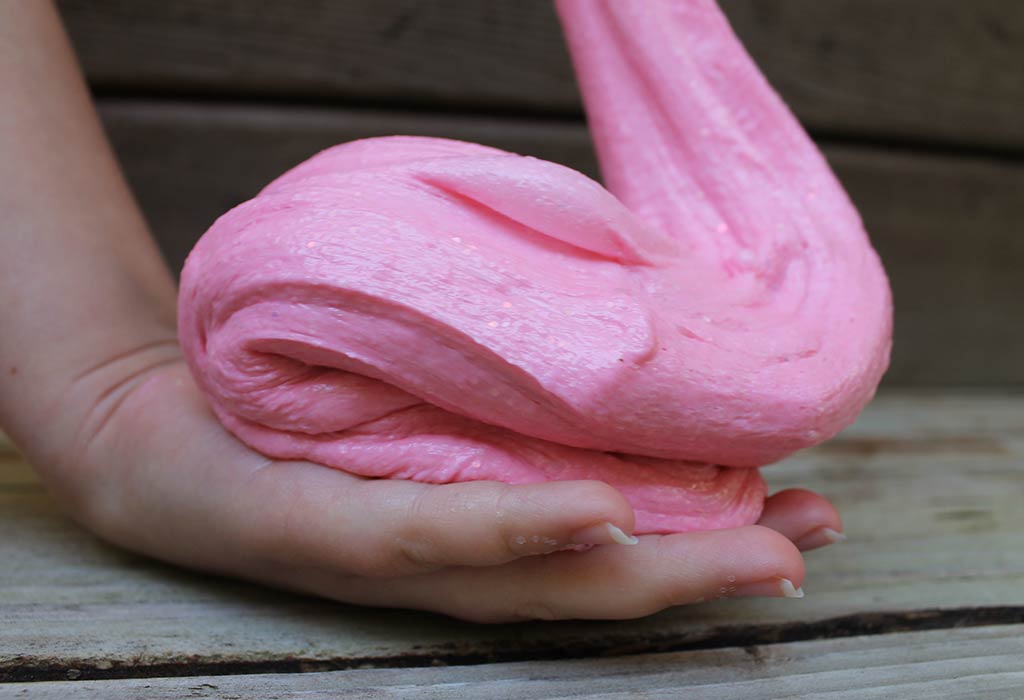 In case you are worried about the different chemicals (although safe) that go into making slime, we also have a natural method of making it at home. These ingredients are all organic and safe, however, might require a bit of shopping to find.
Supplies
2 cups of warm water
1 tbsp of natural fibre (found online)
1 tsp of cornstarch
Natural food colouring in the colour of choice.
Medium-sized pot
Stick to stir
Instructions
Add the water to the pot and mix in the fibre and cornstarch along with the food colouring.
Stir the mix so that it is combined.
Place the stove on low heat.
Bring it to a boil and boil it for about 5 minutes.
Take it off the stove, keep it aside and let it cool for some time.
Repeat the previous two steps for a total of 3-4 times.
Test the tensility of the mix and repeat the boiling and cooling another time if required.
Allow it to cool completely and it will thicken further.
Store it in a plastic bag in the fridge.
Tips
Do not stir the mix, although it might be tempting.
Let the slime cool completely before handling it.
You can replace the food colouring with turmeric, beet powder or other natural items.
6. Glooze Slime
Glooze slime can be easily made at home as the main ingredients required are only milk and vinegar, which exists in most households. It is a non-toxic recipe that will ensure that your child has slime to play with.
Supplies
7-8 tbsp of skim milk
1 tbsp vinegar
Coffee filter
0.25 tsp baking soda
Bowl
Instructions
In a bowl, add the milk and the vinegar and continuously stir until it starts becoming solid.
It becomes solid because the milk's protein, casein, which is a polymer, separates from the milk and starts clumping together.
Use the coffee filter and allow the solid to drain for some time so that the rest of the milk is drained out.
Add the baking soda to the solid and knead it to form a slimy mixture.
Allow your child to enjoy this slime.
Tips
This process may not smell very pleasant so make sure that you have a strong nose or a mask.
7. Quicksand Slime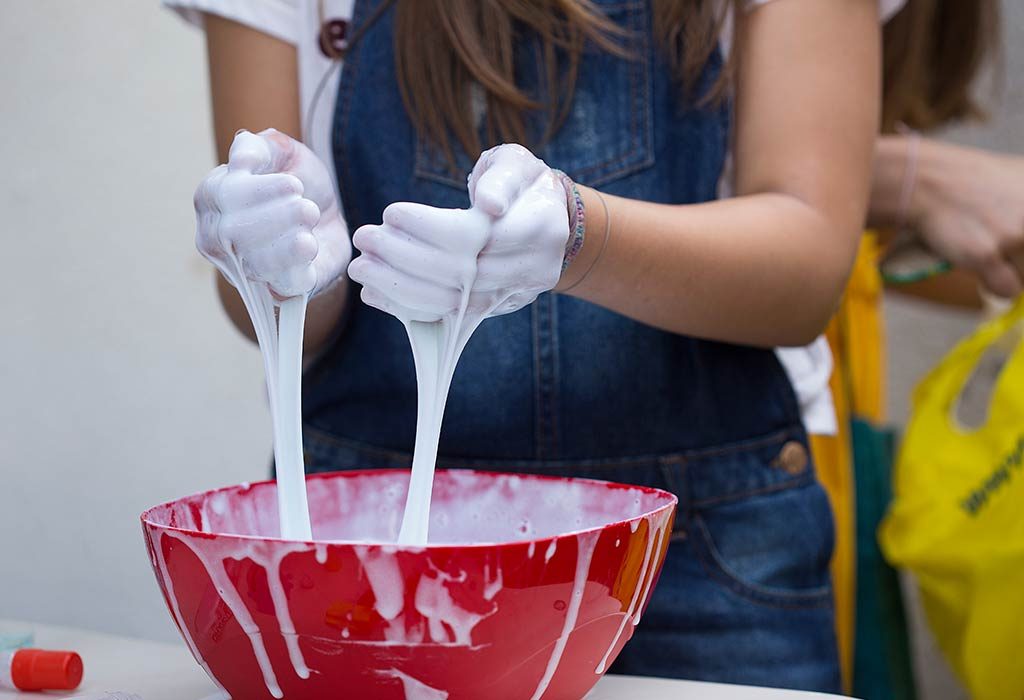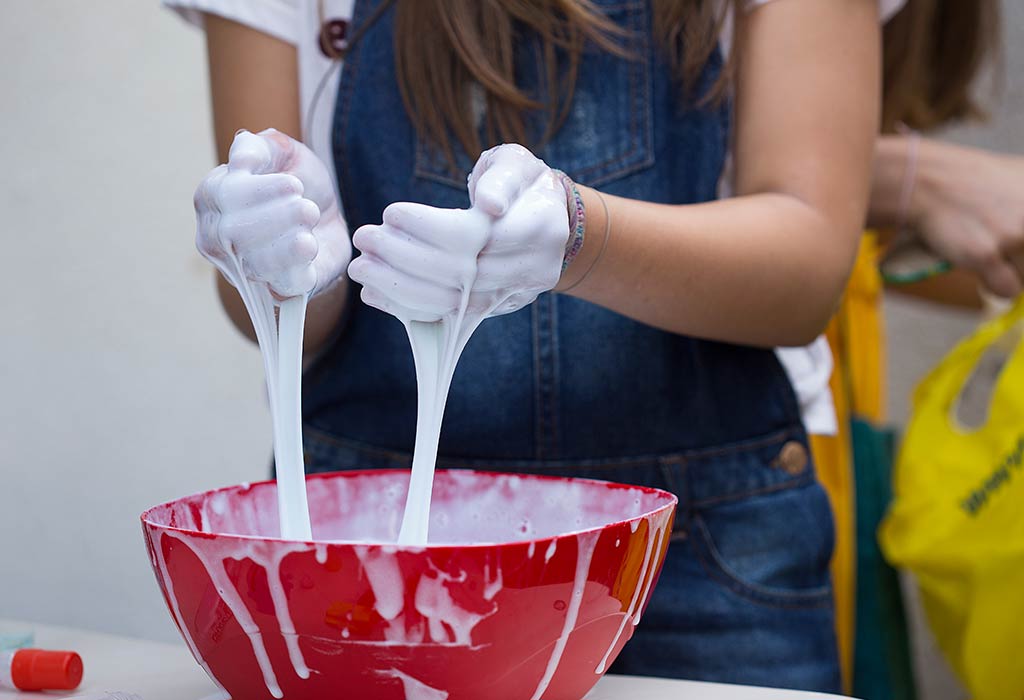 Quicksand slime is a homemade recipe, which will make the slime like a non-Newtonian fluid. The cornstarch in this recipe ends up playing a big role to make the kind of slime that resembles quicksand. Read below to find out how you can make it.
Supplies
Plastic bowl
2 cups of water
4 cups of cornstarch
Food colouring
Instructions
In a bowl, add the water and the cornstarch and mix until it starts looking like cream with the consistency of honey.
The mixture acts like quicksand.
You can try to keep your hand over it and see how it dips into the mixture.
Try to move your hand back and forth at different speeds through the mix. What do you notice?
If you want, you can also try to gently punch the mixture to see how it behaves differently.
As you move your hand through the mix, it behaves like a liquid but when you try to force your hand through in the form of a punch, it acts like a solid.
Tips
Ideally, you should start with a little bit of water and add more in order to get the desired consistency.
Make sure you don't punch the solution too hard and get hurt in the process.
Since it is a non-Newtonian liquid, the amount of force dictates the state of the slime. Light pressure will allow it to act as a liquid and strong pressure will make it act as a solid. It is a super cool experiment to try with your child at home.
8. Simple Slime
Last but not the least, is our recipe to make the simplest slime at home. This recipe is used across the world for kids to enjoy slime. It uses the main ingredient, borax, to make the perfect slime that can be enjoyed by kids of all ages.
Supplies
½ cup of warm water
½ cup of water
½ cup of white glue
0.25 tsp borax powder
Food colouring or glitter
Instructions
In a bowl, add the white glue.
Add the warm water and stir the mix.
Add the food colouring of choice or the glitter that you may have picked up and stir to make it evenly distributed.
Add the borax powder to a ½ cup of hot water
Mix the solution thoroughly. Until the borax is almost completely dissolved.
Add this to the first bowl at a very slow pace.
Keep stirring until the consistency is that of slime!
Tips
If you want oozier slime, make sure to marginally reduce the amount of borax powder.
The number of ways to make slime is many. It just depends on the kind of slime that your child is looking for and our recipes will make sure that different kinds of slime are covered. Don't worry about the slime being unsafe and messy, as if your child makes it on his own, he will ensure that everything is cleaned up since he knows the amount of time it takes to make it. Just have fun with your child as these are the most precious years and you would definitely not want to deprive him of this fun experience.
Also Read:
Fun Learning Activities for Kids
Exciting Winter Activities For Kids
Science Project Ideas for Kids