39 Popular Celebrity Baby Names of Bollywood Star Kids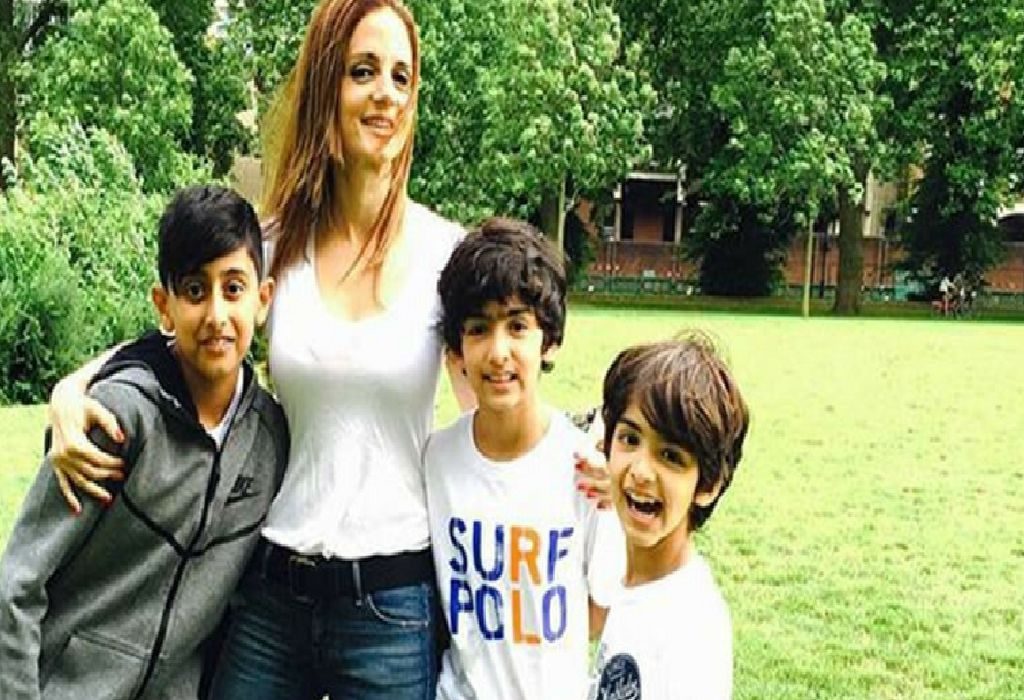 In this Article
We know celebrities have a reputation to keep and that works well in the favour of their little ones – they get to flaunt uber-stylish names for a lifetime! Let's look at some of the cool concoctions our favourite Bollywood couples have come up with for their babies.
Celebrities are always being watched and idolised. They have a great responsibility to inspire and motivate their fans. When it comes to being new parents, their joy is not only shared by their family but also millions of fans who'd like to share in these endearing moments. Baby names among new Bollywood mamas and papas are getting more creative by the day. Indian celebrity kids' names have been a cause of great interest and curiosity for all of us for a long time!
Also Read: Royal Baby Names for Boys & Girls
Bollywood Celebrity Baby Names
1. Aaradhya
Parents: Abhishek and Aishwarya Bachchan
Meaning: In Sanskrit, it means 'first one' or 'one worth worshipping', and boy does her family fittingly dote over her! In fact, Aishwarya always carries her daughter in her arms, for this adorable reason.
2. Azad
Parents: Aamir Khan and Kiran Rao
Meaning: Azad means 'free or liberated', which makes this one of the strongest celebrity baby boy names we know! It is inspired by Aamir's great grand uncle, Maulana Azad (the great freedom fighter), who the family is proud of. What a wonderful gesture!
3. Shahraan and Iqra
Parents: Manyata and Sanjay Dutt
Meaning: The name Shahraan has Persian roots where 'Shah' means royal and 'raan' means knight. Thus, Shahraan translates to a royal knight or warrior. The bonus is it starts with 'S' keeping the tradition of boys being named with the same letter like Sunil, Sanjay and now Shahraan. Iqra, on the other hand, is a Hebrew name which means 'to learn or educate'.
4. Anya, Diva and Czar
Parents: Farah Khan & Shirish Kunder
Meaning: Diva is derived from Latin and means 'divine' whereas Anya means 'grace' in Russian. Czar, on the other hand, comes from the Latin word 'emperor'.
5. Viaan and Samisha
Parents: Shilpa Shetty and Raj Kundra
Meaning: Shilpa's boy's name Viaan means 'full of life and energy'. Yes, we like the sound of his names and what it symbolises. On another note, little Viaan is also very stylish, just like his Mamma.
6. Nysa and Yug
Parents: Kajol and Ajay Devgan
Meaning: The name Nysa is of Greek origin and means a 'goal or a new beginning', while the name Yug comes from a Hindi word which translates to 'an era'.
7. Azaan and Rayaan
Parents: Amrita Arora and Shakeel
Meaning: The baby name Azaan means 'powerful and Rayaan means 'door to paradise'. Indeed, that's exactly what children are – our pathway to bliss!
8. Aarin and Ryan
Parents: Madhuri Dixit and husband, Dr Nene
Meaning: Ryan is an Irish baby name that means 'king', while Aarin means 'mountain strength'. Madhuri, on her part, has a unique secret to keep her kids' strength going.
9. Haroon
Parents: Konkana Sen Sharma and Ranvir Shorey
Meaning: Haroon literally translates to 'hope' in Sanskrit. Konakana and Ranvir were inspired by one of Salman Rushdie's books – Haroun and the Sea of Stories.
10. Hrehaan and Hredhaan
Parents: Hrithik Roshan and Suzanne Roshan
Meaning: Hrehaan is an Indian variation of the Arabic name Rehan and means 'God's chosen one'. Hridhaan is an Indian name that means 'the one with a big heart'. The parents hold their kids close to their heart and don't let them come to any harm, as Suzanne Khan's reply to this media report proved. God bless them!
11. Kiaan Raj & Samaira
Parents: Karishma Kapoor
Meaning: The name Samaira means the Greek 'goddess of beauty' in Latin, whereas Kian means 'grace of God'. Such pretty names, both of them, just like their gorgeous mom!
12. Abram, Aryan and Suhana
Parents: Shahrukh and Gauri Khan
Meaning: Little baby AbRam's name comes from the Hebrew word for 'exalted father' or 'father of multitudes'. Suahana means 'charming' and Aryan means ' an honourable person' or 'warrior'.
13. Akira & Shakya
Parents: Farhan & Adhuna Akhtar
Meaning: Akira in Japanese means 'bright and beautiful' and describes the little girl quite aptly. Shakya means 'energy circle'. We think these names are the perfect blend of the spiritual and the worldly – a perfect balance!
14. Reene and Alisah
Parents: Sushmita Sen
Meaning: Alisah is of German origin and means 'noble or kind', and the name Reene means 'to be reborn'. Our favourite adoptive mum dotes over her lovely girls and must have spent hours before coming up with these beautiful names.
15. Mahika & Maira
Parents: Arjun Rampal and Mehr
Meaning: The baby name Mahika in Sanskrit means 'earth', whereas Maira from the Quran and translates to 'light, swift and fast-moving'. Another power-packed combination for the Rampal family
16. Rasha and Ranbir
Parents: Raveena Tandon and husband, Anil Thadani
Meaning: Apart from Raveenas adopted daughters, she now has two little ones who she has named Rasha and Ranbir. Rasha actually means 'the first drops of rain', but her entire name is Rashavishaka which means Lord Shiva. Ranbir, whose full name is Ranbirvardhan is also tied to Lord Shiva and means 'Shiva is the war hero'.
17. Misha and Zain
Parents: Mira Rajput and Shahid Kapoor
Meaning: An amalgamation of Shahid's and Mira's name, Misha is actually a Russian name which means 'God-Like'. Isn't she that cute indeed?
18. Roohi and Yash
Parents: Karan Johar (via surrogacy)
Meaning: Karan Johar has named his twins Yash and Roohi, as a tribute to his parents, Yash and Hiroo. While Yash means 'success', Roohi is an anagram of Karan's mother's name, Hiroo. Sweet!
19. Nitara and Aarav
Parents: Twinkle Khanna and Akshay Kumar
Meaning: Akshay and Twinkle have chosen thoughtful Indian names for their children. While Nitara stands for 'the one with deep roots', Aarav signifies 'a calming sound'.
20. Adira
Parents: Rani Mukherjee and Aditya Chopra
Meaning: The meaning of Adira is 'the noble one' in Hebrew, while also being a beautiful union of her parents' names, Aditya and Rani.
21. Ayaan
Parents: Parveen Shahani and Emraan Hashmi
Meaning: In Arabic, Ayaan signifies 'Gift of God', and in various African languages Ayaan means everything from the centre part of one's soul to 'brightness' and 'good fortune'. We must say, Emraan and Parveen chose a perfect name!
22. Riaan and Rahyl
Parents: Genelia D'souza and Riteish Deshmukh
Meaning: Riaan stands for 'king' in Irish as well as many Indian languages.
23. Taimur and Jeh Ali
Parents: Kareena Kapoor and Saif Ali Khan.
Meaning: Taimur is named after the founder of the Timurid Empire in Persia, in the 14th century, Emperor Timur. Taimur also means 'iron' in Arabic.
24. Nevaan
Parents: Sonu Nigam and Madhurima
Meaning: Nevaan signifi
25. Imaara
Parents: Avantika and Imran Khan
Meaning: Imara, is 'to enliven'. That is precisely what she must have done to Imraan and Avantika!
Tollywood Celebrity Baby Names
Tollywood is the sobriquet for Telugu cinema, which has given rise to many hits, superstars and a massive fan-base over the years.
26. Gautham and Sitara
Parents: Namrata Shirodkar and Mahesh Babu
Meaning: Sitara, means 'a star', and Gautham is derived from Gautam, named after Lord Buddha, 'the eliminator of darkness.
27. Akhil and Chaitanya
Parents: Amla and Nagarjuna Akkineni
Meaning: Akhil means 'complete or whole' while Chaitanya means 'the brightness of spirit and intelligence.
28. Mayookha and Karthikeya
Parents: Rajamouli and Rama Rajamouli
Meaning: Karthikeya, is named after the Hindu God of war, and Mayookha signifies 'a ray of light'.
29. Mahadhan and Mokshada
Parents: Ravi Teja and Kalyani
Meaning: While Mahadhan means 'wealthy', Mokshada is derived from 'Moksha', release from the cycle of rebirth.
30. Akira and Adhya
Parents: Pawan Kalyan and Renu Desai
Meaning: Akira means 'bright, intelligent and clear, while Adhya being the firstborn was given an apt name since it means 'the first power, 'unparalleled'.
Kollywood Celebrity Baby Names
Kollywood, derived from Hollywood, is the name given to the Tamil film industry, primarily since it is located in Kodambakkam near Chennai. With the vast fan following that Kollywood has amassed, and the impact it has on fans, it would have been a crime not to include baby-names of Kollywood celebrities here.
31. Aishwarya and Soundarya
Parents: Rajinikanth and Lata
Meaning: Aishwarya stands for 'prosperity and wealth', and Soundarya means 'beauty'.
32. Diya and Dev
Parents: Suriya and Jothika
Meaning: While Dev means 'God', Diya means 'brightness and radiance'.
33. Linga and Yatra
Parents: Dhanush and Aishwarya
Meaning: Linga symbolises' Lord Shiva' and Yatra stands for 'religious procession'.
34. Vedant
Parents: R Madhavan and Sarita
Meaning: Vedant, apart from being a sonorous name, also has a deep meaning. Vedant means 'the one who has the ultimate wisdom of the Vedas.
35. Shruti and Akshara
Parents: Kamal Haasan and Sarita
Meaning: The name Shruti means 'lyrics of the Vedas', while Akshara means 'indestructible and indisputable.
Phew! Haven't these stars inspired you to take baby naming one step further from the usual? If you and your husband have concocted some unique names for your baby, do write to us and let us know, we absolutely would love to hear how creative you are.
36. Abhishek and Shweta
Parents: Amitabh Bachchan & Jaya Bachchan
Meaning: Abhishek means 'worship' and is a Sanskrit name. Shweta means 'lovely and pure'.
37. Malti
Parents: Priyanka Chopra & Nick Jonas
Meaning: Malti is a Hindi word that means 'tiny fragrant flower' or 'moonlight.' The name is derived from two completely different languages, Sanskrit and Latin, which makes it a beautiful fusion of tradition and modernism.
38. Avyaan
Parents: Dia Mirza & Vaibhav Rekhi
Meaning: The name 'Avyaan' is also one of the names of Lord Ganesha, signifying being born with "a lot of luck".
39. Inaaya
Parents: Soha Ali Khan and Kunal Kemmu
Meaning: Inaaya is a name of Arabic origin and means help, care and protection from the almighty. It can also be interpreted as a 'Gift from God.'
Also Read:
Nature Inspired Baby Names for Boys & Girls
Most Popular Baby Names 2020
Adorable Twin Baby Boy Names with Meanings