80 Royal Names For Boys and Girls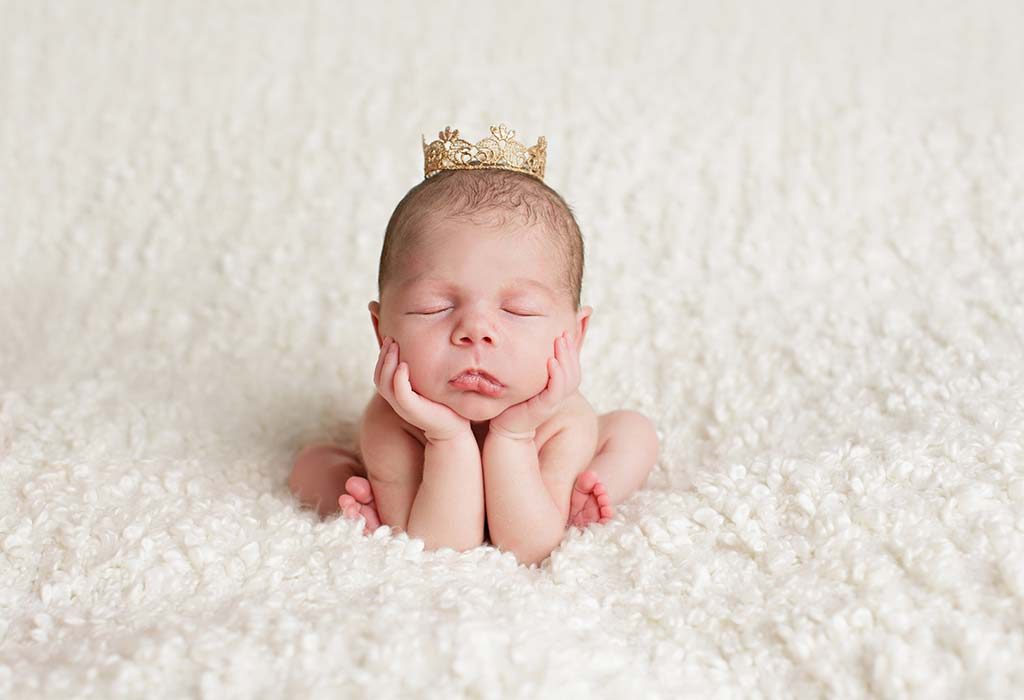 In this Article
What's in a name? Everything. It's the first thing people ask when they meet you and it becomes an integral component of your identity. Names have value, especially those symbolizing power and royalty. As a parent it's your job to name your child such that it becomes their definition for the rest of their lives and brings in self confidence and success.
Now that you need to name your baby, choose from this list of baby names that mean royalty with names that span from the classic to the contemporary.
Royal Baby Boy Names
Here are some royal names for baby boy to choose from:
| | |
| --- | --- |
| Name | Meaning |
| Amar | Amar is a popular one syllable Rajput name which means Immortal. |
| Archie | One of the most popular names in Europe. Archie means brave, bold or genuine. |
| Adrian | Meaning 'Man of Adria', Adrian is a royal English name from the 20th century. |
| Arthur | Traditionally royal name in the 17th and 18th century which is being revived lately. |
| Ahan | One who is the nature of time, first ray of light, morning glory, sunrise. |
| Aaron | Exhalted high, light bringer, lofty, enlightened, powerful mountain. |
| Brice | Family name of the famous Scottish King Robert. |
| Bhairon | It's an original, refined, rich baby name that means 'Fear inducing'. |
| Eshanth | An alternate name for the Hindu deity 'Lord Vishnu'. |
| Christopher | Christopher is a royal name from the 13th century. |
| Gaurav | Classic royal baby boy name meaning 'pride, honour and respect'. |
| Caspar | One of the three wise men in the new testament, the treasurer. |
| Jaswant | Means Victorious or Worthy of praise. Popular form Maharaja Jaswant Singh. |
| Karan | Rajput name meaning 'Ear'. Old warrior name from ancient India. |
| Lakshay | Strong name which means 'Aim, goal or destination'. |
| Jai | Common royal name in the Rajputs |
| Harry | Harry is one of the most popular names in royal families and even fictional characters. |
| Harish | A spiritual name honouring the Hindu deity 'Lord Shiva'. |
| Pratap | Meaning 'Bravery', it's a classic Indian royal boy baby name. |
| Raman | Meaning 'wise protector' it's an enigmatic name for a prince. |
| David | Popular royal name from the 18th century. |
| Alex | Short for Alexander meaning the defender of humankind. |
| James | A royal name with biblical roots in the name Jabcob. |
| Ratan | Meaning jewel, it's one of the glorious royal baby boy names. |
| Rana | Means to gaze or look, royal name denoting a monarch. |
| Richard | Meaning 'dominant ruler', was a popular name among the kings in 15th and 16th century. |
| Rawal | Royal name for rulers in western Indian states meaning 'King'. |
| Ravindra | Grandeur name for boys meaning 'the sun lord'. |
| Uday | Uday means to rise or 'the rising', a popular name for Indian boys. |
| Tarun | A slick Rajput name which means to 'gain'. |
| Vaibhav | Meaning 'ethical, moral and righteous'. One of the names of Hindu deity Vishnu. |
| Vikram | Meaning 'fearless, or the wise one'. Traditional Indian name of Rajput origin. |
| John | Hebrew name meaning 'God is gracious' and a common royal name. |
| Louis | Meaning 'renowned warrior', it's a royal boy's name of French and German origin. |
| Nick | Short for Nicholas. It's a greek name form the goddess of victory Nick. |
| Thomas | Meaning 'twin' it's a royal name with an Aramaic origin. |
| Yogesh | Meaning the 'god of yoga', a unique Indian boy name with spiritual significance. |
| Rajeev | Popular Rajput name meaning 'achiever or blue lotus'. |
| Lionel | Comes from the Arthurian legend, a majestic name in royalty. |
| Madan | Indian boy name meaning unique, exotic and 'god of love' |
Royal Baby Girl Names
Here are some beautiful royal baby girl names to pick from:
| | |
| --- | --- |
| Names | Meaning |
| Amala | Sanskrit word meaning 'clean and pure'. Endearing name for a girl. |
| Anjali | Meaning 'an offering or gift with both hands'. It's a popular name associated with royalty. |
| Adela | Royal name originating from Adela or Normandy. It means 'serene' or 'Noble'. |
| Alice | Meaning 'of a noble kind'. Royal name derived from Princess of Hesse. |
| Anne | Hebrew name which means 'grace' or 'favour' and a common royal favourite. |
| Aarna | Another name for the Hindu goddess of wealth, prosperity and good fortune 'Lakshmi'. |
| Aditi | Sanskrit word meaning boundless and freedom. Also the Hindu goddess of sky and fertility. |
| Amara | Meaning 'eternal' and 'Immortal', it's a common name among Hindus, Buddhists and Sikhs. |
| Catherine | Royal English name with French origins meaning 'clear' or 'pure'. |
| Caroline | An Italian name meaning 'strong', Caroline is popular among royal families. |
| Christina | Meaning 'follower of Christ', It's a royal name of Greek origin. |
| Charu | Indian name meaning 'beautiful, graceful and pure in the spiritual sense'. |
| Diana | Meaning 'heavenly, divine', Diana is the roman goddess of hunting, women and childbirth. |
| Eesha | Eesha is of Islamic origin and means 'alive' or 'life'. |
| Ekta | Meaning 'unity', it's a feminine royal name for young girls. |
| Fiona | It is one of the royal princess baby names of Irish and Scottish origin meaning 'fair, white'. |
| Grace | Royal female name with latin origins meaning 'God's favour'. |
| Helen | Greek name for royalty which means 'light'. |
| Kate | Derived from the Spanish 'Katharina', it means 'pure'. |
| Karuna | Meaning 'compassion'. It's a feminine Indian name. |
| Shanthi | Indian name with a deep cultural significance meaning 'peace' |
| Manisha | Manisha is the Hindu goddess of the mind symbolizing intelligence. |
| Isabella | Spanish version of Elizabeth. It means 'devoted to god'. |
| Jane | Feminine version of John, it means 'jehovah has been gracious'. |
| Lucia | Lucia is of Italian origin meaning 'graceful light'. |
| Neha | A popular elegant name which means 'rain or eyes' |
| Riya | A lovely name with a delicate ring to it, meaning 'singer'. |
| Sapna | A beautiful feminine Indian name meaning 'dream' |
| Karishma | Indian name meaning 'miracle' |
| Marie | Meaning 'sea of bitterness', it's a name borne by many royalty |
| Matilda | Meaning 'strength or might', it's a Latin name for royalty with German origins as well |
| Mia | Meaning 'wished for child', 'rebellion' and 'bitterness', sporty royalty name. |
| Veda | Translates to 'knowledge', it's derived out of the sacred Hindu texts. |
| Saniya | Saniya or Sania is an Indian name meaning 'pearl'. |
| Mina | Popular name around the world meaning 'precious blue stone'. |
| Noor | Noor has Arabic origins meaning 'light'. |
| Roopa | Indian name meaning 'blessed with beauty'. |
| Sophia | Meaning 'wisdom', Sophia is a sophisticated name for royalty. |
| Zara | Zara is Queen Elizabeth's granddaughter's name. It means 'beautiful'. |
| Isla | Royal name of Scottish rulers, pronounced as "Eye-la", it means 'Island'. |
These are some of the classiest royal baby names from different cultures around the world. Each name has a deep meaning making the person unique.
How to Choose a Name for Baby
Unique Indian Names for Baby Boy with Meanings
Strong and Powerful Baby Boy Names
Indian Baby Unisex Names with Meanings