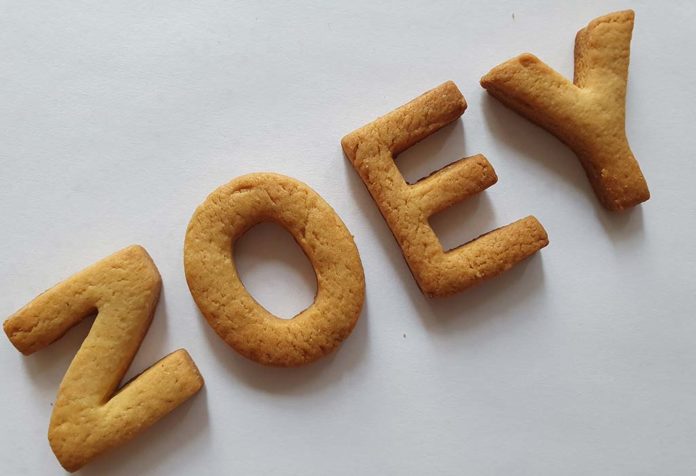 We all want our children to live long, healthy, and full of life. This is why we often look for names that mean the same so that our children can inculcate and embody those habits in themselves. This is also why names mean "life" are incredibly popular among new parents. Here, we will look at Zoey, one of the many names with this meaning.
What Does Zoey Mean?
Zoey is the modern way of spelling the classic and stunning name Zoe, and the meaning of Zoey is "life." The meaning of the name lends it an incredibly beautiful and mystical feel. However, because Zoe is the Greek-Jewish translation of the name Eve, it creates a Biblical connection for Zoey. Such connections and a beautiful history help beautify the name and meaning of the name even further, mainly due to the relations with the first woman on Earth. This is why Zoey and Zoe are especially favored by Christian parents worldwide.
Origin
The primary origins of Zoey are from Greece. Specifically, the name was popular in ancient times, especially with the presence of two popular Saint Zoe, from Rome and Pamphylia. Furthermore, the name also has roots in Bible, especially since Zoe is the translation of Eve and Zoey is a diminutive of Zoe.
Gender
Female
Pronunciation
Zo-ee
Syllables
2 Syllables
Length/Letter
4 Letters
Name Variations/Spellings
Many Zoey name variations accurately reflect the way the name is present in many cultures and how cultural factors have changed the spelling of the name. Hence, some other spellings for Zoey that can provide insight into such cultural aspects include:
| | |
| --- | --- |
| Name | Origin |
| Zoe | French |
| Zoee | Greek |
| Zoei | Greek |
| Josie | British |
| Zofia | Greek |
| Joey | Hebrew |
| Zowie | English |
| Zoya | Belarusian, Bulgarian, Russian, and Ukrainian |
| Zoja | Latvian, Croatian, Slovene, and Lithuanian |
| Zeva | Hebrew |
How Popular Is the Name Zoey?
Zoey is an incredibly popular name in the US, having risen gradually but steadily since 2000. The name entered the top 100 names in 2008 and then entered the top 50 names in 2010. As per SSA data, while the name entered the millennium with a ranking of 409, the Zoey popularity index slowly rose, leading to the name acquiring the 32nd spot in 2020. While the current ranking has decreased a bit from the 20th position reached in 2012, the Zoey baby name ranking is still anticipated to improve considerably in the years to come.
Interest in Zoey – Worldwide
Global interest trends for the name Zoey can be seen to be considerably unpopular over the last ten years. Specifically, a sudden burst of popularity led to the search term gaining a score of 100 in September 2015. However, apart from this, the name has not been trendy in terms of search trends. This is evident because October 2021 recorded a score of 25.
Interest in Zoey – the US
Much like the global search trends, the name has not been a popular search term in the US over the decade as well. While September 2015 saw a sudden burst of popularity, leading to a score of 100, June 2019 saw the lowest score of 25.
Popularity of the Name Zoey
URL: https://www.ssa.gov/cgi-bin/babyname.cgi
Where Is the Name Most Searched?
Search Trends of Zoey – Worldwide
Following the global search trends, it can be seen that Ecuador has been generating the highest share of searches over the last decade. The list of the top five countries is completed by the US, Mexico, Canada, and Italy.
Search Trends of Zoey – the US
New Jersey leads among the many sub-regions of the US in terms of interest within the US. It is followed by Delaware, Rhode Island, South Dakota, Connecticut to complete the top five sub-regions with the highest interest in the name.
Middle Names That Go With Zoey
When chosen wisely, middle names can help beautify any name immensely, and Zoey is no exception. Here are some ideas for double names with Zoey to make the name sound even more beautiful:
| | |
| --- | --- |
| Marie | Mae |
| Rose | Celine |
| Mackenzie | Abigail |
| Marzia | Hope |
| Grace | Emma |
| Victoria | Shailene |
| Shay | Aria |
Famous People Named Zoey
Famous celebrities named Zoey can also help make the name more popular than it already is. Parents hope that their children will be equally successful by idolizing such famous people. Here are the most famous Zoeys around the world:
| | |
| --- | --- |
| Celebrity Name | Profession/Famous For |
| Zoey Deutch | Actress and producer |
| Zoey Burger | Actress |
| Zoey Aune | Influencer |
| Zoey Lee | Independent filmmaker |
| Zoey Diaz | Actress |
| Zoey Poulsen | Author |
| Zoey Taylor | Actress and writer |
| Zoey D'Antonio | Celebrity bodybuilder |
| Zoey Grossman | Director |
| Zoey Seidel | Influencer |
Similar Names & Last Names
Names that are similar in meaning give you options to choose from while maintaining the beauty of the name. So, for baby names like Zoey that mean life, here are a few other names for you to choose from according to the different potential family names for Zoey:
| | |
| --- | --- |
| Similar Baby Names | Suitable Family Names |
| Anastasia | Smith |
| Aurora | Laurier |
| Dawn | Bardot |
| Eva | Cromwell |
| Noema | Ashley |
| Zera | Monroe |
| Evette | West |
| Nyssa | Ellis |
| Enid | Jenkins |
| Ava | McKenna |
Names That Sound Like Zoey
Apart from names with similar meanings, if you have fallen in love with the sound of 'Zoey' and want to look for alternatives, here are some names that rhyme with Zoey:
| | |
| --- | --- |
| Zoella | Rosalie |
| Chloe | Melanie |
| Naomi | Laney |
| Perrie | Janelle |
| Renee | Josephine |
| Irene | Wendy |
Sibling Names Related to Zoey
When choosing names for your children, you also need to consider how you would name their siblings. Since siblings are introduced together, it is best to go for sibling names that go with each other. So, here are a few sister names for Zoey and brother names for Zoey to choose from:
| | |
| --- | --- |
| Sister Names For Zoey | Brother Names For Zoey |
| Jackie | Wyn |
| June | Justin |
| April | Mickey |
| Autumn | Kyle |
| Kay | Gwen |
| Hazel | Daze |
| Lillian | Gabriel |
| Maeve | Sebastian |
| Margo | Luka |
| Faith | Blake |
Nicknames for Zoey
Nicknames are often created in the spur of the moment, often out of endearment for your child. But if you wish to have an official nickname for your princess, here are a few ideas for nicknames for Zoey that you can use:
| | |
| --- | --- |
| ZoZo | ZooZoo |
| Zoyo | Yoyo |
| Zola | Zuzu |
| ZoeyPoey | Zombey |
| Zizzy | Zo |
Zoey is an incredibly sophisticated and beautiful name, and it is the perfect one for your beautiful daughter. But not only does it sound beautiful, but its meaning is also incredibly beautiful – the perfect one for a new life coming into this world. So, choose Zoey for your daughter or any of the many variations and alternatives based on spellings, meanings of sounds.