Harper Name Meaning and Origin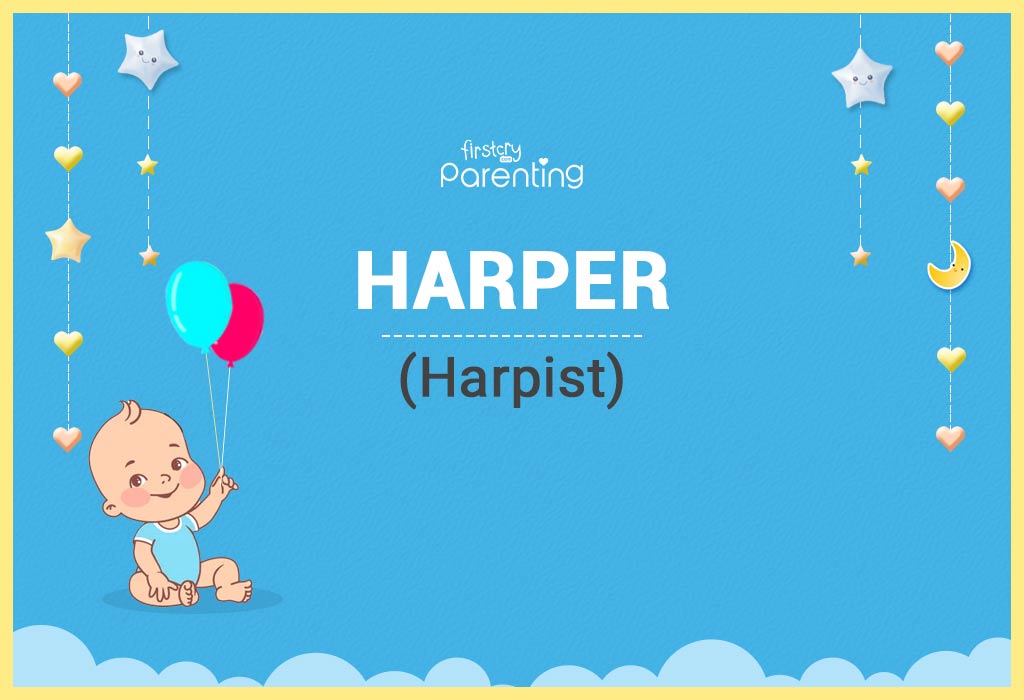 Harper is a
gender-neutral name
of British origin. Harper is an
English
, Scottish, and
Irish surname
commonly used as a given name in the United States. This surname might have originated from an occupational name or derived from the Middle English harper, harpere ("harper"). In other cases, the surname came from the Norman le Harpur or the Gaelic Mac Chruiteir ("son of the harper"). Harper is also the Anglicization of the German family name Harpfer which means "harper."
What Does Harper Mean?
The meaning of Harper is "harpist" or "minstrel," which refers to a harp player. The minstrel was a medieval singer or musician, especially one who sang or recited lyric or heroic poetry to a musical accompaniment for the nobility. Thus, the meaning of Harper is quite apt for the little musician who's going to strike all the right chords after he follows his heart.
Origin
Originally used as a Scottish last name, Harper is probably an Anglicized form of Gaelic Mac Chruiteir 'son of the harper', which comes from Gaelic cruit 'harp,' 'stringed instrument.' It could be an occupational surname that usually referred to a harp player in English, Scottish and Irish languages. Harper came from an agent derivative of Middle English, Middle Dutch harp 'harp.' The harper was one of the most important figures of a medieval baronial hall, especially in Scotland and northern England, and the office of harper was sometimes hereditary. This surname has been used in Ireland for a long time as, according to ancient Irish law, the elegance of harp music gave noble status to harpers.
Gender
Unisex
Pronunciation
Syllables
2 syllables
Length/Letter
6 letters
Name Variations/Spellings
The other spellings for Harper are name variants or alternatives of a name closer to the original name. They may be equivalent to the original name but differ from the name in their particular external form. Here are some of the Harper name variations that may have evolved over the years in different forms in other languages and cultures:
| | |
| --- | --- |
| Name | Origin |
| Harley | English |
| Harlow | English |
| Harmony | English |
| Avery | English |
| Callie | Greek |
| Charlotte | French |
| Hailey | English |
| Laurel | Latin |
| Melody | English |
| Peyton | English |
| Piper | English |
How Popular Is the Name Harper?
Harper has become popular by following the trend of surnames evolving into first names. Harper as a name for a boy entered the Social Security Administration charts as No. 683 in 1905. However, by 1907 it had dropped off the list of top 1,000 most popular names for boys and reentered the chart occupying the No. 955. The Harper popularity ranking index made its most significant leap between 2005 and 2006 when it jumped 234 places. Harper peaked as a boy name in 2012 when it ranked No. 606. Its popularity slowly increased till it broke top 10 status in 2015. It peaked again in 2018 and 2019 when the name was ranked No.9. Although the Harper baby name ranking stood at No. 887 upon its initial appearance, Harper climbed up to the top occupying No. 10th spot in 2020. Harper Lee, author of 'To Kill a Mockingbird,' Paul Simon's son, and Neil Patrick Harris's daughter have chosen this name for their child.
Interest in Harper – Worldwide
A consistent search value of over 40 has been recorded on interest for the name Harper reaching 100 in Oct 2015. The lowest recorded value was at 15 on Nov 2020 and Oct 2021 on the popularity scale.
Interest in Harper – the US
The search trend for Harper in the US reached its peak up to 100 in Feb 2019. The lowest record value was 17 in November 2020 on the popularity scale.
Popularity of the Name Harper
URL: https://www.ssa.gov/cgi-bin/babyname.cgi
Where Is the Name Most Searched?
Search Trends of Harper Worldwide
According to global search trends, Canada has recorded the highest value for the name Harper. Countries like the United States, New Zealand, the United Kingdom, and Australia follow close behind to occupy the first five positions. As up to four million Canadians can trace some Irish ancestry, Harper as an Irish name has gained outstanding popularity among the new parents in Canada.
Search Trends of Harper in the US
Among the metro cities in the US, Michigan has recorded the highest search value of 100 in the last ten years. Illinois, West Virginia, District of Columbia, and Kansas have made it to the top five positions where search trends for Harper have been recorded as the highest.
Middle Names That Go With Harper
Middle names lend a touch of uniqueness to a name that feels too adventurous carries personal or family meaning. Here are some double names with Harper that are primarily placed in between the first name and surname to offer a choice to a child to use whatever suits them:
| | |
| --- | --- |
| Alexandra | Alice |
| James | Amelia |
| Amelie | Annaa |
| Arabella | Annabella |
| Clara | Darcie |
| Ava | Bonnie |
| Amber | Delilah |
| Edith | Emma |
| Erin | Esme |
| Elizabeth | Isla |
| Eleanor | Jasmine |
| Beatrice | Jessica |
Famous People Named Harper
Popular personalities named Harper have hit the headlines for their outstanding success in each of their professional fields. Here are some such popular personalities Harper who can influence your choice in your quest for the right name:
| | |
| --- | --- |
| Celebrity Name | Profession/Famous For |
| Harper Goff | American Musician |
| Harper LeBel | American Football Player |
| Harper Simon | American Singer-Songwriter |
| Harper Lee | American Novelist |
| Harper Williams | American Basketball Player |
| Harper Connelly | Title character of The Harper Connelly Mysteries novels by Charlaine Harris |
| Harper Decker Simmons | Character in the film Parental Guidance |
| Harper Avery | Namesake of the Harper Avery Award and grandfather of character Jackson Avery in "Grey's Anatomy" |
| Harper Pitt | Character in the Pulitzer Prize-winning play "Angels in America." |
| Harper Finkle | Character in the Disney Channel sitcom "Wizards of Waverly Place" who is the best friend of the show's main character |
Similar Names & Last Names
Baby-names like Harper may stay on trend due to their similarity with the given name. Family names for Harper can help you make the perfect first name and surname pairing. Here are some other names for Harper that may be considered as an alternative combination:
Names That Sound Like Harper
Rhyming names for Harper can be adorable, lyrical, and phonetically appealing to hear. Here are some trendy names that rhyme with Harper to evoke an endearing twin feel:
| | |
| --- | --- |
| Marlie | Jackson |
| Hannah | Piper |
| Cambree | Parker |
| Brooklyn | Hadley |
| Howlyn | Teagen |
| Lynley | Tru |
| Mason | Riley |
| Kainoa | Avery |
| Ethan | Sawyer |
| Liam | Haniah |
Sibling Names Related to Harper
Sibling names that go with Harper can be based on a theme or chosen as per the beginning letter for the whole family. Here are some of the most suitable sister names for Rae and suitable brother names for Harper that might complement one another without blending together:
| | |
| --- | --- |
| Sister names for Harper | Brother Names for Harper |
| Paloma | Chapman |
| Jade | Michael |
| Cecelia | Wren |
| Sasha | Holland |
| Rosalie | Dakota |
| Lucy | Julian |
| Claire | Addison |
| Olive | Emerson |
| Gerogia | Austen |
| Monroe | Aubrey |
Nicknames for Harper
Nicknames are substitute monikers that are often short forms of the first name. Here are some of the best nicknames for Harper that are tokens of love for your child, which they would cherish for a lifetime:
| | |
| --- | --- |
| Harpster | Harpaw |
| Heroic Harper | Harpal |
| Harper Dapper | Harpex |
| Pippy | Hat-Ha |
| Harpylove | Happy Boy |
| Harpsie | Hae |
| PePe | Harpie |
| HaBooBoo | Harpadoodle |
| Harpeyness | Arpey |
Harper has the versatility and undeniable class, making your child destined to stand out with equal grace, whether in a courtroom or a party. Its six short letters are bold and brave or subtle and sweet, making it a fabulous choice for a modern-day girl or a boy.
Sources/References
Social Security Administration: https://www.ssa.gov/cgi-bin/babyname.cgi
Harper Name Popularity in the United States: https://trends.google.com/trends/explore?date=2012-02-08%202022-02-08&geo=US&q=harper
Harper Name Popularity Across The World: https://trends.google.com/trends/explore?date=2012-02-08%202022-02-08&q=harper
Harper Name Interest in the United States: https://trends.google.com/trends/explore?date=2012-02-08%202022-02-08&geo=US&q=harper
Harper Name Interest Across The World: https://trends.google.com/trends/explore?date=2012-02-08%202022-02-08&q=harper