Beau Name Meaning and Origin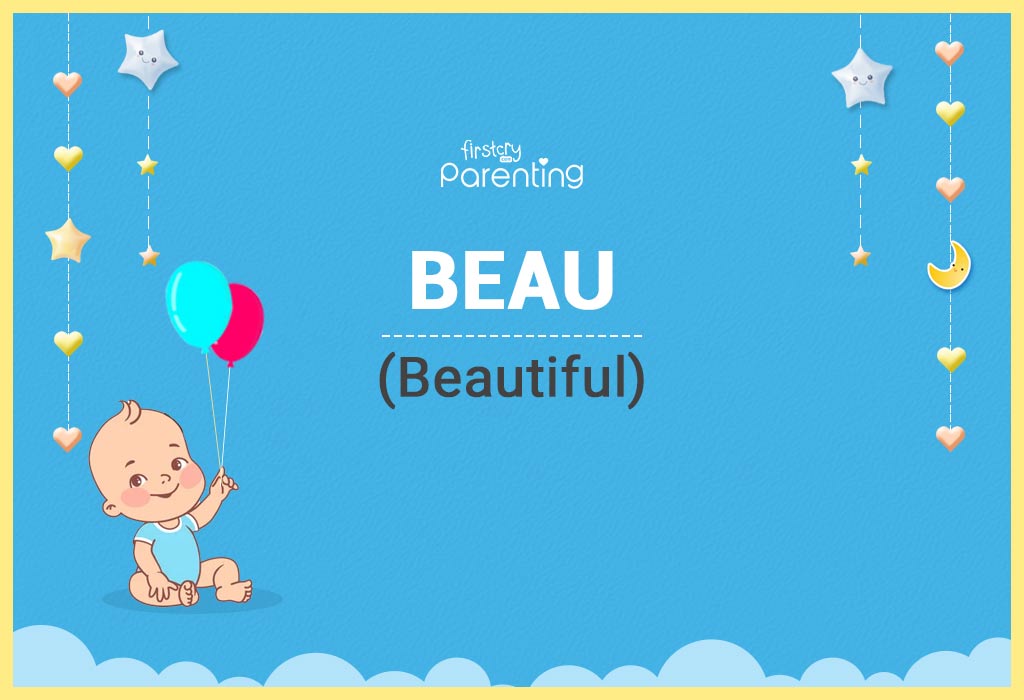 Beau is a unique name that is taken from the French. It was once an extremely common word in the English language as well. However, it has now become archaic and is not colloquially used. Even then, the name is well remembered and is making a turn in popularity. Read on to know more about the origin and meaning behind the name.
What Does Beau Mean?
The name is taken from French and describes a male attendant or suitor courting a lady. When it was adapted in English, the word retained its spelling, but the meaning of Beau changed to a beautiful or handsome man. The meaning of Beau comes from the original Latin word "Bellus," which meant "fine, pretty, handsome."
Origin
Even though the word spelled today was first seen in French, it originates from the Latin root word "Bellus," which means beautiful. The meaning was changed when it was adopted into French, and the meaning was changed again when the word was used in English. It is interesting to note that the feminine alternative of the word Beau is Belle, and both have the same Latin root word.
Gender
Male
Pronunciation
Syllables
Single syllable
Length/Letter
Four
Name Variations/Spellings
There are several Beau name variations with different spellings. But the pronunciation and the meaning of the name remain the same. It is primarily used in English, French, and Italian. Here are some other spellings for Beau.
| | |
| --- | --- |
| Name | Origin |
| Beaux | French |
| Bea | America |
| Bo | English |
| Bow | English |
| Bowe | English |
| Bou | English |
| Beau | Italian |
| Beaw | English |
| Bouw | English |
| Boh | English |
How Popular Is the Name Beau?
Beau baby name ranking has increased during the last twenty years. 0.181 percent of male children born in 2020 were registered with the name Beau. It accounts for around 3319 male children all over America, who would also have the name, Beau. Beau's popularity was the 109th most popular name for a male child in 2020.
Interest in Beau – Worldwide
The name has been fairly popular over the years around the world. It hit the highest searches in June 2015 and the lowest in March 2020.
Interest in Beau – the US
The name has seen days of high popularity in America, and then the hype had also slowly died down. Currently, the name is popular back again, and it was popular in June 2015 and least popular in March 2021.
Popularity of the Name Beau
URL: https://www.ssa.gov/cgi-bin/babyname.cgi
The name is quite popular in America currently. It is the 109th most popular name for male children in America. The rank has hit an all-time high over the span of 20 years. It means that the people's interest is rising in the name and trend.
Where Is the Name Most Searched?
Search Trends of Beau – Worldwide
Search trends show that the name has been searched the most in Guernsey, Mauritius, and Gabon over the last ten years. France ranked at eight in the search list because the name was French in origin.
Search Trends of Beau – the US
The name is fairly popular in all 50 states of America, and it is the most popular in Mississippi and Louisiana the least popular in West Virginia and New Mexico. The name is more prevalent in developed states and cities.
Middle Names That Go With Beau
As Beau is a French name, it would be reasonable for the middle name for your child to also be a French word, and it would keep up with the tradition. You don't need to find a word that is difficult to spell. There are many double names with Beau common to both English and French.
| | |
| --- | --- |
| Blanche | Pierre |
| Camille | Fracois |
| Luc | Jewel |
| Jacques | Monet |
| Hugo | Monique |
| Guy | Brice |
| Gilbert | Charles |
| Orville | Gastron |
| Pascal | Marc |
| Phillipe | Marcel |
Famous People Named Beau
There are several famous celebrities named Beau. It is a unisex name with a beautiful meaning and can refer to both males and females. Celebrities named Beau to come from different walks of life, and they are either sportsmen, actors, or authors.
| | |
| --- | --- |
| Celebrity Name | Profession/Famous For |
| Beau Brinkley | American football player |
| Beau Benzschawel | American football player |
| Beau Belga | Basketball player |
| Beau Garrett | American actress |
| Beau Hoopman | Olympic gold medalist rower |
| Beau Kazer | Canadian actor |
| Beau Maister | Australian football player |
| Beau Smith | American comic book author |
| Beau McCoy | Senator |
| Beau Burchell | Musician |
Similar Names & Last Names
If you are not too sure about it and are looking for other baby names like Beau, we have a list of similar names. Having an alliterative name is in trend and shows that the parents took care to find a name for their child. If you have a last name with B, then family names for Beau or any other names for Beau could be the right pick for your baby.
Names That Sound Like Beau
Beau is a single-syllable name that is simple and easy. We have several other names that start with B and either single or double syllabled. Each of these names that rhyme with Beau has a unique meaning and is quite different from the usual names you hear around.
| | |
| --- | --- |
| Bach | Bain |
| Beo | Bard |
| Beorn | Bert |
| Bran | Balin |
| Baer | Bam |
Sibling Names Related to Beau
It is never too early to start planning for your next child. We have a list for you if you plan to have another child and want to follow a similar naming pattern. Since Beau is a French name, it would be good to have another French name for sister names for Beau and brother names for Beau. Here is a list of sibling names that go with Beau.
| | |
| --- | --- |
| Sister Names For Beau | Brother Names For Beau |
| Bell | Benard |
| Belle | Benoit |
| Belina | Bayard |
| Belen | Bastien |
| Belora | Bernard |
| Benicia | Bernie |
| Benoite | Berny |
| Baylye | Bruno |
| Basilie | Bryson |
| Beawa | Benjamin |
Nicknames for Beau
Beau is a short and simple name in itself, so you don't need to abridge it or find a nickname. But if you are bent on calling your child a unique name, we have some short and simple choices here.
| | |
| --- | --- |
| Bebe | Bes |
| Bow | Brij |
| Boy | Bink |
| Ber | Biff |
| Bear | Bill |
Hope we helped abridge the search that goes into finding the perfect name for your baby boy. We gave you some attractive French options that are easy to spell and pronounce and have a deep-rooted meaning. Being French, these names are unique and stand out from the rest.
Sources/References
Social Security Administration: https://www.ssa.gov/cgi-bin/babyname.cgi
Beau Name Popularity in the United States: https://trends.google.com/trends/explore?date=2012-01-22%202022-02-22&geo=US&q=beau
Beau Name Popularity Across The World: https://trends.google.com/trends/explore?date=2012-01-22%202022-02-22&q=beau
Beau Name Interest in the United States: https://trends.google.com/trends/explore?date=2012-01-22%202022-02-22&geo=US&q=beau
Beau Name Interest Across the World: https://trends.google.com/trends/explore?date=2012-01-22%202022-02-22&q=beau