50 Cute Nicknames for Maria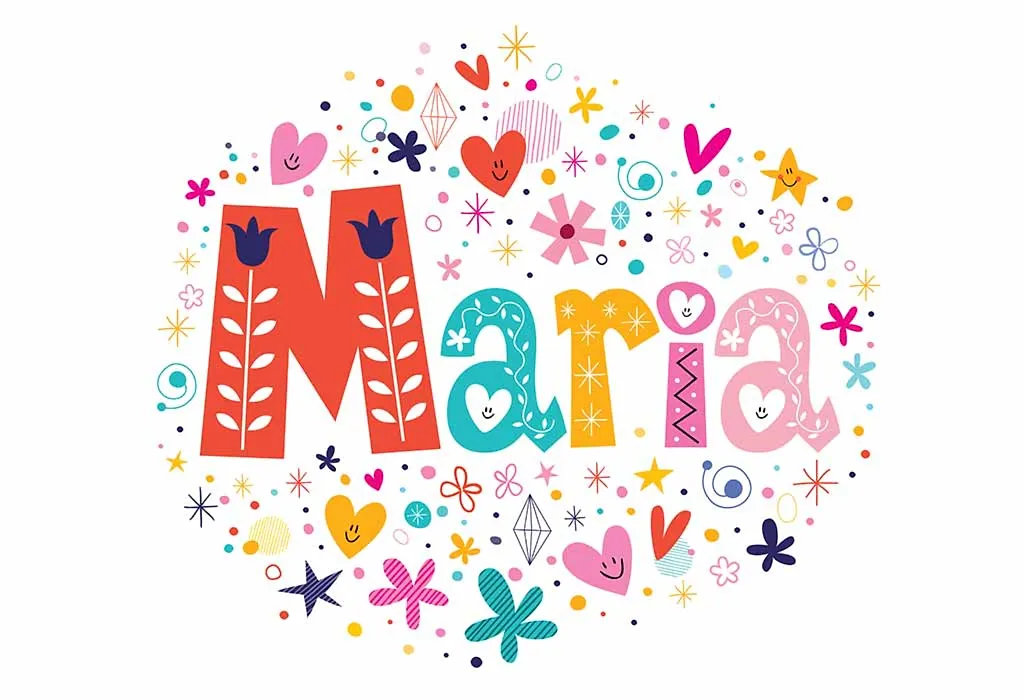 Nicknames are diminutives used to communicate your true feelings for your child, and Maria is an
elegant name
that echoes femininity. Maria's unique nicknames have evolved in interesting forms to assist new-age parents in their nicknaming expedition.
Meaning and Origin of Maria
Maria is the Hebrew form of the Latin names Maryam, Miryam, or Mariam. This Biblical name stems from Latin Mirjam with an Egyptian and Hebrew origin. Considered to be Mary and Miriam's diminutive, Maria means "wished-for-child," 'beloved,' 'sea of bitterness,' 'rebellious' or "lady of the sea." With roots in the New Testament, Maria is a variation of Mary, the mother of Jesus as believed in some cultures. Maria can also be a feminine variation of Marius's Roman name.
Nicknames for Maria
Suppose the Maria in your life is a sweet girl who makes everyone happy with her bright smile and adorable personality. In that case, there's no harm in looking for funny nicknames for Maria that can complement her personality without sounding offensive. Here are some endearing nicknames for Maria that can be considered:
Mia
Mariel
Marial
Marika
Marja
Mayra
Marya
Maryria
Mimi
Mamie
Airam
Mar-Mar
Mari
Aria
M
Ree
Em
Moo
Macked-Ou
Maggot
Minion
Ria
Ari
Mary Poppins
McFurry
Merlot
Margarita
Marge
Mad Hatter
Marshmellow
Mimosa
Mookie-Pookie
Marrr
Mini M
Meme
Mitsy
Mariah
Marykins
Marie
Mar
Moon
Marinette
Miru
Riri
Mery
Mika
Mary
La Mari
May
Momo
Popularity of the Name Maria
Commonly used among Hispanic Americans due to its extravagant sound and uncomplicated spelling, Maria baby name ranking soared in the 1940s till it peaked in 1975 with around 7,531 babies given the name. According to the latest Social Security Administration data of 2020, this reasonably popular name has managed to occupy the 109th spot, with only 2,460 babies given the name.
Famous Celebrities With the Name Maria
If you dream of your child becoming a star in the future, they need to share a name with a celebrity that will set them apart from all the wannabes and try-hards. Here are some distinguished personalities with the name Maria who can be your inspiration:
| | |
| --- | --- |
| Name | Who She Is |
| Maria Bello | American Actress |
| Maria Brink | American Singer |
| Maria Bueno | Brazilian Tennis Player |
| Maria Eve | American Poet |
| Maria Kanellis | American Wrestler |
| Maria Montessori | Italian Physician |
| Maria Shriver | American Writer |
| Maria Salinas | American Broadcast Journalist |
| Maria Kochetkova | Russian Ballet dancer |
| Maria Von Trapp | Austrian born American Singer |
Variations of Maria
Variations of Maria offer the flexibility for parents to choose alternatives that may suit girls of different personalities. Here are some strong contenders as variations of Maria that have gained appreciation in other cultures:
| | |
| --- | --- |
| Maarja | Estonian |
| Maleah | English |
| Mariam | Biblical Greek |
| Marie | German |
| Marja | Dutch |
| Mary | English |
| Marya | Russian |
| Mariya | Ukrainian |
Maria is a stunning short and sweet name that deserves equally cute nicknames. Maria's common nicknames may cover the gamut between exotic and quirky to stylish and classy that would instantly get accepted and emulated by family and friends.