40 Cute Nicknames for Amelia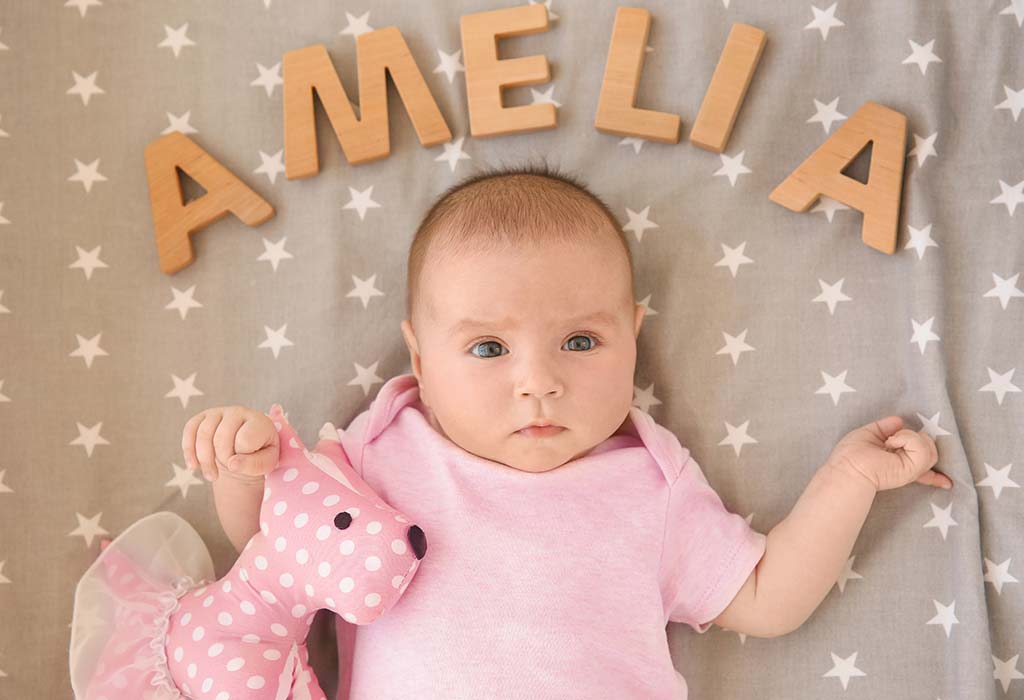 A nickname can be a creative complement to a person. It comes in all shapes and forms, but the pet names are always unique and swoon-worthy. Common nicknames for Amelia can be lovely, chic, and feminine enough to lend versatility to your child's identity under an informal setting. Parents looking for a trendier nickname for a vintage name with a modern edge may choose Amelia as a suitable choice.
Meaning and Origin of Amelia
A blend of the medieval names Emilia and Amalia, similar-sounding Amelia adds a contemporary feel with its modish -ia suffix. The Latinized variant of the ancient Old High German name Amalia comes from the Germanic element 'amal' meaning 'to work,' meaning persistence, strive, and fertility. Its Teutonic meaning is "defender." This name has been quite popular throughout the English-speaking countries of the world in its modified versions. The name also exists in Spanish and Romanian. Amelia in Urdu means 'Princess' or 'daughter of a prince.' As per some sources, Amelia was first coined by the English author Henry Fielding for the title character in his 18th century, 'Amelia.'
Nicknames for Amelia
Nicknames are additional names based on a baby's nature, favorite color, song, fruit, or cartoon character. Funny nicknames for Amelia can incite humor and add positive energy to a name. Here are some adorable nicknames for Amelia:
Mel
Milly
Emma
Emzy
Emilly
Minnie
Mila
Ami
Amilita
Meelie
Millie
Ama
Mel-Bel
Meli
Aims
Emmie
Amy
Em
Milka
Melia
Milly-Moo
Mia
Amu
M&M
Emile
A Milli
Meals
MeeMaw
Moo Cow
Meelytard
Lia
Amelia Bedelia
Milky
Oatmeal
Mum
Maya
Ailema
Meals on Wheels
Milly-Molly-Mandy
Meep Mop
Popularity of the Name Amelia
According to Social Security Administration, Amelia ranked seventh popular in 2020 when it ranked 6th spot with 12,704 babies given the name. The name has secured a top ten ranking in popularity for more than a decade. In 2019, Amelia was one of the most-used girls' names rather than Emily and Amanda. Amelia emerged as the top British name in 2011 and retained the Number 1 spot. In 2017, it burst into the US Top 10 for the first time. Among the most popular girls' names starting with A, Amelia is also a Top 10 name for girls in Australia, Ireland, New Zealand, Scotland, and Poland. So while Emilia and Emelia are closer to the mega-popular Emma and Emily, Amelia has been extremely popular in recent years. Amelia gained popularity as a British royal name – King George II and King George III chose to name their daughters Amelia. Amelia ranked on the Top 10 lists in Australia, Scotland, and Poland and is among the Top 25 in Canada and the United States. The French form of the name is also ranked in the Top 100 in England, Scotland, and Australia.
Famous Celebrities With the Name Amelia
There are many famous Amelia who brought glory to the name by earning fame through their impressive work. Here are some celebrities with the name Amelia who can inspire parents to choose this name for their little bundle of joy:
| | |
| --- | --- |
| Name | Who She Is |
| Amelia Boynton Robinson | American Activist |
| Amelia 'Minnie' Driver | English Actress |
| Amelia Earhart | American Aviator |
| Amelia Lily | English Singer |
| Amelia Vega | Dominican Model |
| Amelia Bones | Character in Harry Potter Series |
| Amelia Voght | Character in X-Men |
| Amelia Reid | American Pilot, Businesswoman |
| Amelia Ellen Bruckner | American Actress |
| Amelia Woolley | Fashion Designer |
Variations of Amelia
A vintage baby name like Amelia with a modern edge has different cultural and linguistic forms. Here are some variations of the name Amelia that can sound equally appealing:
| | |
| --- | --- |
| Amalia (Czech) | Delia (Greek) |
| Amalia (Hungarian) | Amelie (French) |
| Amelie (German) | Malsci (Hungarian) |
| Amelita (Italian) | Ama (Polish) |
| Milica (Slavic) | Nuela (Spanish) |
A pretty springtime name like Amelia that symbolizes new growth can have nicknames involving good imagination and ingenuity. Unique nicknames for Amelia can show your affection in a special way. Irrespective of what nickname you choose for Amelia, your child is sure to bear this moniker with pride for years to come.