15 Entertaining and Educational Podcasts for Your Child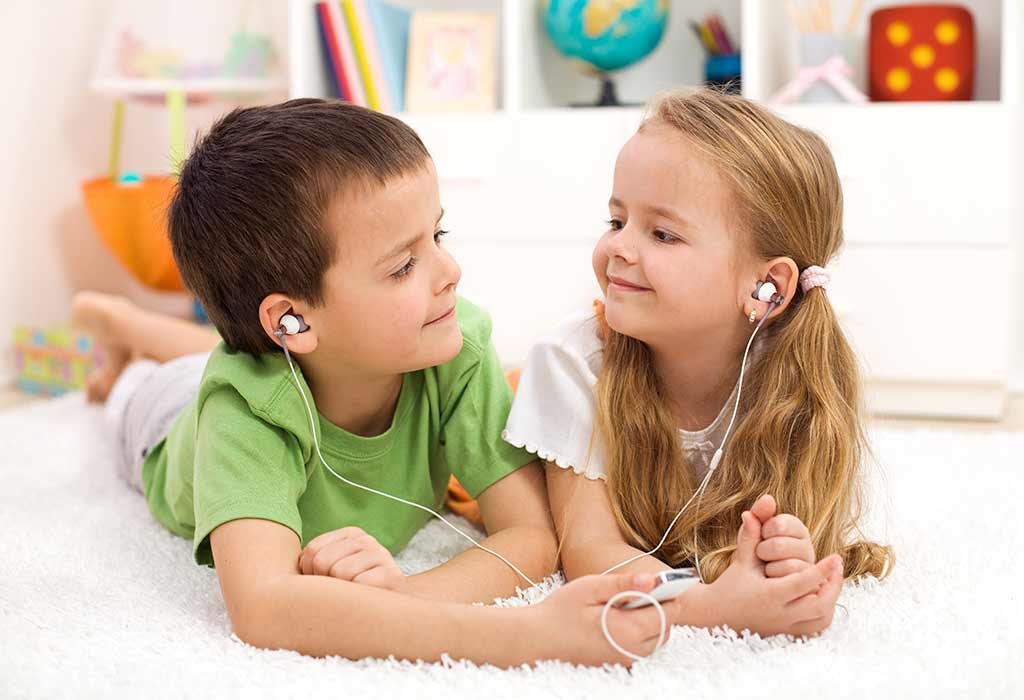 Podcasts are fun. They tell stories, teach you facts, and are super entertaining. Maybe you've enjoyed a fair share of podcasts while growing up or hopped on the wagon a bit late. But why not introduce your kids to them at a young age?
Listening to a podcast is a lot more productive than spending time in front of the TV. Also, podcasts open up new worlds and get kids interested in various topics. If you want your kids to spark fascinating conversations during school time and wow their peers, we've got a delightful list handpicked for you to get started.
Best Podcasts for Toddlers and Preschoolers
Kids between the ages of 1 to 5 need podcasts that are simple and kid-friendly. You don't want the content to be too overwhelming that they crawl away from it, nor too underwhelming to the point where they drift off to sleep. Preschoolers and toddlers are little bundles of energy who are always raring to learn about the world around them.
Podcasts that feature fictional and cartoon characters tend to do well for this age group. We've rounded up a list of the best podcasts for 1 to 5-year-olds just for your convenience. Sit back and enjoy with the family!
1. Sesame Street Podcast
Who doesn't love Sesame Street? Elmon, the Cookie Monster, and his friends now have their very own podcast!
What's it about
New episodes come out every Monday, and every episode will teach your kids something new. It Is ideal for 1 to 5-year-olds because of how simple and easy it is to follow. There are stories about kindness, friendship, laughter, and so much more. Your kids will love it.
2. Circle Round
Circle Round features various podcast stories for preschoolers every week.
What it's about
The podcasts are typically 5 to 20 minutes long and cover folktales from a different culture. There are various concepts packed in each lesson, such as perseverance, kindness, the importance of understanding and accepting others, and more. In short, your kids will be learning a lot about different cultures, and there will always be something interesting to discuss with them afterwards.
3. Story Pirates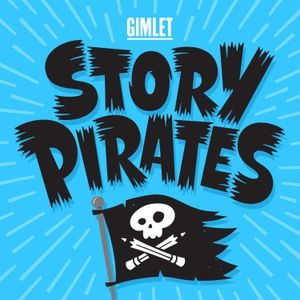 Source: Pinterest
Story Pirates is a podcast for kids who love musicals.
What it's about
There's a lot of adventure, imagination, and fun packed into each episode. Although it's a podcast, there are hardcover books available for kids who enjoy reading. You'll hear tales of kids being stranded in 12,000 BC, inventing time machines, and fun sign-along-songs throughout the podcast. Every episode features something new, which is why we highly recommend it to young listeners.
4. Hero Hotel
We would suggest the hero hotel for 4 to 5-year-olds since it's one of the greatest children's podcasts out there.
What it's about
It covers the stories of superheroes, villains, talking cats, and more. We don't want to spoil the plot for you, but the gist is that the protagonist Chet Zebrowski works for his grandma's hotel. When invaders attack the hotel, and the other heroes are on vacation, he takes up the mantle to protect it. Pretty heroic, right? You'll find out how exactly he does that. He's even got sidekick – the super-cat Boomer.
5. Aaron's World
Aaron's World is a podcast that covers the world of dinosaurs.
What it's about
Your kids will be travelling back to the prehistoric ages, once they start tuning into this podcast. Don't be scared, the dinosaurs aren't the enemies, but friends instead. Better than watching Jurassic Park, right?
Popular Podcasts for Kids
Kids between the ages of 5 and 8 become more perceptive about what they listen to. The plain old classics and musicals won't do it for them anymore. There must be thought and depth to the content, plus it has to be engaging. Keeping that in mind, we've created a list of great podcasts that leave no stone unturned. But don't take our word for it. Try out an episode or two for yourself, and we're sure you'll be pleasantly surprised.
1. Smash Boom Best
Brains! On has hit a home run on this one. For parents who want to introduce their kids to the world of debates, this is a real treat.
What it's about
There are hours of conversations about chocolate versus cheese, pizza and cookies, and more. Every episode is different, and it teaches kids how to defend their opinions while debating with someone.
2. But Why
But Why is an interesting kids' podcast where listeners send in their questions to the show, and they get answers in the upcoming episodes.
What it's about
If your kids constantly ask you why the sky is blue or wonder why the earth is round, this is a show that will not only educate but also entertain them. Families are recommended to listen to it too since it promises hours of fun.
3. Eleanor Amplified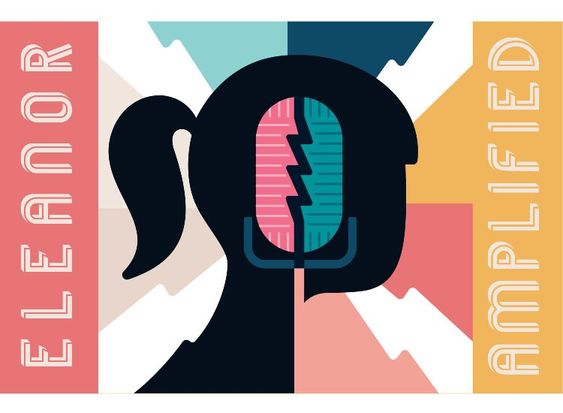 Source: Pinterest
A young reporter goes on a quest to find the latest and biggest scoops. Will she get in trouble, or will she face unexpected consequences? Only time will tell, and the only way to find out is by listening to this podcast.
What it's about
Eleanor Amplified follows the journey of Eleanor, who travels to uncover the truth. It's exciting, suspenseful, and a great podcast that's worth listening to.
4. Ear Snacks
Ear Snacks is a popular, funny, kid-friendly podcast that is hosted by the creators of Wallykazam! and Sesame Studios.
What it's about
It talks about various topics related to art, science, mental health, and music. A family-friendly podcast, it caters to kids mostly above the age of 6, because there's depth in each discussion. Even the website says it's a podcast for kids about the world.
5. Animal Safari
Animal Safari is a cute and quirky podcast that takes kids around the globe and hones their listening skills.
What it's about
It covers different animals and the sounds they make. You'll hear the irresistible sounds of koalas, orangutans, and come face-to-face with facts related to the most surprising things about the animal kingdom spread across the world. Your kids will love each episode as there's also a bit of mystery packed in them. Additionally, the habitats and geographic locations of each animal are covered along with what they eat and how they live. All these cool elements make this podcast super interesting and engaging for a young audience.
6. Peace Out
Does your child struggle with a good night's sleep? Peace Out is one of the free podcasts that help parents out with putting their kids to bed.
What it's about
By blending mindfulness and meditation practices, kids are taught how to listen to their body's cues and relax. Breathwork basics are taught, and those who are prone to panicking before bedtime naturally calm down. It's a podcast that makes your life easier and will help your child fall asleep.
7. Five Minutes With Dad
Looking for short podcasts that cover parenting your kids? Maybe you're a single mom with kids who don't have a father figure. This podcast is made for you.
What it's about
The podcast features a dad teaching his kids lessons about kindness, patience, gratitude, and how to do the stuff they want or always wanted to learn—basically, life lessons taught by a dad.
8. Short and Curly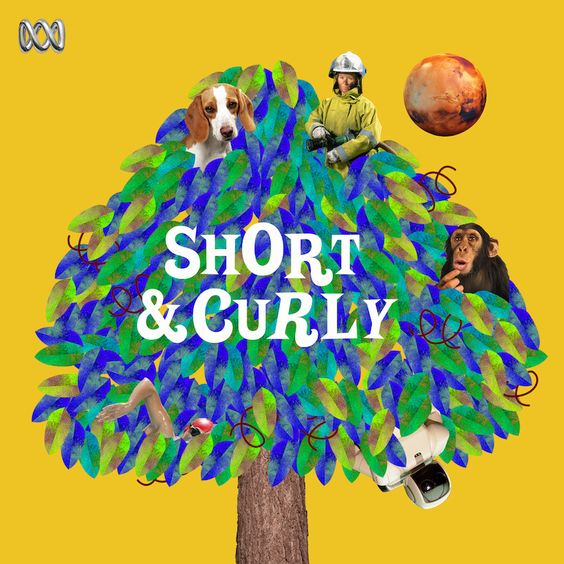 Source: Pinterest
Short and Curly is one of those intriguing podcasts for kids that gets them thinking.
What it's about
Your kids will really reflect before making a decision and give their discussions a thought after listening to this podcast. For example, when it's okay to lie and when it's not. There are silly topics too, like if they should consider moving to another planet or not. It's fun and games, but it will encourage your child to think about a lot of new things.
9. TED Talks Kids Family
We're a huge fan of TED Talks on YouTube, and when we discovered they've got a podcast for kids, we were overjoyed! TED Talks Kids Family is one of the best motivational podcasts for kids and families.
What it's about
It covers the stories of real people, entrepreneurs, scientists, inventors, and so many interesting people. If you need a dose of inspiration or want your kids to come out feeling like they've learned something new, this would be a great choice. We would also categorise this under art and science podcasts since there are episodes where people talk about science, art, psychology, music, and technology.
10. KidNuz
KidNuz is like journalism and reporting for kids.
What it's about
The podcast brings daily conversations about what's happening around the world and short briefings. The length of each podcast is about 5 minutes long, and we think it's one of the best kid-friendly podcasts. The topics covered don't have any gore or inappropriate content, which makes it safe for families and the elderly too.
Listening to a podcast is about engaging the kids, making sure they learn a lot while having fun. These podcasts cover all those areas and don't leave anything out. It's important to note that parents are encouraged to sit down with their kids and join in on the fun. That's because some of this podcast have debates and discussions, which means the more people you have, the more engaging they become.
Before you know it, your kids will be looking forward to each episode on the radio, and start slashing down their screen-time. These podcasts are educational, engaging, and totally worth it!
Also Read:
Best YouTube Channels for Children
Best Learning Apps for Children
Kid-Friendly TV Channels That Kids Can Watch
?>