1 Year Old Baby Feeding Schedule, Recipes And Tips
As your baby reaches the one-year milestone, he makes a big leap from being a baby to a toddler! And along with that arises the need to make changes in his feeding schedule to accommodate the increased nutritional needs of his developing body and mind! If you are wondering what all should be included in your one-year-old kiddo's diet, well, we have you all covered. In this post, we shall discuss what kinds of foods you can give your munchkin and various other aspects! Read on to get some insight about the topic!
What Food Can You Give To a 12-Months-Old Baby?
Toddlers at 12 months of age need a variety of foods in their diet. You can include all kinds of food groups to provide ample nutrition to your kid. Following are some food items that you can include in your kiddo's diet:
1. All Seasonal Fruits And Vegetables
Here are some fruits and vegetables that you may include in your baby's diet plan:
Apples
Celery
Blackberries
Raspberry
2. Non-Vegetarian
Following are some non-vegetarian food options that can be included as a main meal or snacks for a 12-month-old baby's diet:
Turkey (give breast portion in the form of cutlet or shredded)
Egg (can be given in hard-boiled or scrambled form)
Salmon
Chicken (give extra soft chicken)
Extra soft pork
Fish
3. Other Food Items
Apart from fruits, vegetables, and non-vegetarian food items, the following are some other foods that can also be given to a one-year-old kid:
Cottage cheese
Ricotta cheese
Bagel
Cheerios
Plain bread
Cracker
Crepes
Cornbread
Pita
Tortilla
Waffles
Graham crackers
Cream of wheat
How Much Milk is Enough for a 1-Year-Old?
Most mommies may wonder about their 1-year-old's milk schedule! Well, there is no doubt that your baby's breast milk or formula milk demands may change as they transcend into the first year; however, the key is to effectively fit in his milk demands with his solid meal plans. Ideally, your baby should be having three solid meals during the day by the time they are one year old, which means you can feed them anywhere from 22 to 32 ounces of breast milk or formula milk in a 24-hour cycle. However, some babies may take more or less than this amount based on their solid food intake or the baby's appetite. Mothers who wish to make the transition from breast or formula milk to cow's milk now may be a good time to begin introducing cow's milk to your munchkin!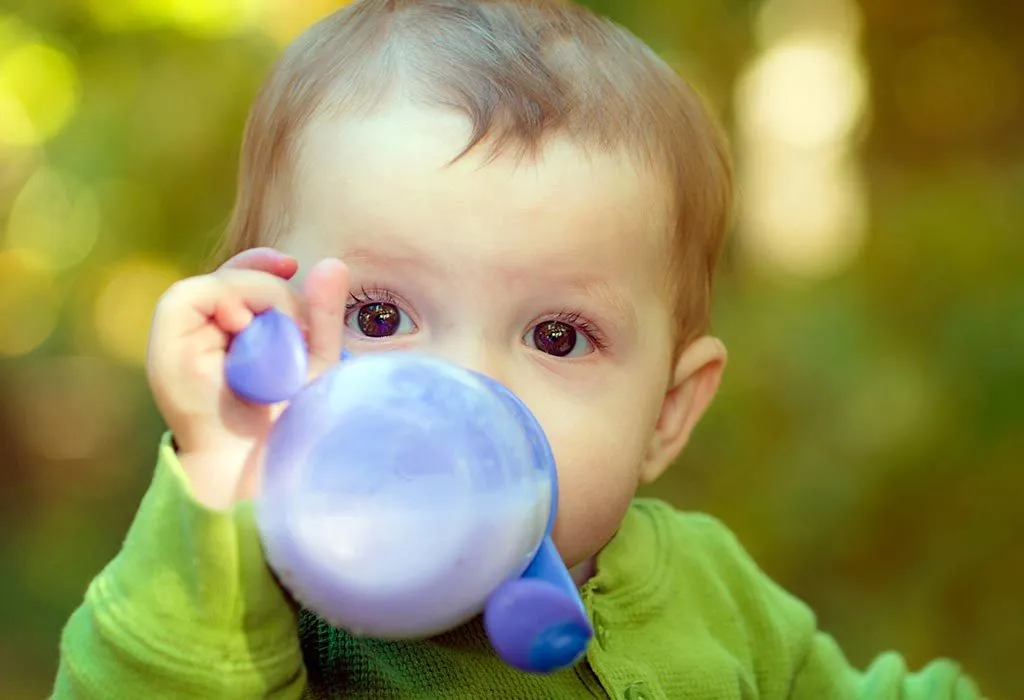 Meal Plan for a 1-Year-Old
As a parent, you may decide what to feed your toddler but always remember not to force-feed your baby. If your baby resists eating a certain type or amount of food, respect their decision and try again later. Force-feeding may negatively impact a baby's appetite, but sometimes it may develop disliking towards a particular food item. Also, your 1-year-old's eating schedule may change on a day-to-day basis as some days he may eat more and less on other days. Here is a sample food schedule for a one-year-old that you can give a try!
Meal Time
Food Item With Quantity (bullet)
Breakfast

Oatmeal pancakes with nut butter and chopped bananas
One cup of milk or breast milk

Morning snacks

Cheese cubes
Apple slices or any seasonal fruit cut
Water

Lunch

Plain pasta or macaroni
Cooked sweet potato
Chopped meatballs
One cup of milk or breast milk

Evening snacks

Whole wheat pita bread with hummus
Chopped seasonal veggie, e.g., carrots
Water

Dinner

Fish/chicken with baked risotto
Parsnips and carrots
One cup of milk or breast milk
The above feeding chart is a sample menu for a one-year-old baby; you can add or remove food items as per your baby's taste and preference.
Easy Baby Food Recipes For A Twelve-Month-Old Child
If you are hunting for some easy and nutritious baby food recipes for a 12-month-old, look no further; here are some of our recommendations:
1. Mac And Cheese With Greens
Most kinds relish the creamy flavor of mac and cheese, and this yummy all-time favorite Mac and cheese recipe comes with a healthy twist of greens and can be used as the perfect meal idea for 1-year-old babies! Wondering how to whip this simple recipe? Well, here's how to make that happen:
Ingredients:
1 lb macaroni
1 cup green peas
2 cup broccoli florets, chopped
1 cup spinach, blanched
4 cup cheddar cheese, grated
3 cups milk (preferably whole milk)
3 -4 tablespoons butter
3 tablespoons flour
Kosher salt, as per taste
Method:
Boil macaroni in water until it's cooked (keep it firmer and not very soft). Strain and keep it aside. Keep 1 cup of macaroni water handy.
Blend spinach and milk into a smooth paste in a mixture jar. Keep aside.
Heat butter in a heavy-bottomed pan. Add flour and sauté until it gives a nutty aroma.
Add broccoli florets and peas—Cook for a minute or two.
Add the milk and spinach mixture and cheese, cook on medium flame until the sauce thickens. Adjust consistency by adding macaroni water, if required.
Throw in macaroni and salt. Coat the macaroni well with the sauce.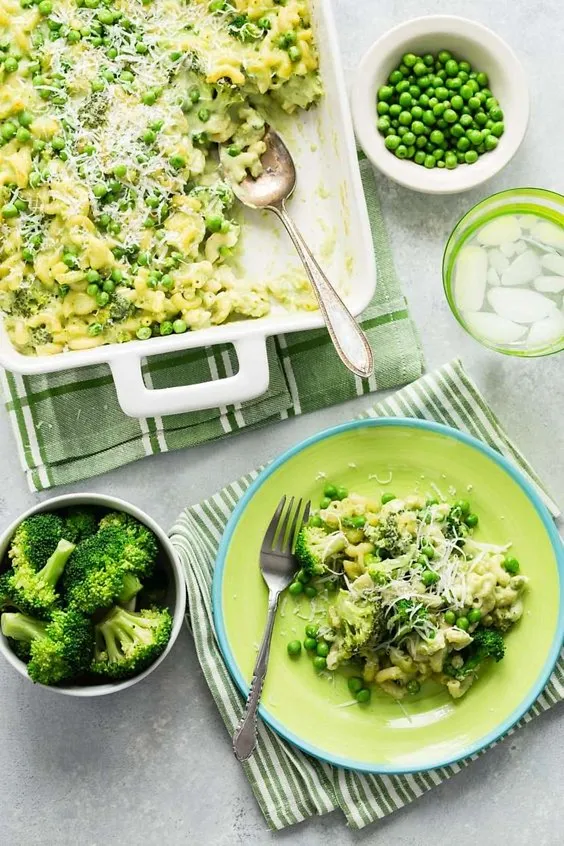 Make sure you let the dish come to room temperature before you let your munchkin relish it!
2. Carrot And Tomato Muffins With Cheese
Muffins not only look tempting but taste heavenly too! Here is an easy-to-make muffin recipe loaded with a nutritional twist.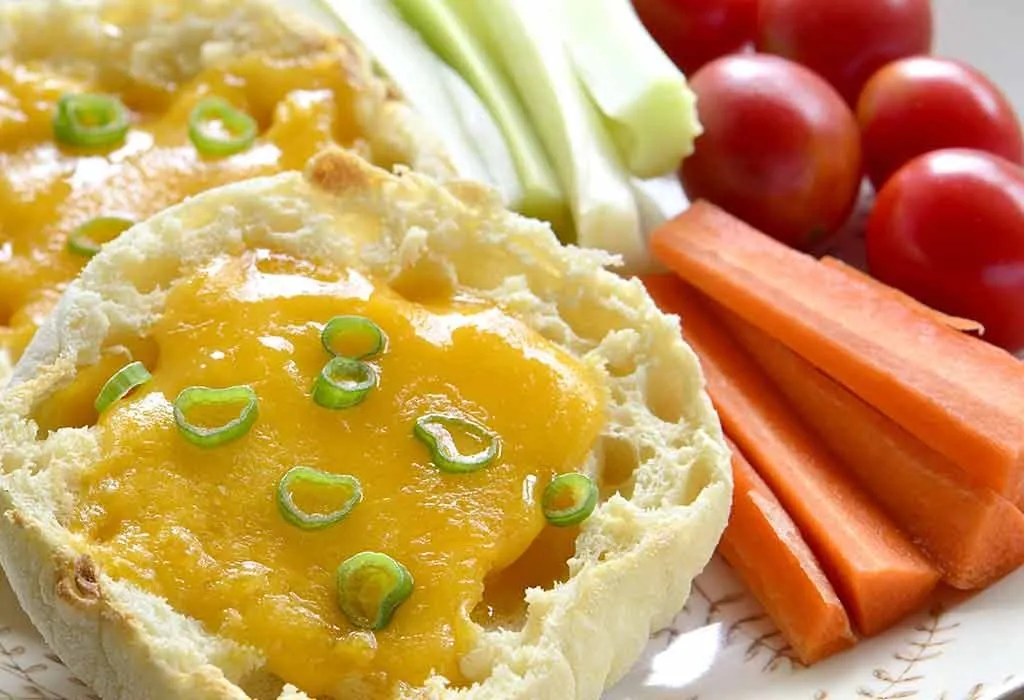 Ingredients
6 oz Self-raising flour
2 Eggs, beaten
3 oz carrot, grated
3 spring onions, finely chopped
2 oz parmesan cheese, shredded
6-7 sun-dried tomatoes, finely chopped
6 tablespoons milk
2-3 tablespoons maple syrup
1 teaspoon baking powder
A pinch of salt
Method:
Sieve flour and baking powder together and keep aside.
Take a large bowl and add all the ingredients in it except flour. Mix well.
Add flour mixture slowly as you keep whisking the mixture. The muffin mixture is ready to be baked.
Preheat the oven to 350 degrees Fahrenheit. Grease a 10 to 12 holes muffin mold and place muffin sheets on them.
Scoop out the muffin mixture and drop it in the molds. Bake the muffins until they rise and become brown, for roughly 18 to 20 minutes.
Let the muffins cool on the wire rack before you serve them to your baby. You can also freeze the unused muffins for up to 2 months in the freezer. Just defrost and warm these yummy muffins before serving them to your munchkin.
Feeding Tips For A One-Year-Old Toddler
When it comes to finger foods or main meals, here are some feeding tips that you should keep in mind:
The first and foremost thing to remember is never to force your baby to eat. Babies are often fussy at this age because they are experimenting with so many flavors and tastes. Sometimes they may stick to eating one kind of meal for several days, and at other times they may want to try something different. Whenever introducing solid food to your munchkin, let him decide how much, when, and what they want to eat.
Try and give water whenever your baby wishes to drink anything while having their meal. If you wish to complement the meals with fruit juices, make sure you choose fresh homemade juices rather than opting for packed juices. Also, do not give more than 4-6 oz of fresh fruit juice in a day.
Make sure you offer meals simultaneously every day, as this may help train your baby about their meal schedules. Refrain from succumbing to their demands for food any time of day, or else you may spend your entire day cooking in the kitchen. Starting with a meal plan from early childhood is a great way of introducing good eating habits to your child.
If your baby is bottle-fed, try making a slow transition to the sipper cup as drinking from the bottle satiates the baby more, and they may not eat their solid meals properly. Also, if you are still breastfeeding your baby, you may continue to do so until your baby is two years of age.
Make sure you supervise your kiddo whenever they are eating solid food to avoid any choking hazards. Also, ensure that the food is cut into bite-size pieces to avoid choking.
Initially, feeding solid foods to your baby may appear to be a daunting task, but do not worry and give it time as your baby will slowly accommodate themselves as per the meal schedules and plans. Offer different varieties of fruits, vegetables, meat, poultry, and other food items to your munchkin to ensure that they get proper nutrition. Do not hurry things because your baby will slowly and gradually adapt to their meal plan, and everything will fall in place. Happy feeding!