Peas for Babies – Benefits, Puree and Other Recipes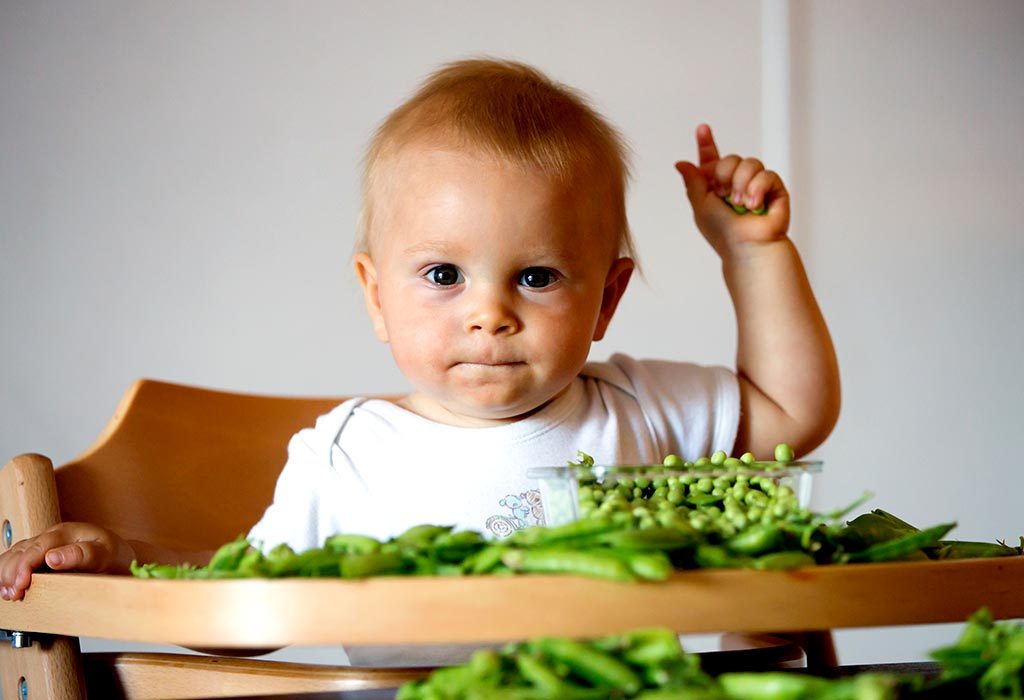 Being a parent comes along the responsibility to feed your little one in a proper manner. All the nutritious foods should be introduced early in their life so that they develop a taste and habit of eating good food. Once your baby starts developing his teeth, you should introduce solid food into the diet plan. Solids can be introduced from the age of six months onwards. One such food is the sweet "peas".
When to Introduce Peas to Baby
Once your baby crosses the six months milestone, you can start feeding them solids in reasonable quantities. However, it is known that peas hold the potential to cause gas or discomfort in babies. Moreover, the consumption of peas has also been linked to uric acid.
Therefore, to be on the safer side, introduce peas to your baby's diet once he crosses his 8 months mark.
Nutritional Value of Green Peas
Green peas are a great source of vitamins, minerals, and fibre. Peas have found to be rich in vitamin A, B1, B6, K, and vitamin C. Peas are also rich in minerals such as magnesium, potassium, iron, and phosphorus. Also rich in fibre, proteins, carbohydrates, niacin, and folates; peas is a recommended dietary option for babies.
Peas Benefits for Babies
Contemplating why you should be adding peas to your baby's diet? Read on to know the amazing benefits:
Helps in building strong immunity
Lessens homocysteine levels for reducing the risk of a heart problem
Helps in getting rid of constipation by improving the digestive health
Aids in managing the right weight
Leads to boosting of bone health
How to Select and Store Good Quality Peas
A study suggests that peas are not food that is contaminated greatly by pesticides. For the same reason, if you are thinking about what kind of peas to use for baby food; choosing organic over the usual is completely your choice.
When in a supermarket, check for fresh green peas. The pods should appear to be green and firm with no spotting or symptoms of dryness. When you touch the peas, they should feel smooth in texture. Remember to buy the medium-sized ones as they would be sweeter than the large ones.
When it comes to storing peas, remember to prepare the dish right away without much delay as peas do not stay fresh over longer durations. However you could prefer storing the peas in a freezer, but when it comes to kids, fresh would be the best option.
How to Cook Peas for Infants
When how to make green peas baby food is in question; it is good to know that steaming or boiling peas would make a great meal. The softness and the ready-to-dissolve nature of boiled or steamed peas make it apt for your baby's diet.
How to Make Pea Puree for Babies
If your baby is not ready to chew the solid peas, pea puree is a recommended alternative. Here's the easy recipe to prepare it.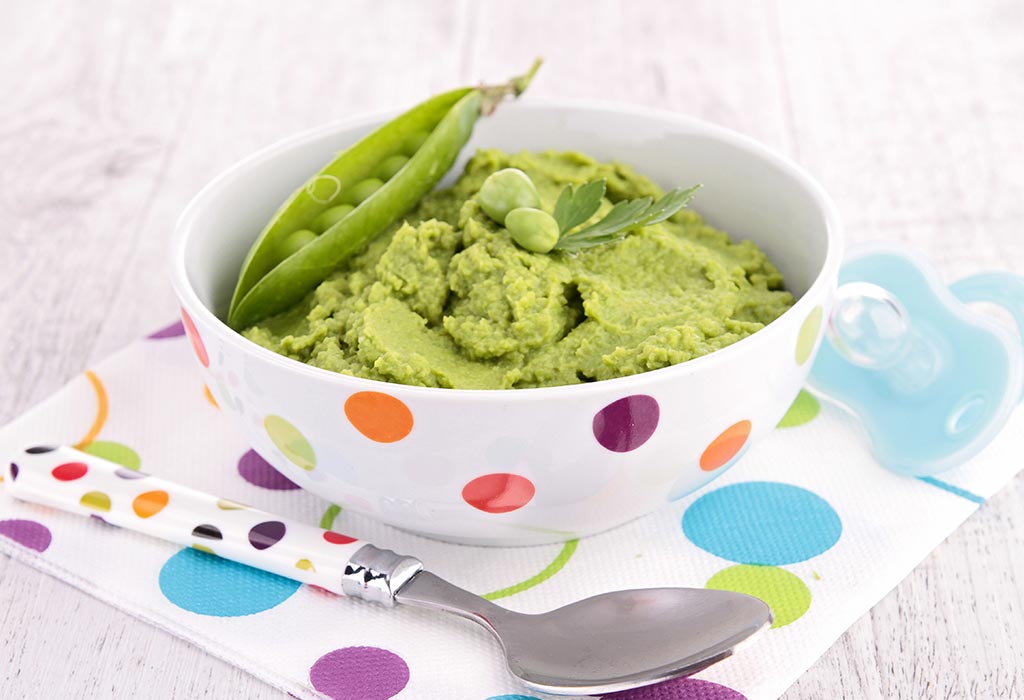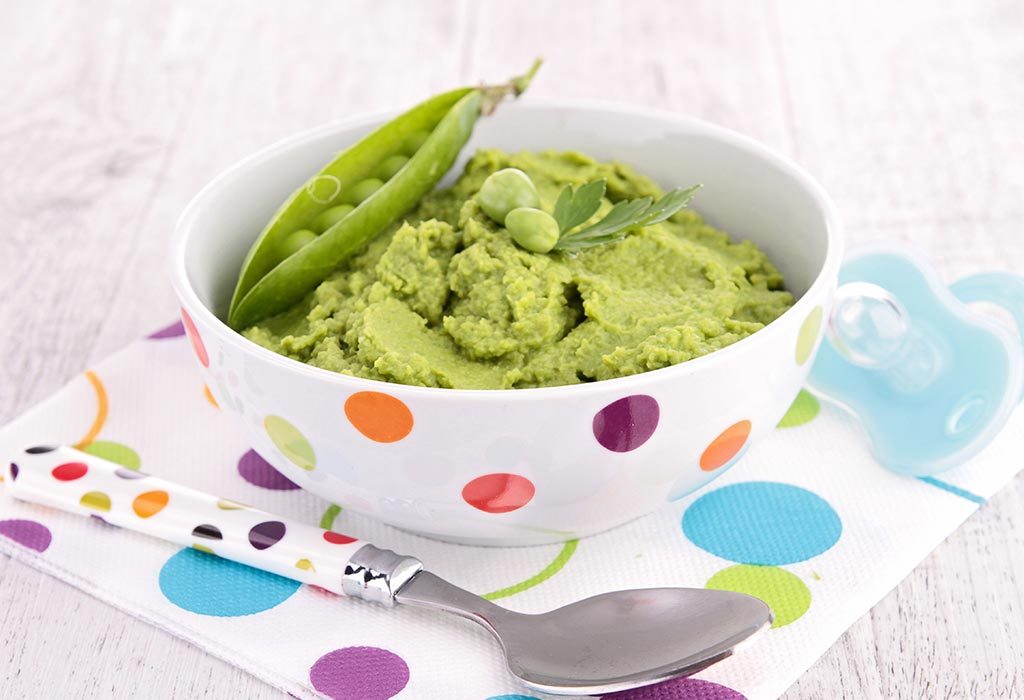 Ingredients
How to Prepare
Steam the peas with some water or simply microwave them.
Strain the water from the peas.
Blend the peas to make a consistent paste.
Add milk and blend again.
Feed it to your baby.
Other Green Peas Recipes for Baby
The other must-try green peas recipes for babies include:
1. Creamed Peas
Combine peas with the richness of milk to give that extra dose of calcium.
Ingredients
1 cup peas
½ cup milk
A butter cube
1/2 tbsp flour
Pepper and salt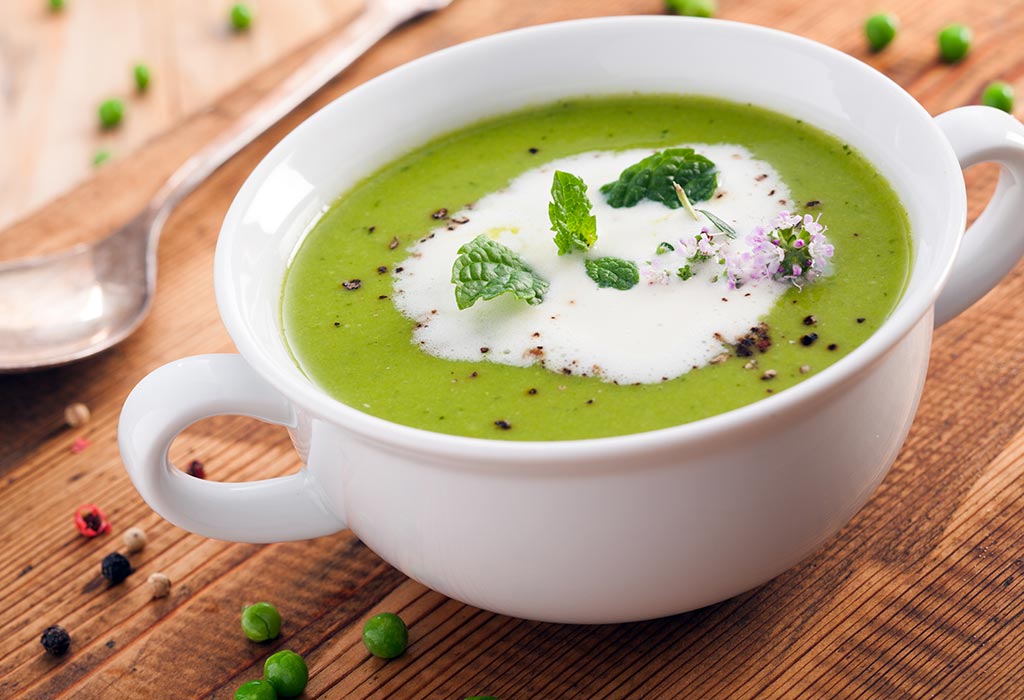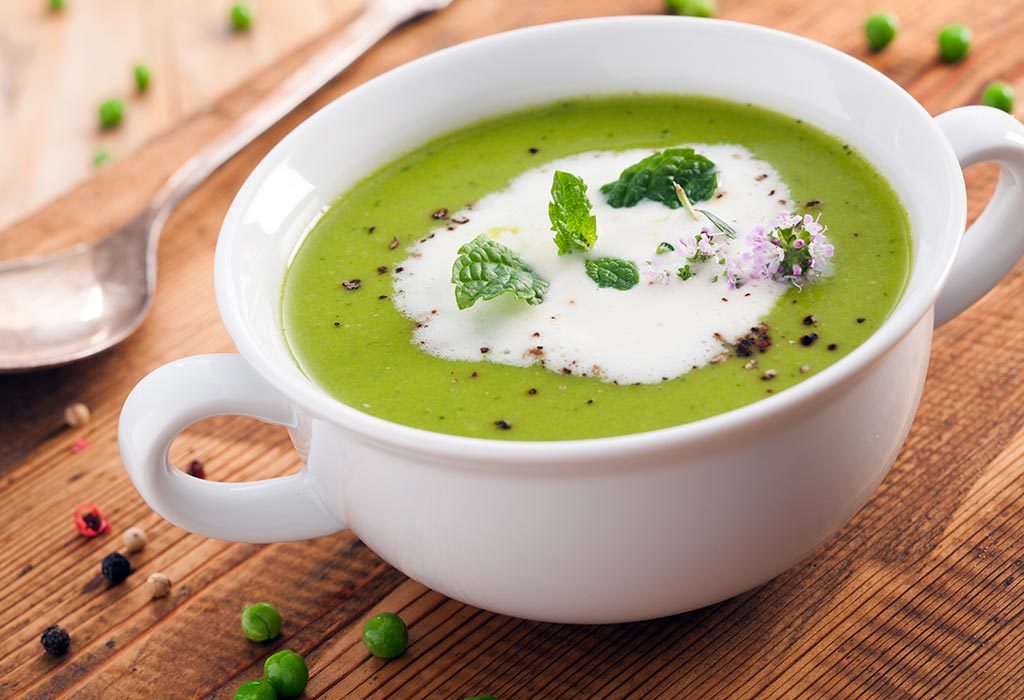 How to Prepare
Stir butter along with flour in a heated pan.
Add milk in a way that no lumps remain.
Add salt and pepper and stir until a thick consistency is achieved.
Blend the peas add them to the prepared mixture.
Let the mixture cool before feeding.
2. Peas Soup
Your baby still not used to solid food? Try pea soup which is easy to digest and easy to make!
Ingredients
1 cup peas
Leafy vegetables to add
About half a finely chopped leek
1 tbsp olive oil
Fresh mint leaves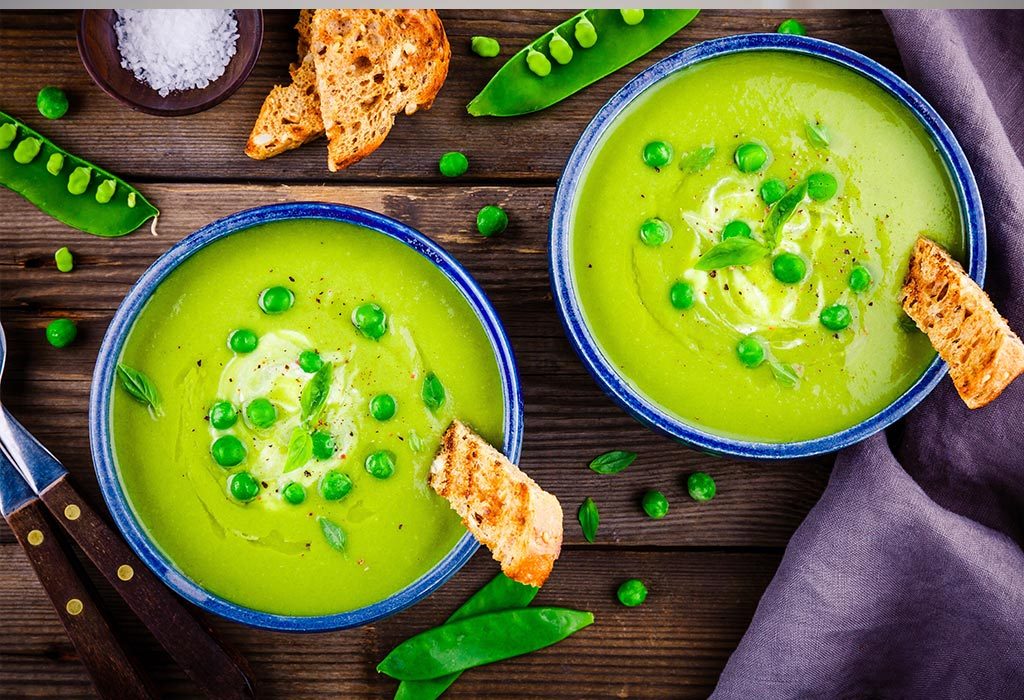 How to Prepare
Heat oil and sauté it with chopped leek.
Add vegetable of your choice and bring it to boil.
Add peas and the fresh mint leaves and boil until well cooked.
Blend the contents in a blender and strain it.
Serve it to your baby.
3. Chicken With Peas
A great way to add protein to your baby's diet!
Ingredients
1 piece of boneless chicken breast
½ cup of peas
Water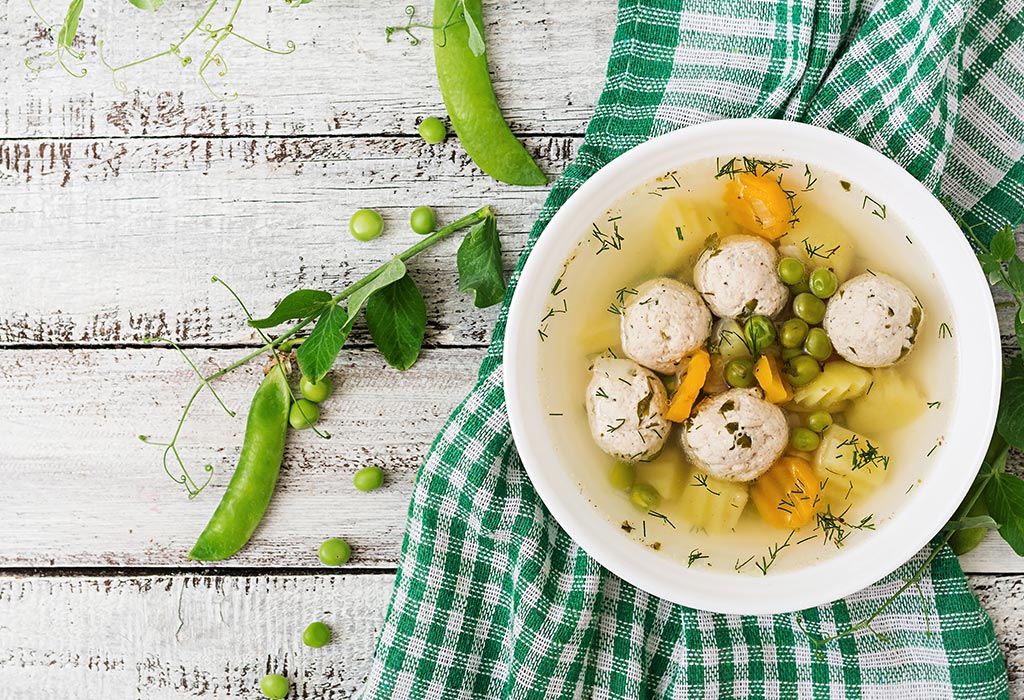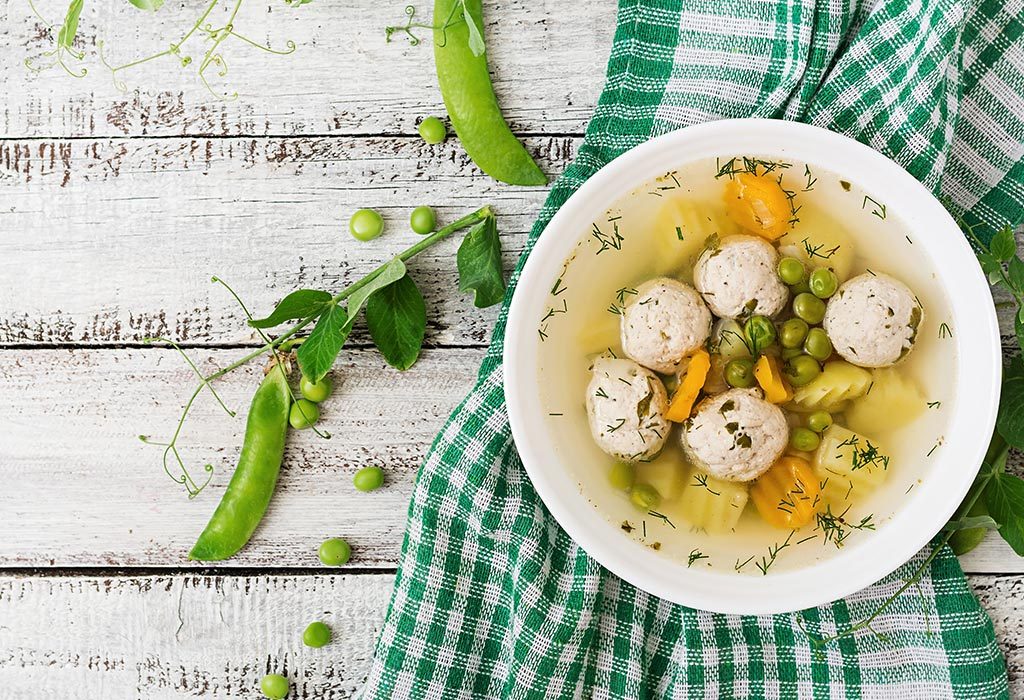 How to Prepare
Boil chicken in a pressure cooker.
Add sweet potato and again boil it.
Add peas and cook till everything softens up.
Strain the water and blend the contents properly.
Serve the smooth paste thus prepared to your baby.
4. Peas and Carrot Puree
Help develop your baby's eyesight by combining some carrots.
Ingredients
1 carrot
1 cup peas
A rosemary spring
Pepper and salt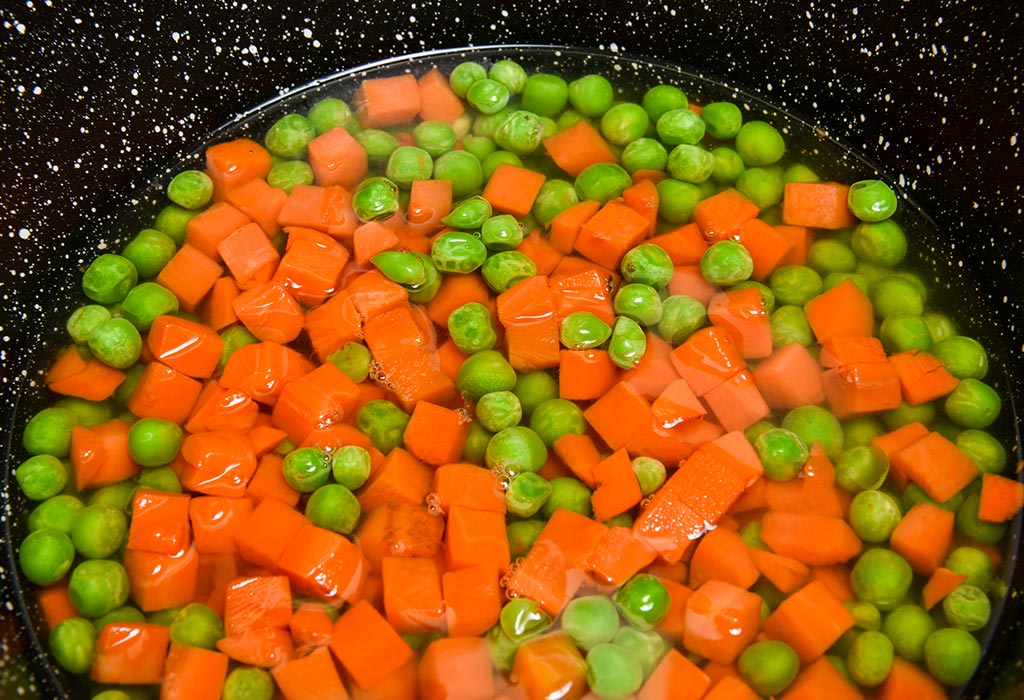 How to Prepare
Boil carrot and rosemary spring in water.
Add peas and cook for about 8-10 minutes.
Blend the mixture and strain the liquid.
The puree is ready to be served.
5. Peas and Rice
This rich mix of peas, rice and chicken is going to leave your baby full and content!
Ingredients
¾ cup brown rice
1 and ¼ cup chicken broth
1 cup peas
Fresh mint leaves
Salt and pepper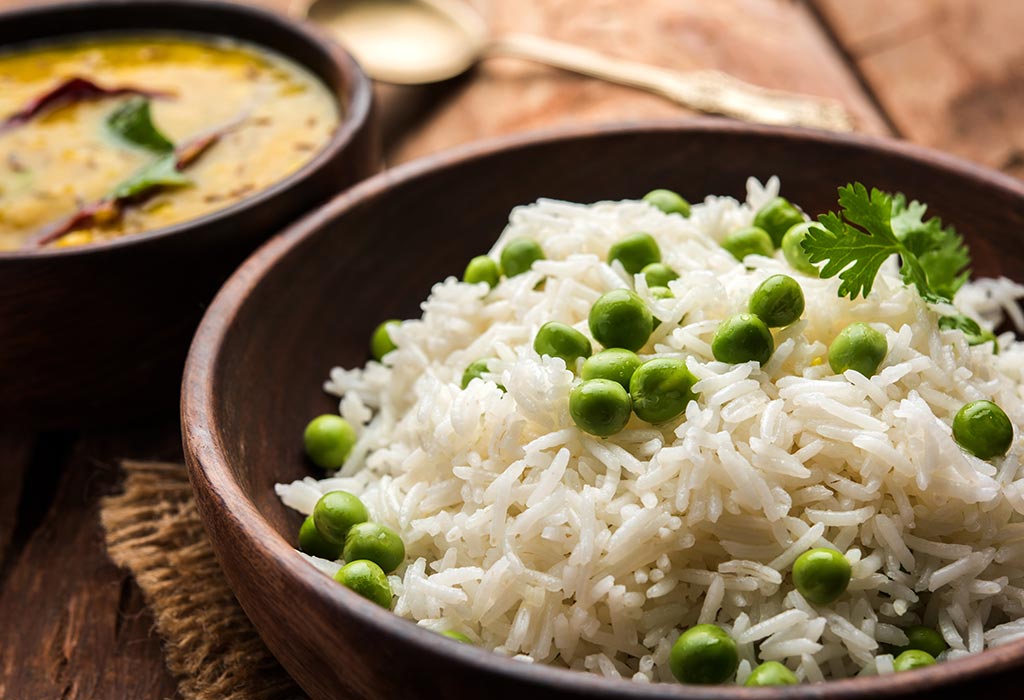 How to Prepare
Boil the broth along with brown rice for about 8-10 minutes.
Add peas and cook till the peas get soft and the rice absorbs the liquid.
Add the fresh mint leaves, salt, and pepper to the mixture and let it all dissolve.
Serve it to your baby once cooled.
This was all about the savouring peas and its associated benefits to your babies. Try these helpful recipes today and let your little one relish the taste while gulping down the required nutrients.
Foods that Cause & Relieve Constipation in Babies
Best Vegetable Puree for Babies
Corn for Babies