Tofu for Babies – When and How to Introduce
Once your little munchkin starts reaching a stage where you need the transition from breast milk to solids (additional sources of nutrition), you may start looking for healthy options of food, during which you may come across tofu. Tofu, mostly used in Asian cuisines, has now become a favourite food with many people around the world. However, can your baby benefit from this superfood? Is tofu good for babies, and when and how can you introduce it into your baby's diet? Read on to find out the answers to your questions!
Video : Introducing Tofu to Your Baby – When and How (Plus Tofu Recipe for Babies)
What Is Tofu?
Tofu is soybean cheese, and it is made by coagulating soybean milk, the same way cottage cheese is prepared from milk. Tofu has high protein content, which makes it an ideal replacement of meat for those on a vegetarian diet. Tofu has emerged as a superfood for babies and young children, because of its many health benefits. Tofu is available in different flavours, texture and hardness. Following are the widely used varieties:
1. Firm or Hard Tofu
This kind of tofu has a hard texture like meat, and it is available in blocks, just like cottage cheese. It is mostly used in dishes with gravy or dishes that require good consistency for holding the dish together. You may use firm tofu for babies as a healthy snacking option.
2. Silken or Soft Tofu
This kind of tofu is softer, smoother, and has custard-like consistency. It is mostly used in sauces, desserts, smoothies, etc. You can also give silken tofu as baby food to your munchkin.
Nutritional Value of Tofu
| | |
| --- | --- |
| Nutrient | Value |
| Carbohydrates | 2.4 g |
| Protein | 9 g |
| Potassium | 148 g |
| Sodium | 10 mg |
| Total Fat | 5 g |
| Dietary Fibre | 0.5 g |
| Cholesterol | 0 mg |
| Calcium | 42% |
| Iron | 35% |
| Vitamin A | 1.5% |
The table represents approximate nutritional content available in ½ cup or 125 grams of tofu.
What Are the Benefits of Tofu for Infants?
Tofu is loaded with protein, iron, calcium, dietary fibre and various other nutrients. It is a great option for your baby because of its soft texture. You may give it in many forms to your baby.
When and How to Serve Tofu to Babies
Most babies have their first solid meal at around six months of age. If you wish to give tofu to your baby, you should wait until he is at least eight months old. Tofu has complex proteins, and babies may not be able to digest it at a younger age. Here's how you may serve tofu to your 8 months old baby:
You may cut it into cubes or chunks and give it as a snack.
You can crush it in your baby's cereal or porridge.
You may blend it in your baby's soup or milk.
You may mix it with other vegetable and give it as a meal to your baby.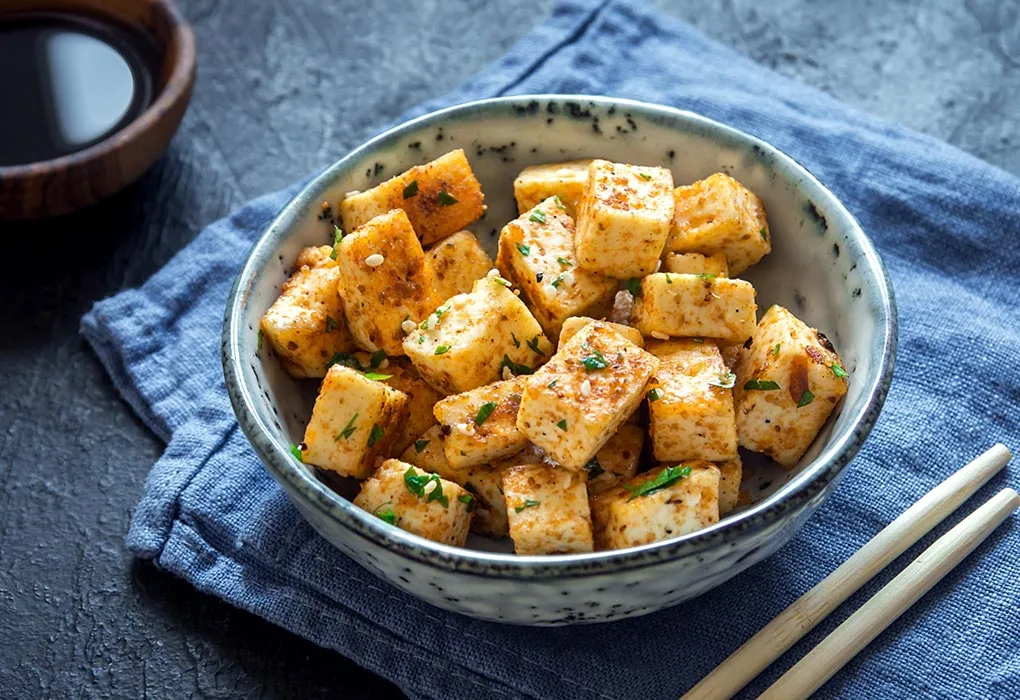 How to Buy and Store Tofu
Tofu can be easily procured from any supermarket, grocery or gourmet store in your locality. Usually, you may not be able to find baby-size servings of tofu. Therefore, you may be required to store the unused tofu. The unused tofu can be stored in a jar filled with water in the refrigerator for up to seven days. However, you must change the water of the jar on a daily basis. Fresh tofu renders a sweet and pleasant aroma, and if it smells sour or unpleasant, it may have gone bad or become stale. The best idea is to always taste tofu before serving it to kids or preparing a meal out of it. Its nutritional value entirely depends on its freshness.
Tofu Recipes for Babies
1. Tofu and Fruit Smoothie
You can add a healthy twist to a usual fruit smoothie recipe by adding some tofu to it. This is a great way of feeding tofu puree to your baby.
Ingredients
How to Prepare
Peel the mango and cut it into small pieces.
Peel the banana and slice it.
Put the fruits and tofu in the blender and churn them.
You may add more tofu as per the required consistency.
Feed this smoothie with a spoon to your baby.
2. Tofu and Tomato Soup
This is one the most nutritious tofu snacks for babies that you can make in a jiffy.
Ingredients
1 medium sized tomato, chopped
1 small onion, finely chopped
1 teaspoon olive oil
2/3 cup soft or silken tofu
½ cup soy milk
Few fresh basil leaves
How to Prepare
Heat oil in a flat pan.
Add chopped onions and sauté till they turn golden brown.
Add chopped tomatoes and basil leaves; cook until they turn mushy and tender.
Pour the soy milk and cook it with the rest of the mixture for a few minutes.
Remove from heat and mix silken tofu into the mixture.
Puree the mixture after cooling down by churning it in the blender.
3. Tofu and Vegetable Pasta
This scrambled tofu recipe for babies is not only highly nutritious, but also delicious. However, make sure your baby is old enough to be able to chew.
Ingredients
1 small onion, chopped
½ green bell pepper, deseeded and finely chopped
¾ cup tomato puree
1 cup whole wheat pasta (any shape)
Few basil leaves
1 teaspoon olive oil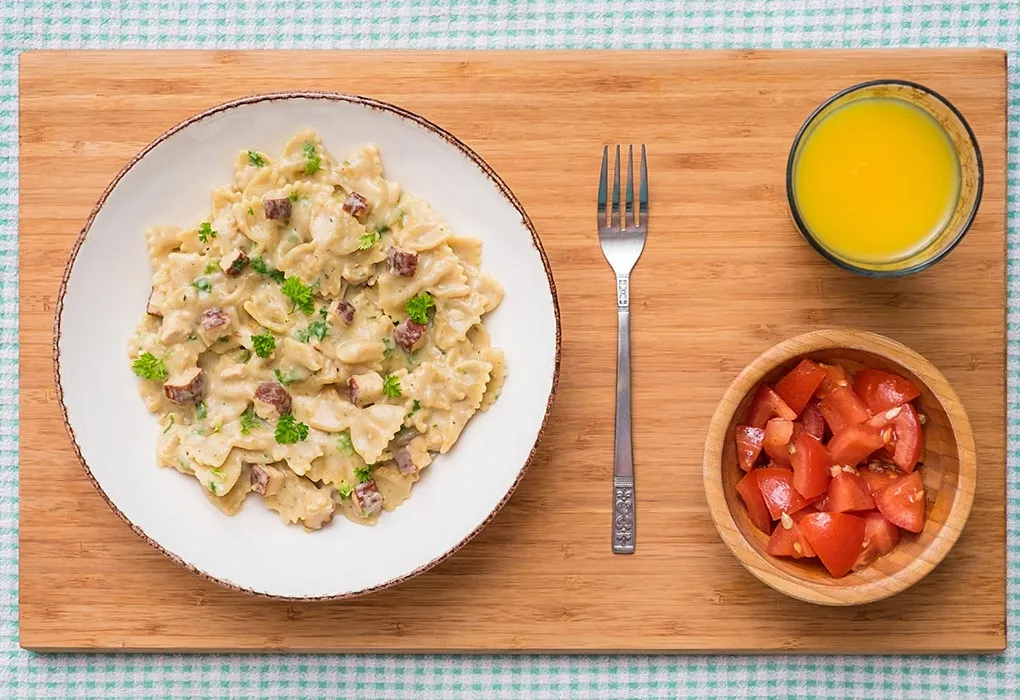 How to Prepare
Boil pasta and keep aside.
Take a saucepan, heat oil in it.
Saute onions until they turn translucent.
Now, add peppers and cook for a few minutes.
Add crumbled tofu and keep cooking it on medium heat. If there is any excess water, you may remove it.
Add tomato puree and basil, add cook for 3 to 4 minutes.
Add pasta and mix well. Serve this warm.
4. Red Bell Pepper and Tofu Soup
This yummy soup can be served warm as well as cold.
Ingredients
¼ cup soft or silken tofu
1 medium-sized red bell pepper
1 cup water
¼ teaspoon black pepper, freshly ground
How to Prepare
De-seed the bell peppers and grill them for a few minutes or until tender.
Place them in a poly bag for a few minutes for the skin to become loose. Remove the skin.
Churn the bell pepper in the blender into a smooth puree.
Take a pan, put puree and water, and cook for a few minutes.
Add tofu, mix well, and cook until all the ingredients form a single consistency.
Add pepper and serve.
5. Cracker Coated Tofu Fingers
This super easy and super quick recipe may become your baby's instant favourite.
Ingredients
1 cup tofu
6 to 7 crackers (Graham crackers work best, but you may use any cracker or your choice)
How to Prepare
Cut tofu into cubes or long fingers.
Take the crackers and put them in a zip lock bag, and gently crush them using a roller pin.
Empty the contents in a plate and roll the tofu chunks nicely into the cracker mixture.
You may improvise the above-mentioned recipes as per the taste and preference of your baby. You can also add tofu to Indian parathas by easily mashing it, seasoning it with salt and pepper, and stuffing it into the paratha dough before rolling and roasting.
In case you are not sure about using a particular ingredient, discuss it with your baby's paediatrician.
FAQs
Should you give frozen tofu to your baby?
Ideally, tofu should be consumed within a week after you have opened the packet and stored under refrigeration. But, if you wish to store it in a freezer, you may do so by keeping it in a zip-lock bag. It may change its appearance and texture, and thus it may turn spongy and darker. However, you may give frozen tofu to your baby. But, it is always preferable to serve fresh tofu, and avoid it frozen.

Sometimes, babies may be allergic to soy and soy products. Therefore, if your baby is allergic to such products, you should be careful that you do not give any food that may contain soy products in it.
Also Read: Finger Foods for Babies: Which Food to Give & Avoid
?>