Butternut Squash for Babies – Health Benefits and Recipes
One of the more common winter squash varieties, butternut squash, is a good source of fibre and potassium, and aids in digestion, blood pressure, healthy skin, and healthy hair. In Australia and New Zealand, butternut squash is known as butternut pumpkin, and there are recipes from all over the world that feature this delicious squash. This versatile ingredient can be used to prepare both sweet and savoury dishes and is a favourite amongst mothers who are weaning their kids onto solid foods.
When to Introduce Butternut Squash to Infants
Babies at the age of six months are ready to start a solid diet, and butternut squash is perfect for your baby's first solid food. Always consult with your doctor in case your child has allergies, but in general butternut squash is loved and appreciated by moms and babies alike.
Nutritional Value of Butternut Squash
The nutritional value of cubed and cooked butternut squash in one cup (250 gms) is given below:
| | |
| --- | --- |
| Nutrient | Value |
| Calories | 82 |
| Protein | 1.8g |
| Fat | 0.18g |
| Carbohydrates | 21.50g |
| Sugar | 4g |
| Fibre | 6.6g |
| Calcium | 84mg |
| Iron | 1.23mg |
| Potassium | 582mg |
| Magnesium | 59mg |
| Phosphorus | 55mg |
| Vitamin C | 31mg |
| Vitamin A | 1144mcg |
Butternut Squash Benefits for Babies
Some of the health benefits of butternut squash for kids are:
1. Antimicrobial Activities
Butternut squash can cause a significant reduction in the diseases that are caused by bacteria and viruses. Fungal infections can also be guarded against with the consumption of butternut squash.
2. Reduces Inflammation
The Omega-3 fats that are present in butternut squash are present in the form of alpha-linolenic acid, and this is what helps to reduce inflammation.
3. Aids in Digestion
Butternut squash is perfect for aiding digestion as it contains a lot of fibre. This will help your child have regular bowel movements and will reduce the chances of constipation.
4. Good for Eyesight
Vitamin A and Beta-Carotene improve the eyesight of children, and this vegetable is rich in both of these nutrients.
5. Antioxidant Activity
As antioxidants reduce the activity of free radicals in the body, the antioxidants present in butternut squash are essential for children.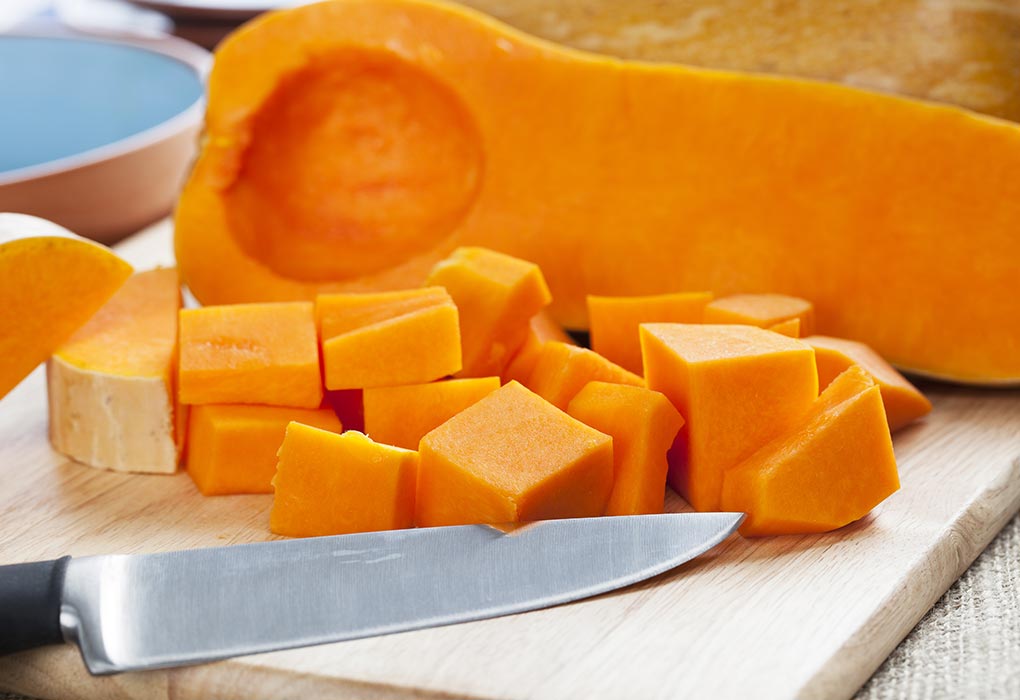 How to Choose and Store Butternut Squash for Baby Food
Here are some tips on how to choose a good butternut squash and how to store it properly:
1. How to Choose
Butternut squash is best if the skin is smooth and firm with no damage on it. There should be no soft spots, bruises, or cracks on it. If you are buying butternut squash that is already peeled and cut, the flesh should be a deep orange colour.
2. How to Store
Butternut squash can be stored for up to four months as long as it is kept in a cool and dry place.
How to Cook Butternut Squash for Your Child
There are different ways that you can prepare the butternut squash for your child. Here are a few of them:
1. Roasting
You will need to preheat your oven to 350° Fahrenheit and cut into the squash lengthwise. Once halved, remove the seeds and fibrous strings, and throw them out. The squash should be placed cut-side down on a baking tray and pour in some water. Roast until tender. The bigger the squash, the longer the roasting time.
2. Steaming
If you wondered how to steam butternut squash for a baby, we have the answer. After cutting, peel the butternut squash and chop it into cubes. Add the pieces into a vegetable steamer and steam until tender.
3. Boiling
Peel and cut the squash and then boil for about 20 minutes until soft and tender.
Butternut Squash and Baby Food Combinations
Once your baby is old enough, you can use these ideas to put together some healthy meals for him. Use the following to make some delicious butternut squash combo baby food:
Cooked apple
Grated cheese
Cooked sweet potatoes
Cooked ripe bananas
Cooked carrots
Cooked pear
Creamy peanut butter
Delicious Butternut Squash Recipes for Babies
Here are some scrumptious butternut squash recipes for babies:
1. Vanilla and Butternut Squash Soup
This butternut squash soup for babies is simply irresistible.
Ingredients
One cup of butternut squash, peeled and cut
Quarter onion, finely chopped
One pinch of pepper
Vanilla extract
How to Prepare
Pour some oil into a pan and saute the onions until tender.
Add the butternut squash and a pinch of ground pepper, and then saute for 10 minutes or until everything is lightly roasted.
Add water until the squash is just covered and bring to a boil.
Lower the heat to a simmer, cover and let it cook for about 10 minutes or until the squash is soft.
Add the vanilla extract and continue to simmer for another 10 to 15 minutes.
Let the mixture cool and then blend until you have a creamy puree.
Serve this yummy soup to your baby.
2. Butternut Squash Daal
This healthy and hearty butternut squash baby food will have your little one eager for more.
Ingredients
Half of a medium-sized butternut squash, baked and mashed
3/4 cup of red lentils
One small piece of fresh ginger, peeled
A pinch of turmeric
A pinch of cinnamon
1½ cups of water
How to Prepare
Mix the lentils with the turmeric and cinnamon in a saucepan, and add some water
Bring this mixture to a boil and then reduce the heat to a simmer, cooking the lentils until everything is soft and mushy and all the water is absorbed.
Stir in the mashed squash and mix together well.
Serve to your baby and watch him enjoy.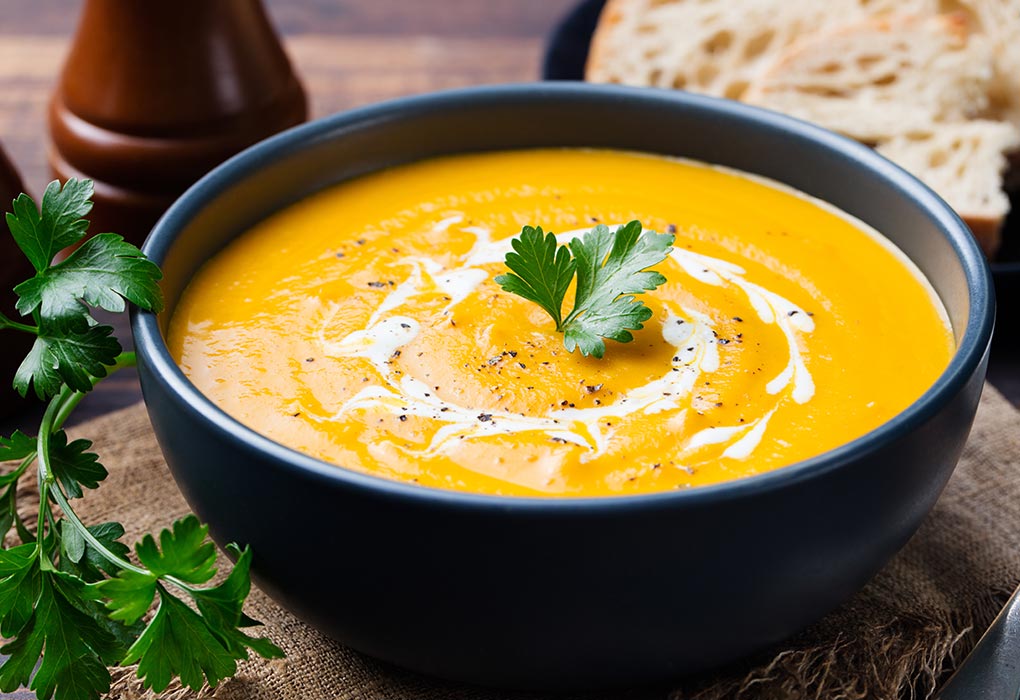 3. Butternut Bows
It is preferable to use whole grain pasta for this recipe. If your baby is more fond of the spiral pasta or the shell-shaped ones, you can use those instead of the bow-shaped pasta.
Ingredients
Half a cup of pasta
Half a cup roasted butternut squash
One pinch of nutmeg
One pinch of sage
Unsweetened apple juice
How to Prepare
In a blender, blend together the squash, nutmeg, and sage. Add just enough apple juice to the mix to give it a saucy consistency.
Warm this puree and then serve it over the cooked pasta.
4. Butternut Squash Ice Cream
Your baby is not going to be able to tell that this sweet treat is actually a part of her daily vegetable ration.
Ingredients
Half a cup of roasted butternut squash puree
One drop of vanilla extract
How to Prepare
Stir the vanilla into the butternut puree and then store it in the freezer
Just before it reaches the point of freezing, remove it from the freezer and serve it to your baby.
FAQs
Here are some frequently asked questions about feeding butternut squash to babies:
1. Can babies have butternut squash allergies?
Though rare, babies can be allergic to butternut squash. If your baby has a bad reaction, stop giving him the squash and consult a doctor.
2. Can butternut squash cause constipation in my baby?
Is butternut squash good for constipation, or does it make it worse? As butternut squash is rich in fibres, it is more likely to prevent your child from getting constipated.
3. Are butternut squash seeds good for my child?
Butternut squash is good for babies, and the seeds are rich in minerals, protein, mono-unsaturated fats, etc. However, they are quite hard and not suitable to give to your baby as they are a choking hazard.
Since butternut squash is related to both cucumbers and melons, they can be made into both sweet and savoury dishes for your baby. The rich and velvety fruit is so versatile that you can be sure your baby will remain fit and healthy if you keep making sure that butternut squash is a part of his diet. Fussy eaters will not be able to resist the sweet and nutty flavour of this healthy vegetable. Make sure you give this one a try using the delicious recipes and make it a part of your family's diet.
Also Read: Health Benefits of Pumpkin for Babies