Homemade Muffins Recipe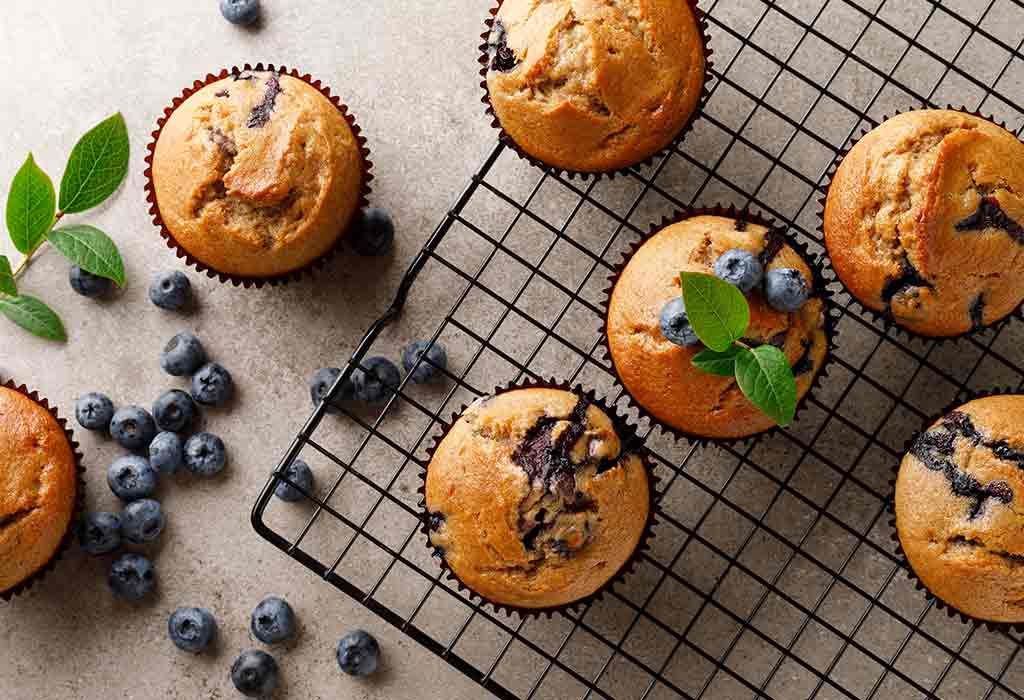 In this Article
Parents often find themselves being unsure of which treats they can feed their children and how much. But, one thing they can control is what goes into those treats by making them at home under hygienic conditions. This homemade mini banana and blueberry muffins recipe for babies is a perfect treat you can make for your baby. It is soft, spongy and easy to chew. The lovely soft texture of these muffins makes a great start for new finger foods for your toddler.
Cooking Time
| | |
| --- | --- |
| Type | Time (hh:mm:ss) |
| Preparation Time | 00:15:00 |
| Cook Time | 00:25:00 |
| Total Time | 00:40:00 |
Cooking Method: Gas, Microwave or Oven Toaster Grill
Type of Meal: Contains eggs. Not suitable for vegans or those who do not eat eggs.
Suitable For: Toddlers older than 13 months of age
Meal Schedule: Dessert, mid-morning snack, or evening snack.
Recipe Type: Dessert or Snack
Ingredients
| | |
| --- | --- |
| Type | Quantity |
| Egg | 2, medium-sized |
| Banana | 250 gms or equivalent of 2 bananas |
| Vanilla essence | 1 tsp |
| Melted Butter or Oil | 100 gms |
| Flour (maida) or Whole Wheat Flour | 160 gms or 1.5 cups |
| Baking powder | 1.5 tsp |
| Blueberries | 30 – 40 berries |
Instructions
If you are not a professional baker or you have never tried your hand at baking, this easy step-by-step procedure will make your life simple. Here's what you need to do to make these muffins.
Peel the bananas, chop into small pieces and put them in a large bowl.
Mash the bananas with a fork and make sure there are no lumps.
Beat the eggs and add them to the mashed bananas.
Add the vanilla essence, and the melted butter or oil.
Beat all these wet ingredients with a handheld or electric beater. Beat it till the mixture turns yellow, has a smooth, light, frothy texture
Now add the flour and the baking powder.
Beat this mixture for about 1-2 minutes until it forms a batter.
Check the consistency of the batter. The batter should not be too thick or too watery. It should be of pouring consistency.
Grease a muffin tray with butter or oil. Pour the mixture into the tray.
Top them up with some blueberries.
Bake the muffins at 180 degrees or 360 degrees Fahrenheit for 15 minutes.
Recipe Tips
This recipe makes about 30 muffins. So, if you are using a tray with lesser muffin grooves, then you may have to bake it for a longer period of time (approximately 20-25 minutes).
You can choose to eliminate the blueberries and just use bananas.
The Homemade Muffins baby food recipe can be made with wheat flour too if you are not too keen on using refined flour.
These muffins can be stored in an air-tight container for about 15 days.
Nutrition Information (Per 100 Grams)
| | |
| --- | --- |
| Type | Value |
| Calories | 66 kCal |
| Fat | 4 gms |
| Cholesterol | 13 gms |
| Sodium | 32 mg |
| Protein | 1 gm |
| | |
Health Benefits
As a parent, you would wonder how this homemade muffin recipe is beneficial for your baby's health. Most of the ingredients that go in the muffins are healthy and safe for your baby to consume. Let's take a look at how the ingredients would benefit your little one's health.
Bananas are a rich source of fibre and help to ease bowel movements.
Bananas and whole wheat flour help your baby stay full for a longer time.
Bananas are a rich source of calcium and potassium and bring about healthy growth of bones and teeth.
If you are using whole wheat flour, then it is loaded with Vitamins B-1, B-3 and B-5. It also has riboflavin and folate.
Blueberries are good for the heart and contain potassium, folate and fibre too.
To ensure your baby gets most of these health benefits, you must ensure you get good quality ingredients. Refer to the buying guide to know how to select the ingredients.
Buying Guide
Here are some tips to bear in mind when buying ingredients for homemade muffins:
If you are using refined flour, buy good quality flour or branded ones from the supermarket. Avoid buying loose flour as it could be adulterated. Make sure you check the expiry date on the packaging. Follow the same procedure if you are planning to use whole wheat flour instead of refined flour.
Select the bananas that are yellow in colour and ripe. Peel them up to the stem. If the bananas are green, let them ripen before you add them to the muffins.
It is advisable to wash the bananas before using. If you can, buy organic bananas as they are free from chemicals and pesticides.
Buy free-range eggs as they are produced by hens which are not caged.
Go ahead and try this simple homemade muffin recipe for babies and bring a big smile on your little munchkin's face!