Popular Non-fiction Books for Kids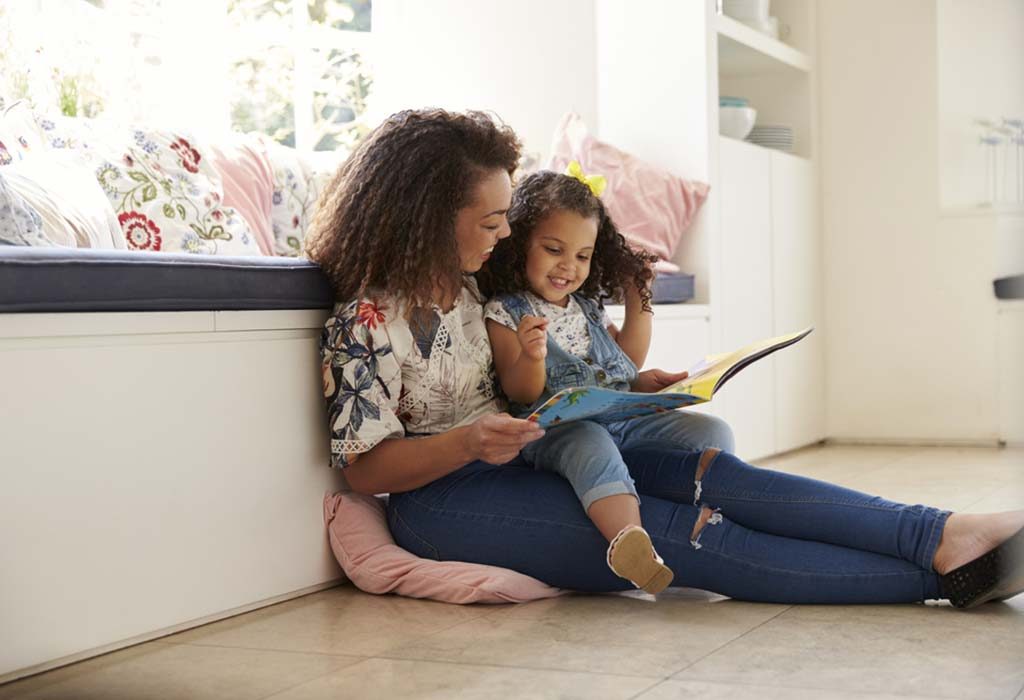 In this Article
Reading is an important skill for a child's overall development and developing a love of reading in children from a young age is something that all parents should look into. Reading can help improve your child's vocabulary and imagination. Now, in order to inculcate the habit of reading in your child, you might consider introducing fiction books, but if your child shows an inclination for books or stories that are inspiring, informative, or tell stories of people and world, you can buy some non-fiction books for them.
Best Nonfiction Books for Children
There are a plethora of nonfiction books that you can get for your child basis his interest. From books on nature to history to science, there are enough and more non-fiction books that will interest your child. Listed below are some of the best nonfiction books that you can buy for your child!
1. Earth! My First 4.54 Billion Years
Author: Stacy Mcanulty and David Litchfield
Why Your Child Should Read It
The book 'Earth! My First 4.54 Billion Years' is one of the best non-fiction books for children in kindergarten. In this book, the Earth tells its own story of evolution. The story is told in a hilarious and enchanting way. This informative book can acquaint your child with many interesting facts about the planet Earth and its magnificence in a fun way. The Kid-friendly facts in the book will keep your child yearning for more!
2. Hello, Hello
Author: Brendan Wenzel
Why Your Child Should Read It
The cute illustrations in this book are going to keep your child enthralled! 'Hello, Hello' is a popular non-fiction book for kindergarteners, and introduces them to various animals in a fun way. It consists of facts and information about different animals. The animals are grouped by colour, stripes, etc. This book will help your child learn the names of the various animals and will also teach him about animal conservation, as it also covers information about the extinction levels of animals.
3. A Beetle Is Shy
Author: Dianna Hutts Aston and Sylvia Long
Why Your Child Should Read It
With a lively font, colourful art, and the cutest pictures, A Beetle Is Shy, is one of the best nonfiction books for preschoolers. With information on different varieties of beetles, how they survive, and more, this book has everything your child needs to know about beetles in an interesting and fun manner. This book also covers pretty fascinating facts about beetles, which your child would love to read. This colourful book can help improve your child's imagination.
4. What Grows Underground
Author: Maria Fleming
Why Your Child Should Read It
What grows underground is a non-fiction picture book for preschoolers that guides them on how to read step-by-step. The book tells a story about a rabbit that gets on the mission to search what grows underground. A small book that will explain to your child what grows under the ground using simple sentences. You can also teach your child how to colour using this book.
5. Curious Comparisons: A Life-Size Look at the World Around You
Author: Jorge Doneiger, Illustrated by Guido Chouela, David Sisso, and Marcelo Setton
Why Your Child Should Read It
Curious Comparision is a special non-fiction book for kids, where humour meets science. The book is about how any big thing in the world comprises tiny, tiny objects and how a small tiny little object contributes to a greater good or goal. This is a first step that the child learns that no matter how small the creature or an object is, it matters and contributes to the greater good. Filled with fascination, this book will hold your child's attention and help him understand little details of how everything is build.
6. Ready, Set . . . Wait!
Author: Patti R. Zelch, Illustrated by Connie McLennan
Why Your Child Should Read It
Ready, Set… Wait! is a non-fiction book for kids that explains the about a hurricane and what animals do before it comes. This book talks about how the animals sense, react and prepare in face of a natural disaster. A truly informative story written in simple language that can be understood by any child. It helps a child understand a situation through an animal's point of view.
7. Finding Winnie: The True Story of the World's Most Famous Bear
Author: Lindsay Mattick
Why Your Child Should Read It
The non-fiction book 'Finding Winnie' is a true and moving story of a real-bear that inspired the story of the classic children's book, Winnie, the pooh. The story is of a soldier from World war-I who saves a bear cub and brings it to Europe. He gives the bear Winnie to the London Zoo, where Winnie befriends Christopher Robin, son of A.A. Milne. And you know the rest!
8. The Boy Who Invented TV: The Story of Philo Farnsworth
Author: Kathleen Krull
Why Your Child Should Read It
The boy who invented TV is a non-fiction book for kids who love science and inventions. This book is about a young boy's journey from his farmland to being known for one of the most important inventions of today, the TV. The inspiring story can help your child understand the importance of small ideas and their link between science and technology.
9. Little People, Big Dreams: Bob Dylan
Author: Maria Isabel Sanchez Vegara, Illustrated by Conrad Roset
Why Your Child Should Read It
Little People, Big Dreams is a nonfiction book for kids of age 4. This book includes an inspiring story of Bob Dylan, an iconic singer, poet, songwriter, and artist. The book deals with the story of how Bob Dylan played over various bands in his teens and recorded several albums while growing up and became one of the most influential musicians of his time. This book contains information about the musician's life and their journey. This inspires the child to be consistent with their dreams and achieve their dream with a lot of hard work.
10. How to be Extraordinary
Author: Rashmi Sirdeshpande, Illustrated by Annabel Tempest
Why Your Child Should Read It
'How to be Extraordinary' is a book that consists of a collection of stories of some famous and exceptional people and some lesser-known people who have achieved greatness. The stories of these people motivate little ones to do identify their potential and do something great in their lives.
These were some non-fiction books that you can buy for your child. But the list does not end here. You can explore more and buy some other non-fiction books for your child that he would love to read. Books give the freedom to imagine and to do something that may seem impossible in real lives. Books inspire kids and the stories serve as a motivating factor for them to do something different. So buy lots of books for your child and let them read. They will never be bored!
Also Read:
Amazing Historical Books For Kids
Mystery Books for Children
Best Sci-Fi Books for Children
?>