18 Best Animal Books For Children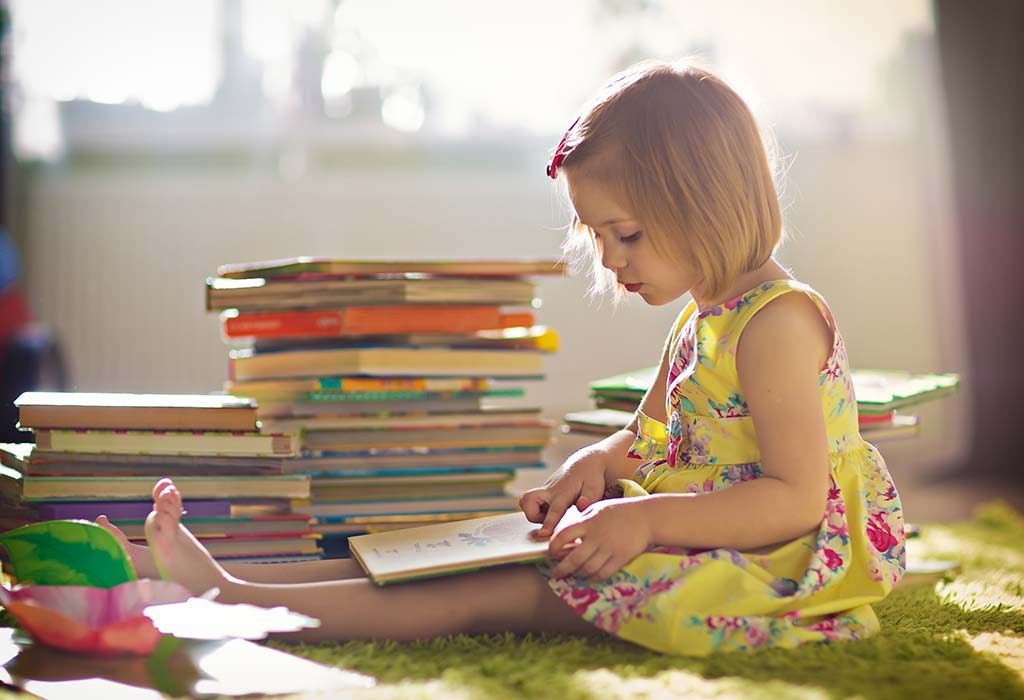 Books for children are a treasure trove of knowledge and fun, especially those that have pictures and colours! Kids enjoy illustrated stories about nature, and books about animals are fun and informative for them. If parents read out these books with animated voices and actions, it is even more delightful!
Reading animal books with colourful illustrations for children is an excellent bonding activity for your family. Read on to know which animal books you should choose for your little ones.
Fun Animal Books for Toddlers
Young kids, like toddlers, may not be able to read on their own, but they surely enjoy the experience of looking at the pages as you narrate interesting stories. Here are some animal books for babies and toddlers:
1. Eyes
Written By – Michael E. Smith
There is a certain amount of uniqueness and astounding beauty in the eyes of animals, and this book showcases that – and more! – for your little ones. This book comes with 10 close-up shots of different animals' eyes that can be used to teach your little ones about their magnificent characteristics.
2. Gotta Go, Buffalo
Written By – Kevin Meyers and Haily Meyers
One of the most fun-filled animal books for 2-year-old kids, this book comes with a clever concept of teaching young kids about goodbyes! This colourful flap book comes with great designs and eye-catching illustrations. Young kids will love to learn different and fun ways to say goodbye, while exploring their favourite animal characters. Don't be surprised if your toddler keeps going back to this exciting book!
3. Flamingos Fly
Written By – Douglas Florian
This rhyming storybook by an award-winning author is colourful and adorably illustrated. It is a board book about animals, teaching young readers about the animals that are normally not used in animal stories, like flying flamingos, swinging monkeys, soaring swallows, diving dolphins, swimming sailfish, digging prairie dogs, jumping jaguars, creeping starfish, plunging pelicans, sleeping sloths, lounging lizards, and leaping llamas!
4. Brown Bear, Brown Bear, What Do You See?
Written By – Bill Martin, Jr.
The bold and bright illustrations of this call-and-response pattern book can quickly become one of your kiddo's favourite books. The endearing images of the fascinating animals make it a great book for babies and toddlers. You can find a plump purple cat, a soft yellow duck, a handsome blue horse, and a big happy frog in this singsong, text style book! The plain white background makes the animals stand out, and lends a captivating and engaging appeal to the book.
5. Arf! Buzz! Cluck! A Rather Noisy Alphabet
Written By – Eric Seltzer
As silly as it can get, this adorable book is a great way to teach the English alphabet to young kids. Instead of using the usual animal illustrations, this book comes with a little twist – it uses animal sounds, such as Peep, Oink, Neigh, Moo, and so on. Each page seamlessly showcases different animals in their natural habitats and their unique sounds. Just see your little one rolling with laughter, and learning with this interesting and silly picture book about animals!
6. Who's At Home
Written By – Jane E. Gerver
This cute book woven around the woodland theme is a colourful, lift-the-flap book, and is a great way of teaching kids about woodland animals and where they live. This interactive children's non-fiction animal book will interest young minds as they lift the flaps of the book to reveal a cuddly rabbit, a dozing beaver, a cheery squirrel, a wide-eyed owl, and a furry bear in their cosy, natural habitats.
Interesting Animal Books for Preschoolers
Preschoolers are a lot of little learners who are always ready to find something interesting and amusing. If you are looking for interesting animal books for kindergarteners, here are some great reads:
1. The Whale In My Swimming Pool
Written By – Joyce Wan
This adorable ocean animal book talks about a little boy, whose great problem-solving capabilities and innovative approach lends a feel-good factor and oodles of humour to the story. When he finds a whale in his swimming pool, and all his tricks are unable to convince it to get out of the pool, he comes up with a plan that will amuse young readers to no end!
2. Blue Chameleon
Written By – Emily Gravett
The eye-catching shapes and colours in this storybook will delight young minds. The book revolves around a chameleon who wishes to make friends, but none of the other animals wants to be his friend. The story follows the chameleon's journey to find someone he can talk to, and young readers will stay engulfed in the challenges of the chameleon and how bravely he overcomes them!
3. Cuckoo!
Written By – Fiona Roberton
This animal book for kids shares the adventures of a sweet bird, who is different from others around it. It thus embarks on a journey to meet someone who can understand its language, and learn other languages, too. Finally, the bird makes an unlikely friend, and the delightful and amazing illustrations of this story make it further appealing for young kids.
4. Barnyard Dance!
Written By – Sandra Boynton
This is one of the most adorable farm animal books for kids, and it will get your kiddo thrilled and excited, as it features a high-spirited animal crew! This lively, rhythmic, sing-along book features some wacky characters that include fiddle-playing cows and twirling pigs! This fun book will get kids as well as adults on their toes!
5. Hogwash!
Written By – Karma Wilson
This delightfully mischievous story book by a best-selling author is written in captivating and clever rhyming verse, which will thrill young readers. The story revolves around a farmer's pigs, who refuse to be washed, and he tries various ways to convince them to get clean. It is a fun story for young kids, and has many beautiful illustrations.
6. The View at the Zoo
Written By – Kathleen Long Bostrom
This entertaining zoo animal book describes a day in the lives of various zoo animals as they wake up to a new day. The author beautifully describes how different animals at the zoo sound, act, and look. The book has many observations about different creatures at the zoo, but it is up to the kids to find out who is stating these observations, the visitors or the zoo animals! Your kids might even beg you for a trip to the zoo after reading this book!
Engaging Animal Books for Kids
Here are some more exciting and engaging reads for your growing children who love animals!
1. Stuart Little
Written By – E.B. White
If you are looking for options for your child which offers a bridge between chapter book reading and full-length reading book options, consider this captivating story of a polite and valiant little mouse who embarks upon the adventure of his life to find his lost friend! His spirit and mood stay positive as he faces different ordeals because of his tiny size, which are what save him all the time. This is one of the most irresistible and imaginative reads for young kids.
2. The Story of Diva and Flea
Written By – Mo Willems
This simple story of friendship between a dog and cat is fun and captivating for young minds. The striking contrast between Flea, the stray cat, and Diva, the protected but timid puppy, makes for a story with many ups and downs, which will keep kids thoroughly entertained.
3. Charlotte's Web
Written By – Matt Berman
This timeless classic about barnyard animals is an all-time favourite animal book for children, even in the digital age. This book takes children on a journey of friendship, and how one should make friends and treat each other. The whimsical humour, strong prose, and sharing truths on life and death in the most innovative styles are what make this book one of a kind. The book would provoke and inspire young minds to think about the values of friendship.
4. I've Loved You Since Forever
Written By – Hoda Kotb
This bestselling poetic and celebratory story book is a beautiful testament to the love between a parent and a child. The stunning illustrations and lyrical text will make you snuggle up with your child as you read this heartwarming tale of love.
5. The Little Reindeer
Written By – Nicola Killen
One of the most captivating Christmas or winter animal books, this story is a magical tale of friendship between a lost reindeer and a little girl, who embark on many adventures together. This classic story of friendship is a book that every kid should read!
6. Sleep Like A Tiger
Written By – Mary Logue
Considered a rare gem, this story comes with charming details, and luminous and rich illustrations that captivate young minds. This magical story revolves around a little girl who asks her parents if everything around her goes to sleep, and how the loving parents put their little girl to bed, just as strong and warm like a tiger.
These exciting and interesting books on animals will make great introductions to your kids. Happy reading!
Also Read:
Funny Books for Children
Historical Fiction Books for Children
Must-Read Mystery Books for Children