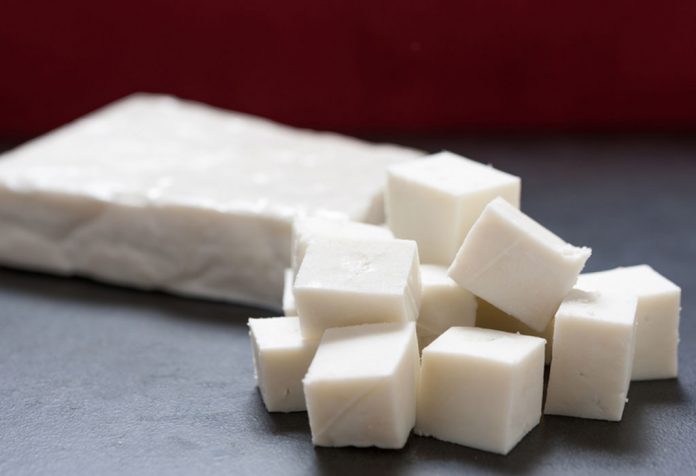 Last Updated on
Pregnancy requires you to make correct choices in terms of food, not only for your health but also for your unborn baby's well being. If you are wondering whether to add paneer (unsalted cottage cheese) to your pregnancy diet, then you are at the right place. In this article, we shall discuss various health benefits of consuming paneer during pregnancy and also address risks, if any. We have also provided some delicious paneer recipes that you can easily make to spice up your pregnancy diet. But, let's first take a look at whether paneer is safe to eat during pregnancy.
Is It Safe to Eat Paneer During Pregnancy?
Many pregnant women wonder about eating paneer during pregnancy. The answer is simple – you may add paneer to your pregnancy diet if you are not lactose intolerant. Paneer is a rich source of calcium and thus, can be included to meet the daily recommended dosage of calcium. It is also recommended to eat cooked versions of paneer to make it easier to digest.
Now, let's take a look at its nutrition value and health benefits.
Nutritional Value of Paneer
Here's the nutrition you'd get from approximately 40 grams of paneer.
Energy – 103.15 Kcal
Protein – 7.5 grams
Calcium – 190 mg
Folates – 37.3 mg
Phosphorus – 132 mg
Carbs – 4.9 grams
Fat – 6 grams
Benefits of Eating Paneer During Pregnancy
Paneer has many health benefits in general. It, therefore, is a great food item for mothers-to-be. Some of these benefits are discussed below:
Good for Teeth and Bone Formation: Paneer is rich in calcium and phosphorus. It is, therefore, beneficial for the formation and development of your baby's teeth and bones. The minerals also bring about the proper functioning of the nervous system and also helps in warding off demineralisation of bones during pregnancy.
Provides Energy: Paneer is very beneficial for increasing stamina and providing energy. It will help you keep up with the symptoms of pregnancy, especially morning sickness in the first trimester. It is also very beneficial in keeping anaemia and fatigue at bay.
Great Source of Protein: Paneer is loaded with protein and thus, is ideal for pregnant women who are constantly searching for ways to keep up with their protein requirements. Protein is also very important for the growth and development of your unborn baby.
Helps Control Body Weight: Paneer satiates hunger pangs during pregnancy. By making you feel full, it can help you keep your weight in control.
Reduces the Risk of Birth Defects: Paneer is a rich source of omega-3 fatty acids too and helps in warding off the risk of premature labour and risks of other birth defects.
Anti-Inflammatory Properties: With pregnancy comes joint pain and aches, which may make you very uncomfortable. Paneer is loaded with anti-inflammatory properties and can help reduce pregnancy-associated pains and swelling to some extent.
During pregnancy, you might be drawn towards some food items without even realising. Although paneer is a healthy option, too much of it could cause medical issues. You also need to ensure you take some precautions while consuming this food item. Read on to know more.
Precautions You Need to Take While Eating Paneer During Pregnancy
As mentioned earlier, moderation works best when it comes to including paneer in your pregnancy diet. Apart from that, you need to take the following precautions while eating paneer during pregnancy:
Make sure you consume paneer that is made from pasteurized milk as that made from unpasteurized milk may cause indigestion.
It is recommended not to eat raw paneer during pregnancy as it could be home to breeding bacteria, which could be harmful to you and the baby growing inside you.
Make sure you check the expiry date of the paneer if you have procured it from the market. Paneer is a perishable food item and cannot be stored for long.
It is suggested that you buy paneer from a renowned store or of a good brand and check the labels to confirm it is good quality paneer.
Refrain from eating discoloured, dried or cracked paneer; it may be stale and not good for consumption.
Consult your doctor before including paneer in your pregnancy diet.
If you are not too sure about buying paneer, you can make it at home. Here's a simple recipe to make some homemade paneer.
How to Make Paneer at Home Effortlessly
Paneer can be easily made at home. Here's how you can make approximately 200 grams of paneer with a litre of milk:
What You Will Need
1 litre Milk (preferably full-fat milk)
1 teaspoon of a souring agent (vinegar or lemon)
How to Prepare
Heat the milk in a heavy-bottomed pan.
Bring it to a boil over medium flame.
Once the milk boils, take the milk off the stovetop.
Add the souring agent and keep stirring till the paneer coagulates and the water separates from it.
You may add some ice to bring the temperature down. Adding ice or cold water allows the paneer and the water to cool faster and makes it easier to handle it with hands.
Now, that the mix is cooled down, strain the water with the help of a muslin cloth.
Squeeze out all the water.
Your homemade paneer is ready to be used.
Now you know how to make paneer at home. But, bear in mind that this paneer is still uncooked/ raw. When you want to make you favourite paneer recipe, you must cook it appropriately to prevent any health issues. Still wondering why you cannot eat uncooked paneer? Read on to find out.
Can You Eat Uncooked Paneer During Pregnancy?
If you love eating paneer, then any form of paneer may tempt you. However, you need to be cautious when it comes to consuming uncooked or raw paneer during pregnancy. This is because raw paneer is prone to bacteria, and consuming paneer may lead to health problems in spite of being made from pasteurized milk. To avoid any health-related complications refrain from eating uncooked paneer during the pregnancy term.
We have emphasised enough on eating paneer in moderation. In this section, we shall take a look at the side effects of overeating paneer.
Side Effects of Overeating Paneer
Eating paneer in excessive quantities can lead to the following side effects:
Paneer has a considerably high level of sodium and can affect your blood pressure.
Eating a large amount of paneer may lead to indigestion, stomach trouble, and in some cases, may cause food poisoning as well.
Excessive amounts of paneer in your diet can lead to weight gain during pregnancy.
All this information could be overwhelming, but there's nothing to worry when it comes to eating paneer during pregnancy. Just remember to consume it fresh and in moderation. Here are some recipes you can enjoy during pregnancy.
Paneer Recipes for Pregnant Women
You may easily make the following paneer recipes and give an exciting twist to your everyday pregnancy meals.
1. Spicy Paneer Skewers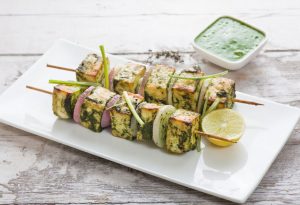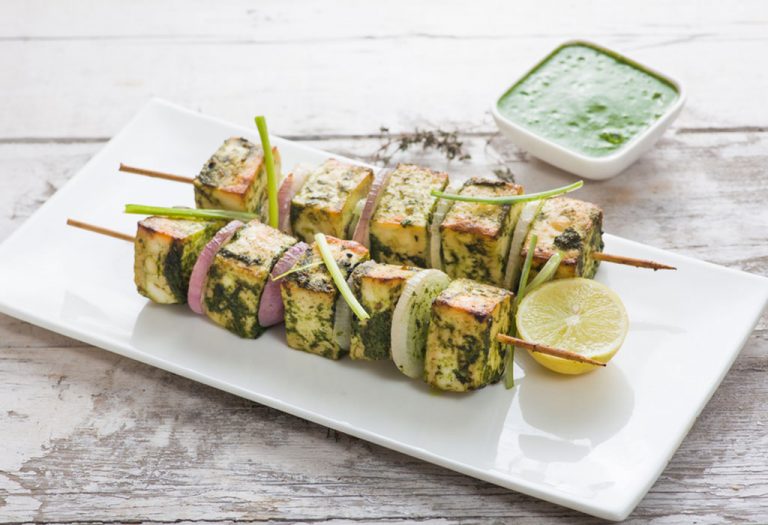 This is a simple snack recipe and can be used as a side dish.
What You Will Need
200 grams paneer (cut into cubes)
2-3 medium-sized capsicum (cut into cubes)
1 medium onion (cut into cubes)
1 cup hung curd
1 tbsp ginger garlic paste
1 tsp chilli powder
1 tsp turmeric powder
1 tsp carom seeds
½ tsp garam masala
1 tsp coriander powder
1 tsp chaat masala
½ tsp black pepper powder
1 tbsp oil
Juice of a lemon
Salt to taste
How to Prepare
Put hung curd in a big bowl, add all the spices and salt to it.
Add ginger-garlic paste and some oil to the mixture.
Add chopped paneer cubes and vegetable into the curd mixture.
Let it marinate at least for an hour.
Take the paneer and vegetable cubes and thread them alternately onto skewers or toothpicks.
Shallow fry them in a pan for approx 3-4 minutes or until done.
Once done, sprinkle chat masala and lemon juice.
Eat them just like that or with some pudina chutney.
2. Palak Paneer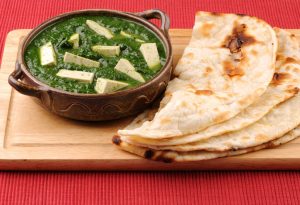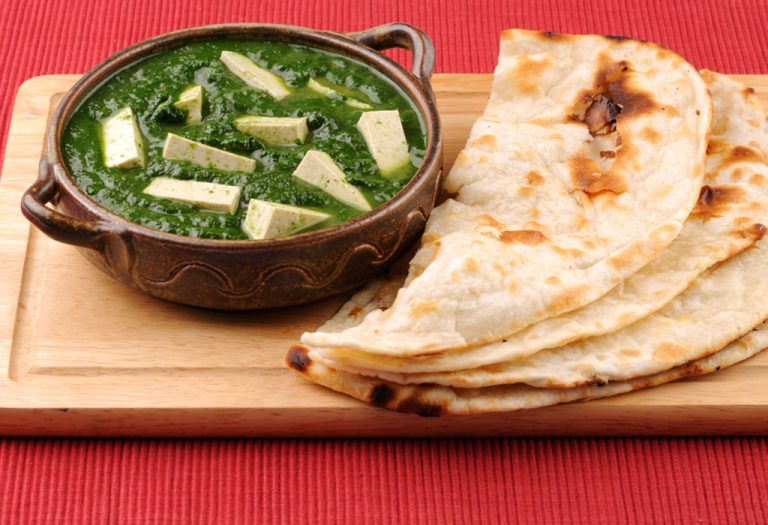 This is a delicious, easy-to-make, main-course dish that you can have with a flatbread or rice.
What You Will Need
200 grams paneer (cut into cubes)
500-600 grams of spinach leaves
2 chopped medium-sized onions
2 chopped medium-sized tomatoes
1 tbsp ginger garlic paste
1 tbsp clarified butter
½ cup fresh cream
1 tsp chilli powder
1 tsp coriander powder
1 tsp garam masala powder
1 tsp cumin powder
Salt to taste
How to Make
Blanch the spinach leaves. Once done, churn them into a fine paste.
In a pan, heat some clarified butter. Add chopped onions and cook them till they turn golden brown.
Add ginger-garlic paste and cook for 1-2 minutes.
Add tomatoes and give it a good mix. Cover the pan and let it cook for 6-7 minutes, or till the tomatoes become soft.
Add all the spices and salt, cook for 2-3 minutes.
Add the spinach paste to the pan and mix.
Cover the pan and cook for 5 minutes.
After the spinach paste is cooked, add the paneer. Cook on a medium flame for a couple of minutes.
Add cream and mix well.
You may choose to fry the paneer cubes in some ghee if you do not mind some extra fat in your diet. Fry them on medium flame till they are slightly golden in colour and cook in the palak paste only for a minute or two.
Overall, paneer can be a good food item for those pregnant women who are not lactose intolerant. With some precautionary measures, you can add paneer to your diet and reap all its goodness during pregnancy.
References: Momjunction
Also Read:
Apple during Pregnancy
Peanuts during Pregnancy
Consuming Ghee in Pregnancy