Tofu in Pregnancy – Health Benefits and Harmful Effects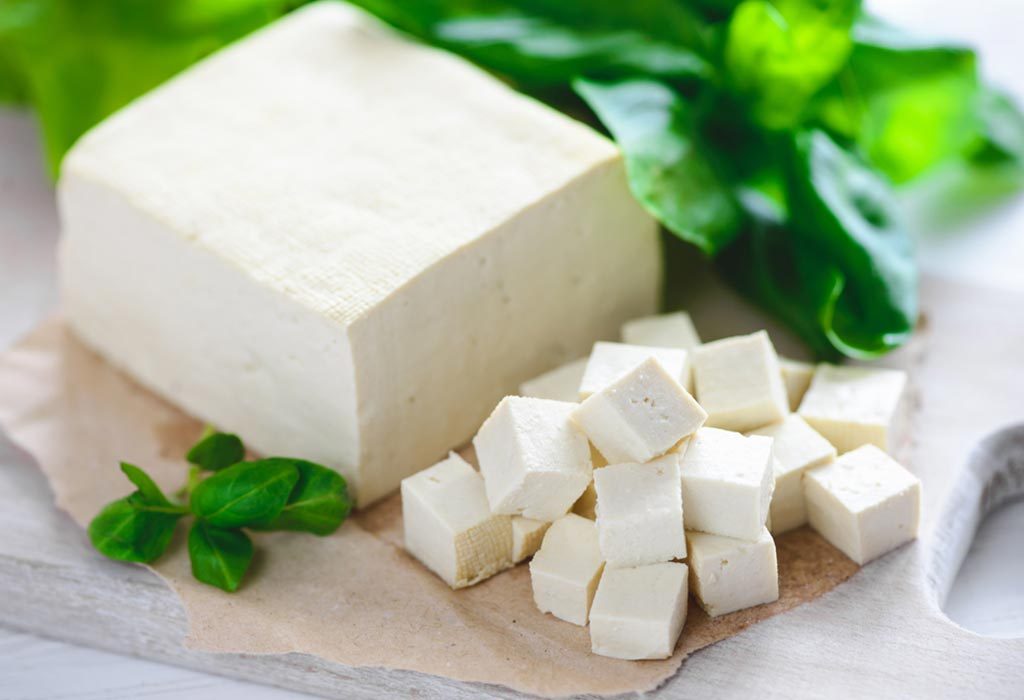 Finding out that you are pregnant is one of the most cherished feelings in the world. You are both anxious and excited about this new phase of your life. Pregnancy brings in a whole bunch of dos and don'ts to your routine. Among the various questions arising about what you can and cannot eat, you may wonder if it's safe to add various foods to your pregnancy diet. Tofu is one of those foods. You might be confused if you can eat it during or pregnancy or not. Here we will discuss everything you need to know about consuming tofu while you're pregnant.
What Is Tofu?
Tofu is made using soybeans that are grounded in water, heated, and coagulated with minerals like calcium or magnesium salt. This curd is then pressed into a block, which is then sold as tofu. There are several varieties of tofu, from extra-soft silken tofu to extra-firm tofu, available in the market.
Is Eating Tofu Safe During Pregnancy?
Once you conceive, before munching on tofu, you will undoubtedly ask, "Can I eat tofu while pregnant?" Well, yes, you can have tofu, although in limits. Tofu is rich in all the essential nutrients and can be consumed during pregnancy. It is high in iron, protein, and is a good source of unsaturated fats. Moreover, it is low in calories, helps in losing weight, and has antioxidants, which help prevent cancer.
How Much Tofu Can Pregnant Women Eat?
Pregnant women can have one to two servings of soy daily. A serving of half a cup of tofu or a cup of soymilk is enough when pregnant.
Nutritional Value of Tofu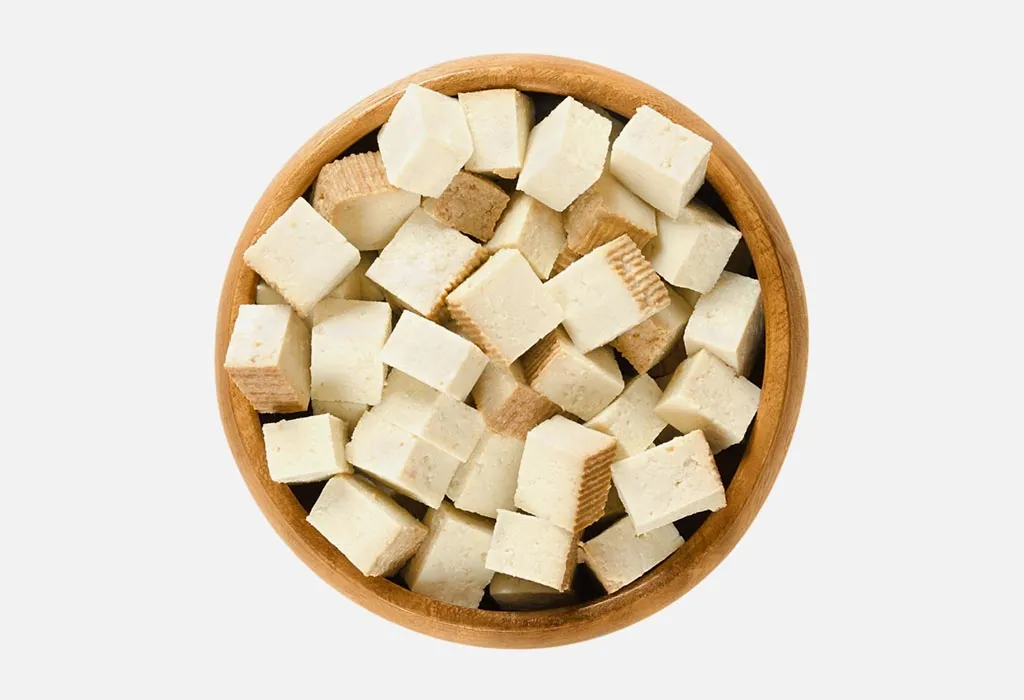 The ratio of nutritional ingredients in a 100g serving of Tofu are listed below:
| | |
| --- | --- |
| Nutrition | Amount per 100g of serving |
| Energy | 73kcal |
| Protein | 8 gm |
| Fibre | 1 gm |
| Carbohydrates | 2 gm |
| Calcium | 201 mg |
| Iron | 1.6mg |
| Magnesium | 37 mg |
| Phosphorous | 121 mg |
| Potassium | 148 mg |
| Sodium | 12 mg |
| Zinc | 0.8 mg |
| Copper | 0.2 mg |
| Vitamin C | 0.2 mg |
| Thiamin | 0.1 mg |
| Riboflavin | 0.1 mg |
| Niacin | 0.1 mg |
| Pantothenic Acid | 0.1 mg |
| Vitamin B6 | 0.1 mg |
| Folate | 19 ug |
Types of Tofu That Are Safe to Eat During Pregnancy?
If you are pregnant and carving some tofu, you must know about the ones that are safe for you to eat. Let's read about some of the tofu you can eat when pregnant.
1. Silken Tofu
This is the softest tofu and is commonly found in creamy, blended foods or as an egg substitute.
2. Firm Tofu
This is the most used form of tofu that is roughly the same consistency as feta cheese.
3. Extra Firm Tofu
This type of tofu is super-firm, as the name suggests, and is found in stir-fries or as baked tofu.
4. Regular Tofu
This tofu is a little softer than firm tofu, and its texture resembles a softer kind of cheese.
Health Benefits of Tofu During Pregnancy
The health benefits of tofu are as follows:
1. High in Protein
Tofu is packed with proteins, which help with the proper growth and development of the foetus.
2. Rich Source of Calcium
Calcium is an indispensable component for proper bone development in the body of the mother as well as the baby. It helps in the development of bone, teeth, nerves, and muscles in your growing baby.
3. Helps Blood Cell Production
Tofu is a rich source of iron and copper, which assist in the delivery of oxygen throughout the body. Besides, it is an essential part of haemoglobin that helps in creating energy and releasing oxygen in your body. Iron also assists in strengthening your immune system.
4. Contains Antioxidants
The antioxidants in tofu are known to initiate the same kind of response in your body as the hypertensive medications do.
5. Contains Flavonoids & Isoflavonoids
Flavonoids and Isoflavonoids present in tofu are good antioxidants and are beneficial in preventing the onset of potential diseases. Consuming these before and during pregnancy can help protect your baby from diabetes and obesity in the future.
6. Prevents Cancer
Tofu contains the bio compound called genistein, which when consumed, lowers the risk of developing breast cancer.
7. Helps Reducing Weight
Tofu is low in calories and rich in vegetable protein and helps you feel full for a longer period, and reduces your frequent hunger pangs.
8. Reduces Risk of Heart Ailments
Tofu is rich in omega 3 fatty acids, helping you avoid potential blood clots, thus preventing arteries from getting clogged. Besides, it is a good source of polyunsaturated fats and helps reduce serum cholesterol levels in your body.
9. Assists Hair Growth
Keratin, which is an essential protein for hair growth, is present in a fair amount in tofu and helps you in growing and maintaining healthy hair.
Who Should Avoid Eating Tofu?
Tofu is generally considered safe to be consumed by a pregnant woman, but you should not eat tofu if:
You have been diagnosed with breast cancer. According to the studies, phytoestrogens in soy and soy products can stimulate breast cancer cell growth under some circumstances.
You have hypothyroidism. As tofu contains isoflavones that mimic estrogen, too much estrogen can hinder thyroid hormone production – aggravating hypothyroidism.
How to Cook and Store Tofu in Pregnancy?
Here are some ways to cook tofu when you are pregnant. Let's take a look at them:
Avoid eating raw tofu.
Thoroughly rinse and drain your tofu before cooking.
Cook your tofu until it reaches an internal temperature of 74C/165F for at least 15 seconds.
Consume the tofu before it cools down or chill quickly – within 2 hours.
Risks Associated With Eating Tofu During Pregnancy
It is advisable to eat all food items in moderate amounts to avoid possible repercussions caused by excessive consumption. Pregnancy is a time where you need to be extra cautious of what you consume. Hence, carefully consider the following risks associated with consumption of tofu, and limit your intake:
1. Effects of Phytic Acid
Phytic acid contained in soy inhibits the absorption of crucial minerals like calcium, iron, copper, manganese, and zinc in your intestines. This effect is minimal in well-fermented foods, as it reduces the phytic acid content.
2. Anti-Nutrients Impair Protein Digestion
Soy holds large amounts of anti-nutrients, which may interfere with the digestive enzymes in the body. One such anti-nutrient is the protein-digesting enzyme inhibitor trypsin, which affects the digestion and absorption of proteins. Protein is an essential nutrient for pregnant women, and it is not recommended to have any interference in its absorption.
3. High in Aluminium
Tofu being a soy product may pose a risk of accumulating high levels of aluminium during the processing or washing of soybeans, which is done in aluminium tanks. Aluminium can lead to neurological problems in the foetal brain.
Tofu Dishes That Are Safe to Eat in Pregnancy
Now that you know about the amazing benefits of having tofu when pregnant, let's read about some tofu dishes that pregnant women can have.
1. Smoothies
You can make yummy smoothies using tofu.
2. Soups
Make sure the tofu has been cooked and the soup is served steaming hot.
3. Salads
You can add it to your favourite salad but don't overdo it.
4. Stuffing in Parathas
You can even make yummy stuffed tofu parathas.
5. Substitute for Paneer and Eggs
If you don't feel like having paneer or eggs, you can easily replace them with tofu.
Delicious Tofu Recipe for Pregnant Women
Let's read about some delicious tofu recipes that pregnant women can enjoy eating.
1. Stir Fried Vegetable Tofu Salad
Ingredients:
Potato washed, peeled, boiled and cubed
Boiled beetroot
A cup of boiled sprouts
Handful of grated carrots
Bell peppers finely sliced
A handful of cherry tomatoes
One finely minced green chilli
1 cup tofu
Teaspoon of oil
Half of a lemon
Salt & pepper to taste
Coriander to garnish
Directions:
In a pan, add little oil and allow it to heat.
Add the potatoes, bell peppers, beetroots and stir fry till it is slightly cooked.
Add the tofu and sprouts and keep stirring.
Add salt and stir again.
When everything is cooked, remove it from the flame.
Cut the chilli and cherry tomatoes into halves and add it to the vegetables.
Squeeze half the lime on the salad and mix again.
Sprinkle some pepper powder, garnish with coriander and serve.
2. Tofu Stir Fry
Ingredients:
¼ cup low-sodium soy sauce
¼ cup fresh squeezed lime juice
1 tablespoon natural honey
2 teaspoons freshly grated ginger
1 extra block of firm tofu
2 tablespoons sesame oil
2 cloves garlic, minced
1 small yellow onion, chopped
1 cup frozen shelled edamame, thawed
1 carrot, chopped
2 cups soba noodles, cooked
1 tablespoon sesame seeds, toasted
Garnish: chopped green onion, cilantro, basil, peanuts, cashews
Directions:
In a medium bowl, add soy sauce, lime juice, honey and ginger, and stir to combine.
Drain the tofu block and wrap it in a dish towel.
Unwrap tofu and dice into ¼ to ½ inch cubes.
In a large pan, heat 2 tablespoons of sesame oil.
Add tofu and fry for about 5 minutes until browned.
Add garlic and onion, and cook 1-2 minutes, until softened.
Add in edamame and carrots and allow it to cook until tender.
Add soba noodles, soy sauce mixture and sesame seeds, and cook for 1 to 2 minutes.
Turn off the flame and garnish with green onions, cilantro, basil or nuts.
Serve.
3. Tofu and Spinach Burrito
Ingredients:
1 block of extra firm tofu
2 – 3 handfuls of fresh spinach
3 tbsp nutritional yeast
1/4 cup refried beans
Salt and pepper
Whole-grain tortillas
Avocado, salsa, leftover veggies (optional)
Directions:
Place a block of tofu in a nonstick pan.
Using a fork, break up the tofu until crumbled.
Add nutritional yeast and spinach to it and cook for 3 to 5 minutes.
Spread refried beans onto tortillas.
Take half spoon of the tofu mixture into the tortilla and layer in avocado, salsa and/or other veggies.
Wrap it and serve.
FAQs
1. Is It Safe to Eat Cold Tofu While Pregnant?
No, pregnant women should eat tofu after cooking it thoroughly.
2. Is It Ok to Consume Tofu in the First Trimester?
Yes, you can consume tofu while pregnant during the first trimester.
3. Can You Eat Frozen or Processed Tofu During Pregnancy?
Soft and silken tofu does not hold texture during the freezing and thawing; therefore, it can be eaten fresh, and frozen tofu is considered safe.
4. Can Pregnant Women Eat Tofu Sushi?
Pregnant women can eat sushi during pregnancy as long as the sushi does not contain raw or smoked seafood.
As long as it is consumed in limited quantities, tofu is a highly nutritious food to be had during pregnancy. However, excessive consumption of tofu can lead to severe conditions like protein indigestion, pancreatic disorder, diarrhoea, and constipation. You can consult a dietician to understand the impact of tofu on your body and add it to your pregnancy diet as per the dietician's recommendation.
References/Resources:
1. Food & nutrition in pregnancy; thewomens.org.au; https://www.thewomens.org.au/health-information/pregnancy-and-birth/a-healthy-pregnancy/food-nutrition-in-pregnancy
2. Vegetarian, vegan and special diets in pregnancy; tommys.org; https://www.tommys.org/pregnancy-information/im-pregnant/nutrition-in-pregnancy/vegetarian-and-special-diets-pregnancy
3. Pregnancy and diet; betterhealth.vic.gov.au; https://www.betterhealth.vic.gov.au/health/healthyliving/pregnancy-and-diet
4. Can Tofu Reduce Your Risk of Depression During Pregnancy?; womensmentalhealth.org; https://womensmentalhealth.org/posts/can-tofu-reduce-risk-depression-pregnancy/
5. FOODS TO EAT AND TO AVOID DURING PREGNANCY; narayanahealth.org; https://www.narayanahealth.org/blog/foods-to-eat-and-to-avoid-during-pregnancy/
Also Read:
Eating Pizza in Pregnancy
Consuming Tuna While Pregnant
Can you Eat Mussels during Pregnancy?
?>