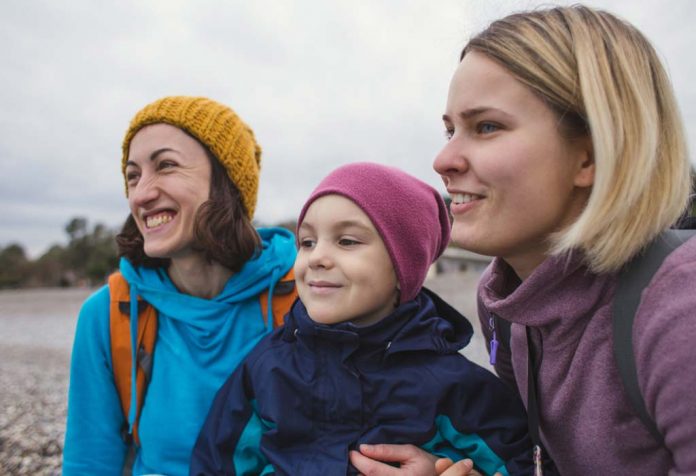 Gay and lesbian couples are increasingly looking to adoption and it is becoming widely accepted. Studies in the US reveal that over 16,000 same-sex adoption of children by gay and lesbian parents amounts to 22,000 adopted children in the country. Even with the change in laws and easy facilitation of the process, gay and lesbian couples face unique challenges and deep-rooted prejudices when wanting to adopt a child. This when agencies, individuals, Government and private organizations are making giant strides in making adoption policies as fair as possible. Read on to find out more about how to navigate through the adoption process if you are a same-sex couple looking to adopt a child.
What Does the US Law Say About LGBT Adoption?
Through the history of same-sex marriages and gay adoption, the people involved have faced barriers and have to fight for their legal rights to live together or adopt. Fortunately, the situation no longer remains the same and there are more support and acceptance for same-sex marriage adoption.
LGBT adoption laws by state are now governed by the law and Mississippi is the last state that turned the laws banning LGBTQ adoption. The court across the United States protects the right of gay couples to adopt across the country. However, just as heterosexual couples, there are certain restrictions on adoption laws for gay couples depending on their marital status which differs from state to state. Most LGBTQ couples can adopt jointly in 50 states but some states have advanced legislation that governs them. The government does not restrict gay adoption based on religious freedom too.
If gay couples wish to bring a child through conception, then the process is different. For a lesbian couple, it involves finding a male donor until one gets pregnant. The other parent can then become a second parent or step-parent through parent adoption. Gay couples can also become parents to a biological child is a similar fashion.
Whichever state you belong to, you can adopt a child as same-sex couples. The first step would be to find an adoption agency that specialises in adoption for same-sex couples and follow the process.
What Are the Rights and Duties of LGBT Parents?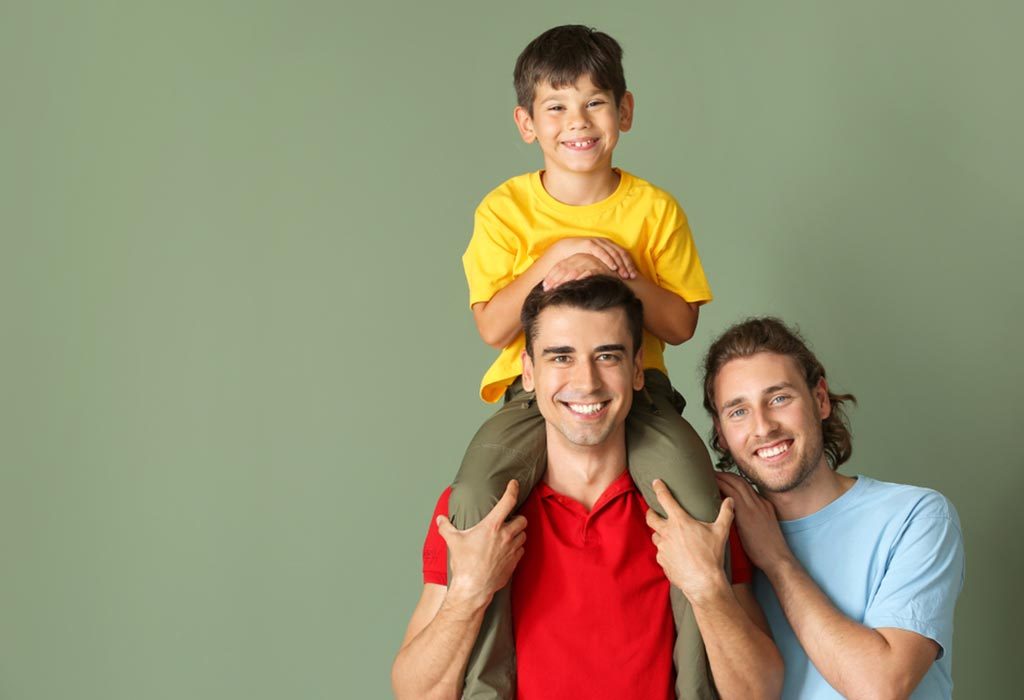 A legal parent is defined by law as one who has the right to live with the child and make decisions about their health, well-being and education. Legal parents are also the ones to support the child financially. Heterosexual parents are automatically deemed to the legal parents of the child when they have the baby, even after their divorce.
LGBT adoption rights do not automatically set in if the couple is legally married under the same-sex marriage act. In some cases, a partner can legally adopt the biological child of the other partner through legal procedures as a stepparent. This kind of joint adoption or secondary adoption gives legal rights to the parties involved in the same-sex partnership.
Before the same-sex marriage act was legally recognized, some states in the US allowed same-sex marriages and also the parental presumption to spouses. States like California and New Jersey granted legal parent status to unmarried same-sex couples on the birth of a child if they were in a civil union or domestic partnership. However, with the introduction of recognition of same-sex marriages in 2015, some states are applying the parental presumption. But certain states are still finalizing this process and it is under litigation.
In a nutshell, it would be unwise to assume that a legal same-sex marriage will result in legal parental status upon birth or adoption of a child. Non-biological parents must go legal procedures as a precaution if they travel to other states which do not recognize the parental rights of a same-sex couple.
Same-sex couples must also make arrangements with respect to children in accordance with the laws of the state like heterosexual couples. It should be set in plain language and elaborate on the understanding of the rights and responsibilities of the couple.
LGBT Adoption Options
The path you take to adopt a child will depend entirely on the laws of the state. Unmarried couples, homosexual or heterosexual, will have to go through a legal process and fulfil state requirements to adopt a child. While married couples and single parents can adopt, many states prohibit unmarried couples from adopting as requirements of the law are based on marital status and not sexual orientation.
Unmarried LGBT couples, can choose to individually adopt and raise a child with their partner. However, the partner will not be a legal parent. When adopting as a couple both parties must obtain parental rights so that in the event of an eventuality to one of the parties, the other one automatically becomes the legal parent. A joint adoption or second-parent adoption may be required if you are an unmarried couple. But not all states permit second-parent adoption procedures as step-parent adoptions are available for LGBT couples. If you live in a state that does not permit second-parent adoption then an adoption agency will help you to access foster care adoption, provide legal security through wills, guardianship arrangement and other documents.
Pros and Cons of Same-sex Adoption
Although, adoption is a great way for same-sex couples to expand their families, there are advantages and disadvantages to it. The pros and cons are the same to any other adoption process and sexual orientation has no impact on parental ability.
Pros
An opportunity to share lives with a child and experience the joys of parenting
The opportunity to acquaint and form a special bond and relationship with the child's biological family.
The amazing opportunity to raise a child that needs a home, love and affection
Children raised by parents of same-sex will be more sympathetic and open-minded. Children will enjoy the benefits and stability of being raised by same-sex parents.
Cons
Same-sex parents and children of such couples may face a lot of prejudices and discrimination from people within communities. Although, a legal gay couple, they are subject to a lot of scrutiny in public.
Parents may face challenges in terms of addressing the racial or cultural identity of the child.
Parents may also face difficulty in talking about adoption and adjusting to parenthood.
As LGBTQ adoption in the United States continues to increase and society continues to be more accepting of different family types, more hopeful parents are choosing to complete their families through same-sex couple adoption.
Where Can LGBT Parents Reach Out for Adoption?
Same-sex couples have a variety of options to research and consider when wanting to adopt. LGBT parents can seek advice from other parents who have adopted. Additional input from friends and family will help determine the strength and weaknesses of becoming parents as a couple. Researching state laws to determine one's legal rights is a great way to know the process. Couples must also research the various adoption agencies that specialise in adoption for same-sex couples. It is imperative to check the mission of the LGBT adoption agencies and also learn from word-of-mouth publicity. Lastly, turn to support groups run by local adoption agencies, fertility clinics and LGBT advocacy groups to learn more about the journey.
LGBT Adoption Profile – What Does It Consist?
Just like for heterosexual couples, adoption agencies will ask LGBTQ couples to create an adoption profile. The profile will include the following:
Personal details about the life of the parties involved.
Details about home.
Reasons why parties wish to adopt a child.
Plans on how the parties wish to raise the child.
Photographs of home and lifestyle that will give an idea of the kind of home the child will be entering.
These adoption profiles are shared with birth mothers who put up their children for adoption and help them make a decision about which family they wish to choose. Adoption profiles must be complete, honest, all information given must be true and paint a true picture of the couple. There should be no fudging of data.
What Does the Gay Adoption Interview Process Involve?
The adoption interview process or adoption home study as it is called is the first hurdle in the adoption process. The procedures could vary but generally, the home study involves the adoption agency making a visit to your home and conducting a personal interview. They will examine the home of the party to check if it is a safe and stable environment for a kid to be raised.
Many gay couples have resorted to forging data and lying about their relationship status to adopt. It is imperative that couples are completely honest to agencies else it will be considered as a fraud. This will not only lead to denial of adoption but also disrupt chances of adoption in future.
Second Parent Adoption Law
It is common for one partner to adopt in a gay couple and the second to apply as a second parent or co-parent in court. A couple need not necessarily be in a legally recognized relationship to pursue a second-parent adoption. This makes it easier for gay couples who do not intend to get married or enter into a civil partnership.
Second parent adoption is also common when one partner already has a child when in a relationship with the other. The other partner can then become a parent to the child.
Second parent adoptions provide the same parental and child rights and responsibilities for a legally recognised parent of adoptive children. Second parent adoptions have been recognised by 13 courts in the USA and the District of Columbia as of 2015.
Important Points to Consider for Same-sex Couple While Adopting a Child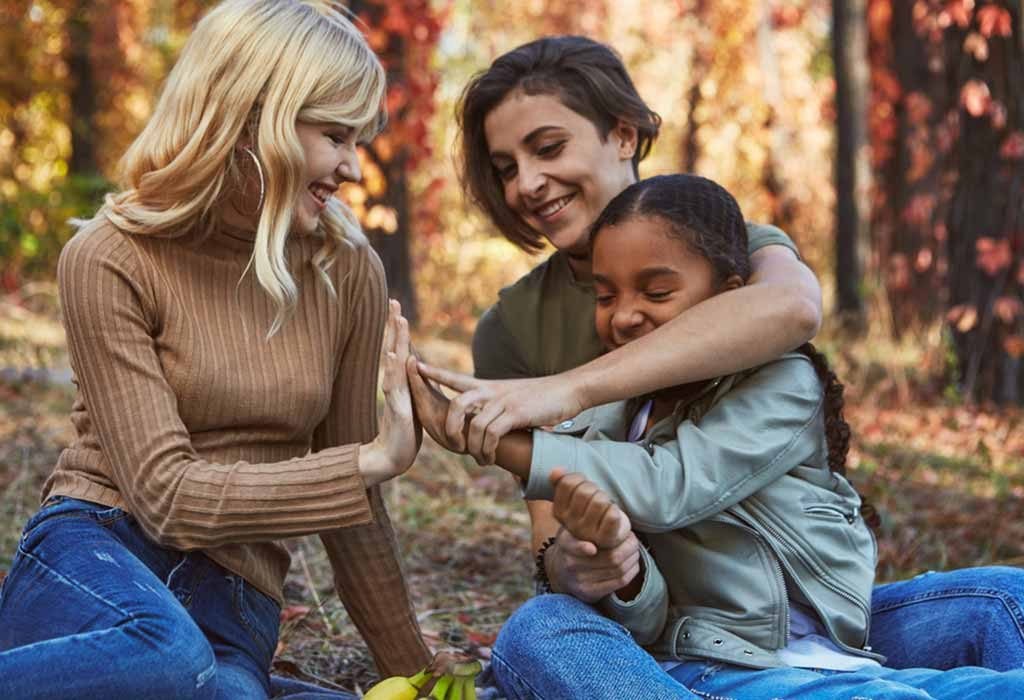 Before embarking on the journey to adopting and becoming parents, both LGBTQ and heterosexual couples must consider their status of becoming parents. A few points to consider are:
1. Weigh all your options
Have we come to this decision by weighing the options completely? It is important for both partners to communicate and come to a consensus. It will help to secure the opinion of friends, families and others but it is the decision of the parties that must be the ultimate decision clincher.
2. Consider the costs
The cost of raising a child must be taken into consideration which will range from state to state. Prospective parents must know the cost involved in raising a child based on their income and where they live.
3. Consider your work-life balance
Apart from money, there are other important resources that are of prime importance. Time and energy are of prime importance and crucial to dedicate to raising a child. Parents will need to adjust their work and social life to balance the demands of bringing up a child.
4. Is your relationship stable?
Stability of the relationship between the couple is also very important. Bringing a child will not fix any existing issues in your relationship. It is important to be in a stable relationship to nurture young children in a healthy environment.
5. Learn the law
Adoption laws vary in different states, so it is important to find out what the policies are for same-sex adoption in the place where you live.
6. Join a support group
Same-sex adoption process and raising a child can come with their own challenges. So join a support group where like-minded people can help, support, and guide you.
Adopting a child is a big decision. Both partners must be sure of what they are getting into before making the final decision.
The decision to adopt is a life-altering one for any couple – heterosexual, lesbian or gay. It is mandatory to make sure that adequate research is done, options are evaluated and a conclusion is drawn based on facts available. With proper preparation, couples can make sure that they enter into a process that works best for them and fairly.
Also Read:
How to Adopt a Child in the US
Foster Care Adoption
How to Bond With an Adopted Kid