Kate Name Meaning and Origin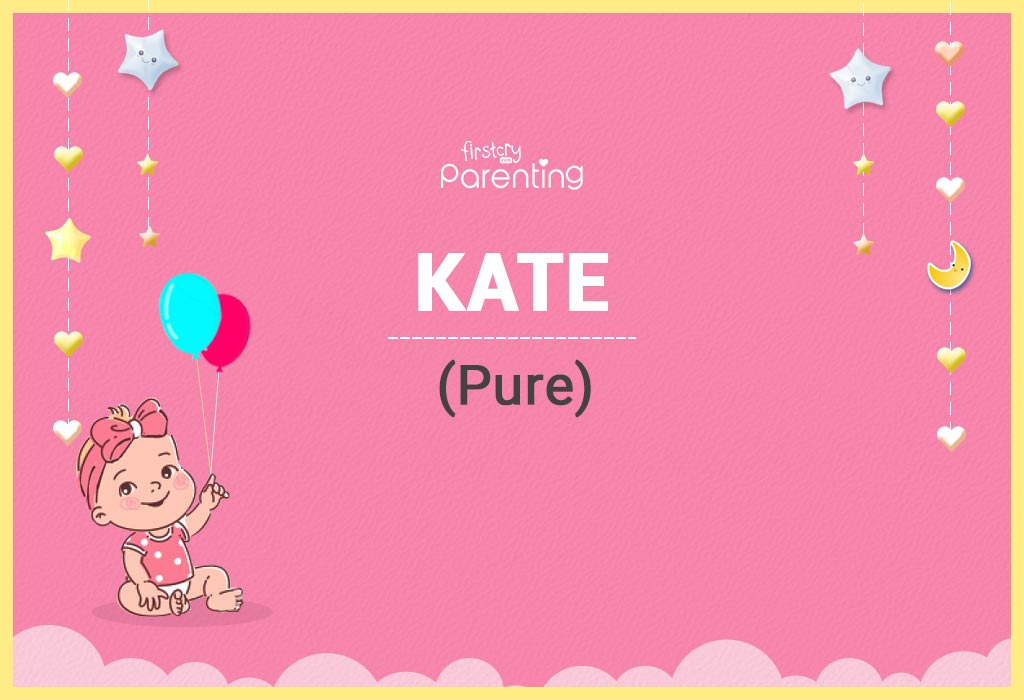 Some names have been overused and now do not sound trendy enough. And then there are names that have been used thoroughly but still do not seem to shed the beauty and charm that we associate with it. One such name is Kate. A name that had once been incredibly popular, Kate is an incredibly beautiful name ideal for girls. So, keep reading to know more about it as a name rather than a shortened Katherine nickname.
What Does Kate Mean?
One of the most wholesome names you can find, the meaning of Kate is pure! The pure and desirable meaning of the name itself implies that the name is sure to lend an innocent and pure image to the name's bearer. This makes the name one of the most desirable ones for parents nowadays. In this regard, the name was primarily used for virgins in old Greek legends, which is the primary origin of the name.
Origin
The name Kate emerges from old Greek roots. As per the Greek roots, the name boasts the meaning of being "pure" and "virginal." In this regard, the name conveys a sense of untouched beauty and a pure being. While the name also has Latin, Celtic, and Slavic origins, the meaning stays consistent regardless of such changing origins.
Gender
Female
Pronunciation
Syllables
1 Syllable
Length/Letter
4 Letters
Name Variations/Spellings
It is no surprise that this classic and timeless name has a lot of Kate name variations, emerging from different cultures and regions around the world. Having a look at these other spellings for Kate can help you get an insight into the popularity of Kate in other cultures and give you more options that will help you in your naming journey. So, here are some variations of the name for your consideration:
| | |
| --- | --- |
| Name | Origin |
| Catherine | Greek |
| Kaitlin | Greek/Irish/Celtic |
| Katharyn | Greek |
| Katharine | Greek |
| Katey | Greek |
| Kati | Greek/Slavic/American |
| Cathie | Greek |
| Katie | Greek/Celtic |
| Katya | Greek/Slavic |
| Katka | Greek |
How Popular Is the Name Kate?
Since ages ago, Kate has been an incredibly popular name; we all are aware of that. But how do we know exactly how popular it is? One of the best ways is to evaluate the data recorded by the Social Services Administration and see how many girls were given the name in a particular year. And in the case of the Kate popularity index, it can be seen that since the beginning of the millennium, the name has maintained a popularity ranking of above 150, with the years from 2004 to 2008 being the only exceptions, where it ranked below 150. As of 2020, the Kate baby name ranking has been the lowest ever, ranking 411 out of all the girls' names chosen in the year.
Interest in Kate – Worldwide
In terms of worldwide interest, the term Kate has not been a highly popular term throughout the last decade. Apart from the sudden increase in popularity score in September 2012, when it achieved the score of 100, the name has been pretty unpopular in terms of search trends.
Interest in Kate – the US
Much like the interesting trend recorded worldwide, the interest trends for Kate have been pretty remarkable in the case of the US as well. With an overall underwhelming interest record, the name achieved the popularity score of 100 in September 2012. On the contrary, the lowest popularity score of 17 was achieved consecutively in August and September 2020.
Popularity of the Name Kate
URL: https://www.ssa.gov/cgi-bin/babyname.cgi
Where Is the Name Most Searched
Search Trends of Kate – Worldwide
Global search trends show that the name has been the most popular in English-speaking countries. While the name seems to have been the most popular in Ireland, the UK, New Zealand, Australia, and Canada are not far behind, making them the top five countries with the highest interest generated in the name Kate.
Search Trends of Kate – the US
Among the 51 sub-regions of the US, the District of Columbia seems to have generated the highest interest over the last decade. It is followed by Massachusetts, New Hampshire, Connecticut, and Rhode Island to complete the list of the top five countries with the highest interest.
Middle Names That Go With Kate
Choosing beautiful middle names is another task given to parents. While you can choose to forego this second name, you need to be meticulous in choosing it if you do want to have a middle name for your child, so that it sounds well along with the first name of your child: In this regard, here are some double names with Kate for you to choose from:
| | |
| --- | --- |
| Eleanor | Elizabeth |
| Rosie | Mia |
| Ray | Taylor |
| Shawna | Shonda |
| Lily | Lilith |
| Lola | Jesse |
| Jade | Flora |
| Eloise | Dahlia |
| Fiona | Cassiopeia |
| Chloe | Grace |
Famous People Named Kate
There have been many famous Kates in the past who have collectively contributed to making the name as popular as it has become. So, some of these famous celebrities named Kate are:
| | |
| --- | --- |
| Celebrity Name | Profession/Famous For |
| Catherine Ann "Kate" Bosworth | American Actress |
| Kate Elizabeth Winslet | English Actress |
| Kate Moss | English supermodel |
| Catherine Elizabeth "Kate" Middleton | Duchess of Cambridge |
| Kathrin Romary "Kate" Beckinsale | English Actress |
| Kate Elliott (Alis A. Rasmussen) | American Novelist |
| Kate Wolf (Kathryn Louise Allen) | American Singer-Songwriter |
| Kate Cary | English Novelist |
| Katherine Kiernan Maria "Kate" Mulgrew | American Actress |
| Katherine Noel "Kate" Spade | American Fashion Designer |
Similar Names & Last Names
Baby-names like Kate, which also mean "pure," can make great alternatives that you can consider apart from the name. And considering these other names for your baby can give you many more options you can consider while keeping the beautiful meaning consistent. So, here are some such alternative similar names that you can choose if you have suitable family names for Kate:
Names That Sound Like Kate
Names that rhyme with other names do a perfect job of maintaining the phonetic beauty of the name while giving you variety to choose from. So, here are some such names that rhyme with Kate for you to consider:
| | |
| --- | --- |
| Anate | Cate |
| Hecate | Tait |
| Mayte | Maite |
| Maret | Tayte |
| Ranait | Searlait |
| Kaite | Ciannait |
| Afraate | Claudette |
| Celeste | Bette |
| Edith | Eloise |
| Faith | Jade |
Sibling Names Related to Kate
Sister and brother names of Kate need to be selected carefully to ensure that all siblings have names that match each other. In this regard, the following list of brother and sister names for Kate can be helpful for you to choose the most appropriate and suitable names. In this regard, some sibling names that go with Kate are:
| | |
| --- | --- |
| Sister Names For Kate | Brother Names For Kate |
| Ruth | Shane |
| Claire | Dawson |
| Amanda | Hadley |
| Dawn | Ezekiel |
| Emmie | Jordan |
| Jordyn | Steven |
| Kylie | Tristan |
| Katarina | Henry |
| Marcella | Lucas |
| Alexis | Jared |
Nicknames for Kate
Nicknames should be chosen as carefully as you choose the first name. Since the nickname becomes their second identity, the name they are associated with, especially in informal and family settings. In this regard, the following list of nicknames can help you choose the best nicknames for your Kate:
| | |
| --- | --- |
| Cat | Kat |
| Katty | Kathy |
| Take | Kit Kat |
| KatKat | Kateapillar |
| CupKate | KiKi |
| KaKi | Kay |
| KayKay | Kake |
| Kater Tots | Katie Bean |
| Kay Boo | Kitty |
| Katie Bear | Katie Bug |
Choosing a name for your child is often more confusing than it should be. And to make your decision easier, this article has everything you may want to know about the name Kate. So, go through its meaning, origin, spelling variations, popularity worldwide and in the US, and many alternatives you can choose from.
Sources/References
Social Security Administration: https://www.ssa.gov/cgi-bin/babyname.cgi
Kate Name Popularity in the United States: https://trends.google.com/trends/explore?date=2012-02-28%202022-02-28&geo=US&q=Kate
Kate Name Popularity Across The World: https://trends.google.com/trends/explore?date=2012-02-28%202022-02-28&q=Kate
Kate Name Interest in the United States: https://trends.google.com/trends/explore?date=2012-02-28%202022-02-28&geo=US&q=Kate
Kate Name Interest Across The World: https://trends.google.com/trends/explore?date=2012-02-28%202022-02-28&q=Kate