Not Allowed to Wash Your Hair During Pregnancy? Don't Worry About It!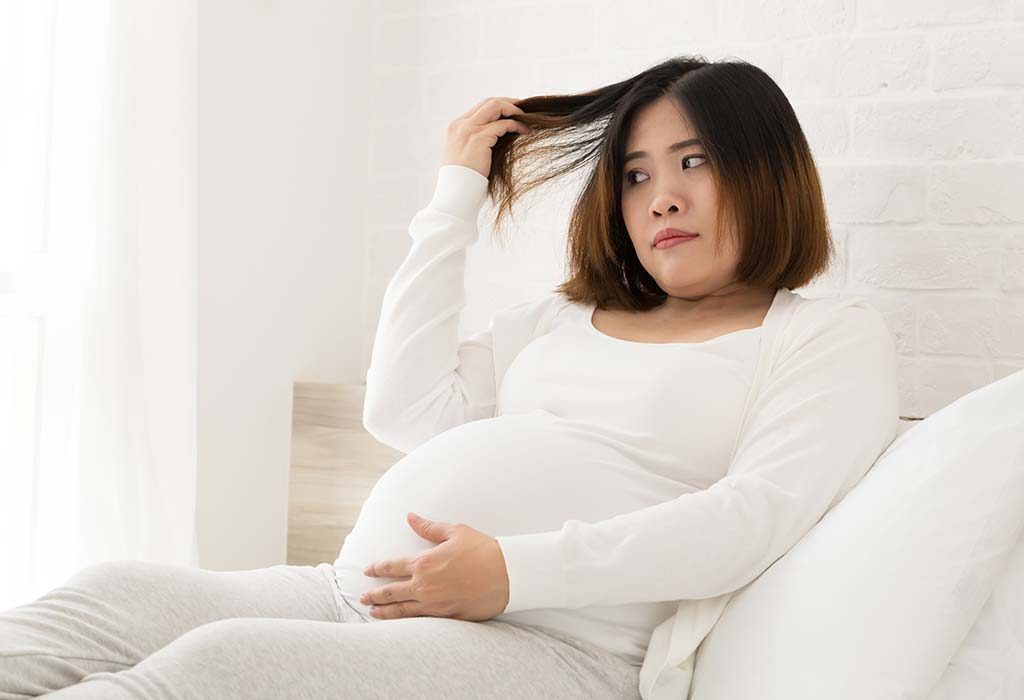 Yes, you read it right. There are many 'dos and don'ts' a woman will hear once she becomes pregnant and one of those is to not wash her hair for 7 or 9 months of pregnancy. In some parts of India, especially in some parts of Gujarat, this old tradition of not washing the hair during pregnancy still prevails. Some women do not wash their hair for 7 months i.e., till the day of the baby shower and even after that, she is not allowed to wash it as frequently as other women can. Some women are not allowed to wash the hair till 9 months i.e., until the baby is born.
One might find this tradition to be stupid and illogical but there are some beliefs and myths linked to it. Firstly, it is given a religious link to make people follow it. Secondly, in the olden days, women had to go to the bank of the river to bathe and wash the hair. There always remained the risk of falling or slipping into the water. Thirdly, it is sometimes seen that a hair wash tends to trigger the menstrual cycle in some women when they are nearing the date of their periods. So, especially in the first trimester, washing hair can be a risk factor.
When I first heard about women not washing their hair (rather, when I was told not to wash hair on my pregnancy being confirmed), it was a shock to me. All types of thoughts started coming into my mind. How can one not wash one's hair for 7 months? It is impossible! I would go bald! I will smell too bad and whatnot. But when I started practising the same, I found it rather easy for me to maintain my hair. With all the iron and calcium tablets given by the doctor and some extra care toward the hair, it makes it possible to keep one's hair healthy during this long period. In fact, I observed a 90% reduction in my hair fall and it became thicker in spite of not washing the hair for 7 months. All you need to do is to maintain cleanliness.
There are few tips and hacks one can follow in such a situation.
If you have oily hair, do not apply any other oil to your hair. It would become too oily.
If you have dry hair, do not worry. Your scalp will produce enough oil for your hair.
Keep your comb clean because your hair will tend to become dirty too soon.
You can keep your hair clean by rubbing your hair section wise with hot water cloth or a towel. Make small sections of your hair and try to clean by rubbing it with a muslin cloth or a cotton cloth dipped in hot water (be careful of the temperature). This will keep the scalp dirt- and oil-free and make you feel clean.
Talcum powder can be sprinkled on days when you feel the scalp is a little oily. Another product that you can get from a local shop from your local market is shankjiru powder which can be sprinkled section-wise in the hair to keep it dry. (Do not use dry shampoo as it is not advisable for long use.)
One can even apply a paste of chandan in the hair to keep it oil-free and dry. Once it dries, it can be easily removed from the hair. You can take the help of some elderly person in the family.
As much as possible, try to stay away from dirt, dust and pollution. Cover your hair when you have to step outside the house.
So, not washing the hair during pregnancy might seem to be a big headache., but believe me, (out of my personal experience) it turns out, it can be quite alright. Just forget about it and follow some hacks and tips, and focus on enjoying your pregnancy. This period of 7 or 9 months will pass and you won't even realise it.
Disclaimer: The views, opinions and positions (including content in any form) expressed within this post are those of the author alone. The accuracy, completeness and validity of any statements made within this article are not guaranteed. We accept no liability for any errors, omissions or representations. The responsibility for intellectual property rights of this content rests with the author and any liability with regards to infringement of intellectual property rights remains with him/her.