Best Camp Songs for Kids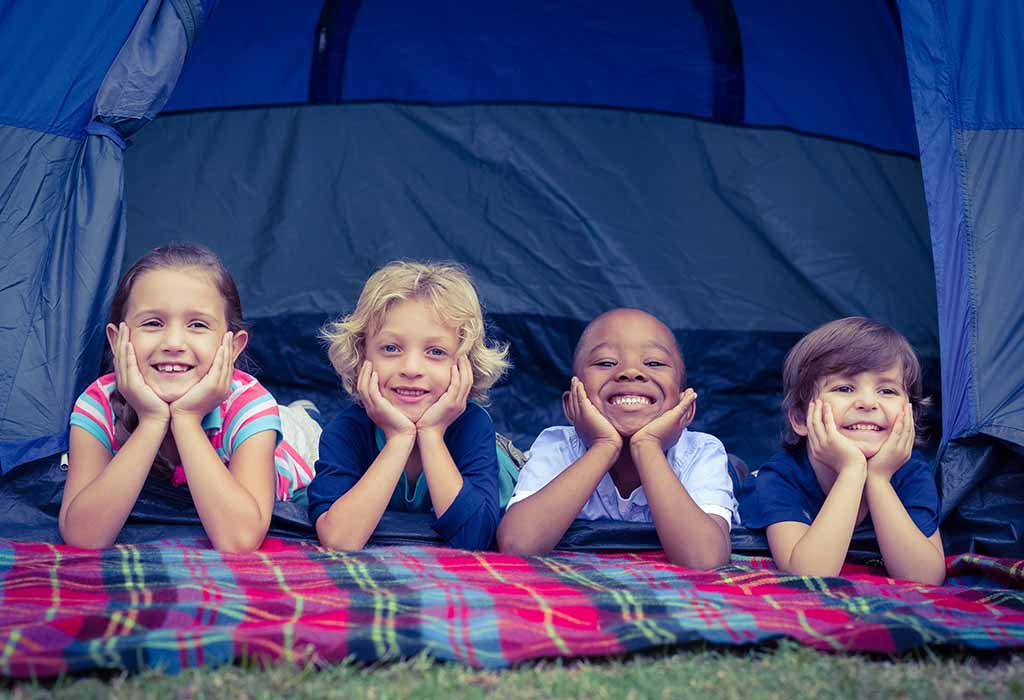 In this Article
Camping songs for toddlers are an engaging way to enjoy the summer holidays. Camp songs help to build the camping spirit, relieve stress, and make great memories for years to come.
Top 20 Camp Songs for Children
Camp songs are a distinct genre of songs that are traditionally sung around a campfire. Since the advent of summer camp as an activity for children, these songs have been identified as a part of children's songs. A good campfire song is usually characterized by a rousing chorus or a pattern of repeated lyrics that everyone can sing along with. Classic, sentimental, silly, or one with motions, Camping songs for preschoolers help to let loose, enjoy quality time, and engage them in an entertaining way. The best part about camping songs is that it doesn't require the singer to stay on key or need a guitar to accompany it. However, in order to get everyone singing together, you need to pick the right song. Most camp songs for kids have a repetitive chorus and are the ones that they already know. For 'Repeat After me' songs, the leader of the group usually calls out a line from the song, and the rest of the campers repeats it back. If you are introducing a new song, this style can be effective for the group to learn the lyrics and actions faster. Action songs are great to get kids interested and involved. There is one campfire song that is sung around. In this, everyone sings the same melody and lyrics but begins at different times. Form two or more groups and have one group sing the first verse before the next group starts the song. So, as the fire roars on, it's time to grab your guitar and start a sing-along with friends or family. Pick one from the compilation of the best camping theme songs for kids given below that may build a foundation for a musical childhood and build camaraderie among children.
1. My Bonnie Lies Over the Ocean
This traditional Scottish folk song is quite popular in Western culture. There are numerous variations and parodies of the song that are often sung to children as a campfire song for the Boy Scouts.
2. Home on the Range
This classic western folk song is known as the "unofficial anthem" of the American West. The lyrics originated from the poem "My Western Home" by Kansas homesteader Dr. Brewster Higley VI. Higley wrote to celebrate the natural beauty of the Great Plains.
3. Camptown Races
Originally titled as "Gwine to Run All Night," this minstrel song was written by Stephen Foster. It was first published in 1850 by F.D Benteen and quickly entered the realm of popular Americana and remained a favorite among children.
4. Kookaburra
Written in 1932 by a music teacher, Marion Sinclair, Kookaburra" is a camp song that, like folk music, has regional variations.
5. The Ants Go Marching
The tune of the melody is based on the American Civil War song "When Johnny Comes Marching Home".
6. The Wheels on the Bus
"The Wheels on the Bus" is an American folk song written by Verna Hills and published in 1939. It is a popular children's song with repetitive rhythm, is mostly sung in several languages by kids on bus trips and camps to keep themselves amused.
7. The More We Get Together
This traditional American children's song talks about the importance of having friends. It promotes the virtues of kindness, cooperation, and getting along with others even when they are different from us.
8. The Wild Blue Yonder
This official song of the United States Air Force. Originally titled "Army Air Corps," it was written by Robert MacArthur Crawford in 1938. It has a catchy tune and inspires feelings of patriotism among scouts who are out camping.
9. She'll Be Coming Round the Mountain
This traditional folk song was first published in Old Plantation Hymns in 1899. Derived from the Christian spiritual known as "When the Chariot Comes," its captivating tune made it quite popular as children's music.
10. If You're Happy and You Know It
This popular repetitive children's has been noted for its similarities to the song "Molodejnaya," which appeared in the Soviet musical film Volga-Volga in 1938.
11. The MeatBall Song
'On Top of Spaghetti' is another name for this children's song and ballad. It narrates the story of a meatball that got lost after 'somebody sneezed.'
12. Down By the Bay
This traditional children's song made its first appearance in Rock with Barney and gained popularity as a campfire song among the Scouting Movement in Britain. The classic tunes of this song get the kids to practice rhyming.
13. This Land Is Your Land
The lyrics of this famous folk song were written by American folk singer Woody Guthrie in 1940. Its simple, eloquent language, when set to a melody, is easy to memorize, while its underlying message makes the heart swell with patriotic feelings.
14. Oh Susanna
This song by Stephen Foster is a traditional folk song by Stephen Foster. First published in 1848, it was chosen as one of the Top 100 Western songs of all time.
15. A Camping We Will Go
This catchy song is perfect for your kids to sing around campfires. With relatively easy lyrics, it's bound to become your little one's favorite in no time!
16. Down By the Riverside
This traditional Afro-America song with many lyrical variations dates back to the times before the American Civil War though it was first published in 1918.
17. The Little Light of Mine
This popular gospel song is reported to be written for children in the 1920s by Harry Dixon Loes. This song inspires everyone to come out and show their caring spirit to the world even in the most difficult times.
18. The Road Goes Ever On
Also known as The Old Walking Song, this song by Bilbo Baggins taken from the children's novel The Hobbit. Sing it on the last night at camp to celebrate the journey you've undertaken, and for the many adventures, you're yet to experience.
19. Baby Shark
Few believe traditional myths to be the origin of this children's campfire song, while others see it as been possibly developed by drawing inspiration from the movie Jaws. It became a campfire song where each member of a family of sharks is introduced with different hand motions.
20. When Johnny Comes Marching Home Again
This popular classic song with peppy lyrics expresses people's longing for the return of their friends and relatives who were fighting in the American Civil War.
Since the advent of technology, digital devices are continuously making us grow apart from each other. Singing together is thus very important for any social or family unit. So, camping can be a budget-friendly way to add fun activities to your family vacation plans. Apart from campsite reservations and night games that can be played while singing your favorite camp songs, it is necessary to take safety measures to keep the kids safe as there are dangers lurking in the great outdoors.
Also Read:
Pop Songs for Children
Party Songs for Children
Rainbow Songs for Children