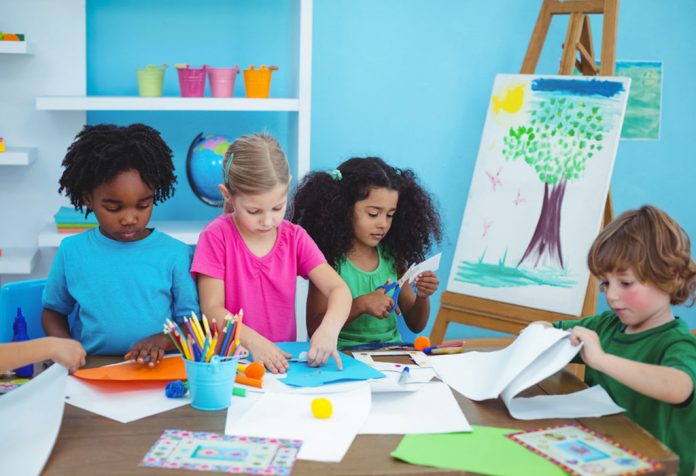 Last Updated on
As any mother would know, it is hard to keep your child occupied for long periods of time. Children usually have a notoriously small attention span, making it difficult for their caretakers or parents to breathe in peace. It is especially beneficial to have some activities lined up for your child if you crave some time to yourself and also want to help your child improve in the meantime.
Activities for children have to be chosen carefully, as a lot of their mental and intellectual growth depends on what they do during the formative years. An exercise that can work the brain while also intellectually stimulating the child can have a telling effect on their development. Therefore, it is imperative that parents choose the activities that their children do with great care.
Fun Creative Activities for Children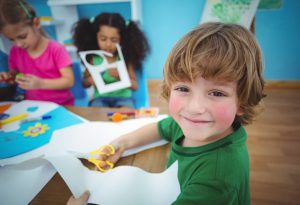 Here are some of the best creative activities for children:
1. Cut and Glue
Using scissors is an activity that all children take some time to learn and is an important motor skill too. This is one of the creative craft activities for kids which helps the child build his creativity and make memorable pieces of art.
How To Perform
Just pass on the scissors to your child, and encourage him to cut a predetermined shape out of a piece of coloured paper in order to stick it on a canvas. Initially, the child may be encouraged to simply cut through the edges of the paper, and his shapes may get complex as time passes. Using these pieces of paper, he can make an entirely different artwork by sticking them together or on a paper. Supervise your child when he uses scissors.
2. Sticker Fun
Stickers were some of the best aspects of all our childhoods, and they also have beneficial effects on the child. Stickers help build motor skills, as the child concentrates on peeling it off without damaging the paper body, and it also teaches them to be slick and patient.
How To Perform
Give a wad of stickers to your child, and encourage him to peel it off and stick it in creative ways in a book. This helps build their creativity, and the resulting artwork is sure to be one to keep for the ages.
3. Raised Salt Painting
A tried and tested favourite among children, salt painting is ridiculously fun to do and also an activity that improves the creativity of the child. Salt painting can bring out a real potential for art among children, no matter how disinterested they seem at first.
How To Perform
All you need for salt painting is salt, glue and watercolour to dye the salt into different colours. Apply glue on the paper in the desired design, and pour salt over the page so that it only sticks to the places where the glue is on. Colour the salt as you please, and be wowed by the results that come out!
4. Oil Pastel Painting
Although it is not strictly an activity meant for children, oil pastel painting is highly stimulating and also fun to do. Encourage your child to paint out on a canvas of various shapes, as the shape of the canvas can make them think of a variety of ways to fill it.
How To Perform
For a fine, painting-like art effect, mix the oil pastels with baby oil initially. Painting using this mixture can make any art look vibrant and deserving of being hung on the refrigerator. Also, provide your child with brushes of varying thicknesses so that they think about mixing up brushstrokes for a better image.
5. The Back-and-forth Drawing Game
Creative games for kids, such as this one, require active participation from the parent, and can greatly help in bringing your child closer to you. This game involves drawing a common image alternatively, so children are forced to think on their feet and make stuff up as the game progresses.
How To Perform
Start the procedure by drawing an unassuming picture on a paper, and pass it onto your child. The child is to add something to the image of his own accord, and both of you then proceed to build off the drawings of the previous person. This stimulates creativity in your child, as the game becomes harder with each step.
6. Playdough Modelling
Play dough has been a mainstay in toy stores for ages, and there is a clear reason why- not only is it cheap, but it is also a highly fun and creative item to play with.
How To Perform
Creative art activities for preschoolers, like this one, are simple. Just provide some play dough to your child, and let him be. Soon the child will be seen making shapes of increasing complexity, the item easily stimulates the brain and makes the child think hard. You can also add poke-ins, play dough mats or tell your child to make various letters if you want it to be more educational.
7. Marble Painting
Marble paintings are fun to do and great to look at, so your child is sure to not get bored of this activity any time soon.
How To Perform
Mix various colours with water, and provide some paper and marbles to your child. The marbles are to be dipped in various colours and rolled over the paper so that patterns and shapes are formed. This activity can also be done using balls or water balloons- anything vaguely spherical.
8. Spin Painting
Spin paintings produce some great images, and your child is sure to be engaged for hours in this activity. This encourages the use of watercolours in copious amounts, to make some memorable paintings to display.
How To Perform
Using a salad spinner, make your child produce paintings of the colours they love. The paintings look fine and symmetric, adding another layer of beauty to it.
9. Elephant Toothpaste
Elephant toothpaste fits the bill perfectly as one of the best creative thinking activities for kids. Watch your child curiously play with jumbo-sized toothpaste like substance, which is created out of harmless ingredients.
How To Perform
You will need safety goggles (for your child too), dry active yeast, warm water, 6% peroxide dish soap, liquid colour and a thin-neck bottle to make the elephant toothpaste. Mix this item in the bottle to make it lather out of the neck, and use it to make wonderful shapes and forms!
10. Shaving Cream Playdough
For a more interactive creative game for kids, you can choose to make dough out of shaving cream along with your child. Colour the dough in various shapes and forms, and watch your child thrive creatively.
How To Perform
Using shaving cream, cornstarch and colouring, you can easily make this fake dough for your child to play with.
11. Making Masks
Making masks can help kids truly think out of the box and use their imagination to great results.
How To Perform
Using a paper plate, scissors, construction plate and some glue, you can make the rough shape of the face of the mask. The colouring can be done using crayons or watercolour, whichever your child wants to work with.
12. Finger Paints
Finger painting has traditionally been one of the messiest activities a child can do, but also one of the most creative.
How To Perform
Finger painting is akin to normal painting, with the only difference being that this is done using the fingers, and not brushes. A controlled environment is a must, so that finger painting does not turn into a messy nightmare for the parent.
13. Play School
Playing school at home may not seem appealing, but believe it or not, your child will turn out to love it soon enough.
How To Perform
Let your child play the roles of whomever he likes, and make him alternate various roles until the child is satisfied with the dialogue and the outcome.
14. Glowing Dough
Children seem to have an attraction towards anything that glows, and glowing play dough is no different.
How To Perform
Using glowing vitamin, flour, water, vegetable oil, salt and the cream of tartar, you can easily make dough that lights up under a glowing light.
15. Toy Excavation
To make for a truly memorable evening for your child, excavating toys are a great idea. This can improve motor skills and also the reasoning capabilities of the child.
How To Perform
Take your child's favourite toys, plunge it into the water and put it in the freezer until the toys are ensconced in ice. To excavate them, give your child eye droppers with salt water, and brushes to work with.
These creative activities will help you keep your energetic toddler happily engaged for long. By trying out these creative activities, his motor skills, reasoning skills, and observational skills will develop. If your child shows interest in craft activities, you can also get him craft kits. The activities in these craft kits can help him nurture his other talents. So, don't wait, get your hands on these craft kits soon!
If you're looking for a box full of activities that can not just keeping your little one busy but also provide hours of learning through fun and play, you might want to consider picking up an Intellikit. You can learn about what it is here.
These interesting activities can truly help your child have fun while also learning something new or improving their cognitive skills.
Also Read:
Fun Brain Games for Kids
Waste Material Craft Ideas for Kids