Adorable Candyland Themed Birthday Party Ideas for Kids
Birthdays are one of the most awaited events in a child's annual calendar. A theme for your party can be a great way to bring your celebration to life and bring your friends and family together. Candyland birthday party for kids is a novel yet one of the extravagant themes that are sure to unite, entertain and bring smiles to the faces of everyone involved in the event. It just requires some out-of-the-box exciting ideas and creativity to host the sweetest party ever. From colorful rainbows,
cupcakes
, candies, giant lollipops, and gingerbread men to Candy props with cardboard, this birthday turns your paradise into a Candyland. It helps everyone to experience a true sugar rush. So, combine your wild imagination with some essential DIY Candyland birthday party ideas to set the ball rolling.
Creative Ideas to Throw an Awesome Candyland Birthday Party for Your Child
Introducing an awesome Candyland Birthday Party idea is one of the best ways to get your guest on board with. Filled with bright colors, easy décor, cool patterns, cute frills, and sugary treats, this theme will please the sweetest little girls and even the boys. Whether for your baby girl or baby boy, here are some of the best ideas for your upcoming bash.
Candyland Birthday Party Invitations Ideas
Once a birthday party has been planned, sending out invitations to guest first comes to mind. Here are some of the more creative Candyland Birthday Party Invitations Ideas:
Attach a large colorful lollipop or a small bag of candy to your invitation card.
Make a personalized Candyland-themed caricature invitation for a baby girl Candyland birthday party theme with the birthday girl's face added on Princess Frostine.
Make invitations using bright pink cardstock that can be die-cut as dress shapes or house shapes.
Print invitations on paper with a pink gingham border.
Decorate the envelope by sprinkling glitter or stickers for an extra special touch.
A personalized Candyland theme candy bar wrapper can be used as an invitation and mailed in a padded envelope.
Prepare all your party details and print them out to fit your card stock of choice. Choose blank colorful card stock with envelopes to match your theme, or add fun Candyland stickers for a whimsical touch.
Candyland Party Decorations & Tableware Ideas
Your birthday party venue needs to be aptly decorated with innovative ideas to transform it into a Candy land. Here are some cool ideas to try out:
Decorate in pink and lavender to represent colorful candies. Use plenty of balloons and streamers in these colors to match your Candy land party theme!
Place a sign or personalized banner at the entrance of your home saying, "Welcome to The Candyland."
Tie blue ribbons around vases and other items in the room for a baby boy Candyland birthday party theme.
Sprinkle sequins on the table and add pink candles for a baby girl's birthday party.
Cut flowers out of bright pink construction paper or poster board and hang them on the walls.
Brighten up the table with candy and pop trees, flowers as sweets, or a chocolate fountain as a centerpiece for Candyland's birthday party.
Fun tablecloth colors like pink, purple, red, or magenta can make a visual feast to delight the eyes.
Hang Inflatable Lollipops or Lollipop cutouts from the ceiling.
Candyland Birthday Party Cake Ideas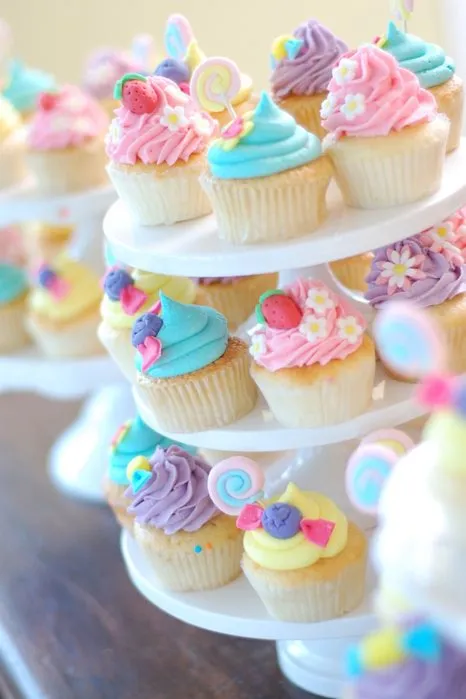 A well-decorated cake is the main highlight of a birthday party. Here are some Candyland Birthday Party cake ideas to treat your taste buds:
Highlight your yummy Candyland birthday party cupcakes with pink frosting and sprinkles on cupcake stands to add a beautiful layer and dimension to your already amazing dessert table.
Dye your simple vanilla or strawberry cake with different food coloring to dye them and shape them like a gigantic piece of candy, like a chocolate bar or a lollipop. And, top off the cake with other yummy candies.
A candy cake can be a budget-friendly option to celebrate your kid's birthday. Tie candies and Choco bars together with an attractive old sequined ribbon. Add some embellishments to make this cake more tempting for all.
Candyland Birthday Party Food & Drink Ideas
Decorate cupcakes and Candyland birthday party cookies with candies such as gumdrops, chocolate kisses, small candy-coated chocolates, licorice, jellybeans, candy bar crumbles, etc.
Healthy foods such as fruit platters, sandwich pinwheels, veggies & dip can be served for kids to munch on and keep them energized.
Fill customized Candyland drink cups up to the brim with vibrant, edible glitter-filled drinks, or pack them up in handy miniature bottles.
Pizza, chicken nuggets, and sandwiches are common favorites for all kids.
Candyland Birthday Party Game and Activities
A party game can be a good icebreaker for guests to interact with and make friends. Here are some Candyland Birthday party Games and activities ideas.
Play the piñata game with piñatas shaped like sweet treats such as ice cream, cupcakes, and candy to fit the Candyland theme, and play upbeat bops to get the kids excited.
"Name that Candy" is a good candy-themed game for guests to play. You will have to give "candy clues" for this game. Like, the clue for number one could be "knock over." "Skittles" candy matches with the clue.
Pin the lollipop is a fun twist on the classic party game "pin the tail on the donkey." You can use craft supplies to decorate bright colored paper circles. Each guest will then get one chance to pin the lollipop accurately onto the stick.
Fill a large jar with jelly beans or candy and leave slips of paper out for guests to try and guess how many candies are in the jar. The person that gets closest to the real number wins a prize.
Candyland Birthday Party Favors Ideas
No party is complete without giving Candyland birthday party gifts to guests that can be kept as memorabilia. Here are some brilliant party favor ideas.
Unicorn cotton candy favors can be given as party favor gifts.
Use personalized mint tins filled with candy.
Decorate plain wooden picture frames with bright colored paints, glitter, and cute candy stickers.
Guests will love wearing and eating edible necklaces or bracelets made out of hard candies at the same time.
Hand out gift cards to everyone's favorite local sweets/ice cream shop. Personalize them by sticking festive bows on top of each card.
Candy or cupcake scented beauty products, lip-gloss, lotions, bath bombs, and candy-colored nail polish or ones named after sweets make good gift ideas for "girly-girl" guests.
Organizing a birthday party for kids can be a tedious task that requires meticulous planning. Before deciding on your Candyland-themed party, check your budget, space available, rooms needed, and particular days on which most kids are expected to attend. These unique and fun ideas can spice things up and ensure that everyone invited has a blast.
Also Read:
Birthday Party Menu Ideas for Kids
Best Places to Host Children's Birthday Party
Creative Birthday Party Ideas for Children