20+ Unicorn Party Ideas For Kids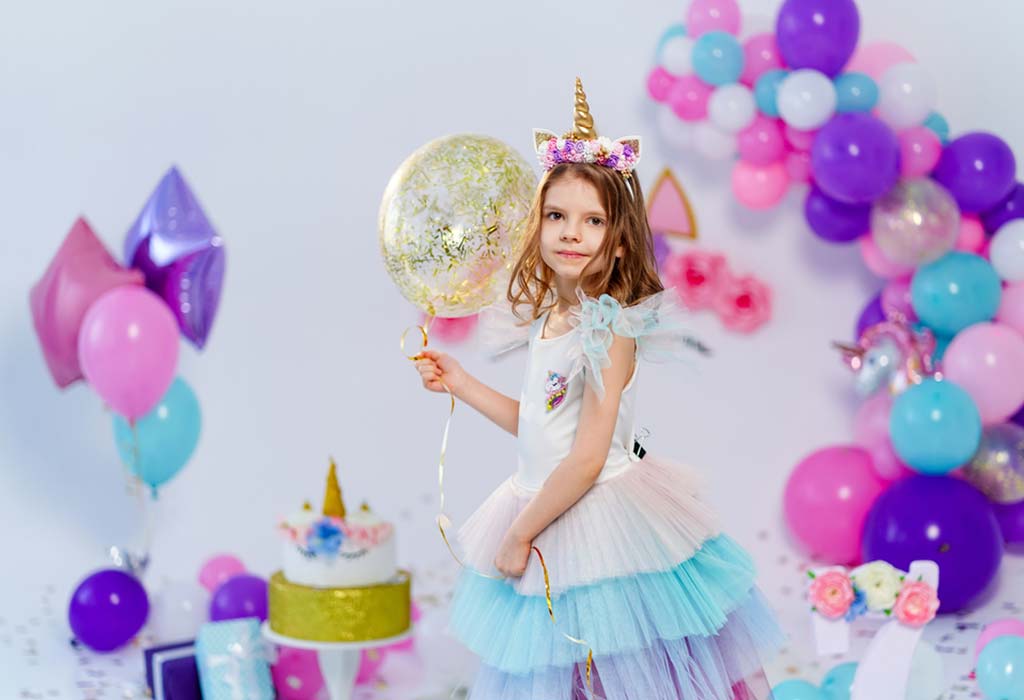 In this Article
Unicorns are a sure-shot hit as a theme idea for kids birthday parties, and Unicorn parties are simple to put together and don't require a substantial investment on your end. You can make invitations and send them in advance to your guests. Your children's friends will love attending, and by gathering a few simple materials, you can make the entire party a blast.
Amazing Unicorn Party Ideas for Kids
A unicorn party is not complete without the best party ideas. If you're wondering how to set up a party or what to include on the menu, we've got you covered. Here's a list of the top unicorn theme party ideas. We've even included a few unicorn game ideas and activities for extra entertainment below.
1. Unicorn Themed Birthday Cake
A unicorn themed party is not complete without a unicorn birthday cake. We can all agree on that. You can find plenty of recipes online, and you can customize the toppings to add your very own spin. Get those creative juices flowing!
2. Unicorn Cupcakes
Who doesn't love cupcakes? They're delicious party treats and perfect for every occasion. Unicorn themed cupcakes are a must for your menu if you're planning to make the party a huge hit.
3. Unicorn Party Dress
A pretty pink outfit will do the job when it comes to decorating your princess. Top it with a unicorn headband, and you complete the ensemble. Let your child show off her beautiful dress and unicorn decorations on it to her friends when she's attending. For the boys, you can opt for a cute unicorn onesie that is comfortable yet stylish.
4. Unicorn Birthday Party Invitations
You can't throw a party without inviting friends. Find a Unicorn Party invite design online or get one from the stationery store. Make pink or purple the predominant colour and add fluffy text for the font style. If you're feeling creative, let your ideas run wild and create a custom unicorn invitation.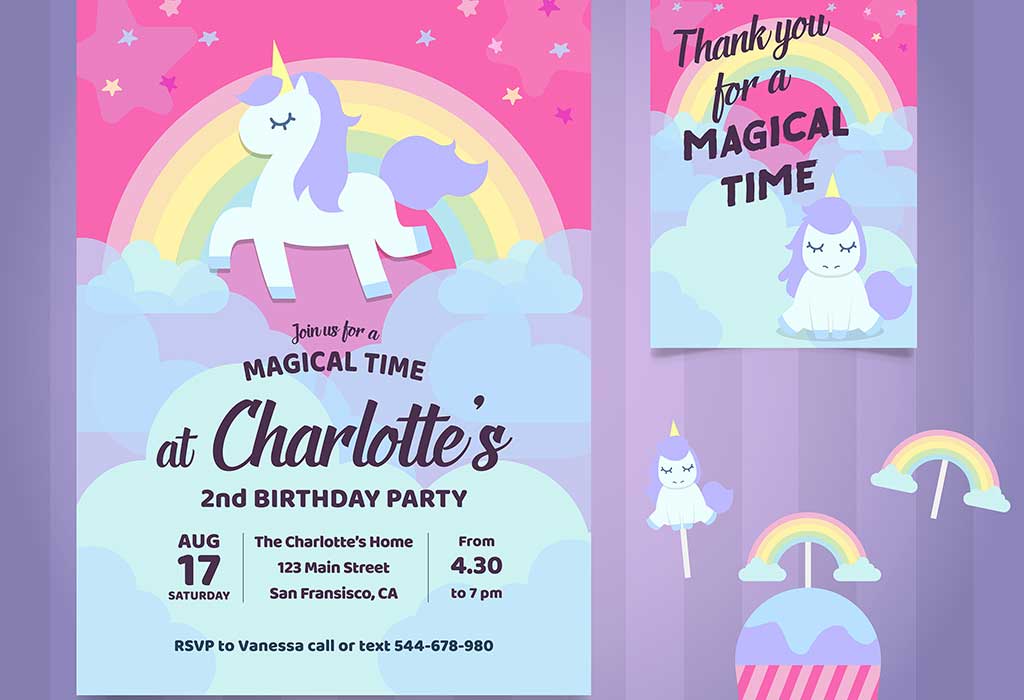 5. Unicorn Party Prints
Create some colourful Unicorn party posters for your party décor. A party poster makes for an excellent backdrop on the day of the event. You can gift these posters to your child's friends as well before they leave at the end as a memento.
6. Unicorn Balloons
Unicorn balloons should be giant and cheerful. Get creative by making a DIY unicorn balloon using a bit of construction paper, foil, and tape. Draw out designs and sketch faces to make them look perfect. You can even get some unicorn balloons custom-made.
7. Unicorn Toast
If your kids love eating bread, they're going to enjoy this Unicorn toast – some yoghurt/cream mixed with food colouring is all you need! You could add this to your party menu and use colourful berries or sprinkles for extra toppings.
8. Unicorn Water Bottles
Create simple unicorn water-bottles that you can give as a return gift to the party guests. Get printed labels with unicorn characters painted on them and wrap them around sleek water bottles. They're sure to be a hit among the little ones!
9. Unicorn Pops
Turn your regular marshmallow pops into a unicorn-themed dessert by coating them with rainbow sprinkles. Serve these treats on the big day and give everyone a sweet surprise.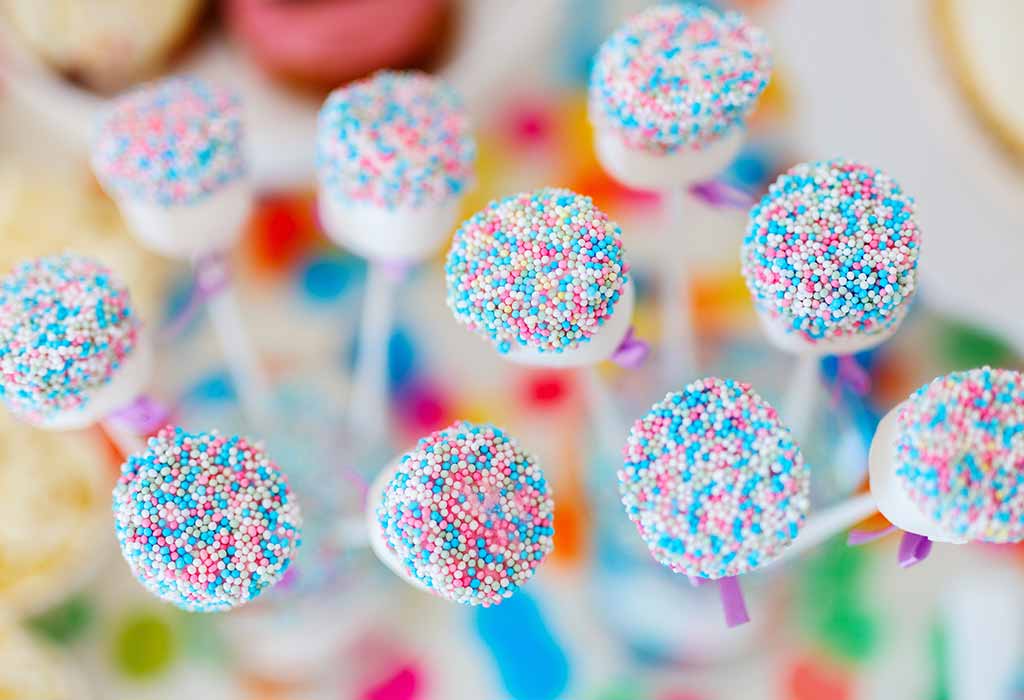 10. Unicorn Story Books
Gather the kids at the table for some unicorn stories. Titles like 'Uni the Unicorn,' 'The Last Unicorn,' and 'Lily the Unicorn' will bring smiles to faces and light up their eyes with wonder and amazement.
11. Unicorn Videogames
If your kids love videogames, you can introduce them to some amazing games such as Robot Unicorn and My Baby Unicorn – Virtua Pony Pet Care & Dress Up and keep a competition amongst the kids for some added fun. They are available for both Android and iOS devices.
12. Unicorn Quiz
How well do your party attendees know about unicorns? It's time to test out their knowledge with a Unicorn Quiz. From famous Unicorn movies to National Unicorn Day and what Unicorns eat for breakfast, you can add various questions to make it fun.
13. Unicorn Cookies
You can reach out to your local baker and ask them to bake you some unicorn cookies for the party. They're sure to be delicious and will look simply beautiful with the theme of the party.
14. Unicorn Wall Ring
For unicorn party decorations, the wall ring is definitely one of the best. You can hang it as a backdrop to your centre table and make your party stand out. All you'll need is glitter cardboard papers, decorative sheets, scissors, flowers, ribbons, and a hot glue gun to get started.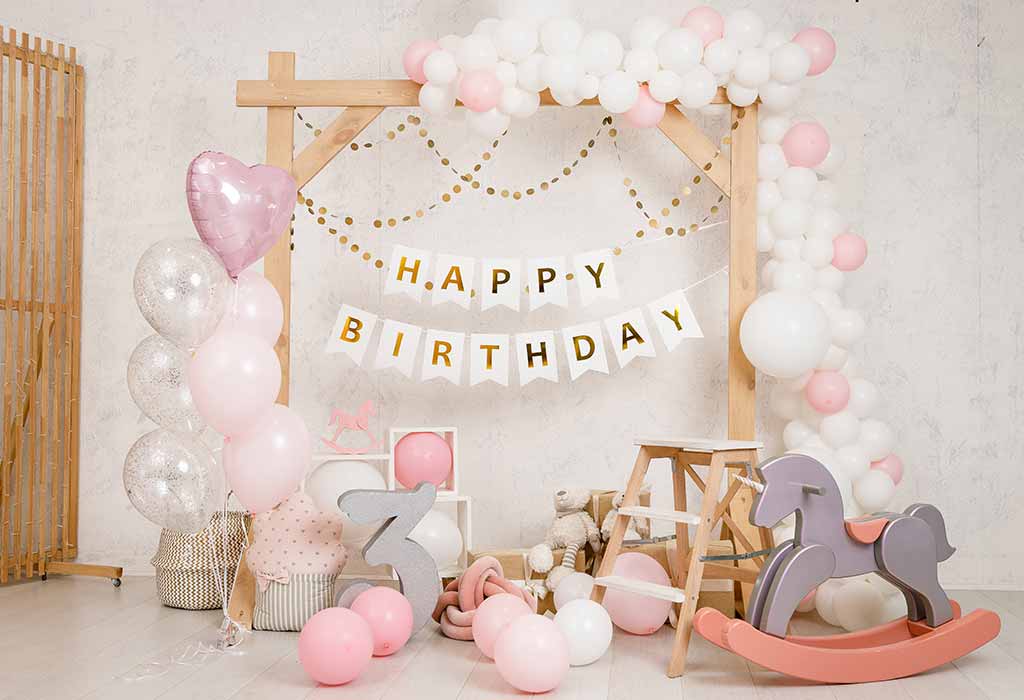 15. Unicorn Pizza
If your kids ever wanted to try out foods that tasted 'out of this world,' give them a sampling of the Unicorn Pizza. All you need is to add colour to the pizza dough or the cheese. This rainbow delight is delicious and a colourful way to make their day.
16. Unicorn Party Hats
You can make your guests feel extra special by making some unicorn party hats with some cardboard staples and unicorn prints. You could opt for simple unicorn horn headbands for an extra touch.
17. Unicorn Pinata
Make a unicorn pinata and fill it up with tasty treats, unicorn party favours, and other items. Surprise your guests by handing out blindfolds and ask them to beat the pinata up with a bat and break it open.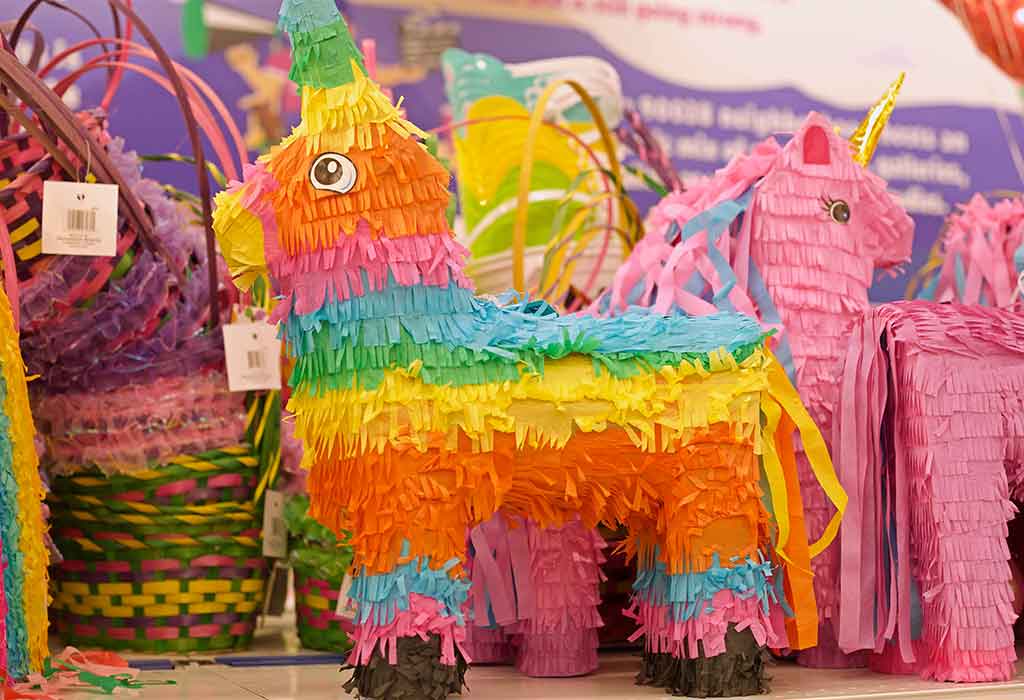 18. Pin the Unicorn
Do you remember the game 'Pin the Donkey,' which you played as a kid? Now you can recreate your very own version of it with Pin the Unicorn! Get a unicorn poster, cutouts of the unicorn's tail, velcro, and blindfolds. You'll be all set!
19. Unicorn Art
You can design unicorn art activities for your kids. Get drawing paper, pens, and tell children to have fun with their imaginations. Give them some crayons and markers for colouring too. Put up the pictures on the table and decorate the hallway with their creations.
20. Unicorn Potted Plants
You can use your terracotta pots for this creative DIY project. Kids can take care of their plants and learn the basics of botany. You will need some rainbow confetti, seeds, soil, newspapers and some glue mixed with water for the activity.
21. Unicorn T-shirts
For guests who have attended the party, you can give them complimentary gifts. Unicorn T-shirts are a big hit when it comes to unicorn-themed birthday parties. You can also throw in unicorn party rings as souvenirs if you want.
22. Unicorn Pencil Cases
Make school time extra fun for all the little kids with unicorn pencil cases as complimentary gifts. They will look forward to your next big birthday party later.
23. Unicorn Lemonade
Make unicorn lemonade by adding berries to the classic lemonade. Serve it to guests chilled and use unicorn cups to serve them for a special touch.
24. Rainbow Veggie Salads
It's good to have sweet treats for the party, but you want to provide healthy options too. Rainbow veggie salads are a popular choice for unicorn-themed parties for kids with broccoli, carrots, beetroots, etc. You can also opt for rainbow fruit salads using berries, melons, etc.
25. Unicorn Photo Booths
Set up a pretty unicorn photo booth at home and capture good memories. You can print photos, email them to your friends, or even put them up on your social media!
Now that your list of ideas is ready, it's time to get working on them. Take your time and be mindful of the colour choices for the walls and tables. The colours and decorations should reflect the mood and theme of the event. Most importantly, have fun and get creative! Because that's what organizing a unicorn-themed party for kids is all about.
Also Read:
Easy Unicorn Crafts And Activities For Children
Birthday Party Themes Ideas For Girls
Birthday Party Themes Ideas For Boys