15 Halloween Costume Ideas for Twin Babies and Kids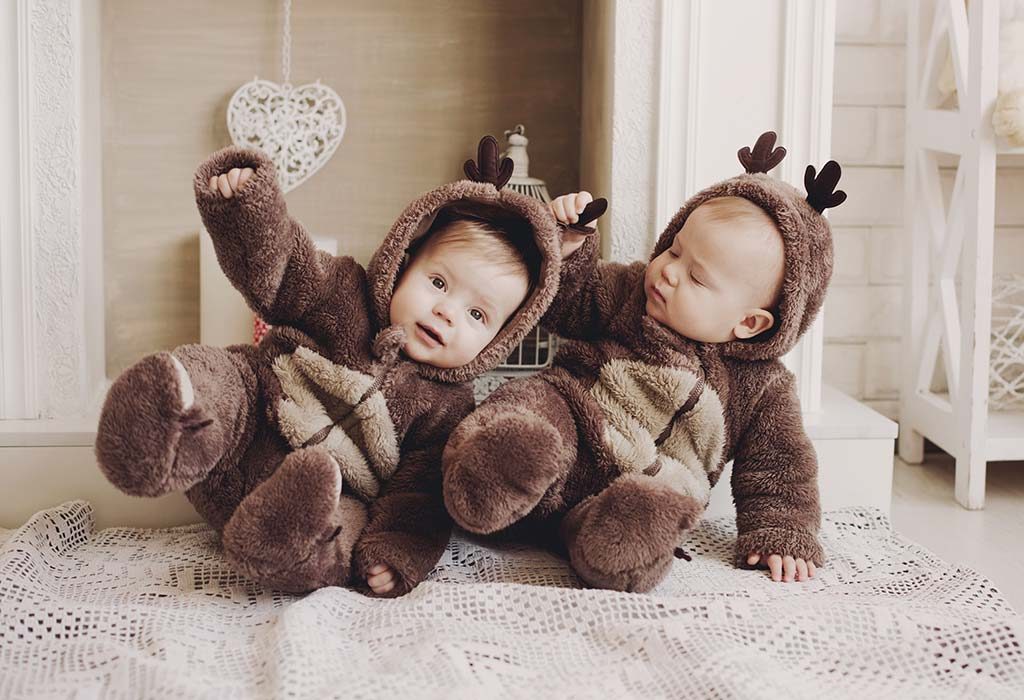 In this Article
Halloween comes once a year, and this is the time when adults and children look forward to having fun and playing dress-up. For those with a particular love for Halloween drama, preparations start a long time in advance, with the entire costume needing to be put together with care. At the same time, some prefer last-minute dress-up with easy-to-find materials.
When you have twins to dress, things can get all the more fun and exciting when deciding the costumes. You can put them in themed or matching costumes that can be so much fun to put together. If you are looking for some great ideas or inspiration for twin costumes, you have come to the right place.
15 Best Twin Halloween Costumes to Dress up Your Twins
Whether you have twin boys, twin girls or a pair of fraternal twins with one boy and one girl, we have a lot in store for you. Check out some creative twin Halloween costume ideas given below.
1. Salt and Pepper
Your little ones may be just infants, but that doesn't mean they can't be included in the dress-up fun! Whether they are twin boys, girls, or one of each, you can go with a salt and pepper dress for each. This idea is one of the easiest infant twin Halloween costume ideas that you can put your kids in, especially if it's a last-minute deal.
2. Hansel and Gretel
Hansel and Gretel are two famous siblings from the Grimm brothers tales and are every children's beloved fairy tale characters. These boy-girl twin Halloween costumes are easy to make and will make your kids the centre of attention for creativity.
3. Mandrakes
Harry Potter fans will definitely appreciate this one. Just pick up two simple, lightweight flower pots that are big enough to hold a baby comfortably. You can keep it simple, add leaves to your babies' hats, and put them in brown suits to get the perfect twin baby Halloween costumes. As parents, don't forget your earmuffs, just in case the mandrakes decide to wail!

Source: https://www.pinterest.com/Atwellfam/
4. Clark Kent and Superman
Which young kid doesn't like to be dressed up like a superhero? Well, Superman is the most popular of all, and you have the perfect opportunity to dress up your twin boys creatively. Dress one twin as Clark Kent and give him a nerdy appearance with spectacles, and dress the other one as Superman with a cape and slicked hair.
5. Phil and Lil
'Rugrats' was a popular show back in the 90s, so if you are a fan of that show, then you can dress up your little twins as Phil and Lil. This costume will go great if you have fraternal twins of both genders, as this is one of the most classic twin toddler Halloween costumes of all time.
6. Peter Pan and Wendy
The one night of the year when you are allowed to escape reality is the perfect time for a trip to Neverland. If you have fraternal twins of each gender, you may want to consider giving Peter Pan and Wendy a try. This is another simple costume idea since it involves green tights, a shirt and cap, and a pretty blue dress.
7. Anna and Elsa
Frozen has become every young girl's favourite animation, and your twin girls may love dressing up as the two royal sisters, Anna and Elsa. These twin girl Halloween costumes ensure that your girls are dressing up like the princesses, which they are.
8. Tweedle Dee and Tweedle Dum
You can use Disney's fantastic movie – Alice in Wonderland for inspiration and dress your twin boys as Tweedle Dee and Tweedle Dum. This costume is super easy to make. All you need are red pants, yellow shirts or sweaters, blue bow ties, and red caps. These twin boy Halloween costumes work best for the more mischievous boys, who love making people guess who is who.
9. Betty and Velma
Head back to the stone age with your twin girls to dress them up as beautiful cartoon characters – Betty and Velma. It is simple enough to put together a stone age dress, so you will need one blue cloth material and one white to stitch up two easy outfits. Add a pearl necklace and an orange wig for Velma, and a simple necklace for Betty. Voila! You have two perfect little stone age darlings.
10. Woody and Buzz
Who doesn't love the perfect chemistry of two best friends? And none can be better than these two Disney Pixar characters of the popular Toy Story movie – Woody and Buzz Lightyear. If your twins are a fan of Toy Story, then these characters are just perfect. Getting together a cowboy outfit will not be very difficult, and a Buzz Lightyear costume can always be bought or put together quickly. These two characters are very much loved by kids and show the meaning of teamwork – something twins are good at.
11. Lilo and Stitch
Lilo and Stitch are a famous Disney's duo, loved for their teamwork, friendship, and fun-loving nature. Their colourful costumes are sure to attract everybody's attention at the party. Lilo's dress reflects tropical vibes; therefore, you need a red blouse, artificial flowers for the garland around the neck, and large leaves for the skirt. You can buy Stitch's costume at any costume shop. Its blue colour is eye-pleasing, and your kid will be fantastic in it.
12. Ketchup and Mustard
Can you ever forget ketchup and mustard while eating a burger or a sandwich? Definitely not. This Halloween, dress up your twins in this popular spice-duo and add some spice to the party. You can use red and yellow/mustard-coloured onesies for your twins. To the front of the onesie, you can paste a cut-out of Tomato ketchup and Mustard ketchup.
13. Thing 1 and Thing 2
Thing 1 and Thing 2 are mischievous characters known for their distinctive red and blue outfits.To complete the look, consider adding matching blue wigs or hair accessories that evoke the playful spirit of these beloved characters.
14. Peanut Butter and Jelly
Celebrate the classic duo of peanut butter and jelly with this whimsical costume idea. One twin can be the peanut butter, dressed in shades of brown. Consider a brown shirt or jumpsuit paired with matching pants. The other twin can be the jelly, adorned in various shades of purple. A purple outfit with complementary bottoms works perfectly.
15. Mario and Luigi
Mario and Luigi are iconic video game characters known for their distinct red and green outfits. Dress one twin as Mario, featuring a red cap with an "M", blue overalls, and a red shirt. The other twin can be Luigi, sporting a green cap with an "L", green overalls, and a green shirt. To add authenticity, consider applying temporary mustaches using costume makeup.
Whether you love to put together outfits or are content with throwing together something from the things that you have on hand, there are infinite creative options available to choose from for your little ones. No matter what you plan on dressing them, it will require a little time to put things together, but it can be a project that you and your kids work on together. While getting their costumes ready, don't forget to have fun and pick something that makes everybody happy. So pick your costume and get started!
Also Read:
Cute Fancy Dress Theme Ideas for Kids
Scary Halloween Costume Ideas for Girls and Boys
Pretty and Scary Halloween Makeup Ideas for kids