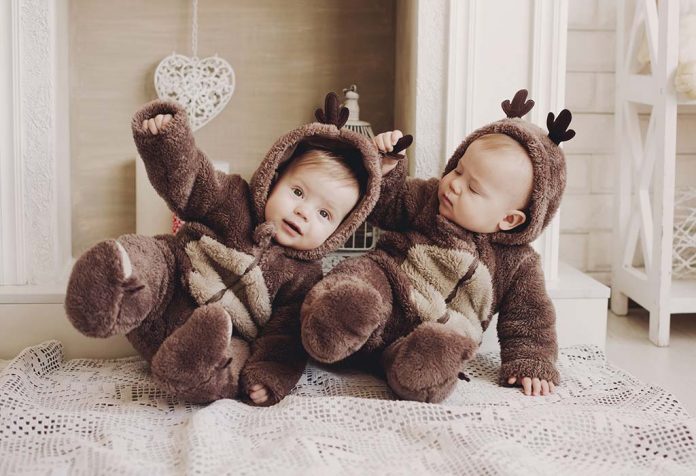 Halloween comes once a year and is a time when adults and children can all have some fun and play dress up. A lot of people rather enjoy the whole dressing up part of the night and take great pleasure in coming up with the perfect costumes. For those with a particular love for the dramatic, Halloween preparations can start a long time in advance, with the entire costume needing to be put together with care, while others are more than happy with a quick last minute get-up.
If you love to dress up on Halloween with the rest of them, then dressing your little ones up and having them join in the fun is the natural way things will flow. When you have twins to dress, things can get all the more fun when deciding the costumes. You can put them in themed or matching costumes that can be so much fun to put together. If you are looking for some great ideas or inspiration for twin costumes, you have come to the right place.
10 Best Twin Halloween Costumes to Dress up Your Twins
Whether you have twin boys, twin girls or a pair of fraternal twins with one boy and one girl, we have something for you. Here are some creative and fun twin Halloween costume ideas:
1. Salt and Pepper
Your little ones might be just infants, but that doesn't mean they can't be included in the dress up fun! Whether they are twin boys, girls, or one of each, go with a salt and pepper one piece. This idea is one of the easiest infant twin Halloween costumes that you can put your kids in, especially if it's a last minute deal.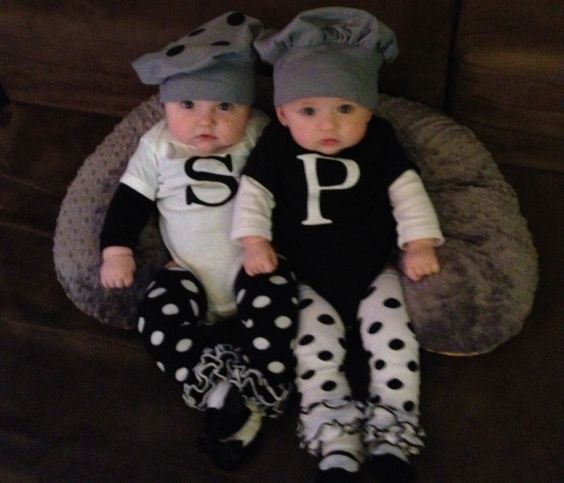 2. Hansel and Gretel
Hansel and Gretel are the two famous siblings in the Grimm brothers tales and are a sure fire way of going back in time to one of the older classics in the children's fairy tales genre. These boy-girl twin Halloween costumes are easy to make and will make your kids the centre of attention for creativity
3. Mandrakes
Harry Potter fans will appreciate this one. Just pick up two simple, lightweight flower pots that are big enough to comfortably hold a baby each. You can keep it simple and add leaves to your babies' hats and put them in brown suits to get the perfect twin baby Halloween costumes. As the parents, don't forget your earmuffs, just in case the mandrakes decide to wail!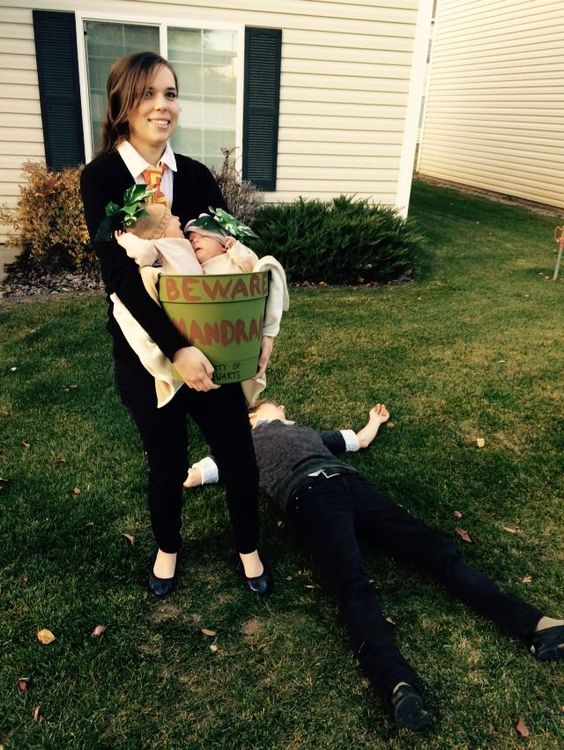 4. Clark Kent and Superman
Which young man doesn't like to be likened to a superhero? Superman is the most popular of all and also poses the perfect opportunity to dress up your twin boys creatively. Dress one twin as Clark Kent and give him a nerdy appearance with spectacles, and dress the other as Superman so that you can show both sides of the superhero at the same time.
5. Phil And Lil
'Rugrats' was a popular show back in the 90s, so if you are a fan, dress up the little ones as Phil and Lil. This will go great if you have fraternal twins of both sexes as this is one of the more classic twin toddler Halloween costumes.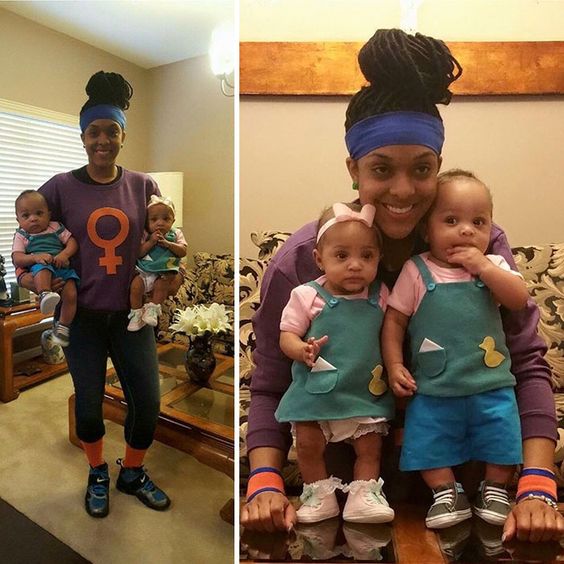 6. Peter Pan and Wendy
The one night a year when you are allowed to escape reality is the perfect time for a trip to Neverland. If you have fraternal twins of each sex, you may want to consider giving Peter Pan and Wendy a try. This is another simple costume idea since it involves green tights and a shirt and cap, and a pretty blue dress.
7. Anna and Elsa
Frozen has become every young girl's favourite animation, and your twin girls may love dressing up as the two royal sisters, Anna and Elsa. These twin girl Halloween costumes ensure that your girls are dressing up like the princesses they are.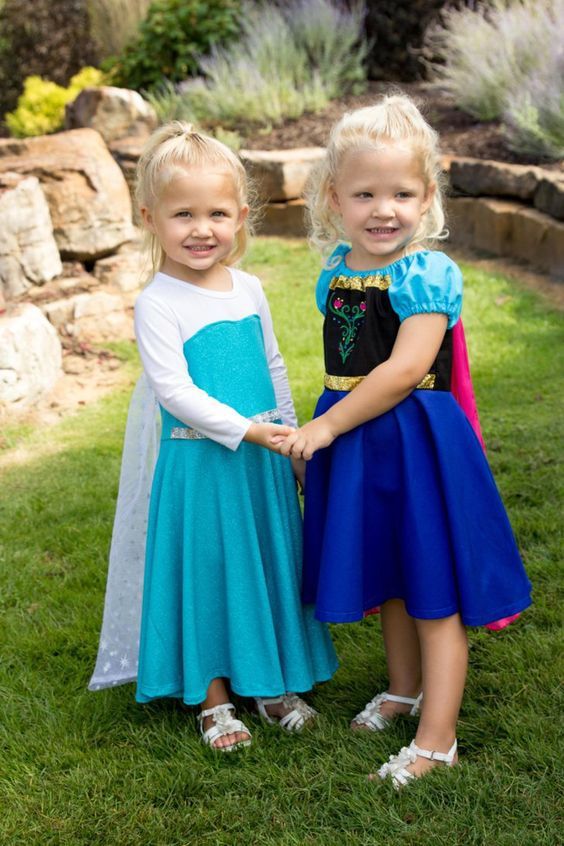 8. Tweedle Dee and Tweedle Dum
Look to the Alice in Wonderland movie for inspiration and dress your twin boys as Tweedle Dee and Tweedle Dum. This costume is easy – all you need are red pants, yellow shirts or sweaters, blue bow ties and red caps. These twin boy Halloween costumes work best for the more mischievous boys who love making people guess who is who.
9. Betty and Velma
Head back to the stone age with your twin girls as you dress them up as Betty and Velma. It is simple enough to put together a stone age dress, so all you will need is one blue cloth material and one white to stitch up two easy outfits. Just add a few pearls and an orange wig or Velma, and you have two perfect little stone age darlings.
10. Woody and Buzz
Another classic combo for little boys, Woody and Buzz Lightyear costumes are great for those who are fans of Toy Story. Getting together a cowboy outfit will not be very difficult, and a Buzz Lightyear costume can always be bought or put together easily. These two characters are very much loved by kids and also show the meaning of teamwork – something twins are good at.
Whether you are someone who loves to put together outfits or you are content with throwing together something from the things that you have on hand, there are some interesting costume options available for your little ones. No matter what you plan on dressing them as, it will require a little time to put things together, but it can be a project that you and your kids work on together. While getting their costumes ready, don't forget to have fun and pick something that makes everybody happy. So pick your costume and get started!
Also Read:
Cute Fancy Dress Theme Ideas for Kids
Scary Halloween Costume Ideas for Girls and Boys
Pretty and Scary Halloween Makeup Ideas for kids