Last Updated on
Expecting a baby soon? Have you decided on a name for your precious little one? To help you decide on a beautiful name, check out our list of fall and autumn-inspired baby names for boys and girls.
Studies show that babies born in the month of fall (September, October, and November) have an advantage over the babies born in other months. The pleasant weather and the variety of food harvested in spring and summer inspires mothers to eat healthy, resulting in healthier babies born during fall. If you haven't yet decided a name for your baby girl, here's a list of autumn-inspired names for baby girls. Choose the one that resonates the most with your little darling and they are sure to cherish this beautiful gift all their life.
Fall and Autumn Baby Girl Names With Meanings
Here is a list of unique and beautiful names born for the baby girls born in autumn.
| | |
| --- | --- |
| Names | Meaning |
| Amber | Amber is an Arabic baby name that means 'jewel'. Amber is a gorgeous fossilized tree resin found in jewellery. It is one of the most seen autumn-hued colours. |
| Annona | This name is derived from the Roman goddess of grain which is found during the fall. It means 'of the harvest'. |
| Aster | Aster is a sweet-smelling flower that blooms in the early Fall season. This Greek word for 'star' is a beautiful flower of September and a great name for a beautiful baby born this season. |
| Aurelia | Aurelia is a very special name meaning 'golden'. This name signifies the golden yellow leaves of the autumn season. The name is famous since the glorious days of the Roman Empire |
| Autumn | This is a classic name that denotes the fall season. |
| Brandy | An utterly unique baby name inspired because of the colour. It's a lovely brownish-red, the colour we see towards the end of the fall season.' |
| Cera | The meaning of this enchanting name is 'fiery one', signifying the fiery colors of the fall. This name is of Latin origin |
| Clara | Clara is a Latin feminine name that means 'clear, bright, famous', a feeling induced by the many shades we see during this season. |
| Garnet | Garnet is a lovely mineral that glitters in shades of candied maple, crimson and vibrant red which are the common colours of autumn. |
| Goldie | The name Goldie is an English origin baby name. The meaning of Goldie is the precious metal Gold, another prominent fall color. |
| Hazel | Hazel means the name of the tree or the color hazel, both symbols of autumn. Hence it could be a great name for your little one. |
| Honor | Honor is a very soft feminine Latin name derived from the word 'honour'. It is inspired by the Thanksgiving festival that comes in the fall season. A great name for your baby girl meaning dignity or reputation. |
| Iris | Iris is a colourful flower name meaning 'Rainbow'. This is a great Fall name as leaves from different trees turn all kinds of colours giving us the same warmth as a rainbow. |
| Ivy | The climbing plant known as Ivy is a simple charming name of a baby girl. The name Ivy is a symbol of the autumn season and it simply means fidelity. Ivy signifies faithfulness. |
| Jora | Jora is a sweet name of Hebrew origin meaning 'autumn rain'. This name would fit best for babies born between September and November. |
| Maple | This is a very colourful name for your baby girl. During fall, the maple leaves turn bright, reddish-orange in colour. It is an English name inspired by nature and perfect for your baby girl. |
| Marigold | Marigold a very popular and trendy English name that means 'golden flower'. This name is also a symbol of the Virgin Mary. |
| Melena | The meaning of the name Melena is 'Yellow as a canary'. Melena is a feminine Greek name inspired by many shades of yellow during the colour-changing process in Fall. |
| Misty | Misty is defined as light fog, but it is especially beautiful on a crisp Fall night. Misty is a beautiful baby girl name born in autumn. |
| Olive | The name Olive is a feminine English name that means Olive tree. An olive tree is an emblem of peace, thus it can be a great name for your baby. |
| Opal | Opal is a feminine name of Sanskrit origin derived from the gemstone opal. The gemstone is the birthstone for those born in the month of October. |
| Orla | It is a female given name of Celtic origin. It means 'golden princess'. It also means 'the one who takes the first step to perform'. No matter which meaning you want to consider, this name would make a great name for your baby girl born in the season. |
| Perry | Perry means pear tree. This is a fruit that is harvested in the fall season. This is acute, fall-inspired baby name for a girl. |
| Phoenix | A classy and uncommon name Phoenix is a girl's name of Greek origin which means dark red, another fall color. It is also the name mythical bird and evokes the moon Goddess during Halloween, another fall celebration. |
| Rhea | An increasingly popular feminine name, Rhea means a 'flowing stream' passing the trees peacefully through the woodlands. |
| Ruby | A very precious and beautiful feminine name of a semi-precious stone, Ruby is also the birthstone for the month of July. Isn't your baby as precious as the ruby? |
| Russet | Russet, an English name, is a lovely reddish-brown colour which is now more famous as a baby girl name. |
| Saffron | An uncommon and beautiful English name derived from the rich golden colour of the fall. This flower is a purple crocus that blooms during fall and is famous for its fragrance. |
| Sapphire | This is of English origin and it means ' powerful strong person'. Sapphires are precious stones that not only come in blue, but also in fall colors like orange and yellow. So this is an interesting autumn-inspired name for your little girl |
| Serein | The name Serein is related to autumn by its root Seri which means calm. Autumn season is the calmest one. The vibrant colours of fall, cool weather and the beautiful sunsets create a feeling of calmness. |
| Scarlett | Scarlett is a beautiful English name that reflects the bright red colour of the maple leaves. |
| Sienna | Sienna has an Italian origin and means reddish-brown, the colour of the fall. |
| | The meaning of the name Silvia is 'sprite of the wood'. When the leaves turn orange, red and yellow during the fall, it feels as if the magical woodland sprites are painting the world. Hence it is a beautiful name for an autumn baby. |
| Teresa | The name Teresa is a lovely Greek name meaning harvest. It is a classy and soft name and would definitely suit your cute baby girl. |
| Viola | The name Viola is an Italian and Latin-origin name. This name is related to a beautiful fall flower that comes in purple, pink, and white. |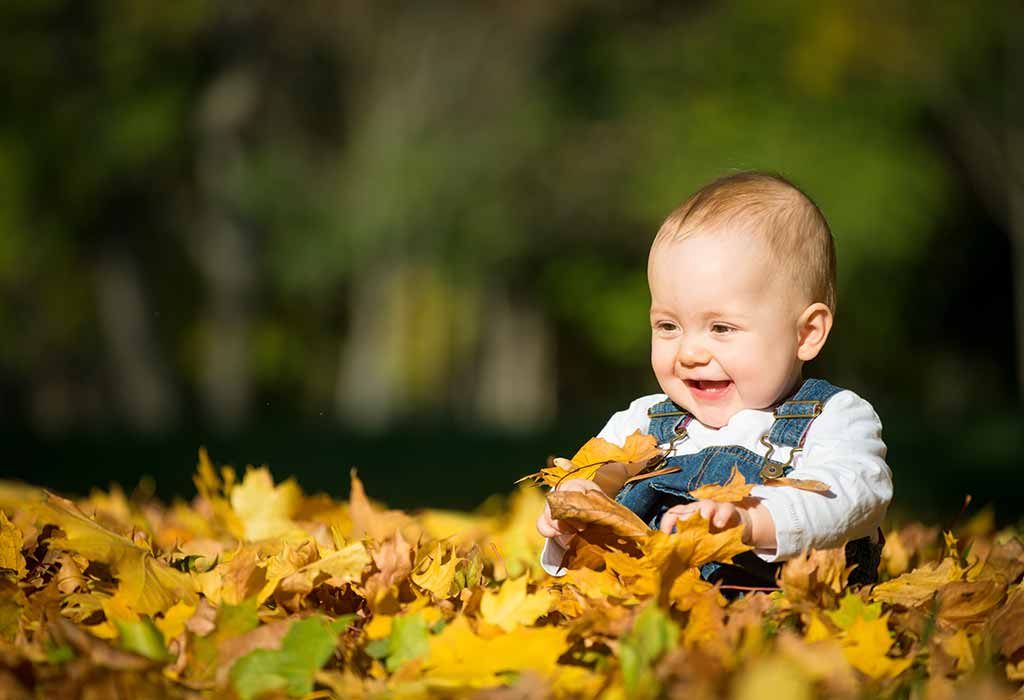 Fall and Autumn Baby Boys Names With Meanings
Take a look at these top trendy autumn names of baby boys to choose one for your little boy.
| | |
| --- | --- |
| Adam | Adam is a masculine name meaning 'of the red earth'. It would make a cool name for your fall born baby boy. |
| Arista | Arista is a unique Greek name for your fall baby. The meaning of Arista is 'Harvest'. |
| Aspen | During the autumn season, the leaves of the Aspen tree turn golden, which looks beautiful. Aspen is also a common name in Britain. |
| Bean | Bean is a trendy name for boys born during Fall. Since it is harvested in autumn, it forms an interesting option for boys' names. |
| Blaze | The name Blaze reminds us of orange and red fire. It is a strong masculine name for a Fall baby. |
| Bruno | A masculine old high German name for boys meaning brown. After the leaves fall they begin to turn brown before the earth recycles them to become nutrients for the trees. |
| Carmine | Carmine is a Latin baby boy name meaning 'vivid red'. Carmine is a great way to reflect the bright and beautiful leaves of the Fall season. |
| Cedar | Cedar is a name chosen by many parents for their Fall babies. The name Cedar is inspired by the cedar trees that turn both red and yellow during the autumn season. |
| Chard | Chard is a type of plant that blooms in the autumn season. This name is of English origin. |
| Cormac | The name Cormac is a unique baby boy name of Irish origin. The meaning of nature-inspired name Cormac is 'tree trunk'. |
| Crimson | The out- of- the -ordinary name Crimson is inspired by the dark red colour of the autumn leaves. |
| Flynn | This name means 'Red-haired one' and it reminds us of the different colours we see during the process of trees losing their leaves. |
| Forrest | Forrest is a wonderful Fall inspired name that reminds us of great forests who provide us with oxygen. Autumn is a time when the forest is most inspiring. |
| Frost | Autumn marks a fall in the temperature. So the name Frost is an English origin name, meaning 'born at the time of frost (winter). This name would be a perfect fit for fall born baby boy. |
| Garner | Garner is an unusual autumn baby boy name, meaning 'to harvest grain' in Latin. |
| Hugh | Hugh is a German, English, Irish origin name meaning 'mind and spirit'. The name sounds like Hue which means shade or colour. This name is a reminder of the colours of the Fall. |
| Ivar | Ivar is a Hebrew name that means 'spread light'. Your autumn boy is surely going to bring happiness to your lives. |
| Jack | The name Jack is an English origin autumn baby name meaning 'God is gracious'. |
| Kale | Kale is a famous name among fall baby names. Kale is the name of the green leafy vegetable harvested during the Fall. |
| Leif | Leif is another form of the word leaf. This name is inspired by the falling leaves in the autumn season. The name is of Scandinavian origin and means 'heir, descendant, beloved'. |
| Lennox | This powerful Scottish name is related to the elm tree. It depicts the crisp autumn days and falling leaves. |
| Linden | Linden means ' lime trees' which bloom during the autumn season. This name is an Old English name for boys born in Fall. |
| Nash | This is an English name inspired by nature meaning 'at the ash tree'. The leaves of this tree turn many shades including purple, yellow, red and orange |
| Jack | A cute tiny name inspired by the hundreds of acorns that fall from the oak tree during the autumn season. |
| Paisley | Paisley is a lovely name derived from the fresh autumn fabric that was originally manufactured and designed by Paisley, Scotland. |
| Radley | Radley is a popular boys' name of English origin meaning 'red meadow'. This name perfectly captures the colour of the fall. |
| Roux | A charming and friendly baby boy name, Roux is an autumn colour inspired name meaning 'red'. |
| Rori | This Gaelic name means 'red king' and is fall-inspired, as red is a prominent autumn color |
| Rowan | Rowan is the name of the flowering tree with tiny red berries. This name is of Scottish origin meaning 'little redheads'. |
| Rusty | Rusty is an autumn colour inspired name. The rust colour can appear anywhere around from burgundy red to brown. Hence a great name for an autumn born boy. |
| Rye | Rye is an unusual Irish name for baby boy meaning 'grassy grain'. |
| Sorrell | Sorrell is an ancient Norman name meaning 'chestnut'. The name is derived from the reddish colour of the dry leaves during Fall. |
| Thu | Thu is a short and sweet unisex name originating from the Vietnamese word for autumn. |
| Wheatley | Wheatley is an English origin name meaning 'from the wheat meadow'. This makes an apt name for the Fall-inspired baby name for your son. |
| Woodrow | A great option for an autumn born boy. The meaning of Woodrow is 'row of houses by a wood'. |
Names give an identity to a child that he/she carries lifelong. Hence every parent wishes to choose the best meaningful and trending name for their child. Hope our article helps you in finding suitable names that mean fall.