20+ Most Popular Halloween Books For Your Kids And Toddlers to Read This Year
Halloweens are so much fun and interesting for kids especially because of all the creepy, weird and creative trinkets they get to adorn for their Halloween celebrations! When we talk about Halloween, kids are full of energy and excitement so in order to constructively use this energy, try coaxing them to read these classic children's Halloween books from the 90s which will guarantee those chills, and shivers down the spine!
Best Halloween Books For Toddlers
Below recommended are some of the classic Halloween children's books for toddlers:
1. Inside a House That Is Haunted
Author – Alyssa Satin Capucilli
Why It's Great –
It's a redbus read along-story that's quite liked by toddlers. It slowly starts building upon itself which makes it interesting for little kids. It's amazing for children who haven't started reading by themselves but are interested in reading along.
2. Peek-a-Boooo!
Author – Marrie Torres Cimarusti
Why It's Great –
If you are planning to introduce your kids to all the funny and creepy Halloween characters, then this book is just perfect for you! Each page has fun-filled Halloween characters that include a witch, skeleton, and Frankenstein hiding behind their hands and playing peek-a-boo with the readers. The character's face is revealed when you lift the hands or flaps of the character and all of them have happy and cute faces and not scary ones!
3. Maisy's Halloween
Author – Lucy Cousins
Why It's Great –
This one is a cute Halloween related book for toddlers. It features Maisy who is a mouse and her search for the right Halloween costumes. The story presents a funny introduction to the dressing up for Halloween, and there's something about this cute and sweet mouse Maisy that children just love!
4. There Was An Old Lady Who Swallowed A Bat!
Author – Lucille Colandro
Why It's Great –
A sensational hit among kids, this book is a rework of the famous song 'There was an old lady who swallowed a fly.' In this book, she swallows a bunch of Halloween characters that are bigger and bigger in size and towards the end the old lady belches. It's a cute funny book that your kids will find quite hilarious!
5. Skeleton Hiccups!
Author – Margery Cuyler
Why It's Great –
A silly and predictable book about a skeleton that cannot get rid of the hiccups and he tries all the old tricks! A simple and easy to understand the story that your kids will find funny and interesting!
6. Room On The Broom!
Author – Julia Donaldson
Why It's Great –
A classic tale of a witch and a cat that are very far from spooky which makes it a great Halloween book for young kids who easily get scared by the Halloween characters! The story gives an important message about friendship and making room for everyone around us!
7. Monster Trouble!
Author – Lane Fredrickson
Why It's Great –
An adorable and empowering storybook for toddlers, it features text's in expertly written rhythm and rhymes format that makes it interesting for kids. The story revolves around Winifred a brave girl who gets sleep-deprived due to all the night time visits. So, she devises a plan to get rid of these monsters but in the end, it's an accidental kiss that helps her get rid of the monsters!
8. Monsters Don't Eat Broccoli
Author – Barbara Jean Hicks
Why It's Great
A really cute book that your kids would love. It's about monsters including what they eat and they won't eat. It's a fun way to open up a talk about the foods that we eat and about trying out new things!
9. The Very Worst Monster
Author – Pat Hutchins
Why It's Great –
This cute and hilarious book would give you and your kids a good laugh! It's a cute story about two siblings Hazel and her baby brother who try to compete to be the worst and horrible monster!
10. Where's Baby's Pumpkin?
Author – Karen Katz
Why It's Great –
This one is a lift the flap book that is truly cute and adorable! It will keep the little hands busy and also captures the child's interest to sit patiently till the end!
11. Little Blue Truck's Halloween
Author- Alice Schertle
Why It's Great-
This book is a delightful read-along story that toddlers tend to enjoy. It gradually builds up the Halloween atmosphere, making it engaging for little ones. It's especially suitable for children who are not yet reading on their own but are eager to participate in the reading experience.
12. The Hallo-Wiener
Author – Dav Pilkey
Why It's Great-
"The Hallo-Wiener" tells the tale of Oscar, a dachshund who faces teasing due to his long, skinny shape. On Halloween, Oscar's unique physique proves to be an unexpected advantage, leading to a funny and heartwarming adventure. It's a story that combines humor and heart in a wonderful way.
Cool Halloween Books For Preschooler & Kids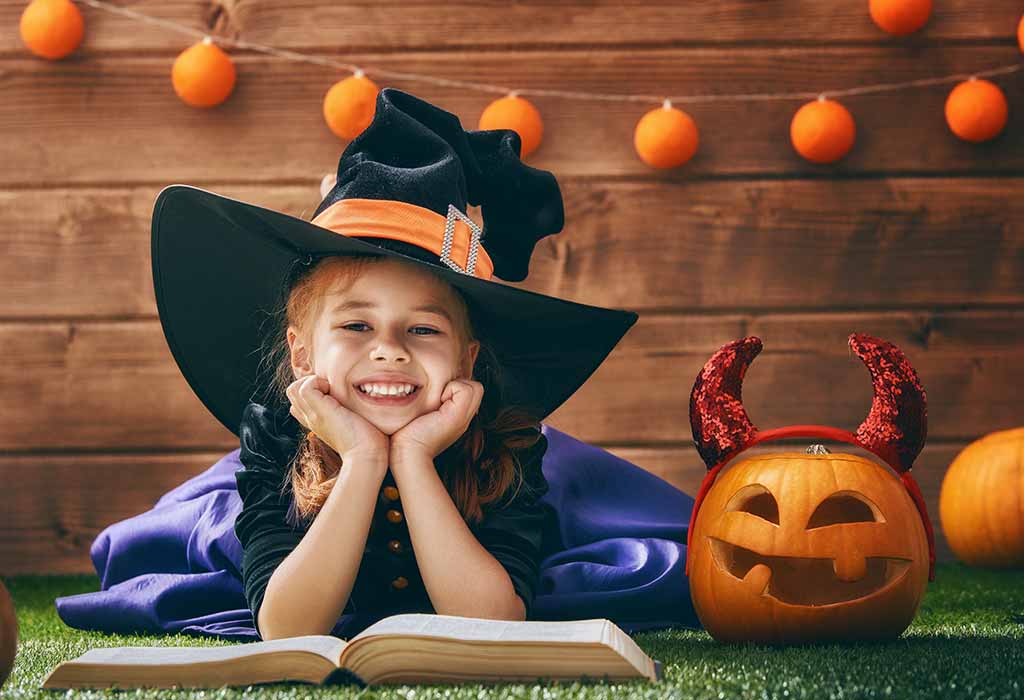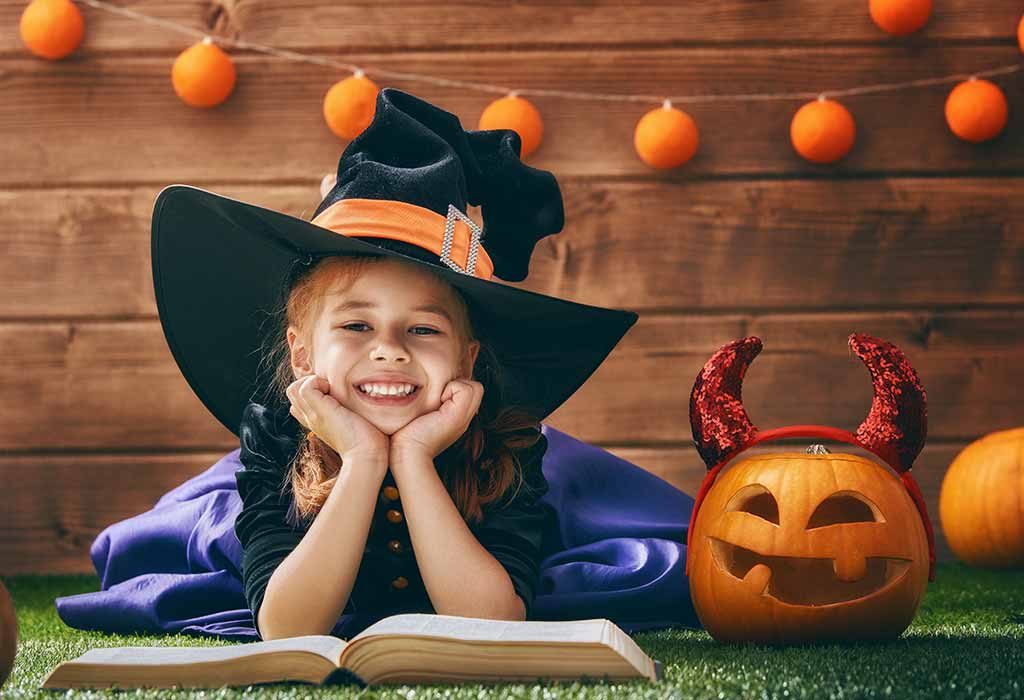 Read along to find the most recommended pre k Halloween books:
1. Pumpkin Eye
Author – Denise Fleming
Why It's Great –
A wonderful Halloween book for pre-schoolers who are old enough to feel the excitement of a spooky Halloween night. The book is filled with illustrations and beautiful rhymes that keeps the children actively engaged.
2. AlphaOops: H is for Halloween!
Author – Alethea Kontis
Why It's Great –
A sophisticated alphabet book that features bright illustrations and an excellent storyline for kids! It introduces new words and improves the vocabulary of the kids!
3. The Runaway Pumpkin
Author – Kevin Lewis
Why It's Great
This cute little story is about an adventurous little pumpkin and his imaginations about the Halloween adventures, his mother also plays along with him! It's a funny little book with detailed illustrations.
4. The Costume Copycat!
Author – Maryann MacDonald
Why It's Great
This sweet little tale is more about siblings rivalry. It's a story about two sisters and on each Halloween, the elder sister gets in the spotlight and the younger one is shadowed feeling jealous and frustrated. Towards the end when the younger sister gets in the spotlight she shares about her feelings!
5. Some Monsters Are Different!
Author – David Milgrim
Why It's Great –
It's an adorable book about love and acceptance! Readers are left with a positive feeling and acceptance of oneself!
6. Dem Bones
Author – Bob Barner
Why It's Great –
Dem bones is a combination of two books! It features Halloween inspired skeleton illustrations that are perfect for younger kids and the second part features longer texts that are meant for older kids! It's a great book with a strong Halloween theme and also helpful in teaching the kids about the human body!
7. Shy Mama's Halloween
Author – Anne Broyles
Why It's Great –
An adorable Halloween themed book that is about a newly arrived family who is unfamiliar about the Halloween. While the kids enjoy the holiday, the mother is a little shy and slow to warm up to the theme!
8. Monster Mess!
Author – Margery Cuyler
Why It's Great –
Monster Mess is a cute rhyming book about funny rhymes about a monster who is more interested in cleaning the mess than scaring you! The illustrations are funky and kids would follow along well as the monster looks for the mess in the house and tidying it up!
9. Go Away Big Green Monster!
Author – Ed Emberley
Why It's Great –
A cute book with an interactive approach that gives the kids full control of the Halloween monsters! It also helps the children to understand and control their own fears too!
10. If You're A Monster And You Know It
Author – Rebecca and Ed Emberley
Why It's Great –
It's an adorable monster book for children of various age groups! It's a funny re-arrangement of the song 'If you are happy and you know it!' The detailed illustrations and characters are quite funny and would keep the kids entertained!
11. The Berenstain Bears Trick or Treat
Authors – Stan and Jan Berenstain
Why It's Great –
Join the Berenstain Bears as they embark on their first trick-or-treating adventure. This book imparts important lessons about Halloween safety and emphasizes the true spirit of sharing. It's a charming story that combines valuable lessons with the excitement of Halloween festivities.
12. Ghosts in the House
Author – Kazuno Kohara
Why It's Great –
"Ghosts in the House!" is a charming and slightly spooky tale about a little witch who moves into a haunted house. Instead of being scared, she finds a clever and creative way to make the ghosts useful. The book's distinctive illustrations and simple yet engaging storyline make it a wonderful read for young children during Halloween or any time they want a little bit of spooky fun!
Books are the best way to introduce your children to various festivals and holidays being celebrated across the country! The Halloween books for kids will help build their background knowledge and everything they need to know about the Halloween traditions!
Also Read:
Spooky Ideas To Enjoy Halloween With Your Kids
Kid-Friendly Halloween Party Games for a Spooktacular Time
Best Songs That Will Be Perfect for Kids Halloween Party