15 Delicious Halloween Treat Ideas For Kids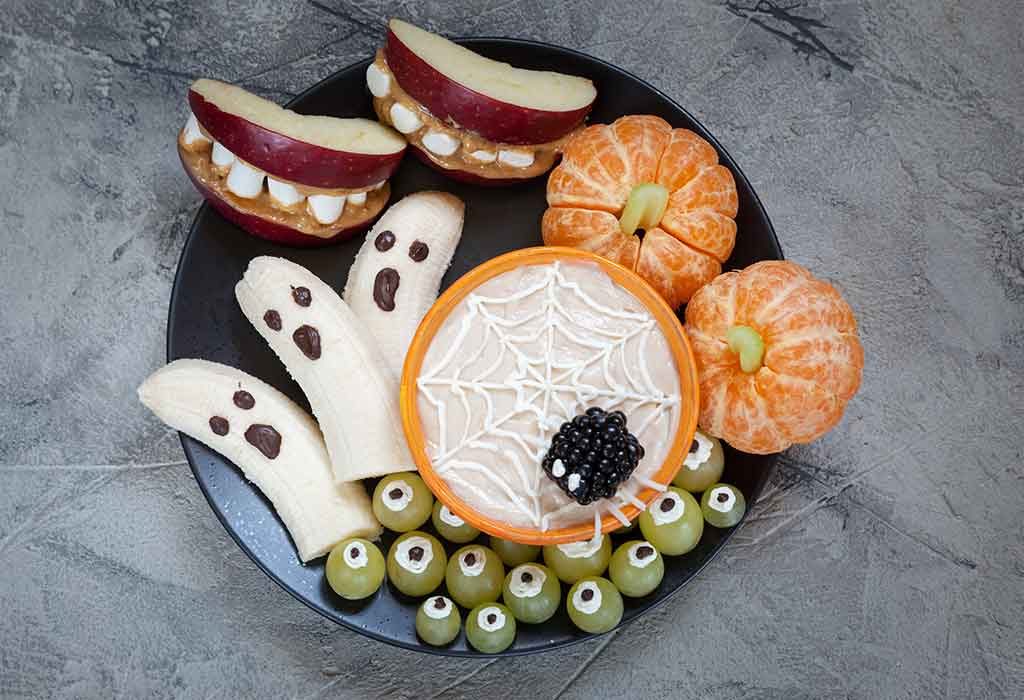 In this Article
Halloween is loved by all, especially by kids, because it's time to party and go trick or treating. This time of the year, kids love to play ghouls and goblins, wear spooky clothes, and enjoy their tasty treats. Halloween party snacks, therefore, need to be inspired by Halloween or associated with Halloween. Parents know their kids love creativity in their snacks, so treats with a little imagination can pique their interests immediately. In this article, we have some interesting, fun, and healthy Halloween foods, your kid is sure to love.
Fun and Healthy Halloween Food for Kids
Kids wait the whole year for Halloween to dress as their favourite scary character, go trick and treating and attend Halloween parties. Therefore, the food too has to match the mood of the party.
Halloween party food has to be innovative and dressed up like everyone else. This can really stress parents out when they are planning a party for their kids. If you've been looking for ideas, stress no more. Here are some delicious Halloween treat ideas for kids. These are not only scary but also tempting and healthy.
1. Hats and Bats Chocolate Tarts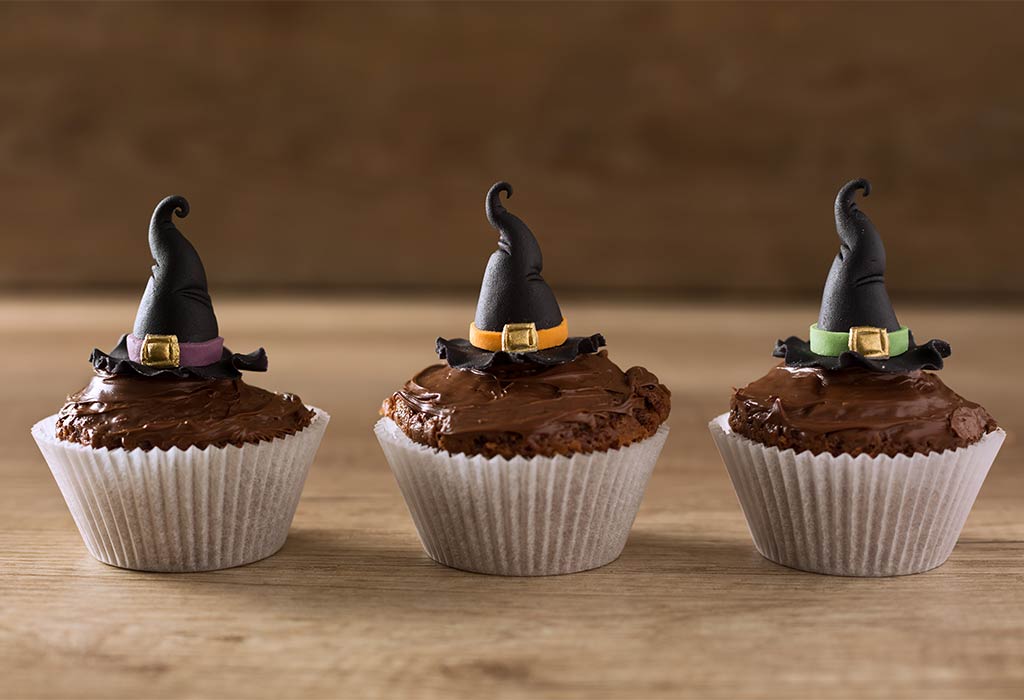 Serve these perfect Halloween-themed tarts at your Halloween party and see the kids go crazy over them.
Ingredients:
Peanut butter – 1/2 cup
Confectioners' sugar – 1/2 cup
Mini chocolate chips – 1/3 cup
All-purpose flour – 2 cup
Cocoa powder (unsweetened) – 1/4th cup
Granulated sugar – 3 tbsp
Salt (preferably kosher) – ½ tsp
Unsalted butter (cold) – 1/2 cups
Cold cream cheese – 1 package/ 8 ounce
White frosting
White sanding sugar
Cookie-cutter in the shape of a bat and a witch hat
Servings: 20 servings
Total Time: 3 hours
Directions:
Stir the peanut butter and confectioners' sugar in a bowl till it is smooth to form a dough.
Mix in the chocolate chips in it.
Put the cocoa powder, flour, salt and granulated sugar in a food processor. Pulse 3-4 times.
Add butter to the mix and pulse 2 to 3 times.
To this, add cream cheese and pulse till you get a dough. Add some water if required.
Divide this dough into two halves. Wrap each in plastic wrap and refrigerate for at least 1 hour.
Preheat the oven to 350 degrees F.
Line baking trays (tow) with parchment paper.
Roll the dough to about 1/8 inch thick.
Then cut the dough with cookie cutters.
If you do not have the cutters, you can use a knife and cut the cookies in the shapes you can.
Place half of the shapes on the baking sheet with some distance between them.
Spoon some peanut butter filling in the centre of the shapes. Brush the edges with a bit of water.
Then place the matching cookie on top of them. Then crimp the edges with the help of a fork.
Bake for 9-10 minutes. Then transfer to wire racks to cool.
Fill a ziptop bag with white frosting. Cut a small hole at the end and with this make eyes on the bat cookies and lines on the witch hat.
Sprinkle the cookies with sanding sugar.
2. Halloween Oreo Eyeball Treat
Enjoy making these Oreo eyeball treats, which are both fun and tasty. This Halloween treat for toddlers is easy to make and super delicious.
Ingredients:
Oreo chocolate sandwich cookies – 2 packets
Decorating gel – blue or green
Red food colouring
Black or brown M&Ms
Small paintbrush
Servings: 5 servings
Total Time: 15 minutes
Directions:
Carefully remove one cookie from each Oreo sandwich cookie, leaving the base cookie and the cream. Let the chocolate smudges be there.
Add a glob of gel icing to the cookie that has been removed to make the eye.
In the centre, place 1 M&M. Your eyes are done.
Now, take a bit of red food colouring on a plate. With the small paintbrush, make some scary-looking veins on the white frosting on the base cookie.
Repeat with all the cookies.
There you have it! Two types of scary eyes for Halloween.
3. Halloween Monster Mouth Treat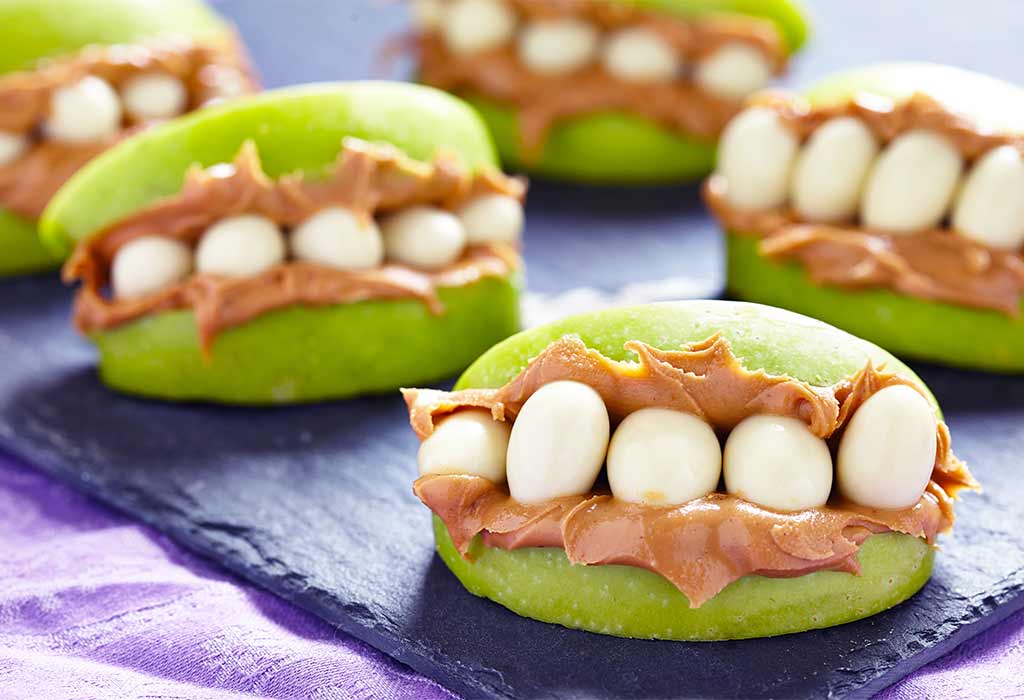 These monster mouths are easy to make and are healthy, too. And, the best part is that kids love eating them.
Ingredients:
Apples – 2, medium-sized
Peanut butter Spread
Lemon juice – 2 to 3 tsp
Peeled almonds – 15 to 20
Jelly beans – 15 to 20
Servings: 8 servings
Total Time: 15 minutes
Directions:
Cut each apple into 8 slices.
Place the apples in a bowl filled with water.
Add some lemon juice to the water to them. This will ensure the apples do not turn brown.
Take out the slices after 10-15 minutes.
Spread the peanut butter generously on each of the slices.
Make teeth with peeled almonds on 4 of the slices.
Repeat the same procedure to make teeth with jelly beans on 4 more slices.
Now, gently top each slice with almond/jelly bean teeth with a slice of apple that already has some peanut butter spread on it.
There, your Halloween monster mouth treat is ready.
4. Ghost Twinkies
Have fun making these easy Ghost Twinkies. This Halloween snack is a favourite among preschoolers. You can also include your kids to make this simple recipe.
Ingredients:
Twinkies -10
White melting chocolate
Googly eyes – 10
Wax paper
Servings: 7 to 8 servings
Total Time: 20 minutes
Directions:
Take the Twinkies and cut their bottom.
Take a cookie sheet and line it with wax paper.
Take a bowl and put the melting chocolate in it. Microwave it till it melts. Make sure not to overdo it.
Take a spoon and drizzle the melted chocolate on the cut Twinkies to make the ghosts. Let the chocolate pool at the bottom. After it solidifies, drizzle the white chocolate at the back of the Twinkie too.
Add the googly eyes by using white chocolate as the glue.
Put the Twinkies in the refrigerator for 10 minutes to set them. Ghost Twinkies are ready.
5. Witch Hat Cookies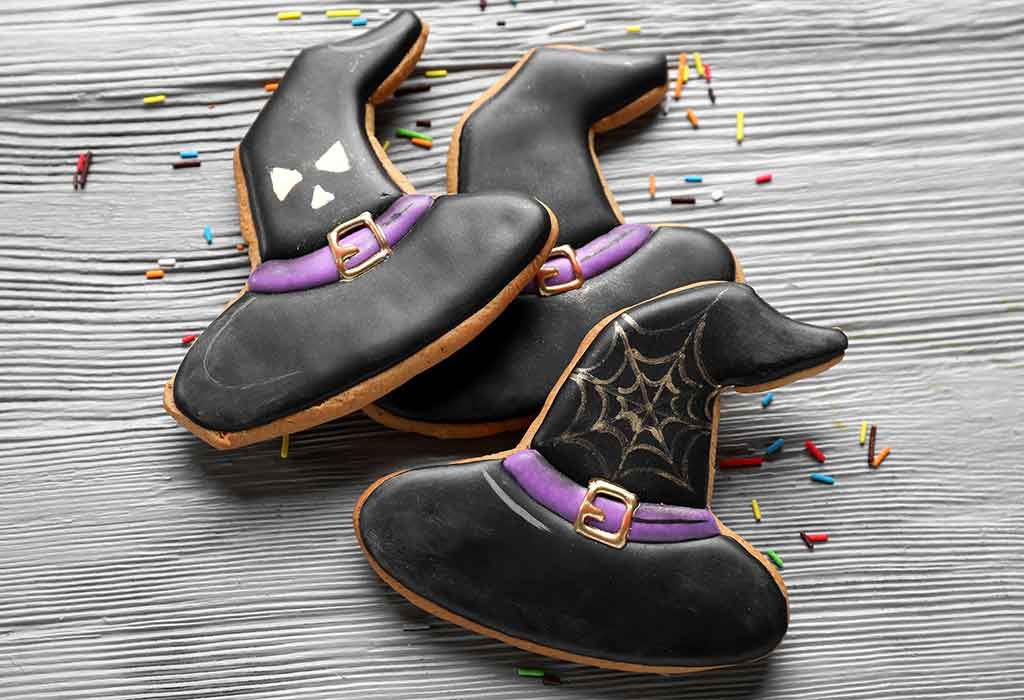 Make these super easy and delicious cookies with chocolate wafers. Your kids are sure to love the cute little witch hats.
Ingredients:
Oreo ice cream cones or any other chocolate cones – 10
Chocolate wafers – 10
Green frosting
Flat tip
Sandwich bags/ zip lock bags – 3 to 4
Chocolate chips
Butterscotch chips
Small candies – 1 packet
Servings: 10 servings
Total Time: 30 minutes
Directions:
Take a chocolate cone and fill it with candy.
Melt some chocolate chips in a double boiler or in an oven.
Take a sandwich bag and melt a cup of chocolate chips in it.
Snip a corner of the bag and use it to pipe the melted chocolate at the edge of the chocolate cone.
Top the chocolate with a chocolate wafer.
Place the cone in the refrigerator for 5-10 minutes to harden the chocolate.
Take out the cones.
Pipe the green frosting to make flat ribbons around the cone.
Melt some butterscotch chips. Let it cool for a bit.
Take another sandwich bag and pour the molten butterscotch chips into it. Make a buckle on the hat with this melted butterscotch.
Place the cone in the refrigerator for another 5-10 minutes to harden the butterscotch.
The Witch hats are ready.
6. Frankenstein Cookie Delight
These Frankenstein Cookies are one of the best ways to treat your kids this time of the year. These are super easy to bake and look ravishing.
Ingredients:
Sugar cookie dough (ready to bake) – 16-ounce package
Green food colouring
Chocolate sprinkles
Candy eyes – 45 to 50
Candy corn
Black icing pen – 1
Parchment paper
Servings: 18 to 24 cookies
Total Time: 50 minutes
Directions:
Take the cookie dough in a bowl and add a few drops of green food colouring. Add the colour till you get the desired green colour.
Roll the dough to make cookies in even portions and refrigerate for 30 minutes.
Preheat the oven to 350 degrees F.
Take a baking tray and line it with parchment paper.
Place the cookies keeping a 2-inch distance between them.
Bake the cookies at 350 degrees F for 6 minutes.
Take out the cookies and sprinkle them with chocolate sprinkles, to make the hair.
Now, return the cookies to the oven and bake for 7-9 minutes.
Remove the cookies from the oven and immediately place candy eyes and candy corns on the cookies to make the eyes and bolts when the cookies are warm.
Cool the cookies.
Draw a mouth on the cookies using the black icing pen.
7. Spider Cookies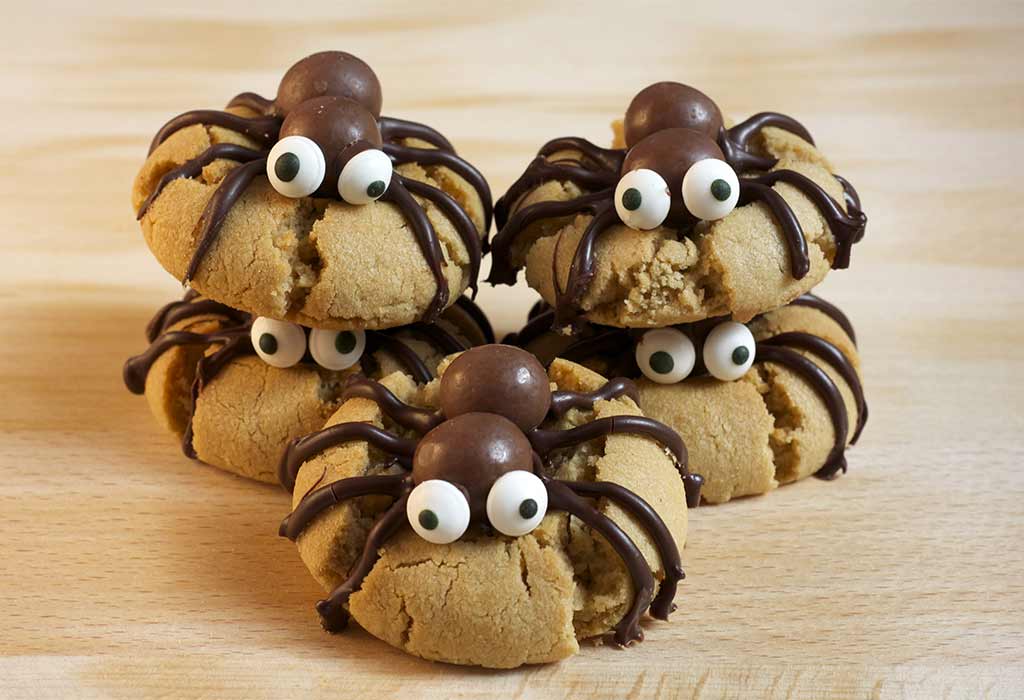 How about some scary spider cookies, everyone? Try this easy recipe right now.
Ingredients:
Butter – 1 ½ cup
Sugar – 1 ½ cup
Eggs – 2 large
Vanilla extract – 1 tablespoon
All-purpose flour – 4 ½ cup
Salt – ½ teaspoon
Black gel icing – 1 tube
Halloween sprinkles
Spider shape cookie cutter
Royal icing
Parchment paper
Servings: 8 to 12 servings
Total Time: 3 hours 5 minutes
Directions:
Take butter in an electric mixer and beat it till it's creamy.
Add sugar to it gradually while beating.
Add eggs and vanilla extract and beat well.
Take a large bowl and mix flour and salt. Add it to the butter mixture gradually to make a dough.
Divide the dough into four parts and flatten it into disks.
Wrap the disks in plastic wrap and refrigerate for 1 hour.
Preheat the oven to 350 degrees F.
Line a baking tray with parchment paper.
Roll each dough disk in ½ inch thickness. Then cut into spider shape using the cookie cutter.
Place them on the baking sheets.
Bake them for 8-10 minutes till they are light brown in colour on the edges.
Let them cool for about 3-4 minutes.
Take royal icing and pipe the cookies. Garnish the edges of the cookies using the black gel.
Let the icing set.
Serve immediately or store the cookies in an airtight container for up to 2 days.
8. Jack-O-Lantern Cookies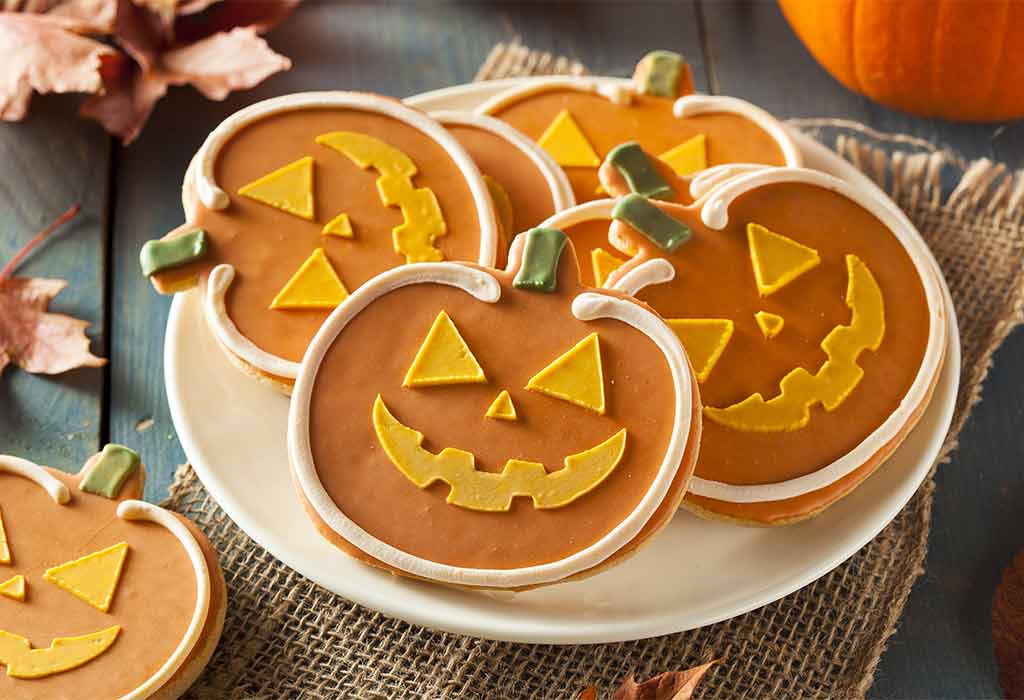 Many must not have heard of this style of cookies, but these are easy and fun to make.
Ingredients:
All-purpose flour – 2 cups
Baking powder – 1 teaspoon
Salt – ¼ teaspoon
Unsalted butter – 1/3rd cup
Vegetable shortening – 1/3rd cup
Sugar – 1 cup
Egg – 1 large
Vanilla extract – 2 1/2 teaspoon
Milk – 4 tablespoon
Confectioners' sugar – 2 cups
Orange and green food colouring
Candy corn
Black and red liquorice laces
Pumpkin shape cookie cutter
Servings: 8 to 10 cookies
Total Time: 9 hours 30 minutes
Directions:
Take the flour, baking powder and salt in a bowl and whisk together.
Take another bowl, add butter and shortenings and beat them using an electric beater.
Add sugar to it and beat it till it's light.
Add egg, 1 teaspoon vanilla extract and beat some more.
Add flour gradually and mix till the dough is formed.
Take a zip-lock bag and place the dough in it.
Roll the dough in the bag in quarter-inch thickness.
Refrigerate for 3 hours at least.
Preheat the oven to 375 degrees.
Open the zip lock bag by cutting the sides and peeling the plastic away.
Cut the dough with pumpkin shape cookie cutter.
Place the cookies on baking trays.
Bake till they are golden brown for about 12-14 minutes.
Let them cool.
To make the icing, take a bowl and add some butter, milk and 1½ teaspoon vanilla extract. Add confectioners' sugar and whisk.
Transfer 1/4th of the icing to a bowl.
Add some green colour to it. Mix well.
Add orange colour to the remaining icing and mix.
Make the pumpkin stem with green icing with the help of a spoon.
Spoon orange icing in the body of the pumpkin.
Make eyes with candy corn and mouth with liquorice.
Let the icing harden at room temperature for about 5 to 6 hours.
9. Monster Halloween Punch
Enjoy this simple punch at your Halloween party. It is a perfect beverage for kids' Halloween parties.
Ingredients:
Lemonade – 4 oz
Lemon-lime soda – 4 oz
Lime sherbet – 1 cup
Candy eyeballs
Servings: 4 servings
Total Time: 15 minutes
Directions:
Mix lemonade and 2 oz of lemon-lime soda in the jug.
Pour the punch into glasses.
Add a small scoop of lime sherbet to the glasses.
Decorate the sherbet with candy eyeballs.
Pour in a bit of lemon-lime over the sherbet before serving.
10. Spider Deviled Eggs
Enjoy the Halloween party with these Spooky Deviled eggs. These are some of the best Halloween finger foods.
Ingredients:
Eggs – 6
Avocado- ¼ cup
Salt- 1/2 tsp
Dry mustard – ¼ tsp
Pepper – ¼ tsp
Light mayonnaise – 1 tsp
Black olives
Servings: 12 servings
Total Time: 15 minutes
Directions:
Hard boil the eggs.
Let them cool. Peel off the shells.
Cut them in halves, lengthwise.
Take out the egg yolk and put it in a food processor.
Add avocado, mustard, salt, mayonnaise and pepper. Beat till creamy.
Fill each egg half with this puree.
Cut a few olives in half. Place the cut olive to make the spider's body.
Cut more olives in slices to make the legs. Push these slices to the spider's body.
Repeat these two steps for each egg.
Your spiders are ready.
11. Halloween Soda Float
All eat and no drink? How is this possible! Try this easy and super fun beverage recipe to enjoy this Halloween with your kids.
Ingredients:
A Soda of your choice – 1 litre
Vanilla ice cream – 1 tub
Halloween sprinkles
Mason Jar – 4 to 5
Large Googly eyes
Scissors
Medical gauze – 2 to 3 small rolls.
Servings: 4 to 5 servings
Total Time: 10 minutes
Directions:
Cover the Mason jar with medicinal gauze.
Paste eyes on it.
Pour the soda into the jar.
Add a scoop of ice cream.
Garnish with Halloween sprinkles.
12. Triscuit Delight
Kids love cheese and crackers. What if we combine these two? Try this amazing recipe of Triscuit Delight and savour this at this year's Halloween party.
Ingredients:
Triscuit Crackers – 1 packet
Cheddar cheese
Edible eyeballs
Servings: 8 to 10 servings
Total Time: 15 minutes
Directions:
Cut the cheese into thin strips.
Lay the cheese stripes on the crackers in a way that makes them look like bandages.
Place the edible eyeballs to complete the mummy.
Enjoy these fun and tasty treats for your Halloween party. These delicious foods are perfect for any party or to give to kids as treats. They are simple to make and can bring life to the party. Most of these treats/snacks can be made by kids, so be sure you include your child while making these temptingly haunting Halloween snacks.
13. Pumpkin Cheesecake
Pumpkin cheesecakes never cease to remind us of Halloween and coming winters.
Ingredients:
(for the crust)
Digestive cookies – 25
Nuts (of your choice) – 1/2 can
Sugar – 2 tbsp.
Melted butter – 3 tbsp.
(for the filling)
All-purpose flour – 3 tbsp.
Eggs – 3
Sugar – 3/4 cup
Cream cheese, room temperature -27.5 oz
Pumpkin pie spice
Pumpkin puree – 11/2 cup
Salt (preferably kosher) – 1/2 tbsp.
Servings: 10 to 12 servings
Total Time: 1 hour
Directions:
Preheat the oven to 350°F, put the 9-inch square baking pan, lined with parchment paper.
For the crust, take a bowl, and add finely crumbled cookies, nuts, and sugar. Mix together and then add butter. After mixing the butter, press the batter evenly into the preheated pan.
Bake the crust for 12 minutes, then transfer the pan to a wire rack.
For the filling, you can combine cream cheese, eggs, and sugar per quantity.
Add flour and salt to it. Take 1/4th of the mixture aside and add pumpkin puree and pumpkin pie spice to the remaining mixture.
Pour the mixture with the pumpkin spice and puree onto the cooled crust.
Pour the cream cheese mixture you set aside earlier on top of the pumpkin mixture, and then swirl the mixture with a spoon or knife to give it a marble-like look.
Bake the batter for the next 30-34 minutes, transfer the baked one to the wire rack and let it cool. You can refrigerate the cake for two hours and cut the cake into rectangular slices.
14. Spooky Mummy Hot Dogs
Serve up these adorable mummy hot dogs at your Halloween gathering and watch the kids delight in their ghoulishly tasty treats.
Ingredients:
Hot dogs – 8
Crescent roll dough – 1 can
Mustard or ketchup (optional)
Candy eyeballs
Servings: 8 servings
Total Time: 30 minutes
Directions:
Preheat your oven to 375 degrees F.
Take the crescent roll dough and roll it out. Using a knife, cut thin strips from the dough.
Wrap the strips of dough around the hot dogs, leaving a small gap near the top for the mummy's "face."
Place the wrapped hot dogs on a baking sheet and bake for 12-15 minutes or until the dough is golden brown.
Once out of the oven, let them cool for a few minutes. Add dots of mustard or ketchup as "eyes" and gently press on candy eyeballs.
Serve these spooky mummy hot dogs with a side of your favorite dipping sauce.
15. Mini Pumpkin Cheese Balls
Create these delightful mini pumpkin cheese balls that are not only cute but delicious too. Perfect for little goblins and ghouls.
Ingredients:
Cream cheese – 8 ounces, softened
Cheddar cheese – 2 cups, shredded
Paprika – 1/2 teaspoon
Black pepper – 1/4 teaspoon
Pretzel sticks – for stems
Chives or green bell pepper – for vines
Servings: 20 servings
Total Time: 30 minutes
Directions:
In a mixing bowl, combine softened cream cheese, cheddar cheese, garlic powder, paprika, and black pepper. Mix until well combined.
Take the crescent roll dough and roll it out. Using a knife, cut thin strips from the dough.
Insert a pretzel stick into the top of each cheese ball to create the stem of the pumpkin.
Using chives or thin strips of green bell pepper, create little vines around the stem.
Refrigerate the cheese balls for at least 30 minutes to allow them to firm up.
Serve these adorable mini pumpkin cheese balls with crackers or vegetable sticks for dipping.
All the above-mentioned recipes are fun to make and do not require any fussy ingredients, so you do not have to worry about gathering ingredients across the ocean. You can always use the substitutes to ingredients, if you are intolerant to any product and use your creative side to tweak the design and flavouring.
So, what are you waiting for? Heads up, put your hands to use, and cook delicious delights for your kids this Halloween.
Also Read:
Spooky Ideas To Enjoy Halloween With Your Kids
Amazing Halloween Costume Ideas for Kids
Kid-Friendly Halloween Party Games for a Spooktacular Time