15-Month-Old Baby Feeding Schedule, Recipes and Tips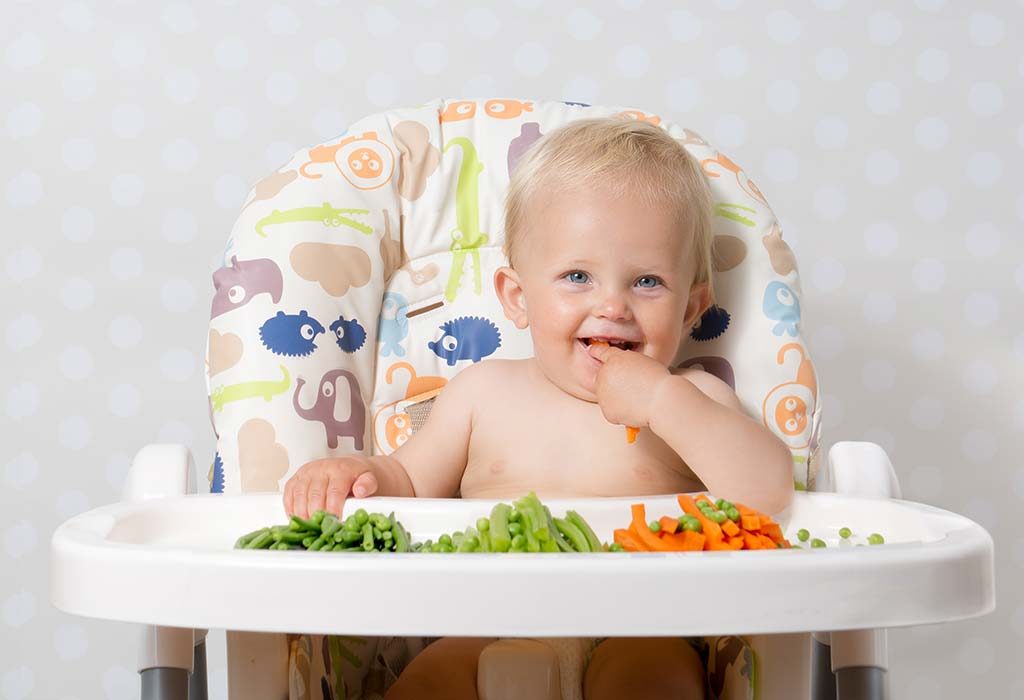 By the time your little one turns fifteen months old, he has started eating solid food. In fact, the little one has become a pro and started liking solid foods more than milk. The kid can now start eating many foods that were off-limits before. As there are very few food restrictions on the kid now, he can have most foods adults can have. With a nutritious diet, you can ensure he gets all the nutrients required for his growth. So, what can you feed a 15-month-old? Let's find out!
What to Feed a 15-Month-Old Baby?
The little one has turned fifteen months old, and now he can recognize different foods and demand their favourite ones too. They have a different food habit than the first year; therefore, parents need to ensure they include healthy ingredients and balance their diet, not to forget in accordance with the liking of the young one. For a wholesome diet, baby food ideas for parents should include all the food groups. Let's take a look at them one-by-one.
1. Fruits/Vegetables
A 15-month-old baby can chew most vegetables.
Try to avoid fibrous vegetables such as broccoli or cauliflower, which they might find difficult to chew. If you want to feed these vegetables, boil and mash them to make them tender.
A 15-month-old toddler can have all the fruits now, but parents must cut them in small bite-size pieces, including small fruits like grapes to prevent their babies from choking on them.
2. Protein
A 15-month-old baby needs approximately 13 grams of protein daily. So, parents can feed soft pieces of well-cooked meat or chicken.
Fish intake should not exceed 12 ounces per week.
The baby can have fish such as salmon, light tuna, catfish and Pollock as these fishes have less mercury.
The toddler can also have scrambled eggs.
3. Other Food Items
Include as many cereals as possible, such as rice, millets, wheat and pulses in the diet of your 15-month-old kid.
Kids this age also love pasta but remember to choose the whole-grain variety to make it easier for them to digest.
Cheese is also a good source of protein for the kid.
Kids can now have nuts and seeds but in powdered form, not whole.
Once you know what your 15-month-old baby can eat, knowing the quantity/portion of food can help you provide enough nutrition per meal. Read on to know how much your 15-month-old baby should eat and the feeding schedule you can follow to provide him with the necessary calories every day.
How Much Should a 15-Month-Old Eat?
A 15-month-old kid should have a calorie intake of approximately 1000 calories per day. He should have three meals plus two snacks every day, which should have all the food groups, including vegetables, fruits, protein, grains, and dairy. The young one needs roughly 700 mg of calcium per day, which should come from milk and other calcium-rich foods. Also, several parents wonder how much milk they should give their little one. Well, 360-480 ml of milk every day should be enough to provide your 15-month-old baby with the calcium he needs.
15-Month-Old Baby Feeding Schedule
Your growing 15-month-old baby needs a feeding schedule made according to his/her eating habits. The parents need a diet plan according to the likes and dislikes of their toddler. The kid now has a schedule for sleeping, playing and other activities. He also needs an eating or feeding schedule to ensure he gets a wholesome diet.
Here's a sample of a 15-month-old food chart you can refer to make your own kid's diet chart.
Meal Time
Food Name
Breakfast

Baby iron-fortified Cereal – ½ cup or 1 cooked/boiled egg
Add fruits to the cereal or feed separately
Banana –½, cut in small cubes
Strawberries – 2 to 3, sliced
Whole milk – ½ to 1 cup

Morning Snacks

Whole milk -1/2 cup
Whole wheat muffin or slice toast – 1
Add 1 to 2 tsp of peanut butter or cream cheese to it
Fruit slices – ½ cup

Lunch

½ sandwich of turkey slice, chicken or egg salad or peanut butter
Cereal – ½ cup
Green vegetables- ½ cup, cooked

Evening Snacks

Whole milk – 1 cup
Cubed or string cheese or 2 to 3 berries or 2 to 3 tablespoon chopped fruits

Dinner

Whole milk -1/2 cup
Yellow or orange vegetable – ½ cup, cooked
Pasta/rice or potato- ½ cup, boiled
Meat – 2 to 3 ounce, cooked and diced or grounded
When charting the feeding schedule for your 15-month-old baby, you must also know which foods to avoid. The next section of the article will help you understand this.
Foods to Avoid for a 15-Month-Old Baby
Here's a list of some foods that parents should avoid feeding their 15-month-old babies:
Avoid unpasteurized cheese or dairy products. They are harmful as they could contain listeria, a bacterium that can cause listeriosis.

Don't feed over 4 – 6 ounce of fruit juice per day.
Avoid highly processed foods such as chips, candies, microwave meals or foods with added flavours, and artificial colours.
Don't feed the baby whole nuts or seeds, as they can cause choking.
Sugar and salt – avoid excess sugar and salt in the baby's food. Avoid sugary and salty snacks too.
Avoid feeding raw vegetables, especially carrots, broccoli or cauliflower.
Avoid raw eggs or uncooked eggs to avoid salmonella infection.
The kid should not be fed raw seafood, fish or red meat.
Let's take a look at some recipes that are safe to feed a 15-month-old baby.
Food Recipes for a 15-Month-Old Baby
If you are wondering what to make for dinner or snacks for your 15-month-old baby, here are some recipes that are easy to make and can provide all the essential nutrients to your little one.
1. Whole Wheat and Buttermilk Pancakes
Ingredients
All-purpose flour – 3/4th cup
Wheat flour – 3/4th cup
Butter – 3 tbsp
Vegetable oil – 1 tbsp
Sugar – 3 tbsp
Baking powder – 1/2 tsp
Salt – 1/2 tsp
Egg – 1 nos
Buttermilk(low fat) – 1.5 cups
Egg white – 1nos
Maple spray – 3/4th cup
How to Prepare
Take a bowl and mix the flours, baking soda, sugar, and salt. Whisk them well.
In another bowl, whisk the buttermilk, oil, egg, and egg white.
Add the wet mixture to the flour mixture and whisk it well.
Heat a non-stick griddle over medium flame.
Take 1/4th cup of the mixture and spread it on the griddle to make the pancake.
Flip the pancake once you see bubbles forming on the top. See that the edges are also cooked on both sides.
Feed the kid these delicious pancakes with butter or maple syrup.
2. Blueberry and Spinach Puree
Ingredients
How to Prepare
Boil the spinach with some water in a pan.
Cover the pan with a lid once it starts boiling.
Reduce the flame and simmer it for 7-8 minutes.
Drain the water and let the spinach cool a bit.
Then, blend the spinach till you get a smooth puree.
Add the puree to the blueberry puree.
Add the lemon juice.
Add some water to adjust the consistency.
Your blueberry and spinach puree is ready.
3. Baby's Pasta
Ingredients
Pasta – 2 tbsp
Low sodium chicken broth or vegetable stock – 1.5 cups
How to Prepare
In a pan, boil the broth or stock.
Add pasta to it.
Cook for 7-8 minutes; till the pasta turn tender.
Serve when cool.
4. Risotto Primavera
Ingredients –
Yellow Squash – 1 cup
Olive oil – 1.5 tsp
Asparagus – 1 cups, cut diagonally
Garlic clove – 1 nos
Black pepper – 1/4th tsp
Leak – 1/2 cup, chopped
Parmesan cheese – 1/2 cup, grated
Thyme – 1.5 tsp
Butter – 1 tbsp
Chicken broth – 32 oz
Water – 1 cup
Salt to taste
How to Prepare
Heat a pan and saute the squash, asparagus, salt, and black pepper on medium flame.
Take another pan, and cook the chicken broth and water on low heat.
Melt the butter in a Dutch oven and saute the leek.
Add the broth mixture to it. Keep stirring and cook it for 5-6 minutes.
When cooked, add thyme and cheese.
Top it with the sauteed veggies and serve.
Not every toddler accepts new foods. It can be quite a task to feed new recipes to growing toddlers. The tips given below will come in handy when you try to feed you 15-month-old baby one of the recipes given above.
Tips for Feeding a Picky Toddler
Most parents get confused about what to do when they see their baby refusing to eat. Try these feeding tips the next time your toddler resists foods:
Introduce new food one at a time. Too many new things can confuse the kid.
Feed the kid an assortment of recipes, so the baby sees variety and doesn't get picky about one food.
Be creative with the food. Try telling a story to hold your child's interest as you feed him, or cut sandwiches in different shapes such as stars, animals, etc.
Don't force-feed your child. He will eat when he is hungry and will eat as much to fill his stomach. Force-feeding will make your child irritable.
At 15 months, toddlers think they are big enough to eat their food themselves. Allow them to self-feed. Assist them if needed, but let them enjoy eating food with their hands.
At this age, kids start wandering and enjoy exploring things around them. He might not like to sit for a long duration while eating his food and might get irritated sooner than expected. Therefore, feed small portions of food, several times a day.
To keep the kid engaged in eating, make him eat with the family. To make eating easy for them, cut their food in small pieces.
Your little one is growing, so are his eating habits. The young one needs a wholesome diet for his development. The food you feed him has to be wholesome as well as interesting for the child. Therefore, incorporate an appropriate eating schedule with healthy recipes such as the ones given in this article and watch your little one get ready for the next growth milestone.
Also Read:
Best Food Ideas While Travelling with Infants
Healthy Weight Gain Foods Ideas for Your Infant
Best Dinner Foods for Your Infant That can Make Him Sleep