13-Month-Old Baby Feeding Schedule, Recipes and Tips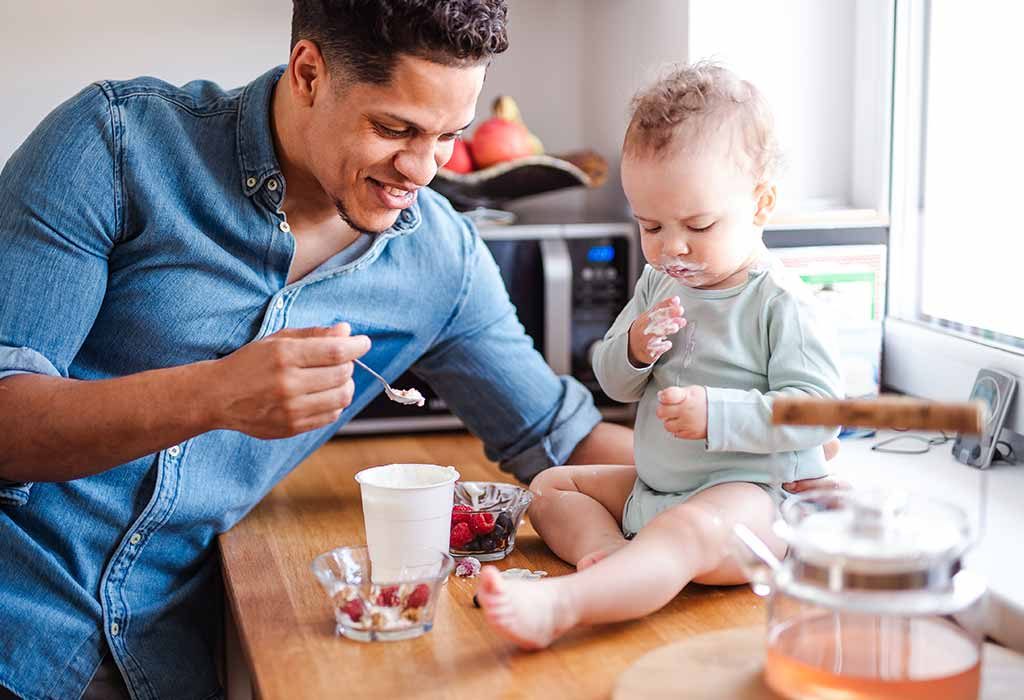 Once the baby is in his 12th month, you will start noticing a few changes, especially when it comes to his meal and nap times. You will find yourself altering the baby's meal plan a lot. From his 13th month, he will start eating more solid foods, and these changes in his eating habits will alter his growth pattern too, but there is nothing to worry about as it is normal. Here are some ways to cope with these changes and make sure your baby is getting all the nutrients he needs after he turns 13 months old.
What Kind of Food Should You Feed Your 13-Month-Old?
1. Fruits/Vegetables
Fruits are one of the best foods to feed a 13-month-old child, so include one cup of soft/mashed fruit in your baby's diet. Soft cooked vegetables are amazing finger foods too for a 13-month-old. Here are some ideas to feed fruits and vegetables to your little one:
2. Protein
As soon as your baby becomes a toddler, you can start giving him white meat. All the energy he needs to play and learn will be supplied by the protein in the meat. It is better to puree the meat to get a smooth texture or finely shred the meat to make it easy for the child to digest. So, what can you feed your 13-month-old? Here are some ideas.
Chicken (extra soft)
Hard-boiled Egg (or mashed hard-boiled egg yolk)
Meatballs
Meatloaf
Plain Pulled Pork (extra soft)
Salmon
Shreds of Pot Roast (extra soft)
Tilapia
Turkey (ground or breast/cutlet)
3. Other Food Items
Foods other than fruits, vegetables and protein will help the baby explore different textures and including these in your 13-month-old's meal plan is the best way to get him used to adult food. You may give these foods a try and make them a part of his diet.
Bagel
Cheerios
Corn Bread
Corn Grits/Polenta
Cream Of Wheat
English Muffin
Graham Crackers
Muffins
Pita
Plain or Buttered Bread
Short Pasta
Toast
Tortilla
Town House Crackers
Waffles
Now, let's move on to another important part of your 13-month-old bay's diet, milk. Yes, until now, your little one was only drinking breast milk. After he turns 13 months old, you can introduce cow's milk to him. Wondering how to do that? Read on to know more.
How to Introduce Cow's Milk to a 13-Month-Old Baby
After your kid turns 13 months old, and until he turns three years old, go for whole milk in his diet as toddlers require fats for development and growth. The maximum amount of cow's milk you can give your baby is 300 ml per day. Giving amounts of milk above that might lessen appetite in babies. Also, do not dilute it with water as it might reduce the nutrition content.
If your toddler does not like taking plain milk, then you can try to flavour it with homemade natural flavours, or add milk to desserts/porridge. Including/blending milk in other milk products like cheese and yoghurt can also do the trick.
So now you know what your 13-month-old baby should eat. But, are you wondering how much he should eat? The next section should help you with some information on that.
How Much a 13-Month-Old Should Eat
You can feed your 13-month-old baby three meals, cow's milk, and two snacks per day. You can continue breastfeeding, if you are a breastfeeding mom, whenever the baby demands. Prepare a schedule for the meals and healthy snacks for your 13-month-old based on his preference. Aim for a variety of foods to ensure the child gets a balanced meal. The quantity of food must always be guided by the baby's hunger as each baby has his own appetite, and they mostly change it every day based on their diverse physical activity levels. However, here is an approximate amount each serving of meals and snacks could contain.
Whole grains, carbohydrates, and cereals (between ¼ cup and ½ cup)
Vegetables and fruits (between ¼ cup and ½ cup)
Milk and other dairy products (1 cup)
Protein/meat/meat alternatives (¼ cup)
Also, take a look at the schedule given in the table below to get an idea of what you can include to balance your little one's meals.
13-Month-Old Feeding Schedule
Breakfast
Lunch
Snack
Dinner
Monday
Oatmeal

½ cup milk

Banana

1 oz cheese

Jam/Bread

Broccoli

½ cup milk

¼ cup cheerios

½ peach

½ cup milk

Veggie rolls

Veggie Beet Soup

½ cup milk

Tuesday
Cheese

Egg (Scrambled)

½ Clementine

½ cup milk

Peaches

Bread/Jam

Broccoli

½ cup milk

4-5 Crackers with Peanut Butter

½ cup milk

Chicken

Mashed potatoes

Veggie roll

½ cup milk

Wednesday
Banana

Cottage Cheese

½ cup milk

Applesauce

Tuna sandwich

½ cup milk

¼ cup peas

¼ cup cheerios

½ cup milk

Potato fries

½ cup milk

Thursday
Cheese

Egg (Scrambled)

½ cup milk

Avocado

Peaches

½ cup milk

4-5 Crackers with Cream Cheese

½ cup milk

Spaghetti

½ cup milk

Friday
Applesauce

Oatmeal

Banana

½ cup milk

Tuna

Cottage Cheese

Peas

½ cup milk

½ cup milk

¼ cup cheerios

1.2 cup milk

Homemade Pizza (with veggies)

Saturday
Cheese

Egg (Scrambled)

½ cup milk

Cottage Cheese

Bread/jam

Pears

½ cup milk

Crackers

½ cup milk

½ oz. Cheese

Rolls

Steak

Carrots

Twice Baked Pots

½ cup milk

Sunday
Oatmeal

Applesauce

Banana

½ cup milk

Peas, Bread/Peanut butter

½ cup milk

Ctg. Cheese

½ cup milk

¼ cup cheerios

Pancakes

Fruits

Eggs

½ cup milk
You could also add seeds and nuts into the feeding guide, but you must always powder or mash them to avoid choking and ensure your toddler is not allergic to them.
With different/new foods, your little one might have his favourites and oppose eating certain foods that are healthy for him. If you have a picky eater, here's how you can deal with him.
How to Encourage a Picky Eating Toddler to Eat
If your 13-month-old refuses to eat, here are some tips you can use to feed him all the nutritious meals you make for him.
Encourage self-feeding by giving the baby finger food.
Never force the toddler to finish his meal. Let the baby take his/her own time to enjoy and finish the food. If the baby refuses, then try to feed again a little later.
Feed a variety of nutritious meals in small quantities, and your toddler is sure to like at least a few of those foods.
Let the baby experience and enjoy the food even if he creates a mess around him.
Avoid junk/processed food and sugary foods as much as possible.
Set an example when it comes to food habits. Your little one learns by watching his parents too.
As mentioned above, you must avoid feeding processed and sugary foods to your 13-month-old baby. However, even from the list of healthy foods, there are some foods you should avoid to ensure your baby's health. Read on to know more.
Foods to Avoid Feeding a 13-Month-Old Baby
Not all foods are good for feeding your babies though it is normal to want to introduce them to new textures and tastes. Here is a list of foods you must avoid to prevent choking and allergic reactions.
Large pieces of meat
Whole grapes
Hot dogs
Cough drops
Candy
Pretzels
Raw vegetables
Raisins
Chips
Popcorn
Marshmallows
Dried fruits and seeds
Low-fat milk
Nuts (if the family has a history of allergies)
Jellies
To make meal preparations easy, you can start with some of the recipes given below and build on the diet chart slowly and steadily.
Baby Food Recipes for a 13-Months-Old Baby
1. On-the-Go Breakfast Muffins
Ingredients
Sugar – 1/3rd cup
Bulk Italian Sausage – 1 pound
Large eggs – 7 nos
All-purpose flour – 2 cups
Baking powder – 3 teaspoons
Salt – 1/2 teaspoon
2% milk – 1/2 cup
Canola oil – 1/2 cup
Shredded cheddar cheese – 1 cup
How to Prepare
Preheat the oven to 400 degrees.
In a large nonstick skillet, cook the Italian sausages until they are no longer pink.
Crumble the sausages as you cook them in the skillet.
Drain on paper towels and wipe the skillet.
Whisk 5 eggs in a small bowl. Pour the mixture into the same skillet and stir and cook until no liquid eggs remain. Remove from the stove and keep it aside.
In another large bowl, whisk the sugar, flour, salt, and baking powder.
Take another bowl and whisk the remaining milk, eggs, and oil until they blend.
Add the wet mixture to the dry ingredients and mix it well.
Fold in 2/3 cup of cheese, the scrambles eggs, and the sausage.
Fill the paper-liner or greased muffin cups with this muffin mixture.
Sprinkle the remaining cheese on top.
Bake for 15 minutes or until you get a clean knife/toothpick when dipped in the centre of the muffins.
Cool the muffins for 5 minutes before removing them.
You can either serve these warm or freeze the muffins in an airtight container.
2. Fruit Kabobs With Cream Cheese Dip
Ingredients
Confectioners' sugar – 1/3rd cup
Softened cream cheese – 6 ounces
Sour cream – 1/3rd cup
Almond extract – 1/4th teaspoon
Fresh, trimmed strawberries
Apples Slices
Pineapple slices (1 inch, at least)
How to Prepare
In a small bowl, beat the confectioners' sugar, cream cheese, sour cream and almond extract until you get a smooth mixture.
Refrigerate the dip until serving.
When feeding your baby, remove some dip in a bowl and let it come to room temperature. Then, dip small pieces of the fruits into it and feed them.
3. Cheddar Creamed Corn
Ingredients
Cream cheese – 8 ounces, cubed
Frozen corn – 18 ounces, thawed
Cheddar cheese – 3/4th cup, shredded
Butter – 1/4th cup, melted
Heavy whipping cream -1/4th cup
Salt – 1/2 teaspoon
Pepper – 1/4th teaspoon
How to Prepare
Combine all ingredients in a 4 or 3-qt slow cooker.
Cook for about 3 to 3 ½ hours or until the corn is tender and the cheese melts.
Stir well before and bring to room temperature before feeding your 13-month-old baby.
As a bonus, we also have some feeding tips that you are sure to find useful while feeding a nourishing diet to you 13-month-old baby.
Feeding Tips for Parents
Carefully monitor the food items and ingredients you give your toddler for the first time.
Do not freak out if the toddler chokes or coughs a little. However, stop giving it right away if the baby is choking and coughing frequently.
Check for allergy symptoms when giving a new food.
Make the food toddler-friendly by chopping it to little pieces, so that the toddler can chew it easily.
While eating, introduce the little baby to different foods so that your toddler gets used to various flavours and textures. Let your baby use his fingers to point out the food item he wants to try!
Encourage your toddler to develop an interest in unprocessed and fresh foods by feeding him fresh food items from the 13-month-old baby food chart.
Expand the taste buds of your baby by trying out flavorful combinations and different spices.
Make mealtimes fun to motivate your toddler to eat healthier. As long as your baby has a balanced diet of fruits, vegetables, and proteins, he will be getting all the nutrients his body needs to become healthy and strong.
Also Read:
Finger Foods for Toddlers To Tempt Them
Ways to Make Food Attractive for Toddlers
Foods to Give to Babies and Toddlers In Fever