Asparagus for Babies – Benefits and Recipes
Preparing meal plans for your baby while trying to wean him off and introducing him to vegetables can be quite challenging. You may naturally lean towards the more regular vegetables. However, you can consider introducing asparagus to your little one as it is not only healthy but makes for great finger food, which can easily be handled by your baby. Asparagus is delicious both alone or when mixed with other veggies.
What Is Asparagus?
Asparagus is thought to be a delicacy of the vegetable kingdom. They are young shoots of cultured lily plants and possess a typically intense, savoury flavour. Young, slender asparagus (sprue) is usually preferred. The older plants tend to become woody. Asparagus is available in purple, green, and white varieties. All types are rich in vitamin A, C, and K, iron, zinc, fibre, calcium, and potassium. It also contains amino acid asparagine, which renders it a natural diuretic.
When Can You Introduce Asparagus to Infants?
Asparagus may not make for an ideal choice as your baby's first vegetable. Asparagus baby-led weaning should be done with care. A baby's tiny tummy, which is still in the developing stages can find it a little hard to digest. Asparagus can trigger bloating and gas in babies. Therefore, it is sensible to offer it to babies when they are in the age group of 8 to 10 months.
Health Benefits of Asparagus for Your Child
Some of the health benefits can be:
1. Enhances Immunity
Babies are more vulnerable to infections and allergies. Therefore, your baby may benefit from eating asparagus as it is full of immune-system improving antioxidants. It has high levels of vitamin A, C, and E, which play a significant role in the production of immune cells.
2. Improves Digestion
Asparagus has large amounts of prebiotics, which can promote your baby's gut health and improve his digestion. It can also reduce the likelihood of indigestion and other digestive issues.
3. Diuretic Property
Asparagus acts as a natural diuretic, which means that it facilitates the removal of additional salts and fluids from the body by way of increased urination. Thus, including asparagus in your baby's diet can prevent the occurrence of urinary tract infections.
4. Abolishes Free Radicals
Body's metabolism generates free radicals, which can have a negative impact on health. Asparagus contains glutathione, which is a detoxifying compound vital for the destruction of cell-damaging free radicals, and thus essential for your baby's well-being.
5. Boosts Brain Development
This spring veggie is rich in folate, which can encourage the healthy cognitive development of your baby.
Nutritional Value of Asparagus
The nutritional value of asparagus is as follows:
| | |
| --- | --- |
| Nutrition | Value (per 90g) |
| Carbohydrates | 12.9 g |
| Potassium | 202 mg |
| Calcium | 20.7 mg |
| Iron | 0.8 mg |
| Vitamin A | 905 IU |
| Vitamin C | 6.9 mg |
| Vitamin B-6 | 0.01 mg |
| Folate | 134 ug |
| Dietary Fibre | 1.8g |
How to Cook Asparagus for Babies
Some simple ways to cook asparagus for babies include:
You can offer steamed asparagus to your baby as finger food. You can steam it using a steamer or by cooking it in some boiling water for 6 to 7 minutes or till it becomes tender.
You can puree fresh asparagus after properly washing it with water. Blend it into a smooth consistency or as per your baby's liking.
Stir-fried asparagus can be another viable option. Cut the spears into ½ inch pieces. You may leave the tips as a whole if you like. Fry the pieces in some butter until tender-crisp or for 4 to 5 minutes.
In case you have frozen asparagus, you can microwave it in a covered microwave-safe bowl with a little water for 5 to 7 minutes at 100% power, rearranging or stirring once.
How to Choose and Store Asparagus for Baby Food
Take into account that all the spears in the bunch that you are buying are relatively uniform as it may be easier to cook them. Also, carefully inspect the tips of the shoots. These should be firm and not unduly soft.
Foods That You Can Serve With Asparagus for Infants
Certain foods that go well with asparagus for infants are: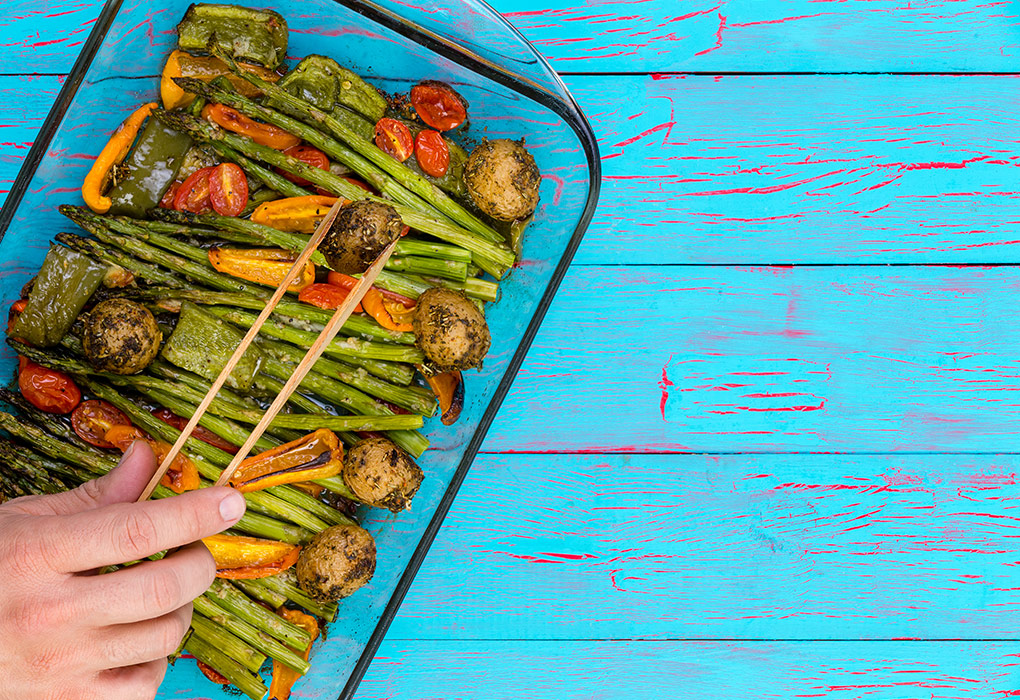 Asparagus Recipes for Babies
Here are some delicious asparagus recipes for babies:
1. Asparagus Soup
This soup is not only easy-to-make but very healthy for your baby.
Ingredients
250 g asparagus
An onion
A tablespoon of ginger-garlic paste
Salt
Pepper
Butter
2 cups of water
How to Make
Chop the asparagus tips and cut the rest into ¼ inch rounds.
Melt the butter in a pan on medium flame.
Saute the onions, ginger-garlic paste, and add the chopped asparagus.
Sprinkle the salt and pepper and cook for a few minutes.
Pour the water and cover the pan with a lid.
Let it simmer for 10 minutes.
Remove from flame and puree the mixture with a blender.
Strain the pureed soup before serving.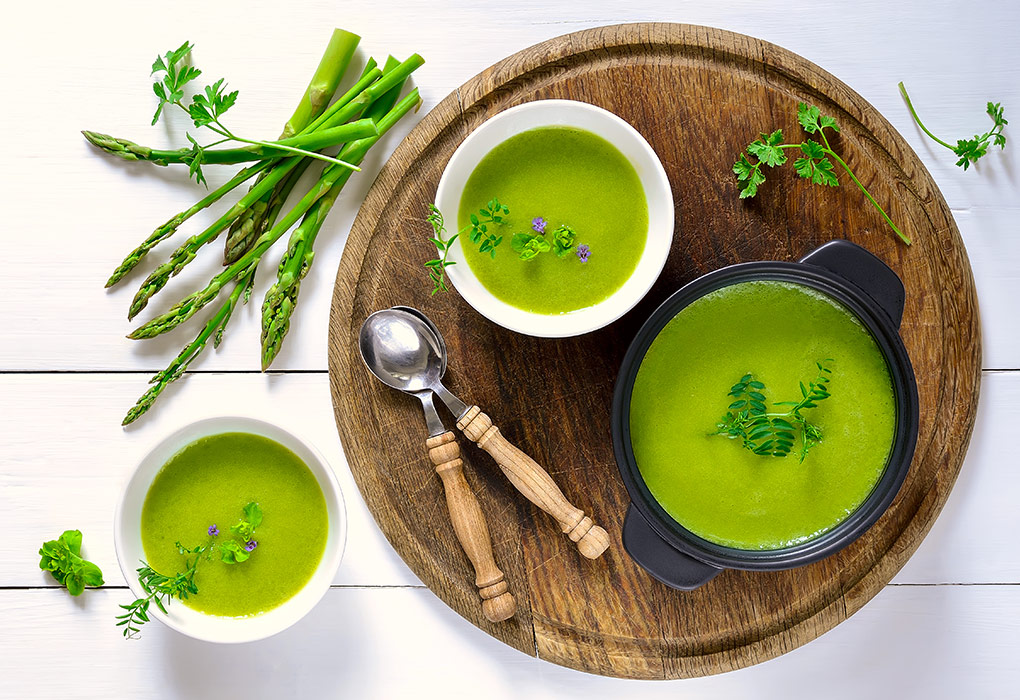 2. Cheesy Asparagus
This delicious dish is sure to delight your baby's senses.
Ingredients
Asparagus stalks (steamed)
Grated cheese
How to Make
Cook the steamed asparagus in some olive oil for a few minutes.
Add some grated cheese and allow it to melt.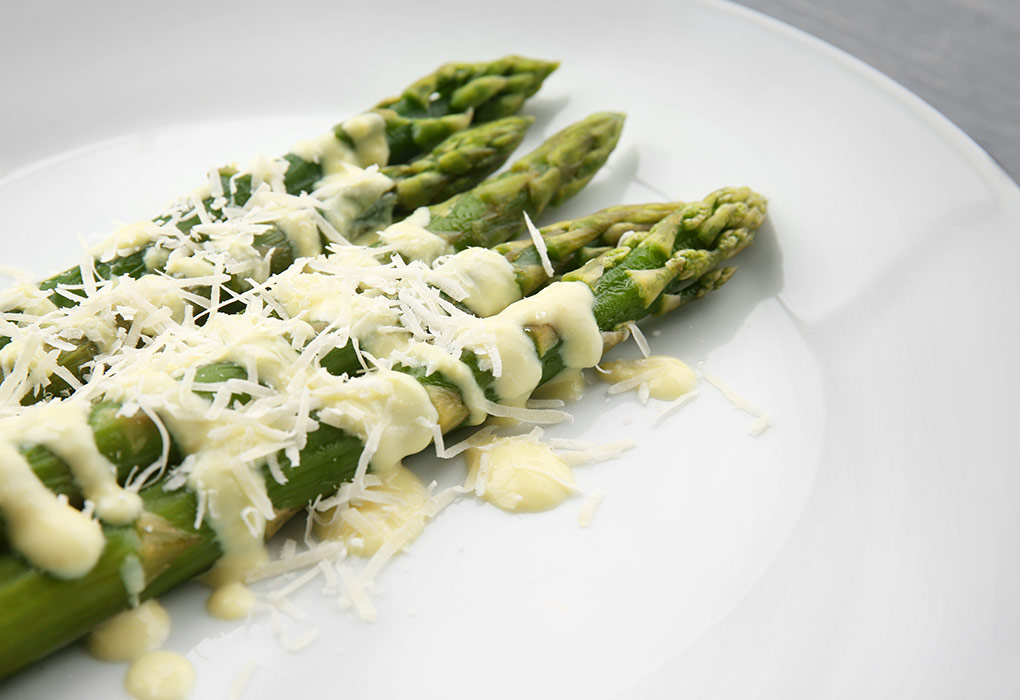 3. Asparagus Puree
If you wish to know how to make asparagus puree for baby, here is a simple recipe.
Ingredients
How to Make
Rinse the fresh asparagus with clean water and then boil it for 4 to 5 minutes using very little water.
Transfer the boiled asparagus to a food processor and blend it to a smooth consistency.
Strain the mixture to get rid of any asparagus strings.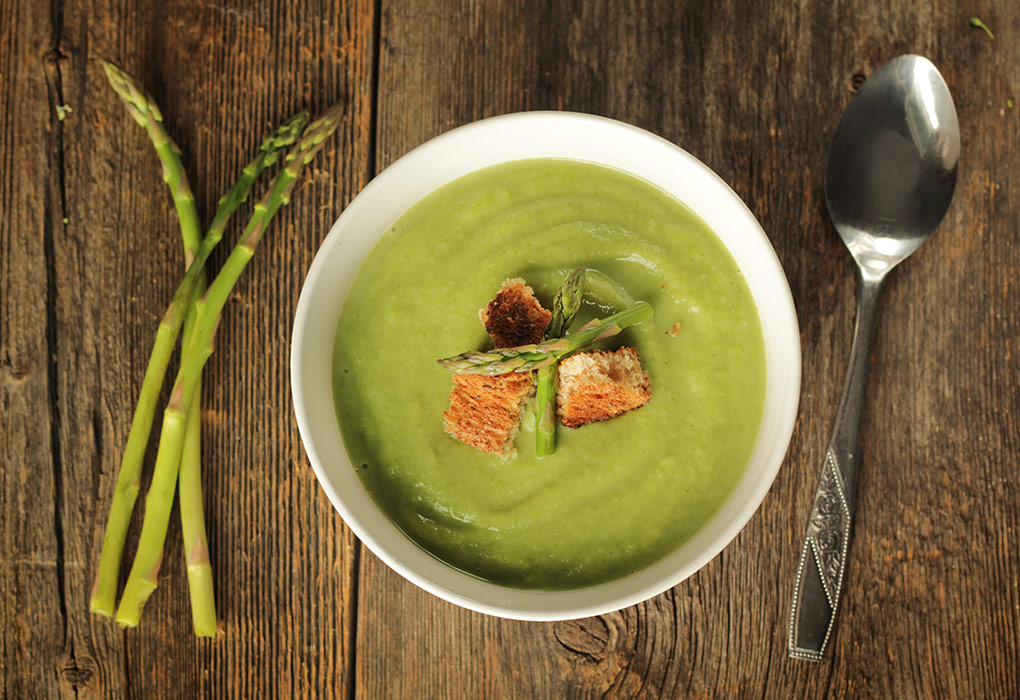 4. Apple and Asparagus Puree
This tasty dish can provide an array of nutrients to your baby.
Ingredients
Half an apple (sliced and cored)
Few asparagus spears
Homemade vegetable stock
How to Make
In a pan, add the sliced apple and asparagus spears and cover with the vegetable stock.
Bring it to a boil and then allow it to simmer for about 5 to 6 minutes.
Remove from flame and blend it to make a smooth puree.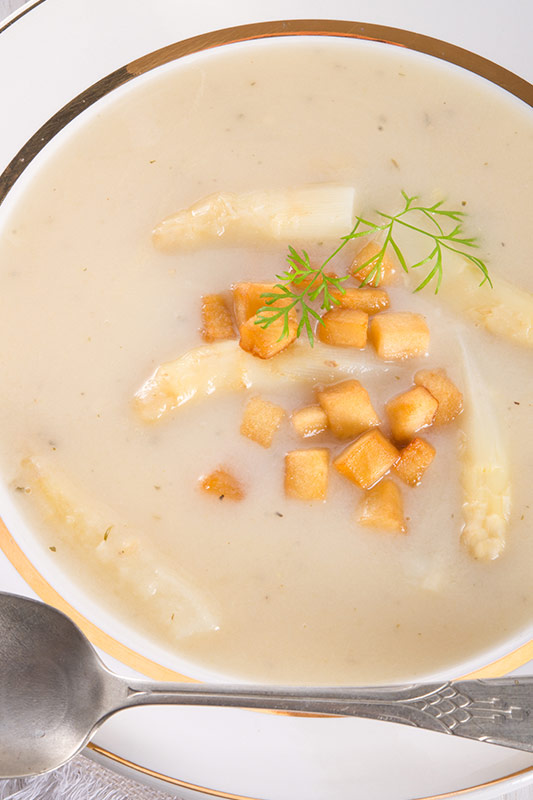 Precautionary Tips to Consider
Moms may wonder if asparagus can cause gas in babies. The answer is yes, it can. Therefore, it is wise to feed asparagus in limited quantities. A few other precautionary tips to consider are:
In case you intend to pair asparagus with another food item, keep in mind to mix it with something your baby has already eaten.
Offer asparagus in small quantities when giving it to your baby for the first time to watch for any possible allergic reaction.
Introducing your baby to different vegetables can be an exciting time. At the same time, you need to consider the likely effects. Overall, asparagus can be a healthy option for your baby.
Also Read: Eggplant for Infants