15 Best Gender Reveal Food Ideas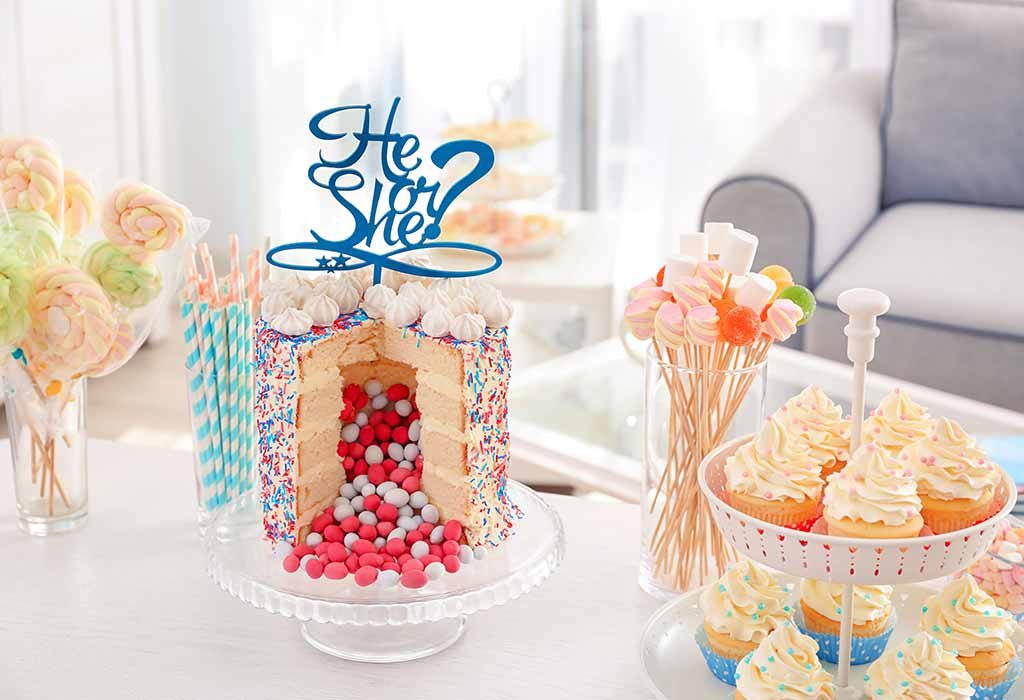 In this Article
A girl or a boy, well, it can be one of the first questions that may pop up in the would-be parents' minds! And finding out whether it will a daughter or a son can be a special experience for the soon-to-be parents. So, if you are one such set of would-be parents who have recently come to know of their baby's sex and looking for ways to announce to your family and friends, well, then what better than hosting a party with some delectable gender reveal treats to make your announcement ultra-special! Read on this yummy blog that shares some interesting and fun gender reveal party food ideas!
Quick and Easy Gender Reveal Food Ideas
Here we have some easy gender reveal food ideas that will perk up your gender reveal party and gathering!
1. Colorful Deviled Eggs
This yummy and simple savory dish is whipped by using just a handful of ingredients. And if you are thinking that deviled eggs go well with Easter, well, wait till you check out this deviled egg recipe with a quirky twist!
Ingredients
Eggs
Vinegar
Pink or blue food colors
Water
Instructions
Place eggs in a pot and add water to boil them. Once done, remove from fire and set aside for cooling.
Remove the eggshells.
In a separate pot, boil some water and a spoonful of vinegar into it. Add the food color and mix well.
Place the boiled eggs in the colored water and let the eggs sit for 10 to 15 minutes.
Place the colored eggs on a paper towel and let them dry.
Cut the eggs into halves, scoop out the yolks and fill them with the filling of your choice.
2. Nuts or No Nuts
Well, if you think you are doing too much of pink or blue themed food items, you can take a break and treat your guests with some colorful and tasty snacking options with our favorite M&Ms. You can go with both nuts and no nuts options. Place them in quirky dishes and make a cute banner to state the ones that are with nuts and the ones that are sans nuts.
3. Fortune Cookies
These cookies will not be telling the guests about their future but these would surely be telling them whether you are having a girl or a boy!
Ingredients
Small chits of paper with 'it's a baby boy' or 'baby girl' written or printed on them
Fortune cookies
Instructions
Microwave the cookies for a few seconds or place them on a wet towel to make them tender.
Once the cookies are tender, open the flap and insert a chit in every cookie and fold it back.
You can place the cookie on the rim of the glass to restore its shape.
Serve cookies to all the guests at the same time and ask everyone to open the cookies together to reveal the gender of your munchkin!
4. Colored Popcorn
The all-time favorite snack is one of the best baby gender reveal food ideas for a party!
Ingredients
Popcorn kernels
Blue or pink food color
Butter
Granulated sugar
Salt
Water
Instructions
Prepare popcorn as per the directions mentioned on the box or packet.
In a pan, add water, sugar, and butter and bring to boil.
Now add the food color of your choice along with the salt. Mix well and keep aside.
Take the popcorns and pour the colored sugar mix on them and mix well.
Keep aside for an hour or more or until the mixture is no longer sticky.
Store in an airtight container in the fridge.
5. Chocolate Strawberries
Chocolate covered strawberries are a guilty pleasure that most of us love to indulge in and it also makes for a great luxury snacking option for parties. Here we will be lending it a little gender reveal twist.
Ingredients
Fresh strawberries
White chocolate
Pink or blue food color
Instructions
Heat white chocolate in a double boiler or microwave it until it melts completely. Add food color in it and keep aside.
Take strawberries and dip them in the melted chocolate.
Keep the chocolate dipped strawberries on a plate to set.
You can also make dark chocolate coated strawberries, in the same manner, to add more color and flavor options to your chocolate-coated strawberry platter!
6. Babies in Blanket Recipe
If you are looking for adorable savory options and wish to know what food to serve at a gender reveal party, well this recipe will surely tickle everyone's taste buds!
Ingredients
Small-sized smoked sausages
Frozen puff pastry
Camembert cheese
Egg
Dijon mustard
Blueberry or raspberry jam
Water
Instructions
Thaw and cut the puff pastry into equal squares and then cut the squares into triangles.
Mix a tablespoon of mustard and three tablespoons of jam (as per choice) and spread on each triangle.
Cut the cheese into wedges (almost the same size as sausages)
Place a cheese wedge and sausage in each triangle and fold the pastry ends to secure the filling.
Mix egg and a tablespoon of water in a bowl and brush the top of the pastries with it for a glaze and shine.
Bake at 425 degrees for 15 to 20 minutes or until done.
7. Muddy Buddies Recipe
Without a doubt, these are one of the tastiest and also fairly easy to make snacking options for a gender reveal party and you can add a hint of a blue or pink twist to it!
Ingredients
Corn or rice cereal (or any cereal of your choice)
Peanut butter
White chocolate chips
Powdered sugar
Vanilla extract
Blue or pink sprinkles
Instructions
Take a bowl, add chocolate chips, peanut butter, and butter, and microwave until all the ingredients turn into a smooth mixture.
Add vanilla extract into the mixture. Mix well.
In a big deep bowl, add cereal and pour the chocolate mix over it and mix nicely.
Spread on parchment paper and add sprinkles of your choice. Let it dry before storing in an airtight container.
8. Cookie Dough M&M Truffles
The best part about cookie dough is that you can use it to make a wide array of delectable delights and this one with M&Ms will perk up your gender reveal food menu!
Ingredients
White or dark chocolate
Cookie dough
M&Ms in pink or blue colors
Instructions
Scoop out cookie dough and place M&Ms inside it.
Roll the dough into a ball. Repeat until you make the desired amounts.
Melt chocolate in the microwave.
Dip the cookie balls in the melted chocolate and place them on a plate to dry.
9. Cake Pops
Cake pops not only look divine but they taste heavenly too and a hint of gender reveal twist will make them fabulous party food!
Ingredients
A cake
Cream frosting
White chocolate
Pink or blue food color
Sprinkles (optional)
Popsicle sticks
Instructions
Take the cake and crumble it with your hand.
Add cream frosting to make a dense mixture. Avoid adding too much frosting or else the mixture will turn too gooey.
Keep taking small portions and roll them into balls. Keep aside.
Melt the white chocolate in a double boiler or microwave it until it melts.
Add desired food color and coat the cake balls with the melted chocolate.
Place on a plate and insert popsicle sticks.
You can also sprinkle colorful sprinkles on top!
10. Chocolate Oreos
This yummy yet one of the simplest gender reveal ideas can be made with bare minimum ingredients.
Ingredients
Oreos
White chocolate
Pink and blue food color
Instructions
Melt the white chocolate to create a dip.
Prepare two bowls with pink and blue colors by mixing them with the white chocolate.
Take Oreos one by one and dip in the respective color bowls. Place on a parchment sheet to set.
11. Gender Reveal Cookies
This is a great gender reveal food idea and it looks utterly adorable too.
Ingredients
Cookie dough
Onesie cookie dough cutter
Royal icing
Candies or sprinkles in pink or blue color
Piping tip
Baking sheets
Instructions
Roll out the cookie dough and cut cookies using the onesie cookie dough cutter. You will need three cutouts to make one cookie.
Using a sharp knife to cut a small square from two cookie cutouts. Place one cutout cookie on top of the other cutout cookie and fill in the cavity with desired colored candies.
Seal with the uncut cookie as you secure the edges and top with royal icing. Decorate the top as desired with royal icing.
12. Gender Reveal Cupcakes
What better than biting into sumptuous cupcakes to know the gender of the baby at a gender reveal party.
Ingredients
Cake mix
Cupcake mix
Frosting
Food color of choice
Heart shape cookie cutter (or any shape)
Instructions
Mix the cake mix as suggested and add the food color of your choice and bake a cake. Cut a small heart using the heart cutout from it.
Place a heart each in each cupcake mold and fills the rest of the mold with cupcake mix. Bake as suggested.
Decorate with any frosting of your choice.
13. Gender Reveal Pinata Cake
A cake oozing with a surprise that shares the gender of your baby does not get better than with this pinata cake!
Ingredients
Three to four layers of cake
Frosting
Candies in blue or pink color
Instructions
Keep the layer to be used for the top and bottom of the cake intact.
Scoop a circle out from the rest of the cake layers.
Take the bottom layer of the cake, place the middle layers on top, and fill the cavity with candies. Place the top layer to secure the cavity.
Decorate the cake top as desired!
14. Baby Face Cookies
This unique and healthy gender reveal food idea will be a hit at your party!
Ingredients
Nutter Butter cookies in desired amounts
A cup of blue or pink candy melts
One black icing marker
Instructions
Take the desired colored candy melt and melt it in the microwave as directed.
Take Nutter butter cookies one by one and dip just half of it in the candy melt and keep on the parchment paper for setting. Make all the cookies in a similar way.
Take the black icing marker and make two dots on each cookie to make them look like eyes. Keep aside to set.
15. Licorice Straws
Who does not relish yummy licorice straws and if your guests love sweet treats then what better than keeping these on the menu! These straws come in a wide array of colors and flavors and you can pick and choose girlie or boyish colors for your gender reveal themed party. Sticking to basic pink and blue licorice may not be that bad an idea though!
Gender reveal parties are great to bond with friends and family members and you can make these parties or get-togethers more fun and exciting with some of these amazing food ideas.
Also Read: Baby Gender Reveal Ideas to Celebrate the Exciting News