Beautiful Christmas-Themed Baby Shower Ideas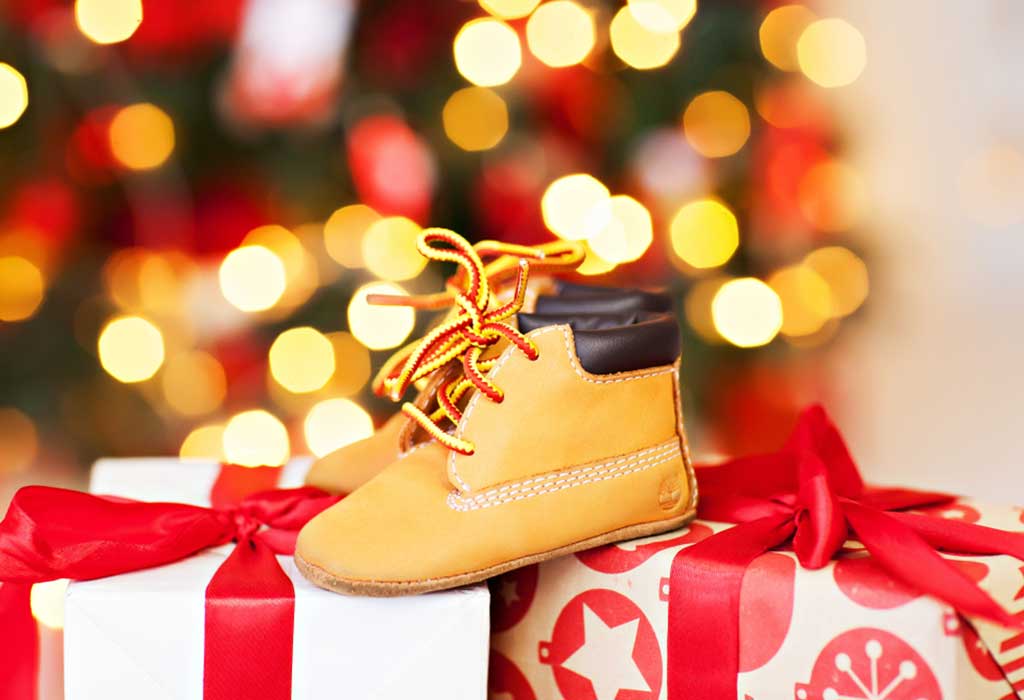 In this Article
Christmas is without a doubt the best time of the year, and if you are one lucky mommy-to-be who is planning on throwing a baby shower amidst the holly, jolly Christmas spirit, there is a lot that you can do to host the perfect baby shower! Brace yourself to know some creative and fun Christmas-themed baby shower ideas in the following post!
Creative Ideas To Throw Christmas-Themed Baby Shower
Here are some interesting Christmassy ideas that you can incorporate in planning your baby shower!
Christmas-Themed Baby Shower Invitations Ideas
Here's how you can plan the baby shower invites:
Have the baby shower invitation printed or written on any Christmas-themed printout such as little Santa Clause in a baby suit, snowman in a onesie, or gingerbread man wearing a diaper.
Alternatively, you can add the picture of the momma-to-be on a snowman (actually a snowwoman), reindeer, or even with a Santa clause. Do not forget to add and a little protruding belly to announce the baby's arrival for a winter wonderland themed baby shower!
Christmas-Themed Baby Shower Decoration Ideas
Christmas is all about merriment and joy, and what better than red and green to add more punk and appeal to your baby shower:
Place a Christmas tree and decorate it with pacifiers, baby booties, mittens, baby socks, little rattles, angel figurines, and place other baby things as ornaments.
Have streamers in red and green colours swung across the room. You can hang tiny baby cutouts on them.
Place stuffed toys underneath the Christmas tree!
You can light candles to spread some Christmas cheer and vibe too.
Christmas-Themed Baby Shower Centerpieces Ideas
Here are some breathtaking ideas for Christmas themed baby shower centrepieces:
Have a fascinating floral arrangement with a lot of red flowers and green fillers. You can either go with a single variety or different varieties of red flowers arranged in a single bouquet.
Another interesting idea would be to get a big bouquet of red and green balloons placed on the main table. You can also stick the balloon bouquet to the would-be-mommy's chair!
Make a three-dimensional snowman with balloons and stick a onesie or bib on it and place it as the centrepiece!
Christmas-Themed Baby Shower Food And Cake Ideas
Here are some options in food and cake that can be served in a Christmas themed baby shower:
1. Snowman Cake
Try this quirky cake idea for a perfect Christmas baby shower feel!
Ingredients
3 vanilla (or any preferred flavour) round cakes, baked in different sizes.
1 square cake
White Frosting
Chocolate Ganache
Edible white glitter
Candies to make eyes and buttons
Twigs
How to Make
Place round cakes on top of one another to fashion a snowman frame. Use white frosting to cover all three layers.
Place the square cake on top and use chocolate ganache to cover it to give this an appearance of a hat.
Place two twigs on the sides of the cake to make hands.
Use candies to fashion eyes and buttons.
And place the carrot to make the nose.
Use white glitter around the cake for a snowy finish.
2. Christmas Rice
This is a yummy main dish with a Christmassy twist!
Ingredients
1 cup instant uncooked rice
1 cup chicken broth
1 small green bell pepper, chopped
1 small red bell pepper, chopped
1 ½ rib celery, finely chopped
1 onion, finely chopped
½ tablespoon butter
Salt and pepper to taste
How to Make
Heat butter in a pan and sauté onion, celery, and bell peppers on a medium flame for 2 to 3 minutes. Remove from heat and keep aside.
Boil chicken broth in a saucepan. Remove from heat.
Add instant rice, pepper mix, salt, and pepper to the broth and mix well. Cover the mixture for 5 to 10 minutes. Mix well before serving.
Christmas Themed Baby Shower Drink Ideas
You can try some of the following drink ideas that can be perfect for a Christmas themed baby shower:
Any milk-based drink – call it a snow shake!
Eggnog – a classic Christmas drink
Nothing can beat a yummy hot cup of hot chocolate.
Yet another all-time favourite is hot apple cider!
Christmas-Themed Baby Shower Games Ideas
Enthral your guests with some of these exciting games:
1. Christmas Crossword
Get hold of printable crosswords on a Christmas theme and print one each for every guest. Give one crossword sheet and pen to each guest and have a time limit to finish off the crossword. The guest who finishes first will be the winner!
2. Christmas Bingo
Bingo is one of the best party games, and for your Christmas-themed baby shower, you can lend it a Christmassy twist. You can either have Christmas-themed ticket printouts or can stick tiny Christmas-themed popups on the corner of the tickets.
3. Gingerbread House Decoration Contest
This game can either be played as a group game or an individual (in smaller gatherings, it can be played at an individual level). Give gingerbread, frosting, sprinkles, etc., to every group for decorating their gingerbread house. The most beautifully decorated gingerbread will be given a prize, and the would-be-mommy can decide which one she likes the best!
Christmas-Themed Baby Shower Favors Ideas
These are some favourite options that you can consider:
Christmas chocolate pops
Christmas candles in a bag
Adorable Christmas cookie cutters
Gourmet popcorn hampers
Christmas peanut brittles
The holiday season and baby shower make for a perfect setting for hosting a gathering with family and friends. There is so much that you can do with a Christmas theme, and some of our suggestions mentioned above can also help you in planning a perfect Christmas-themed baby shower!
Also Read:
Amazing Baby Shower Ideas for Boys
Amazing Baby Shower Ideas for Girls
Fabulous Baby Shower Theme Ideas