15 Best Tv Shows to Watch When Expecting
In this Article
While pregnancy is an exciting time, it is also one of the most uncomfortable and exhausting times in life. Getting used to changes in your body, hormones, and mood can leave you worn out by the end of the day. Cuddling up on the couch with some snacks and a great TV show can be just the thing you need to de-stress and drift away from your own life for a little while.
Sometimes, watching shows about pregnancy or anything related is the last thing you want, but some women like to watch them because pregnant scenes in TV shows are relatable for them. The good times and the challenges that the characters experience can sometimes help them prepare for parenthood's many ups and downs. Here are some great Pregnant drama TV shows for you to binge on when you are expecting.
15 Must-Watch TV Shows During Pregnancy
With the vast number of TV shows covering many different topics, choosing something that will appeal to you or that you will find relatable can be a little tricky. That is why we have compiled a list of family-oriented series and TV shows with pregnancy storylines that will keep you engrossed.
1. Reba
Reba's ex-husband, Brock, gets his dental hygienist, Barbra Jean, pregnant, and at around the same time, Reba finds out that her teenage daughter is also pregnant. While Reba naturally did not like Barbra Jean at first, she finds herself liking her more as their family tries to navigate this strange new situation.
2. I'm Pregnant and…
This American show captures the stories of different pregnant women and how they handle some complex challenges as they navigate through the nine months of pregnancy. Some of the stories covered are about mothers who suffer from severe drug addictions, mothers who suffer from disorders such as Bipolar, as well as mothers who have to deal with pregnancy while being homeless. The show will tug at your heartstrings and remind you to be grateful for even the smallest blessings in life.
3. The Let-Down
In this Australian series, Audrey, a young mother, is looking for a bit of support as she tries to journey through the hormonal changes, sleepless nights, and unsettled emotions during her pregnancy. With a partner too engrossed with his career, and other mom friends with their own set of problems, she seems to be having a bit of difficulty finding the support she needs.
4. I Didn't Know I Was Pregnant
We have all heard intriguing stories of women who had no idea that they were pregnant until they felt the contractions start a few days before the birth of their children. This TV show is a compilation of stories like these, and it exposes the many medical reasons behind this strange phenomenon.
5. The Secret Life of the American Teenager
After a teenage affair at band camp, Amy becomes pregnant at the ripe young age of 15. Amy, who already had a boyfriend back home, now has to face the many trials of being a teenage mother. With a surprisingly supportive boyfriend, a family who needs some time to come around, and a frustrated baby daddy, Amy is in for the experience of her life.
6. Jane the Virgin
If you want humor with a bit of drama, pregnant TV shows like Jane the Virgin are the choice for you! It follows the story of a young virgin called Jane, who finds herself unexpectedly pregnant after being artificially inseminated during a routine visit to the gynecologist. Jane will now need to learn how to handle life while preparing for motherhood, despite being single and a virgin.
7. Babies
This informative series takes you through the development of babies as they get through their first year. New parents will find this extremely helpful and enjoyable as it covers every milestone a baby will hit during this precious time in life, all while featuring a host of cute babies.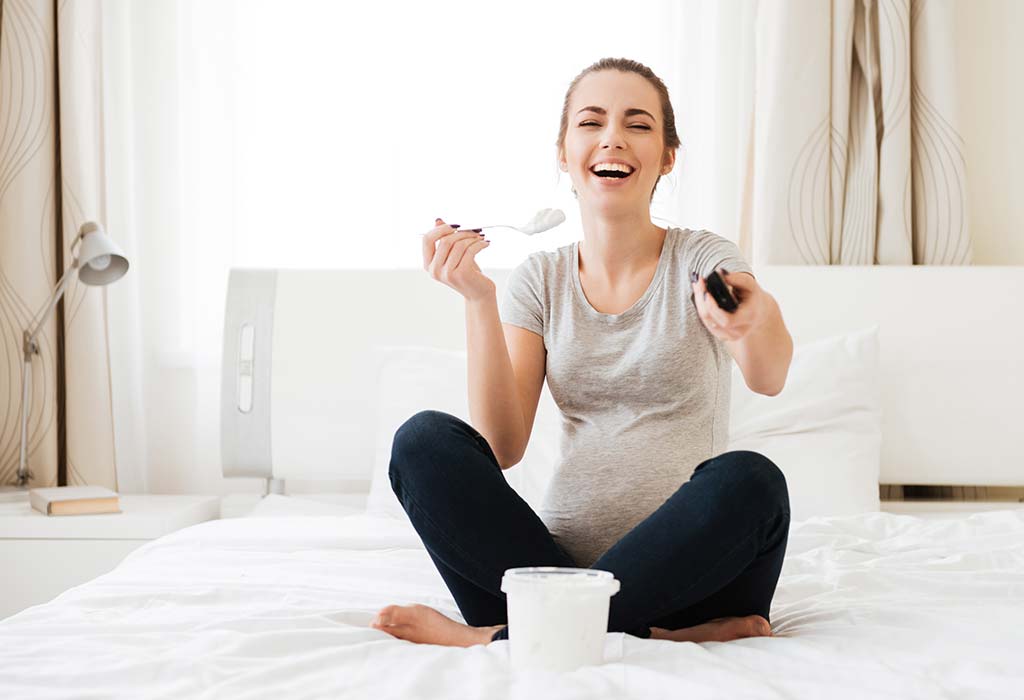 8. 16 and Pregnant
This MTV show features the hardships and trials that pregnant teenage girls face. It gives some insight into the lives of teenage girls from different walks of life and how they handle their pregnancies and relationships as they prepare to become young mothers.
9. Baby Daddy
Ben finds himself left with a baby girl to raise when a one-night stand from his past leaves her at his place. Clueless, Ben gets help raising his daughter with the help of his mother, Bonnie, his brother, and two friends. Funny and touching, this series switches things up and focuses on the bond between father and child.
10. Pramface
Teenagers Laura and Jamie are dealt a surprise when Laura ends up pregnant after a teenage party hook-up. While others their age were living everyday teenage lives, Laura and Jamie have to learn how to be both parents and partners as they prepare for the arrival of their baby.
11. Workin' Moms
Jenny, Kate, Frankie, and Anne are four moms struggling to find some balance between family and work, all while trying not to lose their sanity. They use their "Mommy and Me" classes to bond and share their struggles. This hilarious show covers topics that every parent deals with, making it relatable and enjoyable on another level.
12. Call the Midwife
This BBC period drama follows the challenges that midwives faced in the 1950s and early 1960s. The rather heroic attempts of the midwives to safely deliver babies, despite the odds against them, are highlighted in this intense and captivating drama. They brought severe topics like poverty, abuse, healthcare, incest, and prostitution to the show.
13. Offspring
This Australian show follows an OB-GYN, Nina Proudman. This comedy is a work-related show covering many pregnancy-related topics and gives excellent insight into many different aspects of parenthood and life. Some scenarios include unexpected family dynamics, surrogacy, pregnancy loss, IVF, babies who were switched at birth, sperm donation, and so much more.
14. Parenthood
This show dives into the complicated dynamics of a family and parenthood as it follows the Bravermans through many generations. The four main characters are siblings, Adam, Crosby, Sarah, and Julia, each going through a different experience while raising their children. From being a single parent to helping your child through puberty, almost every topic is covered in a relatable and touching way.
15. Catastrophe
This British show follows Rob, an American, and Sharon, an Irishwoman, as they find themselves bonded for life after a one-night stand leaves Sharon pregnant. The pair now have to figure out parenthood together, resulting in a hilarious clash of cultures and accents. This show brings to attention all the good things and the challenging parts of parenting, all while bringing in endless humor.
When you are tired and pregnant, TV shows can sometimes be your best friend at the end of the day. They are a low-energy form of entertainment that gives you the option of getting engrossed in someone else's story, leaving reality and all the stresses that come with it behind for a little while. So, pick a show that interests you and get started.
Also Read:
Listening to Music in Pregnancy
Best Movies to Watch When Expecting
Is It Safe to Watch Scary Movies in Pregnancy