20 Best Pregnancy Movies to Watch When Expecting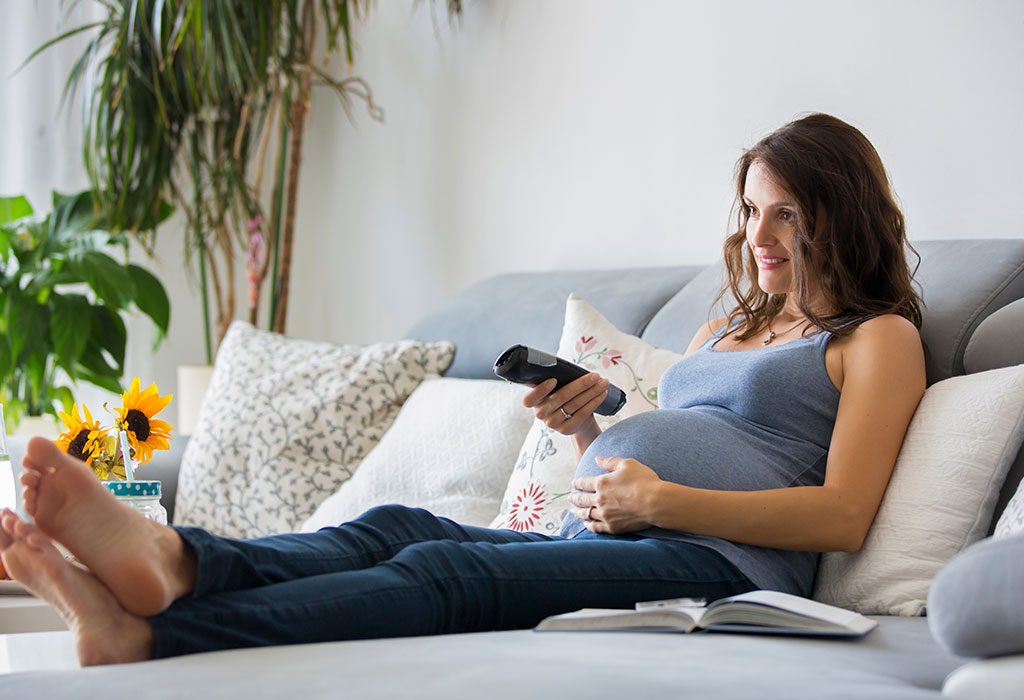 Being pregnant is no walk in the park, and between eating, sleeping, doctors' visits, reading up on pregnancy and making sure to curb those munchies, things can sometimes become a little too serious. It can be great to take your mind off things, which is where watching a few good movies come in.
Movies You Should Watch during Pregnancy
Here is a list of pregnancy movies for you to enjoy:
Bollywood/Hindi Movies
Here are some Hindi movies to watch during pregnancy:
1. Kya Kehna
The story of a young, unwed girl who defies Indian society by having a baby outside of marriage.
Story Line
This story revolves around Priya, a first-year college student who gets pregnant by the college Casanova, Rahul. While Priya was once everybody's the and had been doted upon by almost everyone who knew her, she turned into the social outcast and found herself alone and without much support for a long time.
What You Will Like
Though Priya at first seemed quite spoilt, she proves herself to be strong-willed and capable even when the going got tough for her.
The Takeaway
Doing the right thing when it seems the world is against you can be hard, but it is worth it, and it builds a stronger character.
2. Taare Zameen Par
A film that does not just entertain but that also sheds light on some relevant social topics.
Story Line
A story that takes you inside the mind of a dyslexic child who is not able to get much right in the way of homework, neatness or mathematics. When he is sent off to boarding school, an Art teacher called Ram Shankar Nikumbh takes him under his wing.
What You Will Like
This film captures the child's emotions beautifully and teaches that there is more to life than excelling academically and that there is more talent in children that never gets tapped when instead, it should be nurtured and encouraged.
The Takeaway
Give as much importance to the skills, talents and passions of your children than to their academics.
3. Anjali
A wonderfully emotional film that will glue your eyes to the screen, leaving you in tears.
Story Line
Chitra, the wife of Shekar, gives birth to a baby girl (Anjali) whom she believes is dead, but who was secretly being looked after by her doctor as she had not been expected to live through infancy. When Chitra finds out about her baby, she decides to bring Anjali home and look after her.
What You Will Like
The film looks into how people do not want their children to be around a mentally ill child, but even so, the family of Anjali accepted her and cared for her to the best of their ability.
The Takeaway
Rather than marginalise those who are different, we need to try and help them with love and acceptance.
4. Kahani
This powerful story shows a bold and determined woman seeking her missing husband.
Story Line
When Vidya travels from London to Kolkatta to find her missing husband, she realises that the city is full of lies when the clues conclude to imply that her husband does not exist. She is more determined now to find out the truth about what happened to him.
What You Will Like
Vidya is seven months pregnant, yet she is still independent and determined to get to the bottom of what happened to the father of her child.
The Takeaway
Just because you are pregnant, it does not mean you are weak or incapable.
5. Shaadi Ke Side Effects
The sequel to Pyaar Ke Side Effects is amusing and has a new feel to it.
Story Line
Sid and Trisha have overcome much to be together and are a happily married couple. But now that Trisha is pregnant, they have more important things on their mind.
What You Will Like
Through the ups and downs of marriage, the two of them stick together and show that rediscovering each other after marriage is the real thing.
The Takeaway
No matter what happens, couples make it through by being humble enough to apologise to each other.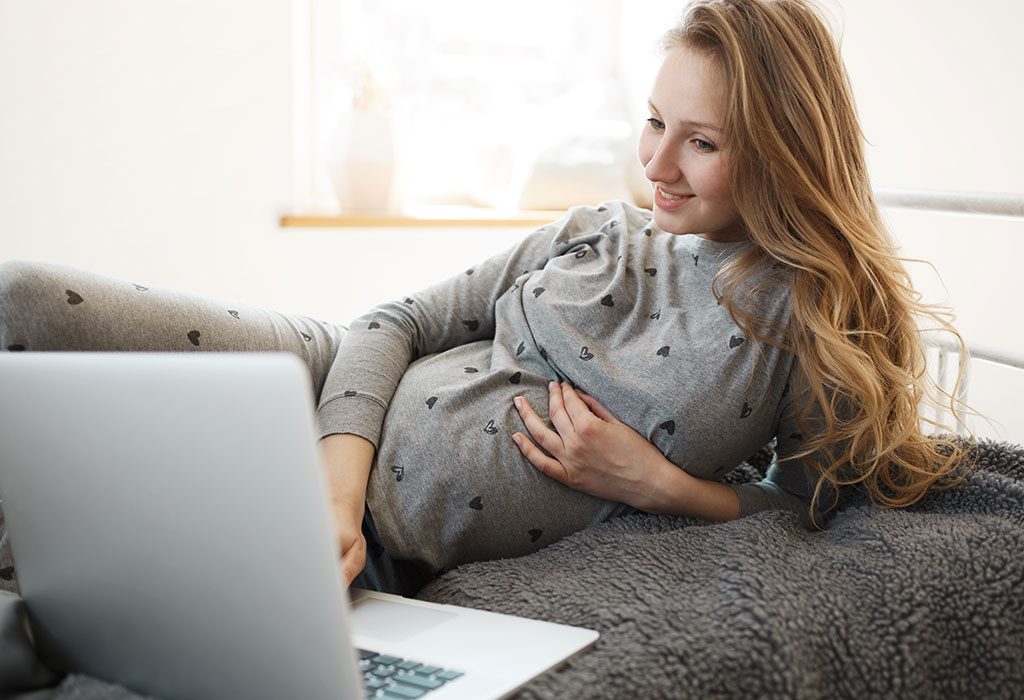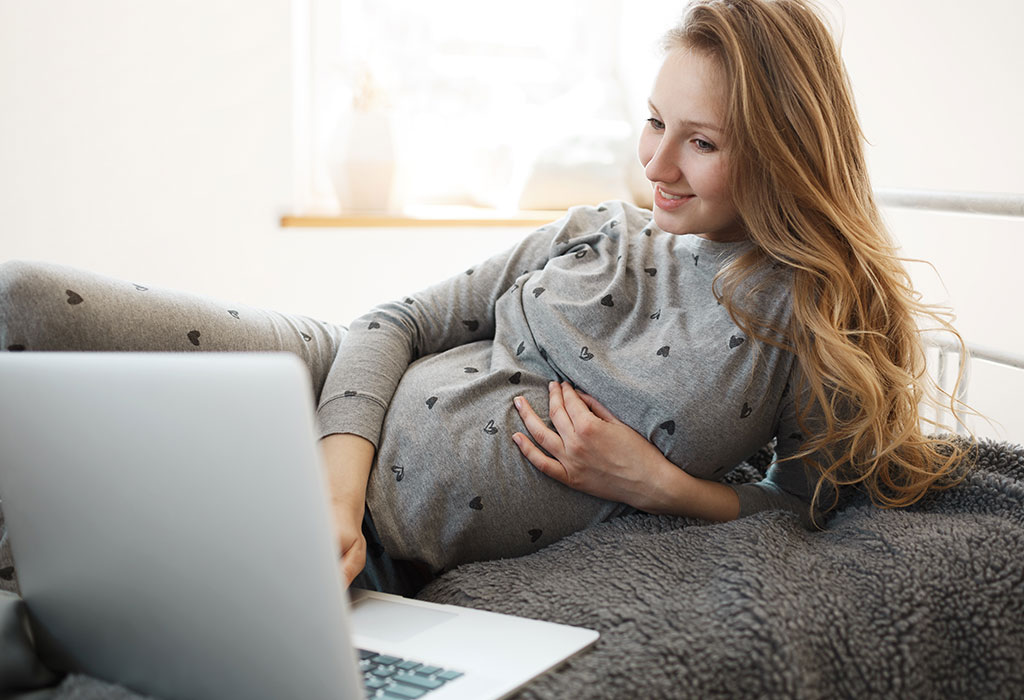 6. Mai
Though the story and the theme highlighted in this movie have been done many times before, this one is worth watching.
Story Line
Mai is the story of a woman who spent her entire life raising her children all by herself and who then is abandoned by them after they get married. The only one who does not see her as a burden is her eldest daughter, who takes her into her home.
What You Will Like
This movie highlights the importance and the beauty of a mother-daughter bond, as is shown when Madhu, Mai's eldest daughter, looks after her in her sickness.
The Takeaway
Not all children will sacrifice for their parents, but there are some that will do anything for theirs.
7. Salaam Namaste
This story introduces a topic that is not seen much in Bollywood, and that is life in relationships.
Story Line
The movie portrays the story of Nick and Ambar, two Indians living in Melbourne, who eventually fall in love and move in together. When Ambar gets pregnant, their relationship starts to fall apart because they do not see eye to eye; Ambar wants to keep the baby and get married, while Nick wants her to abort the baby.
What You Will Like
The movie portrays an honest version of what modern day relationships are like as living together is already a common practice among Indian youth.
The Takeaway
People are capable of getting over their fears and doing the right thing when love is involved.
8. Filhaal
A beautiful story that shows the bonds, ups and downs of friendship and parenthood.
Story Line
Rewa and Sia are best friends who are total opposites. Rewa is a homely and loving girl who settles down and gets married whereas Sia feels like her career is more important than settling down at this stage in her life. However, when Rewa cannot get pregnant, Sia comes to her rescue by offering to be her surrogate and carry Rewa's baby for her. But when Rewa regrets her decision and her husband too is not happy with it, Rewa and Sia's friendship ends up in serious trouble.
What You Will Like
Despite the difficulties, everyone makes it through and sorts out their differences; the film has wonderful soundtracks.
The Takeaway
Always think carefully before making life-altering decisions and do not make them based on emotions.
9. Chori Chori Cupke Chupke
This film deals with a topic that is pretty unheard of in India, sensitively and emotionally.
Story Line
When Priya has a miscarriage and her husband Raj is told that she will never be able to conceive again, it seems like there will be no biological children for this couple. A surrogate arrives in the form of Madhoo, who begins to fall in love with Raj as time moves forward.
What You Will Like
Though surrogacy is a topic that is very rarely discussed and not supported in India, this topic was handled with the correct amount of sensitivity and in a way that leaves a memorable and lasting impression on the audience.
The Takeaway
Love can sneak up on you when you least expect it.
10. English Vinglish
The story of a courageous Indian housewife that will leave you with a smile on your face.
Story Line
A sweet and gentle housewife is made fun of by her educated husband and daughter, so when she goes to Manhattan to visit her sister, she decides to join an English class and learn to speak the language.
What You Will Like
Though most would only see her as a simple housewife, she takes things in her stride and proves her resourcefulness, intelligence, and determination when she decides to do something about her situation and who learns to value herself a bit more.
The Takeaway
Being a mother and looking after the family and home is essential, but it is also good to do something for yourself now and then.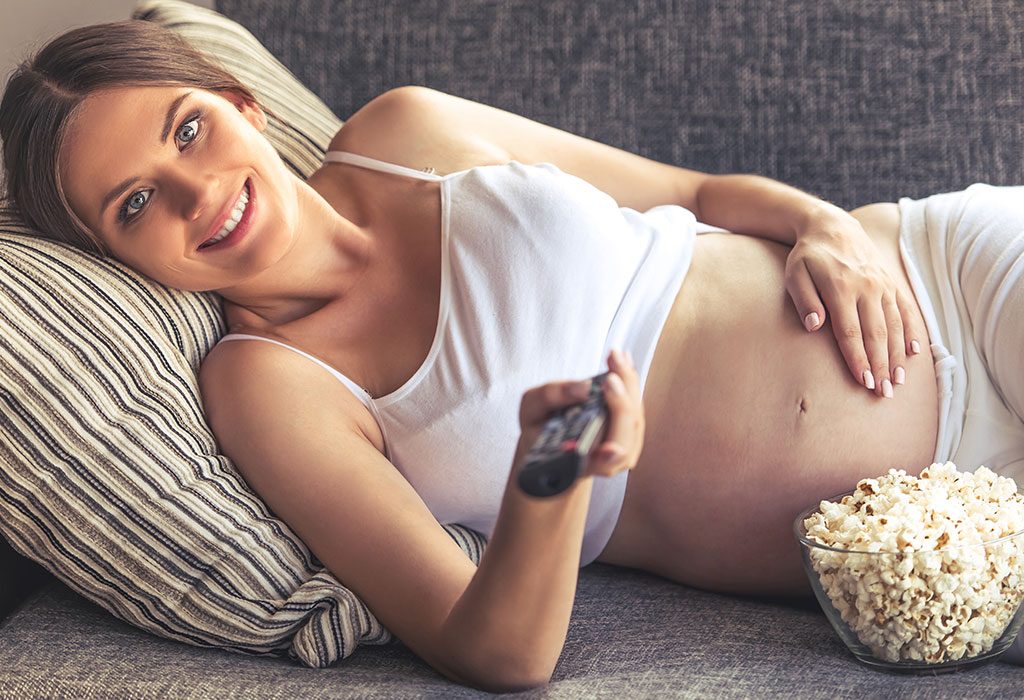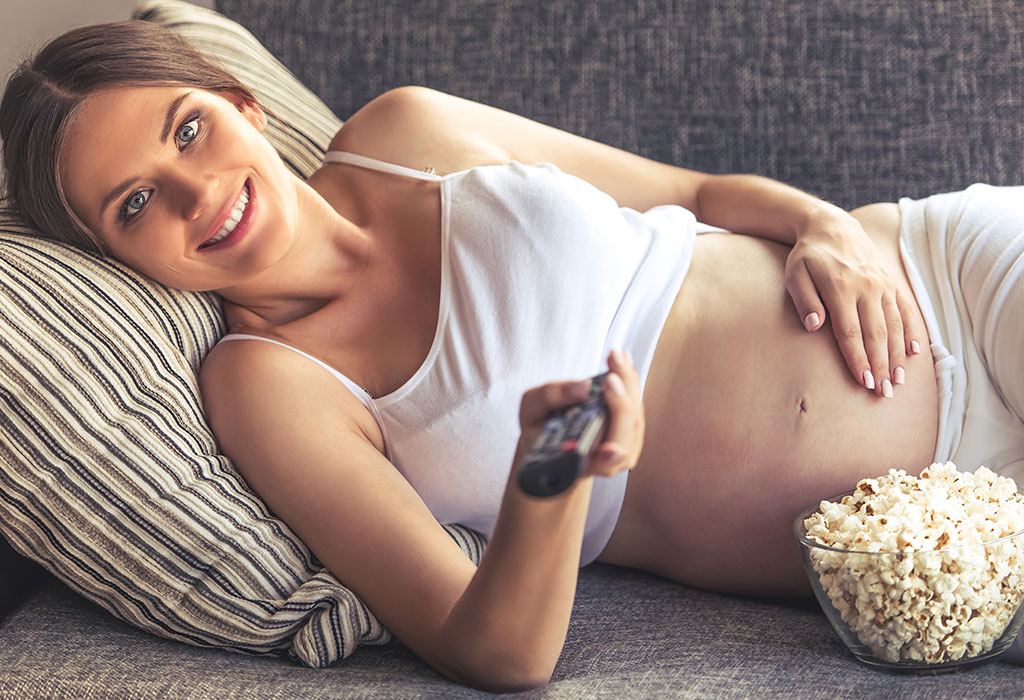 Hollywood/English Movies
Check out these English pregnancy movies:
1. What To Expect When You Are Expecting
One of the best romance pregnancy movies of all time.
Story Line
The lives of five couples change drastically as they begin to prepare to be parents. Uncontrollable hormonal changes, family rivalry, unexpected pregnancies; this movie has so much to offer!
What You Will Like
Each couple has a different story and different challenges to overcome, and it is interesting to see how they get through the pregnancy journey.
The Takeaway
Pregnancies and life can be very unpredictable.
2. Baby Mama
A comedy you don't want to miss.
Story Line
Kate is unable to have a baby of her own, and so she decides to go the surrogate route and enlists the help of working girl Angie. When Angie shows up at Kate's door with no place to go, Kate gives her a place to stay and tries to turn her into a model mama-to-be.
What You Will Love
Watching Kate try to turn Angie into the perfect expectant mum is hilarious, especially when Angie does things like tring to pass the picture of a squirrel for an ultrasound.
The Takeaway
Perfection is not a requirement when it comes to being a good mother.
3. The Business of Being Born
This is one of the few educational pregnancy movies that you can find out there.
Story Line
The Business of Being Born is a documentary on the history of maternity care in the US in order to understand how the system works and if the doctors could be doing things that will bring new mothers more harm than good.
What You Will Like
This film is something that is real and explores the different aspects of childbirth.
The Takeaway
While most people see childbirth as a miracle, there are some who see it as a business opportunity.
4. Father Of The Bride 2
Sequel to Father Of The Bride, this is a film that dads can relate to, no matter how old.
Story Line
George Banks must now come to terms with the fact that his baby girl is going to have children of her own. As George tries to take it in his stride, he is in for another surprise as his wife, Nina, also finds out that she is pregnant.
What You Will Like
This comedy makes for a great laugh as we see how mother and daughter experience pregnancy together.
The Takeaway
Sometimes age does not matter when it comes to having a baby.
5. The Backup Plan
The story of a modern day woman with a current day dilemma.
Story Line
Zoe decides to go with the backup plan that she had made for her life and decided to have a baby through artificial insemination, but as fate would have it, she meets her perfect man after she finds out she is pregnant.
What You Will Like
Though most men would have run for the hills if they found out the girl that they just met was pregnant, the young Stan in Zoe's life decides to stick it out because he is unwilling to let Zoe walk out of his life.
The Takeaway
Having a baby is a miracle that can bring people together in life.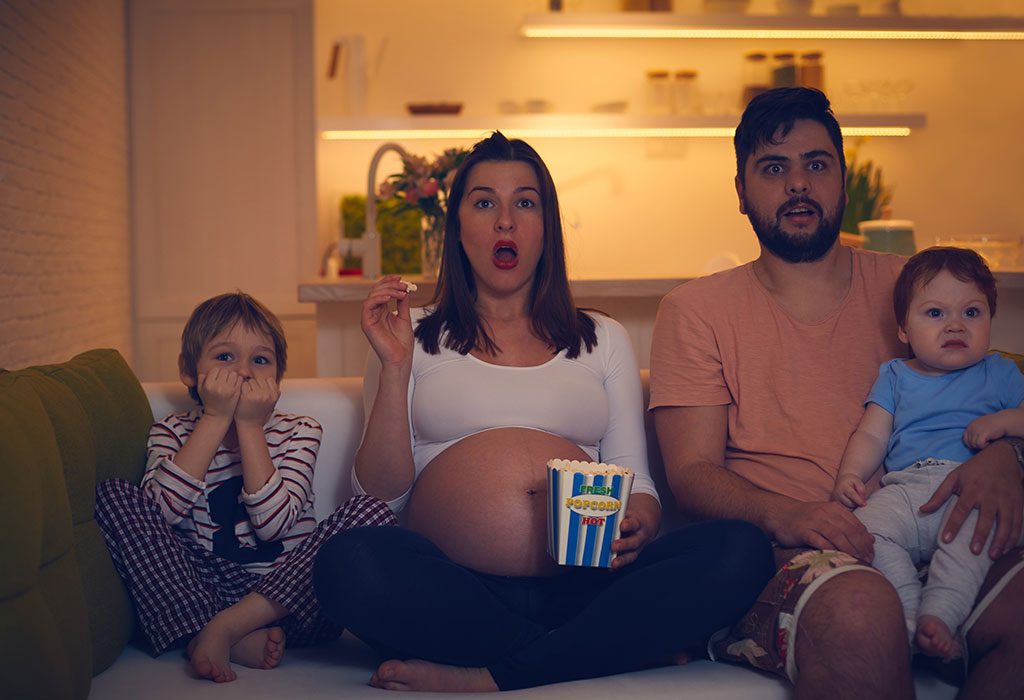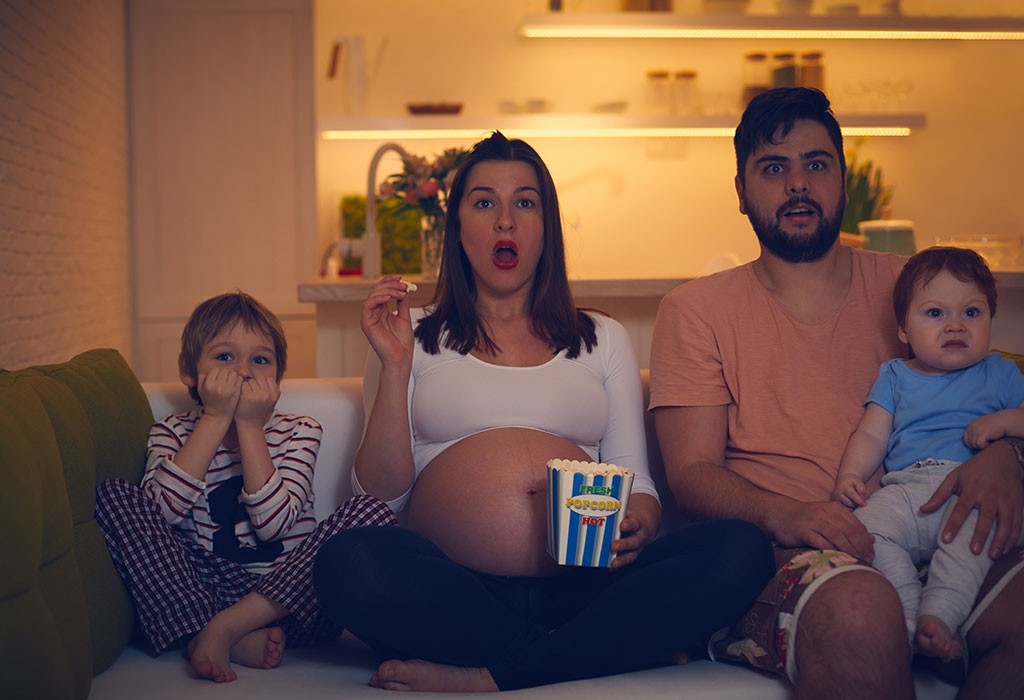 6. Nine Months
This hilarious version shows how a man reacts upon finding out he is going to be a dad.
Story Line
Samuel and Rebecca are living the perfect life when they find out that they are going to have a baby. While Rebecca takes it in her stride, Samuel seems to be in shock and finds himself struggling to come to grips with his impending fatherhood, often in the most awkward and hilarious ways.
What You Will Like
Samuels reluctance to let go of his sports car to buy an appropriate family car is something that a lot of men can relate to as it is a symbol of the loss of their freedom, but this movie shows how your family comes first at the end of the day.
The Takeaway
Having a baby makes men out of boys.
7. Look Who's Talking
Though it has a PG13 rating, it is a family movie that can be enjoyed by everyone.
Story Line
When Mollie finds out she is pregnant by an extra-marital affair, her life turns upside down. Having been dumped by her married lover, Mollie now has to have her baby on her own or find a father for him. The perfect man shows up in the form of a taxi driver who helped her when she went into labour on the sidewalk.
What You Will Like
The movie follows the baby right from the time he is a "sperm" and all the way until he is born. Mikey, the baby, is quite a sarcastic little fellow whose comments will have your tummy in stitches from laughing.
The Takeaway
It is so important to have both, a mother and a father to raise a child.
8. Away We Go
The sweet story of a couple trying to find the perfect place to raise their child.
Story Line
Burt and Verona are not living like adults and are expecting a baby, so they need to get themselves together and find a place where they feel comfortable and safe raising their child. They embark on a journey that takes them all across America and brings them in touch with people from their past.
What You Will Like
You will also get to see many different moms and how they raise their children in this film.
The Takeaway
Home is where the heart is.
9. Waitress
An unexpected pregnancy changes the life of a straightforward waitress.
Story Line
Jenna is a waitress who is married to a man she does not love. When she finds out she is pregnant, she faces some difficult choices. Things only become more complicated when she falls for her charming doctor, who is also married.
What You Will Like
Jenna has a gift for baking pies and the funny names she gives them are quite amusing.
The Takeaway
Pregnancy is tough, and you do not need to pretend to like it for you to be a great mom when the time comes.
10. Knocked Up
A classic romantic comedy filled with sarcasm which will keep you entertained.
Story Line
When Alison finds out she is pregnant after one night stands with a slacker named Ben, she has some tough choices to make. Her journaling career is suddenly taking the back seat to have a baby, and the rather strange couple tries to give their relationship a shot for the sake of the baby.
What You Will Like
This film covers everything from morning sickness to stressing about if your baby daddy is ready for fatherhood most comically and honestly.
The Takeaway
Trying to do the right thing can be hard sometimes, but it is worth it!

Is It Safe to Watch Movies in Theatre during Pregnancy?
It is safe for women who are in their first trimester to watch movies in the cinema, but during the second and third trimesters, they would do better to avoid cinemas.
Things to Remember while Watching Movies in Theatre
Here are some things to keep in mind while watching movies during pregnancy:
Select The Right Cinema: Some cinemas provide pregnant women with pillows to cover their bellies and unique seats with room to recline and special exits where pregnant women can leave the theatre without having to join the crowd.
Avoid Too Much Crowd: Going into a crowd could injure you and your baby as well as increase your chances of contracting a respiratory disease.
Sitting Position: When choosing a seat, go for the ones close to the isles and in the last rows as these are not preferred by many. They also have the added benefit of being closer to the exit.
Loud Noises: Being exposed to high volumes of sound for around two hours is not suitable for pregnant women and often causes stress in the body, which impacts the fetus negatively.
Weak Light: When made to stare into the only light source in otherwise total darkness can ruin a person's eyes, leading to a severe headache.
Foods Served At The Cinema: Avoid eating anything bought from the cinema as it is mostly junk food and stick to water and a bit of popcorn if you do feel like having something.
Choose The Right Show Time: Pregnant women should avoid going to shows during the first week of a film's release as this is a time that is bound to be crowded. Also, make sure that you choose a day show and not a night show as most people are at work.
Try Going With Family: Do not go to the cinema alone when you are pregnant as it is just not very safe. The cinema is dark, and there is a high possibility to trip and fall. Whether or not your bump is showing is not important in this case.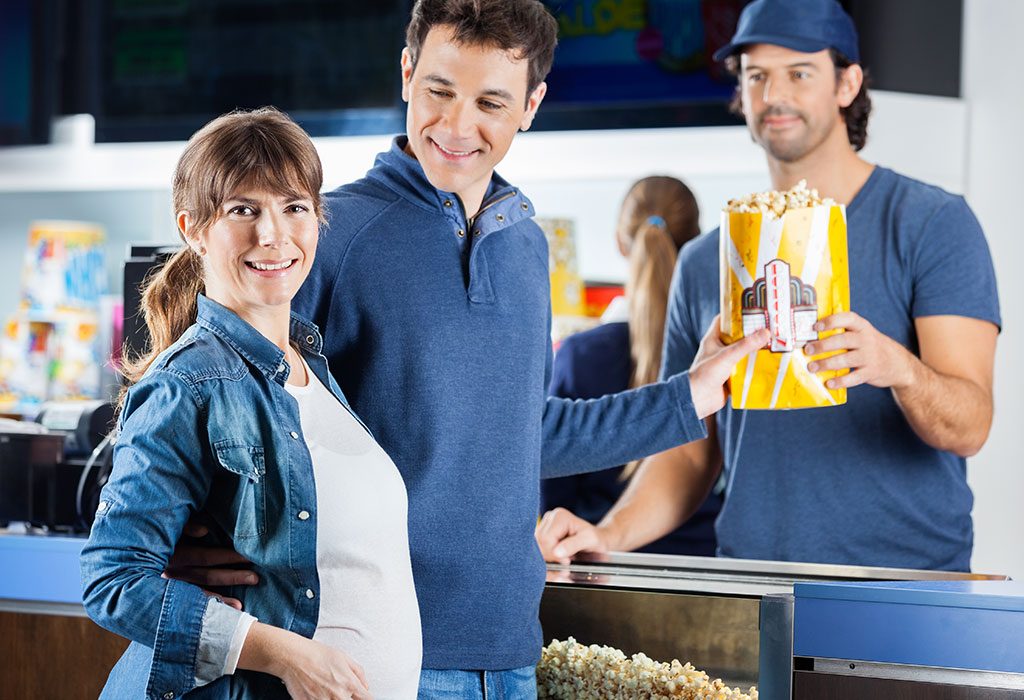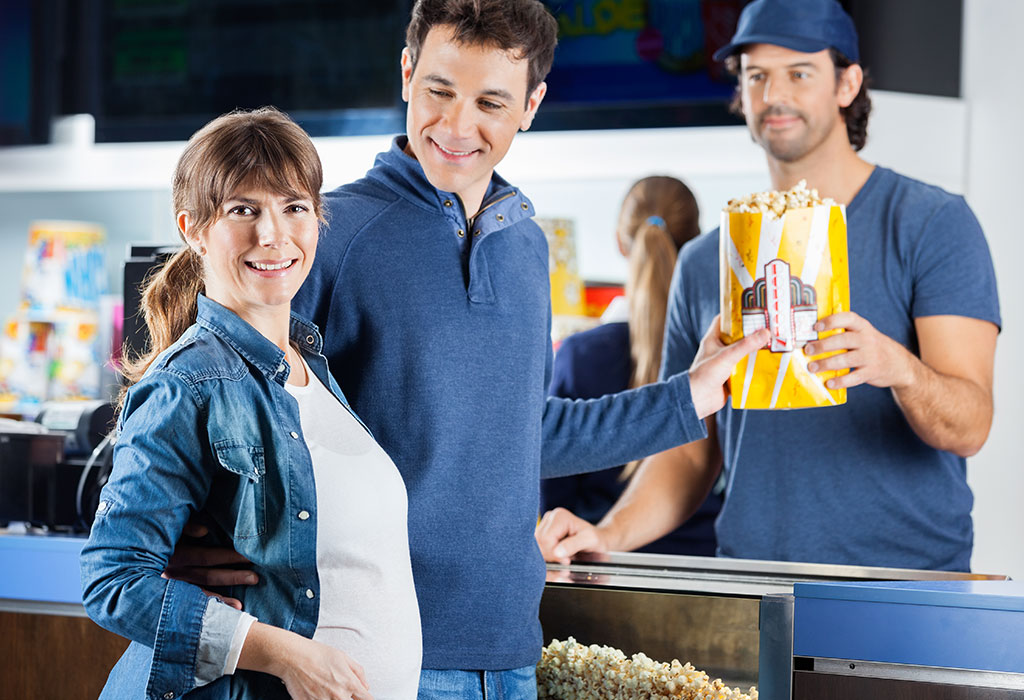 Now that you have a list of good pregnancy movies to watch, put your feet up now and then, get comfortable and enjoy.
Also Read: Top 10 Fun Things To Do When Pregnant