8 Things You Should Avoid Doing When Wearing a Saree During Pregnancy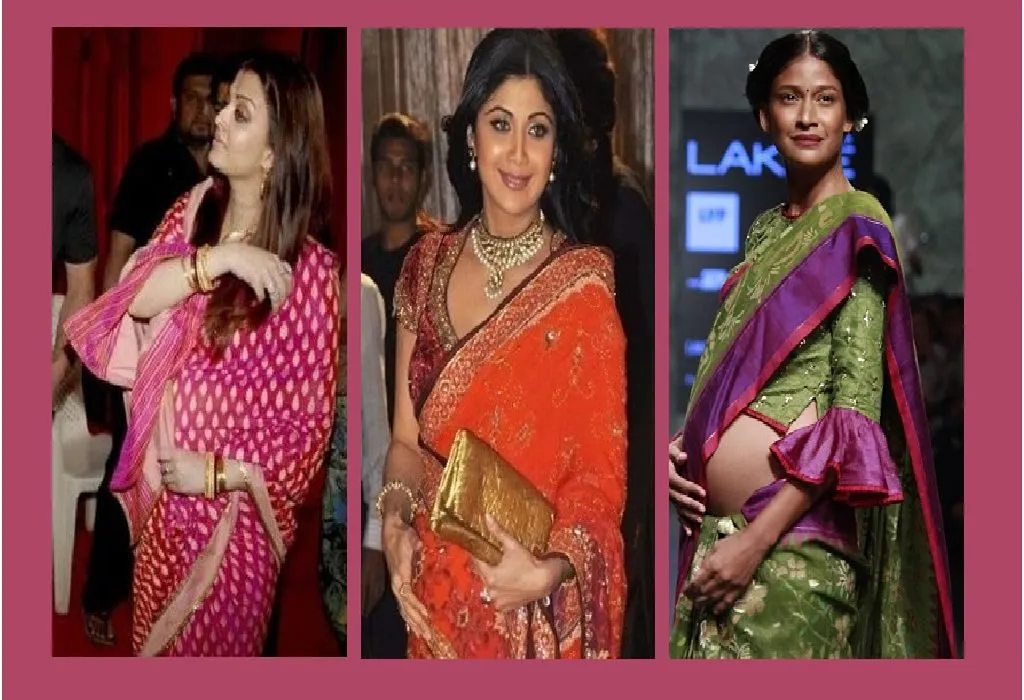 In this Article
Nothing brings out the elegant side of you as well as a saree does, and pregnancy should never stop you from adoring that garment. Simply avoid a few mistakes and you are absolutely good to go!
Those 6 yards of elegance are simply incomparable. No other dress you wear can be quite as charming, right? However, come pregnancy and many women become wary of putting a saree on due to various reasons, the major one being showing of the baby bump. The garment can make you look larger than you already are and can cause you to expose your belly, which many are not comfortable with.
However, such concerns should not let your enthusiasm die! In case you have any wedding functions or a traditional ritual coming up, choosing a saree should definitely be on your list. Just avoid these 8 mistakes and you will look nothing less than a diva!

Things to Avoid while Wearing a Saree during pregnancy
1. Not Using a Belly Band
Many women are not particularly comfortable with showing off the baby bump much. However, wearing a saree without a belly band simply aggravates the problem. Also, choosing a belly band that matches with your saree colour (or comes close to it) is very important or else it will clearly stand out. Once the belt is placed, you could wrap a fabric around your belly before draping your saree and your problem will mostly be solved.
2. Choosing The Wrong Draping Style
One wonderful part of being pregnant and wearing a saree is that you could ditch the usual way and experiment with your draping style. The major concern area for women is mostly the stomach, and draping is the most common step where women make mistakes. A good way to avoid showing the baby bump would be to adopt a style of draping that starts above the bump instead of below. Ensure the pleats fall well. You could also experiment with the 'Gujarati style' of saree draping.
3. Heavy Embroidery Is A Big No No
No matter how much you love the bling, it isn't a good idea to wear too much of it when you are planning to wear a saree during pregnancy. Not only do they add to the weight of the fabric, they can also make you look larger. Instead, opt for small prints and motifs like florals, as they work the best at this time.
4. Wearing Broad Border Sarees
Broad borders flatter and accentuate curves and therefore will highlight the extra weight you put on when pregnant. Sarees with thin borders or no borders give you a taller and a leaner appearance and therefore you will be more comfortable wearing them. When selecting sarees for pregnant ladies, pay very close attention to this aspect.
5. Opting For Traditional Blouse Patterns
The length and pattern of your blouse is as crucial as the entire saree. Traditional blouse length and patterns may not flatter your pregnancy body well, and could also be slightly uncomfortable. Therefore, go for long sleeved blouses and experiment with patterns. You could also try a 'choli' style blouse that will cover you up to the midriff, ensuring sufficient length to cover your tummy. Make sure the blouse isn't too tight on your stomach and waist, especially while sitting, to avoid discomfort. Check out Carol's fashionable but comfortable blouse – loose sleeves, well-covered and uber stylish!
6. Not Paying Attention To The Saree Colour
It isn't just about what colour suits your complexion anymore. Lighter coloured fabrics reflect light more, therefore highlighting all parts of your body including the ones you would want to ideally hide! Therefore, choose darker colours that will help you in hiding the concerned areas.
7. Doing The Traditional Pleating
A very common mistake that many women make during pregnancy is that they wear the saree just how they would normally wear it, making the multiple pleating. However, that is the practice you should definitely avoid. While you are making the pleats, follow the right saree draping tips: Refrain from making small ruffled pleats. Instead, make them at least 3 cm wide and keep it together with the whole drape, before bringing the pallu to the front. This will help in covering half the belly.
8. Wearing Heavy Fabrics
Picking the right fabric is definitely an area you must pay attention to. If you are in your third trimester, wearing a saree could feel extremely heavy and uncomfortable. To avoid this, opt for lighter fabrics like chiffon and georgette as these will let you breathe easily and are quite manageable. Besides, these fabrics are not too stiff, and hence will be easier to carry if you are going to wear them for a longer duration.
The trick to donning the perfect saree lies in avoiding these mistakes. Just follow these tricks and you would be good to go!!!