What Parents Should Know While Camping With Toddlers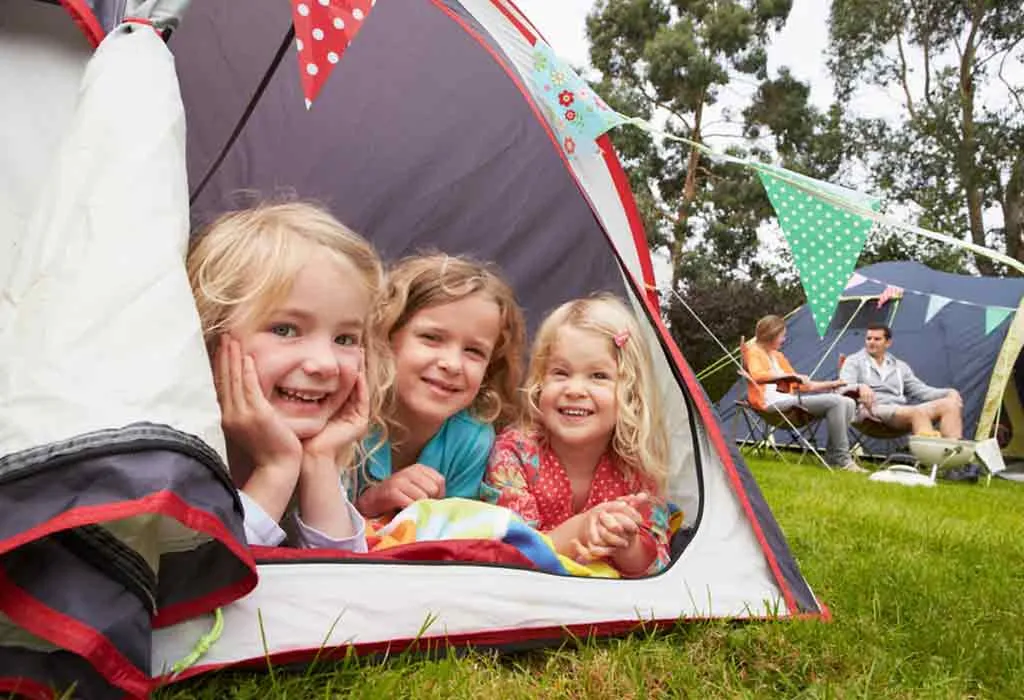 Your first camping trip with your toddlers can be very exciting, especially when your family is crazy about the activity. Camping provides families with the perfect opportunity to bond and has a fun time, but this might sound like a disaster when babies are involved. However, camping trips with toddlers can be a great experience when you know exactly what you are up against. Read on to learn more about what you must keep in mind when planning on a family camping trip with your toddler!
How to Prepare for Camping With a Toddler
The first thing you need to do is to make sure you pack the right gear for the trip! While each child has varying needs, here are a few camping must-haves for toddlers to pack:
1. Food
Children love to eat, but the exploration will burn extra calories when they are camping, making them hungrier than usual. Therefore, make sure you pack enough foods with easy-to-pack, nutritious snacks like granola bars, veggies, fruits, crackers, and nuts.
2. Clothing
Before you pack your clothing, consider the weather at the campsite and the activities you are planning on doing. Make sure you pack hats, gloves, and socks if you feel that the nights get colder. Pack the perfect bedtime attire for the children.
3. Sleep Aids
Your toddler will most likely be up most of their bedtime during the first night because of the change. You cannot avoid this, but you can still make this initial discomfort a bit better by packing some sleep accessories they are familiar with. This would be your toddler's favorite blanket or a stuffed animal.
4. Baby Gear
Make sure you take your baby-carrying device with you, along with a bag carrying the essentials. This would allow you to have a hands-free exploration time! Be sure to create a 'camping with toddlers' packing list for the trip!
What Must the Schedule Include?
You might want to keep the schedule really simple with activities you think will make for a great time. You could consider adding the following camping ideas for toddlers to your schedule:
1. Excursions on short trails and exploration of nature
Since toddlers will not be able to go on long, complex trails, you could look out for short trails where the entire family would have a great time!
2. Cooking together
Cooking together can be a great activity but be sure your toddler maintains a safe distance from the fire.
3. Nap times
Toddlers may get really tired during their time outside, so nap times must be included in your schedule.
How to Select a Place for Camping With Toddlers
When you are planning on camping with a toddler, there are a few things that you would want to consider. When you take these factors into consideration, you will be able to have a relaxing camping experience with your family!
1. Choose a campground that has child-friendly activities
When you choose a campground, make sure you go for one that has kid-friendly activity options like easily accessible areas to explore and shorter hikes. Since toddlers will not be able to wade through a stream or scale a steep area, go for the safer ones for the family. You could even consider campgrounds that provide additional activities in the area like a playground, swimming pool, and other such planned activities.
2. Pick a family-friendly campground
Go for a campground that has family-friendly amenities and lodging options. This will make sure your little one has the best camping experience!
Safety Tips for Camping With Toddlers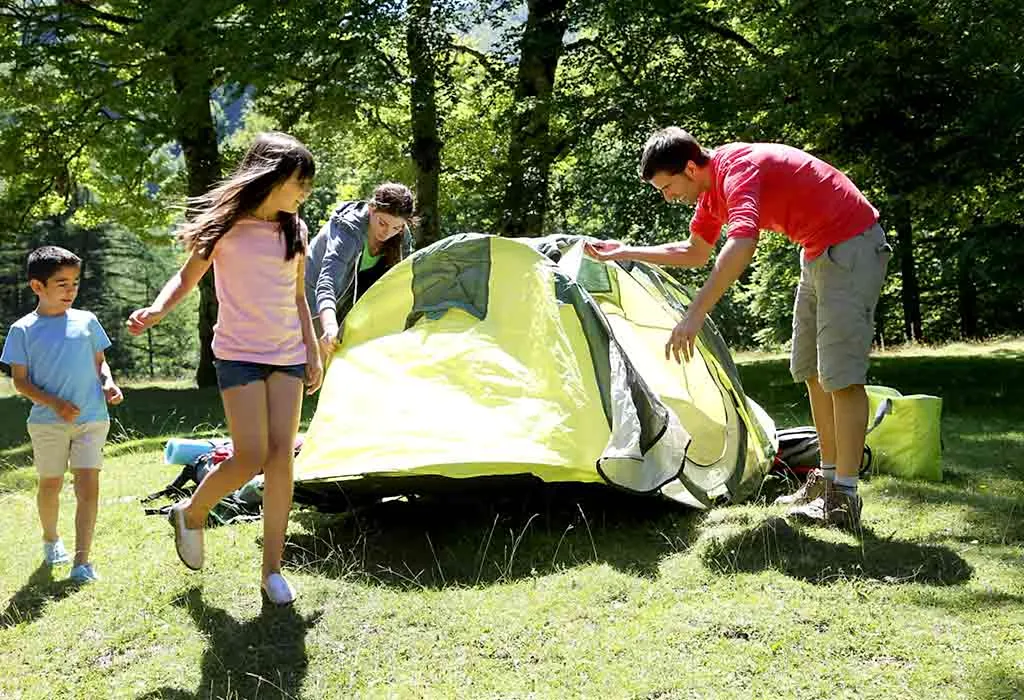 When camping with a toddler, nothing is more important than having a safe time. A fun camping experience is necessary, but you could never have to cut down the fun due to a medical emergency. You could consider the following safety tips in order to prevent any problems:
1. Check the area
When choosing a campsite, try to go for the ones that have barriers on at least three sides of the area. These barriers would be fences or even specific shrubs that separate one campsite from the surrounding regions. This will act as a gate and prevent your toddler from wandering off to an unknown area. Therefore, once you arrive at the campsite, the first thing you must do before setting up is taking some time to explore the area. Pick up any trash that seems dangerous and make sure you know where the potential hazards are, like poison ivy.
2. Take the essentials
Bug Spray and sunscreen are essential in any camp trip, especially for ones with toddlers. These should be applied to the toddler frequently, so get a product that will be suitable for toddlers on camping trips. However, do not forget to take enough for your entire camping team because your camping experience would not be fun when there are a bunch of mosquitoes or painful sunburns.
3. Maintain a safe distance from the fire
During a camping trip, you are most likely to use a grill or a fire for cooking. While a camping trip can be the best time to teach your children about fire safety, you could still make sure the fire is lit a bit away from your children and the tents. You could do this by setting a special chair for your child to sit in while cooking and keeping this at a safe distance.
4. Set the camp up first
Once you have checked the area of the campsite, set up your camp. When camping with children, you will not be using this just for resting and sleeping. Your lodging would be necessary for naptimes, diaper changes, and to protect the child from unexpected rains. Therefore, set up your cabin or tents (if you are tent camping with toddlers) as soon as possible!
5. Take a first aid kit
People usually pack first aid kids for camping trips, but when a toddler is involved, you could make sure to take extra first aid items your toddlers usually use. These could include:
Antiseptic swabs
Band-Aids (with cartoon images if your toddler loved cartoons)
Larger gauze pads and tape
Tweezers for removing slivers and ticks
Butterfly closures
Pain relievers and antihistamine in both adult and child dosages
Anti-itch lotion and bug sting wipes for stings and mosquito bites
Bug repellent and sunscreen
You should also remember to take any other allergy medications or medicines your child would require in emergencies.
Camping Activities With Toddlers
Planning activities can be different when toddlers are involved since they have shorter attention spans, especially when they are in a new and different place. Therefore, you will need better activities like the following:
1. Cloud Watching
Pick an exact spot amongst the trees and have a small conversation about clouds with your little one. You could ask them to imagine shapes and figures in the clouds.
2. Stargazing
Depending on your toddler's bedtime, you could all sit under the night sky and stargaze. Children would definitely love this activity.
3. Nature Scavenger Hunt
One of the best ways to explore nature is to include them in a nature scavenger hunt. If there is an adult to help, your children would definitely love the activity.
4. Campsite amenities
If your campsite has fun amenities like playgrounds and swimming pools, then be sure to check those out. This would help your children feel comfortable and have a fun camping experience.
Camping is not like a vacation, and the key to having a great camping experience with a toddler depends on preparation. With these tips, you will definitely be able to have an amazing time!
Also Read:
Fun Things to Do With a Toddler
Yoga for Toddlers
Engaging Outdoor Toys for Toddlers and Children