Top 7 Children's Stories by Sudha Murty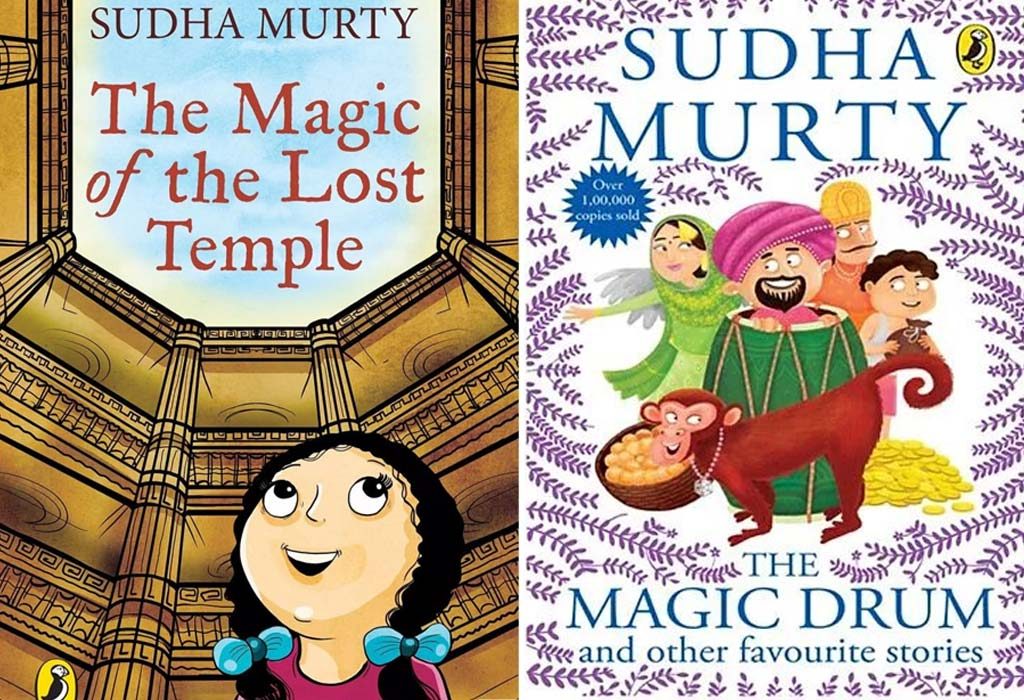 In this Article
Summer holidays are here – your kids are happy, free, and full of harmless mischief! You're probably already worried that your little one will spend way too much time in front of the TV when the harsh sun is out. Well, summertime is the best time to get your child into the habit of reading, as it can develop her brain in more ways than one. Not only will reading send your child into an imaginative state that is limitless, but it will also strengthen her vocabulary and grammar. It's a win-win for you both!
Author of the Month for April – Sudha Murty
Our handpicked author for this month is none other than Sudha Murty. Murty is an engineer, teacher, and an award-winning author in Kannada and English literature. She currently is the chairperson of the Infosys Foundation and is a member of public healthcare initiatives of the Gates Foundation. The wife of Infosys chairman Narayana Murty, Sudha Murty is known for her social work and her literature. A winner of the Padma Shri and the R K Narayan Award for Literature, Murty's work is something every person should get their hands on!
7 Stories by Sudha Murty Every Child Must Read
Sudha Murty has written several books over the years, some of which are perfect reads for children aged 6 and above. Her stories go from fiction and fantasy to some non-fiction, making them compelling reads that can encourage a child's imagination to soar. Below, we have for you a list of books by Sudha Murty that are ideal for your child.
1. The Magic of the Lost Temple
Little Nooni is off to spend some time with her grandparents in their village, and she gets to do several engaging things there – mgrammarake papads, organize picnics and learn how to ride a bicycle. Her trip becomes interesting when she discovers an ancient well in the middle of a forest, and thrilling when the secrets of this well are slowly uncovered by her and her friends. This book is sure to keep your little one gripped from start to end!
Why Your Child Should Read This Story
It will instill a sense of adventure and curiosity in your child.
It will give her a sense of independence, especially if she wants to live away from home with her grandparents.
Your child can learn a thing or two about ancient history, owing to Murty's incredible knowledge about ancient history being present in the book.
2. The Man From the Egg: Unusual Tales About the Trinity
What better way to get your child interested in Hindu mythology than this? In this book, Murty has explained the concepts of the Holy Trinity of the Hindu Gods in a manner that is fun, entertaining, and easy to understand. Some of the stories of these Gods are unknown to most of us, and your child (and you!) can read these for information and entertainment alike.
Why Your Child Should Read This Story
It will introduce her to Hindu mythology.
It will instill a sense of imagination in her.
The compelling stories might spark a creative streak in her.
3. How I Taught My Grandmother to Read and Other Stories
What if some of your mundane real-life events turned into memorable stories? This book by Murty is a set of real-life incidents that have their own twists and turns. Be prepared to take a train journey with the President, getting extra marks because of a teacher's counting error, or for your grandmother to ask your help to read!
Why Your Child Should Read This Story
This book will make your child's imagination soar.
She will find the beauty in boring, everyday things, and enjoy them.
She will develop a sense of optimism.Children's Stories by
4. The Bird With Golden Wings: Stories of Wit and Magic
This collection of stories are nothing but magic – each and every story is bound to grab your child's attention! These stories have incredible morals that your child will surely benefit from.
Why Your Child Should Read This Story
It will teach your child about the value of doing good to others.
It will teach her how to help those in need, and ignore those who bring others down.
It will teach her that good actions are priceless.
5. The Magic Drum and Other Favourite Stories
A collection of stories that include ones that Murty's grandparents once told her, your child will not be able to put down this captivating book. Whether it is a clever princess who finds herself a suitable groom using nothing but a question, or a couple that gets saved by a magic drum, these short stories will allow your child's imagination to soar!
Why Your Child Should Read This Story
These stories will teach her how to get out of sticky situations using her wit.
They will teach her the importance of listening to her grandparents and people of the older generations.
She will learn how to ask questions to satisfy her curiosity.
6. The Upside Down King: Tales About Rama and Krishna
Murty's latest book contains stories of Rama and Krishna, two of the most well-known mythological characters. If you want to introduce your little one to the vast space of Hindu mythology, look no further!
Why Your Child Should Read This Story
It will help develop her interest in mythology and its characters.
She might pick up the good qualities of these deities and practice them in real life.
These stories might give her the courage to be brave and strong.
7. The Serpent's Revenge: Tales From the Mahabharata
There are very few people who don't know about the Mahabharata! As you have probably grown up listening to the great stories of this epic, you can give your child the same gift – reading the compelling and interesting stories of the Mahabharata itself! These magnificent stories are written in a simple, clear language that can be understood by young children.
Why Your Child Should Read This Story
This will introduce her to one of the most popular epics of Hindu mythology.
This book will help create a bond between you and her, since you may also have grown up hearing these stories.
The different characters of the book might inspire her to carry out the lessons of the Mahabharata in real life.
So, these were our 7 favourite books by author Sudha Murty. One of the best things about her work is that it is easily understandable and readable, and this will definitely help your child polish her creativity, her grammar, and her vocabulary. Give your children these books to read, and watch them spend their summer vacations productively!
Also Read:
Top Children Stories by Enid Blyton
Best Children's Stories by Roald Dahl
Top Kid's Stories by Ruskin Bond