10 Fabulous Non-Violent Video Games for Children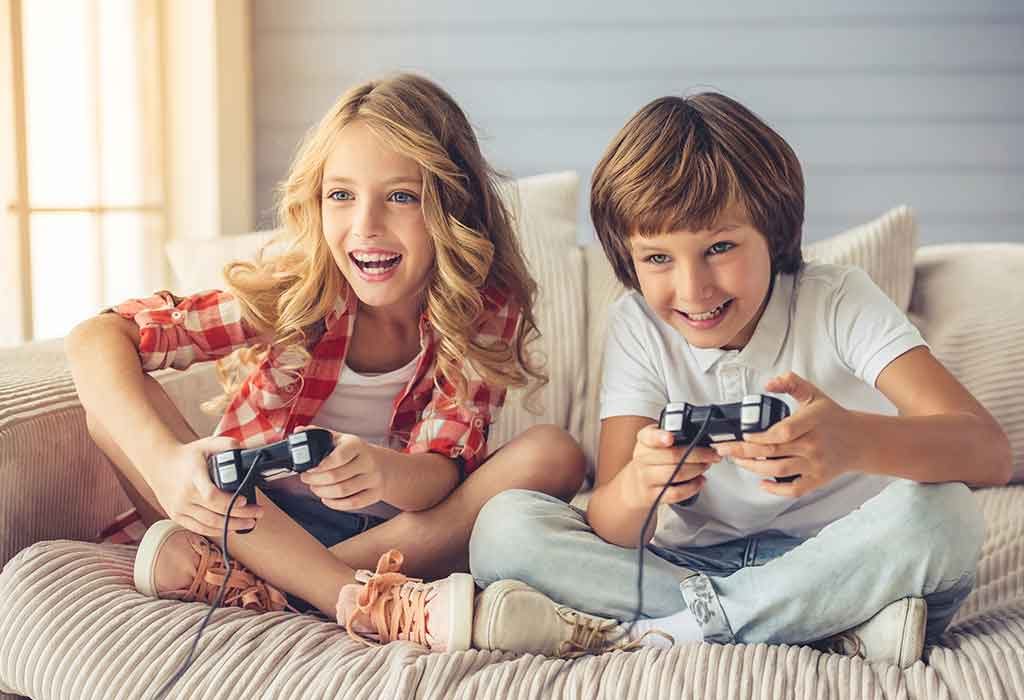 In this Article
Video games need not be violent. There are non-violent games that focus more on exploring and increasing kids' mindset and even developing vocabulary. These non-violent video games are available on Xbox One, PS4, etc. Kids can solve puzzles, play sports and learn a lot while they have fun playing them.
Best Non-Violent Games for Kids
Check out these best non-violent games your kids can play:
1. Pix the Cat
Platform – Play Station 4, Play Station Vita, Windows, Nintendo Switch, and Xbox One.
Pix the Cat is a downloadable arcade game. The players play as the titular kitty in different modes where they have to scoop up eggs at each level and deposit them in a single-serving nest without crashing the long, growing tail. The game has depth and scope, and it involves a lot of concentration. Except for the occasional crash in the wall and animated obstacles, it has no violence.
2. Crossy Road Castle
Platform – Apple Arcade
Exclusively built for the Apple arcade, it is all about grabbing coins and dodging hazards with friends. The players are cast as farm animals to scale over a growing tower with random floors. It has no objectionable content other than jumping on blocky birds or creatures to knock them out.
3. Captain Toad – Treasure Tracker
Platform – Nintendo Switch, Nintendo Wii U
It is a puzzle adventure game for kids with simple controls and an easy learning curve. With no inappropriate content, it only features turnips being swung at creatures that disappear into smoke when hit. With beautiful and charming graphics, it is sure to amuse kids!
4. Grow Home
Platform – Windows
Great for kids interested in robots and galaxies, this game is all about having an outing with robots tending to intergalactic plants. It is a clean, fun, downloadable game. Kids will love to explore the open nature in the world. It encourages exploration and navigation when kids find their way out through the game. Players have to plant seeds, guide beanstalks towards floating islands and keep rising to get the planet back to life.
5. Flywrench
Platform – Play Station 4, Windows
Flywrench is a downloadable arcade game that is similar to the ones found in classic gaming arcades with no offensive content. With no plot and just rapid action, the game challenges players to use their reflexes to reach a daunting level. This game demands a lot of precision and focus, and also tests kids' patience.
6. Animal Crossing- New Horizons
Platform – Nintendo Switch
This life simulation or a role-playing game is all about animal life on an idyllic island. Players set out on a journey to a deserted island and create a thriving habitat whilst enjoying the pleasures of routine slice-of-life activities that the island offers. With helpful and friendly residents, the players are encouraged to seek help and learn about gratitude. There is no "winning" or "losing," and there is also an option to play with a single player. There is a slight risk of exposing players to inappropriate content created by other players. Parents need to watch out for that, but it can be deleted and started afresh.
7. Mini Metro
Platform – Mac, Nintendo Switch, Windows, Android, and PlayStation 4.
It is a downloadable game compatible with Nintendo and Windows PC's based system. The game has no enemies to fight. It is all about a race against time where players are juggling to construct train lines, bridges, and tunnels by dragging and dropping points of mass transit map in any major city.
8. Starseed Pilgrim
Platform – Windows
Starseed Pilgrim is a wonderful puzzle activity that piques curiosity and maks kids think. It is an intense puzzle game that demands cerebral time. Set loose on a landscape that is a single giant block, players can plant the seed that gets other shapes to grow alongside a black hole that is eating the surrounding world. Strange, confusing, and intriguing, it is an introspective game about exploring, experimenting, and all things that a curious mind of a child with intellect will find rewarding.
9. Assemble With Care
Platform – Apple Arcade
The game is based on a tale about restoration with some fun gameplay. It is all about fixing sentimental items. It explores different kinds of losses in people's lives – from strained relationships to bereavement and simultaneously highlights how people deal with the voids these losses leave. The game is all about hope, kindness, love, and affection. It has no profanity, violence, or sexual content, making it perfect for the age that it caters to.
10. Biped
Platform – Nintendo Switch, Play Station 4, and Windows.
Biped is a top-down puzzle that promotes teamwork. Its main characters are two-legged robots who navigate through tricky environments. The players need to work in pairs to solve puzzles as they move around the world to manipulate objects. It requires cooperation and good timing. Communication, teamwork are at the core of the game, and the robots' behaviours demonstrate the importance of patience and perseverance. The game also has a single-player mode, making it compatible for those wanting to play alone.
Video games have become posters for violence, and there are several ones in the market that kids ape in real life. However, not all video games rely on violence as their central theme. The selection of games above offers a palate of intelligent and emotional works of art your kids can enjoy!
Also Read:
Best Computer Games for Children
Best Gaming Consoles for Children
Best Xbox One Games for Children