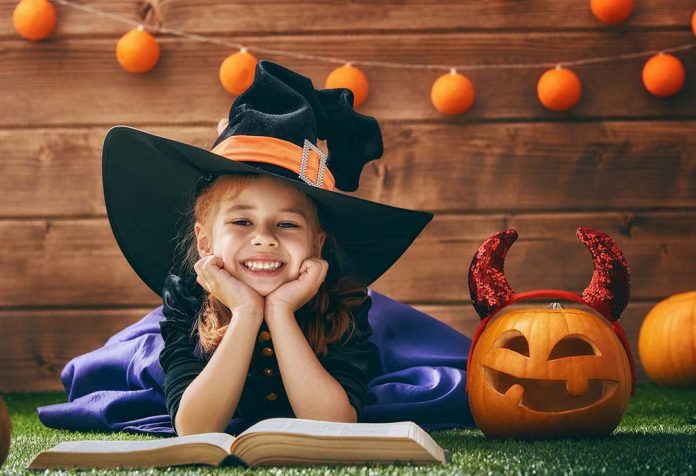 The smallest of things can get our children excited, and Halloween isn't a small occasion by any means. The dressing up, the candy, the parties, and endless fun all make it worth counting down to from January onward. The day finally arrives, and you have planned everything down to the minutest detail. The spider cookies, monster popcorn, crispy mummies, the ghostly decorations, and the spooky costumes are all organised. But wait, what songs should the party playlist have? You don't want all your efforts to go down the drain because the kids thought the music at the party was 'lame'. Fret not, for we bring you a list of spook-worthy songs that can bring your Halloween party to life.
Top 10 Halloween Songs for Children
You can rock the skeletons out of your neighbourhood with our list of Halloween music for kids.
1. Who Took the Candy
Source: Super Simple Songs – Kids Songs
'Who took the candy' is an absolutely adorable Halloween song for kids. It mimics the famed rhyme called 'who stole the cookie' which is used in the game played by kids. Clapping and jumping around to this beat is going to keep the young ones thoroughly excited.
2. Baby Shark Halloween
Source: Bounce Patrol Kids
If your kid, like every other kid, is crazy about the 'baby shark' rhyme, then this one is for you. It has little mummified sharks, pirate sharks, and ghost sharks singing boo to the tune of 'baby shark'. It is one of the must-have Halloween songs for pre-schoolers to sing at a party.
3. Skeleton Dance
Source: Super Simple Songs – Kids Songs
'Skeleton dance' is a fun song that can make your kids go crazy. It is also a super informative song that teaches your children about the bones in our body. Educative and foot-tapping, this is a winner for sure.
4. Ten Scary Steps
Ten Scary Steps is a Halloween song where a woman dressed as Little Red Riding Hood is going to her grandma's house and at each step that she takes along the way, she encounters scary things like big bad wolf, a witch, a monster etc. Your little one can join the fun by counting along with Red Riding Hood!
5. The Good Times Goose Bumps Motel
Source: Judy Pancoast – Topic
This is a song that you must have on the kids Halloween playlist because it is so peppy and entertaining. You cannot keep your foot grounded with this playful number about the Goose Bumps Motel.
6. Haunted House
Source: Valerie Smalkin
'Haunted house' is again a sprightly song by Silly Goose and Val from their Halloween album. You get to visit a haunted house with a witch, skeleton, and assorted spirits while still at your party.
7. Haunted House by Little Blue Globe Band
This Haunted House is a colourful video song where a bunch of costumed children walk through a haunted house and see a skeleton, a vampire, a witch etc. who are friendly and invite the children to dance and eat with them.
Source: Toddler World TV
8. Must Be Halloween
Source: Grin Brigade – Topic
The album 'crazy with happiness' by Grin Brigade has a lovely number called 'Must Be Halloween'. What 'other-world' party is complete without explicitly stating that it is Halloween.
9. The Addams Family Theme Song
Source: Kunio89ro
It is clearly not Halloween without a mention of the fabulous 'Addams Family'. Who can forget the adorable Mr. Gomez, Wednesday, or even Cousin Itt? From the classic cartoons to the 90s movies, this macabre family taught us the basics of Spooksville.
10. The Munsters Theme Song
Source: noisywan
This is a part jazz and part eerie theme song from the series 'The Munsters'. It is a song that will appeal to all generations of paranormal and spook lovers. It will make a great start or end to your party playlist for sure.
This list is a mix of songs that suits all age groups ranging from toddlers to teens. You may want to do your own research and tweak the playlist a bit depending on what age of children will be attending your Halloween festivities. Get that music going and have yourself the best 'pumpkin party' ever!
Also Read:
Halloween Makeup Ideas for Children
Amazing Halloween Costume Ideas for Kids
Child-Friendly Halloween Party Games