Top 7 Children's Stories by Roald Dahl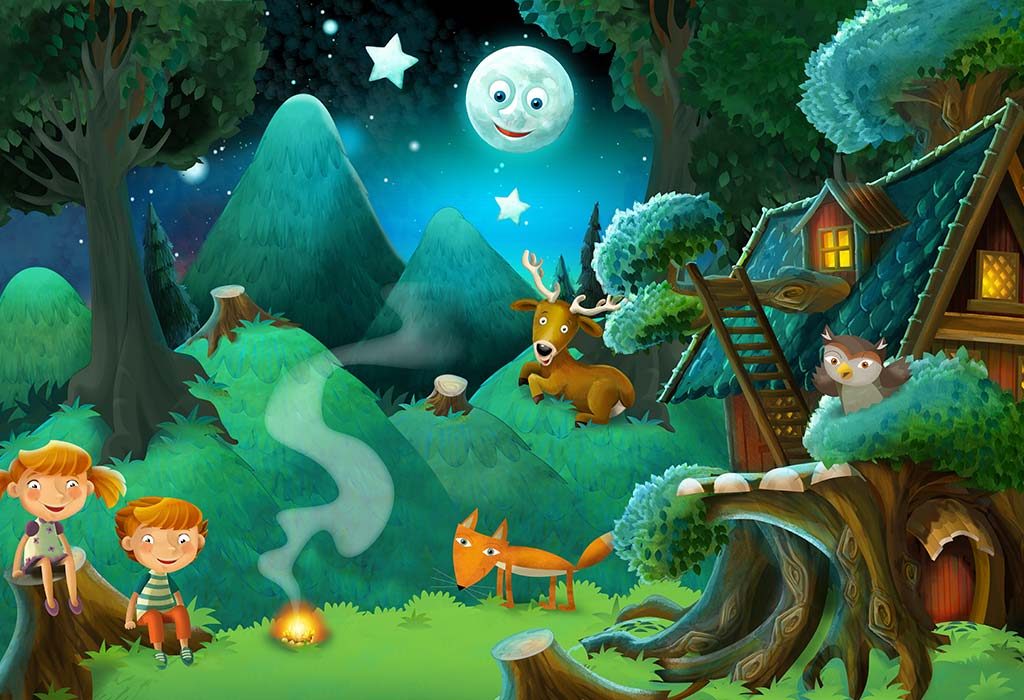 In this Article
Reading is more than a hobby, which when cultivated from an early age in children can benefit them academically and prepare them for the future. In the age of smartphones and gadgets, kids hardly ever pick up books (other than their school books, of course!), and this curbs their creativity and imagination. The key to encouraging reading habits in children is by starting early. But most parents struggle to find age-appropriate books for their children, which is why we bring to you some books of an all-time favourite children's author, Roald Dahl.
Author for the Month of January – Roald Dahl
Roald Dahl is our author for the month of January. Dahl was a British novelist, poet, short story writer, screenwriter, and a fighter pilot. Roald Dahl, a man with too many titles under his belt, was one of the greatest storytellers for children in the 20th century; and his stories continue to inspire kids even today. His famous characters, Willy Wonka, The BFG, or the Old-Green-Grasshopper are etched in our minds. Dahl, by writing such brave and unreal characters, has given children the freedom to dream, imagine, and most of all, enjoy. There's another reason why he is our author of the first month of this New Year. Roald Dahl's books explore the themes of courage, following dreams, love and longing for family, greed, etc. all in one story. Your child will learn a lot from his books. So, in this New Year, let your child start reading books by the man whose characters will instil the idea of 'dare to dream' in him.
7 Children's Stories That Your Kids Should Read
Get your hands on these books for your curious little child. We are sure your child will find it hard to put down these books.
1. Matilda
"Matilda said, "Never do anything by halves if you want to get away with it. Be outrageous. Go the whole hog. Make sure everything you do is so completely crazy it's unbelievable…"
This fantasy story is about a five-year-old girl, Matilda Wormwood, who finds solace in books. Matilda is an intelligent and brave bookworm (of course!), and has special powers too. We know the last bit just made you even more curious! Matilda is extremely insightful even at such a young age; she is wise and understands the behaviour of people in and out. She helps her teacher, Miss Honey to outwit the evil headmistress of her school, Miss Trunchbull. Matilda is a girl different from her peers, but extremely kind.
Why Your Child Should Read This Story
On reading this story of Matilda, your child will understand that intelligence is the greatest superpower.
This story will inspire your children to imagine and dream. Your child will understand that for the magic to happen, one must believe in it.
Another lesson that Matilda gives kids her age is that it's okay to be different and unique.
2. Charlie and the Chocolate Factory
"I, Willy Wonka, have decided to allow five children – just five, mind you, and no more – to visit my factory this year." – Willy Wonka
"I've heard tell that what you imagine sometimes comes true." – Grandpa Joe
The story of Willy Wonka, an eccentric chocolatier, and Charlie, the poor, brave boy is loved by people of all ages. Charlie is about to embark on a journey of pure imagination, and soon, his dull life is going to turn into an adventurous ride (not to mention full of vicissitudes). Many times a day, poor Charlie would see other children munching on bars of creamy chocolates greedily, but at that time, little did he know that one decision from Willy Wonka was going to change his life. His life changes from rags to riches (with some twists, of course!), and his wishes come true.
Why Your Child Should Read This Story
This book thrives on the idea of imagination. Willy Wonka's Chocolate Factory is purely out of imagination. This book will make your child realise that there doesn't need to be a limit to his imagination.
Your child will also learn from this book that it is important to always believe in his dreams. Just like Charlie, your child's golden ticket to his dream will never seem far away, if he believes in it.
Greed gets us nowhere – only in trouble! This lesson is for both kids and adults alike.
3. Charlie and the Great Glass Elevator
"You'll never get anywhere if you go about what-iffing like that ." – Willy Wonka
"A little nonsense now and then is relished by the wisest men," Mr Wonka said."
'Charlie and the Glass Elevator' is a sequel to the book 'Charlie and the Chocolate Factory'. If your child is not yet ready to say goodbye to Charlie and Wonka, hand him this book. We just need some more of Willy Wonka because even his eccentric character can teach some really important life lessons to your child.
Why Your Child Should Read This Story
On reading the above quotes, you can understand how succinctly Roald Dahl manages to tell children that they do not always need to be serious in life.
This book will inspire kids to take risks in life. Well, not any extreme risks,; but just enough to get ahead in their lives.
Most importantly, no matter where your child goes and what becomes of him, he must remember that having fun is necessary because a life without humour and fun is only half-lived!
4. James and the Giant Peach
"Come right up close to me and I will show you something wonderful." – Old Man
"My dear young fellow,' the Old-Green-Grasshopper said gently, 'there are a whole lot of things in this world of ours you haven't started wondering about yet."
By writing this story of James, who lived with his two mean aunts, Roald Dahl established himself as a children's writer. By narrating the tale of James, the Old-Green-Grasshopper and his insect friends, and a giant magical peach, Roald Dahl introduced children to the world of magic. The old man in this story is sneaky and cannot be trusted, whereas the Old-Green-Grasshopper, bugs, and their friends are friendly. The above two quotes from the different characters will make your child understand that no two people are the same.
Why Your Child Should Read This Story
This story will widen your child's horizon of imagination.
This book will also teach your child that he should never judge anyone by their appearance, but by their behaviour.
On reading about James who longed for love in his childhood, your child will also understand the importance of family.
5. The Witches
"It doesn't matter who you are or what you look like as long as somebody loves you."
"You are still yourself in everything except your appearance. You've still got your own mind and your own brain and your own voice, and thank goodness for that."
'The Witches' is the story of a boy who lives with his grandmother. He stumbles upon a witch convention where the witches are planning to get rid of every child living in England. The boy and his grandmother plan to fight the witches and save the children. But can they defeat the vile witches?
Why Your Child Should Read This Story
In this book too, the author's gives a strong message to children – appearances can be deceptive. This book again will teach your child to never judge a person by their looks.
On reading this book, your child will be proud to have you in his life. He will understand that having people who love you is the greatest gift one could ask for.
6. The Twits
"If a person has ugly thoughts, it begins to show on the face."
"…if you have good thoughts, they will shine out of your face like sunbeams and you will always look lovely."
The Twits is believed to be inspired by Dahl's deep hatred for beards. It is a story of an old couple who have lived with each other for so long that they hate each other, but can't live without each other. "Mr Twit was a twit. He was born a twit. And, now at the age of sixty, he was a bigger twit than ever." They are ugly and keep playing 'twits and tricks' on each other. Your child will surely enjoy a hearty laugh while reading about the Twits.
Why Your Child Should Read This Story
This book will teach your child to always be happy and do good in life.
Another lesson this book gives to the readers is that in the end, good always triumphs over evil.
With this book, Dahl tries to teach children to be kind to others because being kind and doing good things for mankind makes one happy and takes them ahead in life.
7. The BFG
"Two rights don't equal a left."
"We is in Dream Country,' the BFG said. 'This is where all dreams is beginning."
The BFG is an unlikely story of heartwarming friendship between a girl, Sophie, and a big friendly giant. Sophie fears the big friendly giant, but he tells her that he doesn't eat people. The two of them have a clever plan to catch all the bad giants. Your kid will have to read this book to know how far they succeed.
Why Your Child Should Read This Story
This story will teach your child that friends are important in life. They may be different from us, but we need them.
This book will also teach kids that they should try to make the best of any situation.
These are some of the famous stories written by Roald Dahl, whose witty characters are forever engraved in our hearts. We hope your children enjoy reading these books – every bit of them – as much as we did telling you about them. Since we are talking about Roald Dahl's books, it's only fair that we depart with his words too.
"So please, oh please, we beg, we pray,
Go throw your TV set away,
And in its place, you can install
A lovely bookshelf on the wall.
Then fill the shelves with lots of books."
― Roald Dahl, Charlie and the Chocolate Factory
No, we aren't asking you to take such extreme measures like throwing away your television set; all we are suggesting is that you install a bookshelf (with all sorts of books in it) in your child's room, giving him the freedom to explore the world. One day, your child will definitely say what Matilda said-"I'm wondering what to read next. I've finished all the children's books."
Until then, keep getting good books for your child. Soon, we will be back with more stories from a new author. Keep guessing who's our author for the next month!
Also Read:
Interesting Short Moral Stories for Children
Top 5 Inspiring and Motivational Stories for Children
List of Books for Your Little Train Lover