Top 12 Scary Books for Kids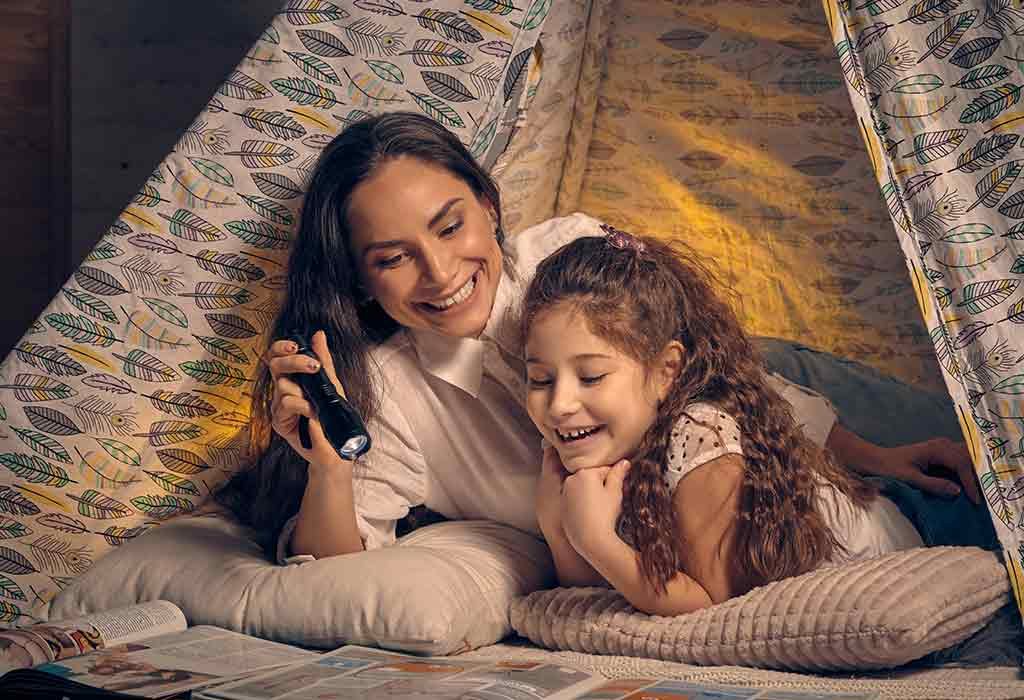 In this Article
Scary books for children? This thought may give you some pause because after all, are kids ready to read something that has potentially life scarring capabilities? The truth is, your child is bound to have some fears, whether these stem from reality or just their own imaginations. Reading a few scary stories can actually help children learn to cope with these things.
Stories that have a mild element of scare to them will help children learn how to process the emotion, especially when it is done in a safe environment. On your part, you need to know what kind of scary books are appropriate for your child. Scaring them too much will have the opposite effect of what you are going for.
12 Terrifying Horror Books for Kids
Horror may not be your first pick for your little kids, but a healthy dose of horror is good for their development. Here is an age-appropriate children's horror books list. It may help them to get over certain fears, especially when they get inside the minds of some of the "monsters.".
1. Bunnicula: A Rabbit-Tale of Mystery
This is the first in a series of Bunnicula novels for children.
Author – James and Deborah Howe
Short Summary of the Book: Rabbits are the most innocent little herbivores – or are they? This story takes place in the Monroe household and is narrated by the family dog, Harold. When the family gets a new bunny that behaves rather oddly, Harold and the family cat, Chester, get together to find out if the rabbit is a vampire or not.
2. The Witch Who Was Afraid of Witches
This book has colourful illustrations and is good for kids who are starting to read books that have chapters in them.
Author – Alice Low and Jane Manning
Short Summary of the Book: The main character is Wendy, a little witch girl who fears her bossy and mean witch sisters. On the night of Halloween, she realises that she is a better witch than they are. But can she find a way to show it through her fears?
3. Ghosts in the House
The book itself has lovely illustrations in black, white, and orange and is as interesting to look at as it is to read.
Author – Kazuno Kohar
Short Summary of the Book: There is a house that sits at the edge of the town, and in it resides a clever, young girl. The house is not like other house, it is haunted. As luck would have it, the young girl is a witch and knows exactly how to deal with these ghosts. Once she catches them, she gives them a good washing in her machine and then recycles them into table cloths, sofa covers, and bedsheets.
4. Night of the Living Dummy
A story in the famous Goosebumps series, known for producing some creepy kid's books.
Author – R.L. Stine
Short Summary of the Book: Kris and Lindy are twins who happen across a ventriloquist's dummy. Lindy gives the dummy the name Slappy and has fun learning to be a ventriloquist. But, when some evil and nasty things begin to happen, the girls begin to suspect Slappy.
5. The Night Gardener
This story is good for kids who are 7 years or older.
Author – Jonathan Auxier
Short Summary of the Book: A sickly family hires orphaned Molly and Kip as servants. One day, Molly discovers a portrait of the family from a year ago, where they looked very healthy. She begins to wonder what could have caused all of them to become so ill. Could it be connected to the mysterious footprints that appear every night in the hallway?
6. The Witches
Just be warned that your little one will always look suspiciously at women with gloves after this book.
Author – Roald Dahl
Short Summary of the Book: A little boy's grandmother has spent his whole life preparing him to encounter witches. But, she was not expecting the boy to land up meeting an entire convention of them. Witches have gathered in England pretending to be an organisation trying to protect children, but in reality, they are trying to eradicate them completely.
7. The House With a Clock in its Walls
This is a great book to start with if your kids have never read horror before.
Author – John Bellairs
Short Summary of the Book: Lewis is an orphan and has to move in with his uncle who lives in an old house. Here, he learns about magic and that there is an evil presence in the house. This evil takes the shape of a ticking clock that was left by the previous owners of the house.
8. In a Dark, Dark Room and Other Scary Stories
This book is a classic when it comes to horror stories for children. It came out in 1984, and it consists of a collection of scary short stories.
Author – Alvin Schwartz
Short Summary of the Book: This scary collection contains stories such as In a Dark, Dark Room and The Green Ribbon. The author insists that you should read these stories aloud, so they are perfect for campfire ghost stories.
9. The Cavendish Home for Boys and Girls
This is one of the heartfelt, but spooky children's books.
Author – Claire Legrand
Short Summary of the Book: When perfect little Victoria's best friend, Lawrence, goes missing, she becomes worried. She makes a discovery about the Cavendish Home for Boys and Girls that forces her to do some digging. There is something quite wrong with the place, and Victoria is determined to solve the mystery.
10. City of Ghosts
If you are looking for a ghost story, this one is it.
Author – Victoria Schwab
Short Summary of the Book: Cass is a young girl who drowned and was given a special gift – the power to pull the veil separating the dead from the living. When her parents take her to Edinburgh, however, she is faced with the knowledge that she has so much to learn about her gift when she meets someone who has the same gift.
11. Doll Bones
This is a great story that involves a deep friendship and an adventure of a lifetime.
Author – Holly Black
Short Summary of the Book: Alice, Poppy, and Zach have been close friends for the longest time. Since their early years, they have been playing a game of thieves, pirates, warriors, and mermaids. The one who rules all in their make-believe games is the Great Queen. She is a doll made from bone-china and has the habit of cursing those who she finds displeasing. When Poppy says she keeps dreaming of this queen in middle school, and the ghost of a young girl, the trio end up right in the middle of a real-life adventure.
12. Hansel and Gretel
This was originally written by the Grimm Brothers, but this version is a newer rewriting that is sure to send chills down the spine.
Author – Neil Gaiman and Lorenzo Mattotti
Short Summary of the Book: With dark and haunting artwork, your kids will be lost in the world of Hansel and Gretel as they are abandoned in the woods by their parents and then captured by a cannibalistic witch.
Take your pick out of these horror stories, and you can be sure about sending some healthy chills down the backs of your young ones.
Also Read:
Funny Books for Children
Fantasy Books for Children
Science Fiction Books for Children