How to Set Up a Montessori Bedroom for Your Child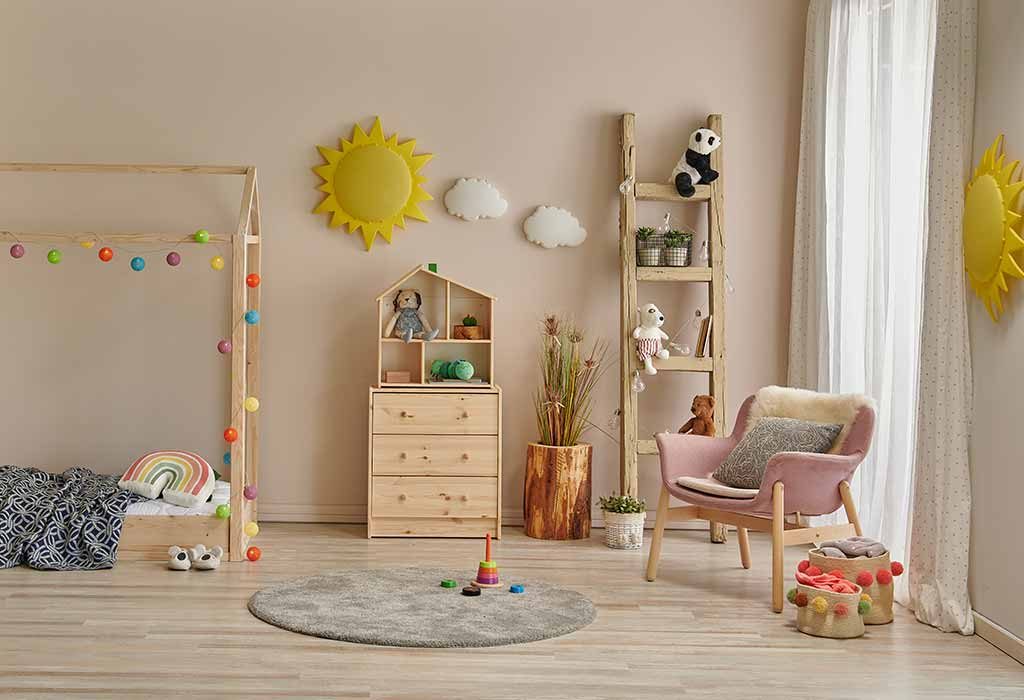 Bedrooms are a very personal space for most people while growing up. It is important to be able to make that a safe space, a kind of refuge where kids can feel comfortable and relaxed. Your child needs to be able to have a space where he can feel that way, and also learn on a daily basis. In today's competitive world, it is important for children to pick up any and every good skill from a very early age, so that they can implement it in their lives. Read on to find out about how you can set up a Montessori infant room to get your little one to learn the maximum amount.
What Is a Montessori Bedroom?
The Montessori style of learning is a great way to allow your toddler to explore and learn from his immediate environment. It breaks away from the traditional methods of education, and gives kids more authority to be able to acquire knowledge from the world around them. Many parents are subscribing to this way of learning, and are trying to include the same learnings at home by converting their kids' bedrooms into a Montessori kids room. Since Montessori learning focuses on providing tools of exploration, you can include these tools at home, so that the learning doesn't stop in school.
Benefits Of a Montessori Room for Your Child
There are multiple benefits to utilizing this method of learning at home. Having a Montessori bedroom for your toddler can be very helpful in his development. Here are some benefits of having a Montessori room for your child:
Inspires critical thinking by allowing your child to make decisions for himself
Develops motor skills through the use of different tools that are provided in the room
Teaches about organizing, order, and discipline because of the lack of clutter that it focuses on
Provides a sense of authority and independence
Must-Have Items In a Montessori Bedroom
While setting up a Montessori room for your child, you might have many questions, starting with what exactly you should keep in the room, so that your child can gain the maximum knowledge from it. Here are some Montessori room ideas that are must-haves:
1. Small Wardrobe
A personal wardrobe from a young age is a great way to inculcate the necessary skill of organization. With the daily routine of life, it is easy to succumb to lethargy or just fatigue, and live in a mess. However, with a small wardrobe, it is an easy and sure-shot method to teach your toddler how to be neat, organized, and in control of his possessions.
2. Thick Curtains
The idea of a Montessori-inspired bedroom style is to allow your child to learn and develop into a self-sustaining adult. The bedroom is supposed to be a space that is in accordance with what your toddler would like to have. Thick blackout curtains allow your child to decide the kind of environment he prefers and the lighting that he chooses to have while indulging in his activities.
3. Storage Cabinet
A storage cabinet is multi-purpose, since your toddler is bound to have toys and books. This cabinet helps him to associate playing and putting back all that he has played with at the end of the day. It also helps parents to change up the toys and activities as the child grows older. In an ideal situation, parents will want to change up the toys and books that are kept in the cabinet based on the toddler's preferences or willingness to learn.
4. Toddler Bed
Providing your toddler with his own space to take naps or even sleep is very important to make sure that he does not get dependent on you to be able to fall asleep. This must be done from an early age to inculcate that habit. A bed is also a sacred spot for many of us. Your toddler should also have the opportunity to be able to have a space of a similar kind.
What Is the Right Age to Use a Montessori Bed?
Now, since you are getting a better idea of what goes into a Montessori bedroom, you must be wondering when the right time to use a Montessori bed would be. Ideally, around 2-3 months is a good time for a Montessori baby room transition. Changing it up from the bassinet to a floor bed is a good start to introduce your little one to the Montessori bedroom.
Important Elements Of a Montessori Room Setup
As with setting up any kind of space, there are some important elements that you should keep in mind, so that your child can benefit the most out of the room that you are putting together.
1. Colour and Hue
Toddlers are attracted to vibrant colours, and it is important to utilize a lot of colours in the room. However, it is also important to not use too many colours, as it could overstimulate your child's brain. Using colours and gentle colour palettes help relax your child in an environment where the mind must be free in order to learn.
2. Furniture and Furnishings
The options here are limitless, and it's important to choose the right kind of furnishings and furniture in the room. Here are some important ones to help you get started.
1. Shelves
Basic wooden shelves provide great storage space for your toddler, and can also double up as an activity and toy shelf.
2. Reading Corner
Providing a soft rug, a small library, and nice lighting can go a long way into creating the perfect reading nook for your toddler.
3. Dressing Table
An area for your toddler to be able to choose his own clothes and dress up is a good element to have. A solid dressing and changing area are a must-have for all of us, including toddlers.
4. Bedding
Changing from the nursery to a floor bed can be a big change for your little one, but it is an important part of his development to do that.
3. Décor and Artwork
This is an important aspect of the bedroom that you are creating. The artwork and wall décor that you choose will help better the environment. To encourage imagination, many parents choose to have an indoor tent or a tepee, where their toddler can "disappear" into an endless world of wonder. It has proven to be a constant hit with many parents across the world!
4. Lighting Setup
The lighting in the room is another element to keep in mind, because it can alter the mood of your toddler. You can choose a combination of natural and artificial light. During the day, it is okay to use sunlight to provide your toddler with a bright light while he indulges in the day's activity. However, past sunset, it is advised to have night lights around the room. These shouldn't be too bright, and should allow your child to feel relaxed.
5. Free Play Space
Everything must be within your toddler's reach, so bulky furniture is definitely not advised. Providing him with enough room to play and move will ensure that he does not feel trapped inside the room, and is able to explore to his heart's content.
6. De-Cluttered And Minimalist Design
One thing to ensure is making the room devoid of any clutter, and only using that furniture and décor that is absolutely required. The minimalist method of setting up a room is advised here. You do not have to get rid of things; rather, you can use the extra stuff and rotate it every couple of weeks with the things that are set up in the room. Creating clutter is counterproductive, since one of the learnings from a Montessori room is organizing and being neat and clean.
7. Adjusting the Scale As Per Your Child's Level
This is an obvious thing to say, but toddlers are much smaller than adults, and most things in the world cater to adults. So, while creating the Montessori-inspired room for your child, keep in mind that everything needs to be within reach of the child. If this calls for some improvisation in terms of furniture, we suggest you do it, because an adult-sized wardrobe is of no use for a child, and in fact, can prove to be dangerous. Seeing things that are proportionate to your child's size will also ensure that he remains calm and does not get overwhelmed by things that are two to three times his size in the room.
A Montessori room is a fun project – not just for your toddler, but also for you! Make sure you enjoy making it, and put in a lot of love, because your child will be using it for a while, and the most crucial learning time of his life will be spent there. It is important to have elements of fun combined with elements of learning. While your toddler is having fun with all the elements that you have included in the room, he also must be able to develop different physical and mental skills. We hope this article has given you a better idea about creating a Montessori-inspired bedroom. All the best!
Also Read: Should You Choose Montessori Preschool for Your Kid?