Perfect First Day of School Books for Kids
In this Article
The child's first day of school is usually a nerve-racking experience for teachers and students. Parents must prepare their children mentally to let go of the comforts of home and get them used to the daily routine of going to school. Nevertheless, irrespective of their age, all kids tend to feel nervous in anticipation of the rigor of keeping up with the timings, curriculum, homework, and disciplines enforced by their school. If your child is overwhelmed and needs to relax, read-aloud books can play a vital role in calming their nerves and building a positive attitude about going to school.
Best Back-to-school Books to Read Aloud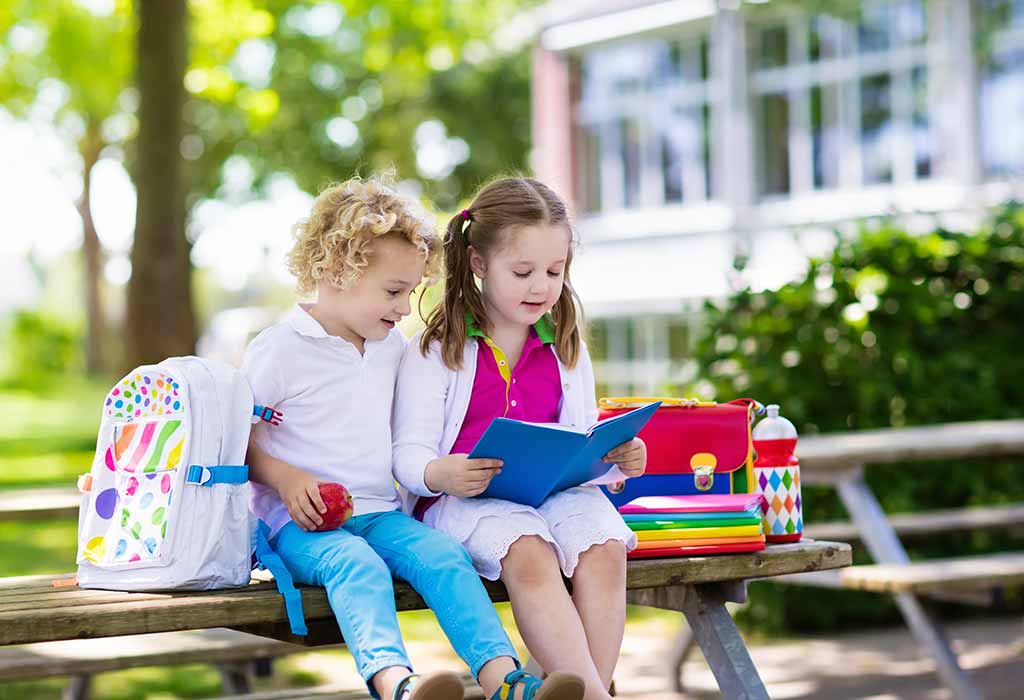 The first day of school is generally an exciting day filled with new classmates, new teachers, and new books of a higher grade. Books can become a person's best friend, loyal supporter, and key counsel for life. Books on the first day of school for preschoolers can capture the nerves and excitement of the first day of school from various perspectives. They have characters who undergo similar experiences that a child can easily relate to and get interested in listening to the story till the end. Thus, reading promotes the maturity of thought that may be otherwise blinded by fear of going to school on the first day for young children. Here are some of the most diverse titles of books that might capture your child's feelings best and ensure they enjoy going to school every day.
1. Danbi Leads the School Parade by Anna Kim
Despite the excitement to attend her new school in America, Danbi, a little girl, feels nervous and lacks confidence in her new class performance. Nevertheless, Danbi manages to lead her class in a parade after settling her nerves and enjoying herself.
2. So Big! by Mike Wohnoutka
Simple text and adorable illustrations make this is one of the best back-to-school books for kindergarten. It focuses on how fear of school can get over the confidence of even the bravest kids, and however, they can find strategies to ensure the day goes just right.
3. The Day You Begin by Jacqueline Woodson
This lovely book reminds us that even if we feel like outsiders on the first day of school or in any new situation, we can still muster up the courage to try new things.
4. All Are Welcome by Alexandra Penfold and Suzanne Kaufman
This picture book highlights the importance of diversity and inclusiveness in a classroom setup where children of different countries, faiths, and backgrounds come together to learn, grow, and play.
5. Llama Llama Misses Mama by Anna Dewdney
This book explores Llama Llama's experience of the first day of school, as he feels new yet discovers how fun be before Mama Llama comes to pick him up.
6. Second Grade, Here I Come! by David J. Steinberg
This first day of school books 2nd grade is grade-specific and filled with new things any kids would encounter in their academic year.
7. School's First Day of School by Adam Rex
This is one of the best first day of school books for 3rd grade and is about Frederick Douglass Elementary, where the school shares the first day jitters along with the children. The author brings a fresh look at the first day of school from the school's perspective.
8. David Goes to School by David Shannon
This book underlines the classroom rules and boundaries through David's funny and relatable escapades. Both teachers and students would enjoy reading this book which is a great first step towards creating a positive classroom ambiance.
9. The King of Kindergarten by Derrick Barnes and Vanessa Brantley Newton
This bestseller is about a little boy's enthusiasm to take on his first day at school, make new friends and narrate to his proud parents about all his achievements. Filled with joyful illustrations, this book is a must-read aloud to give kindergarten children a reassuring confidence boost.
10. Amelia Bedelia's First Day of School by Herman Parish
A funny picture book for kids starting kindergarten and up through the second grade is about the beloved protagonist Amelia Bedelia who takes away the nervousness involved in going to a school on the very first day through her goofy mistakes.
11. We Don't Eat Our Classmates by Ryan T. Higgins
This giggle-worthy read-aloud teaches kids how to make friends in a new school by learning to treat others the way they want to be treated.
12. How to Get Your Teacher Ready by Jean Reagan
This book turns the tables on teachers by instructing them to prepare themselves for a new academic year. It is a great preview of getting your child excited about the forthcoming events and the fun milestones they can achieve in the upcoming school year.
Age-appropriate books that address problems of going to school on the first day are not just entertaining but underline some strategies that help kids stay calm, focused, and feel empowered to take on the challenges ahead.
Also Read:
Shape Books for Kids
Funny Books for Children
Toys and Books for School Children